NBA Playoff-Bound Teams in Desperate Need of Home-Court Advantage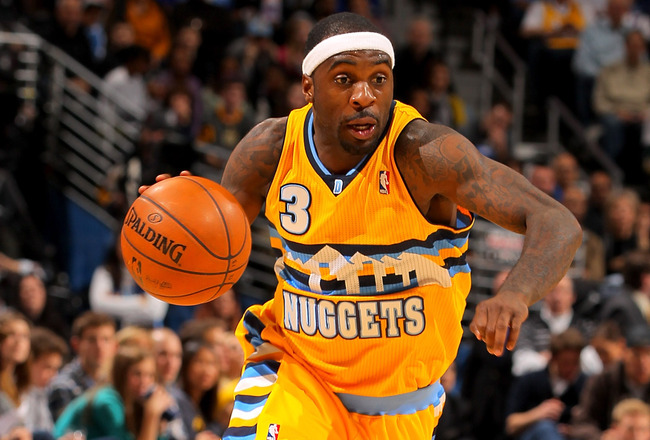 Doug Pensinger/Getty Images
Every NBA team would prefer to play the majority of its playoff games at home, if given the choice. But there are a few clubs whose playoff fates totally depend on whether or not they can secure home-court advantage before the regular season concludes.
The Denver Nuggets transform into an entirely different team when they're at home, running winded opponents to death in the mile-high atmosphere. Their up-and-down style leaves visiting teams sucking wind and eating dust—as long as they're in Denver.
The Golden State Warriors, New York Knicks and Boston Celtics enjoy a boost from notoriously raucous home crowds. Away from their home arenas, all three teams seem to deflate. And all three also have road records that are much uglier than their home marks.
And the Indiana Pacers are a mystery. Whoever said "defense travels" was right, but Frank Vogel's club seems to leave its offense at home.
Everybody wants home-court advantage, but some need it.
*All stats accurate through games played Feb. 26, 2013
5. Boston Celtics
Jared Wickerham/Getty Images
One good explanation for the Boston Celtics' surprisingly poor performance on the road this year is that they feed off of their home crowd as much as any team in the league. Away from home, there are no boisterous Boston fans heckling opponents and exhorting the guys in green.
Another reason might be that the team's collective age simply doesn't hold up as well under the rigors of travel and hotel living. Whatever the case, Boston isn't the same team when they're on the road.
Kevin Garnett and Co. have put together a sterling 20-9 home record, but have gone just 10-19 away from the TD Banknorth Garden. That latter mark represents the fewest road wins of any current playoff contender.
Statistically, defense may be the culprit. Per NBA.com, Boston's defensive rating is No. 3 in the league at home, as the club allows just 94.8 points per 100 possessions. On the road, though, the Celtics slip all the way to No. 14 with a defensive rating of 105 points per 100 possessions.
Though it seems like Boston is miles away from the East's elite teams, it's actually just three-and-a-half games behind the Brooklyn Nets for the conference's fourth seed. If the Celtics can make up enough ground to secure home-court advantage, watch out.
4. New York Knicks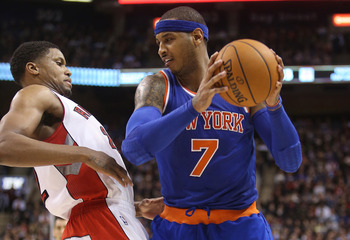 Tom Szczerbowski-USA TODAY Sports
Unlike the Celtics, the New York Knicks are currently in position to have home-court advantage as the East's No. 3 seed.
With a 20-8 mark at Madison Square Garden and a decidedly more pedestrian record of just 13-12 away from the Mecca of basketball, the Knicks could certainly benefit from some home cooking in the 2012-13 playoffs.
Unfortunately, the Knicks' true talent level may actually be much closer to that 13-12 road mark. Since starting the season 17-5, the Knicks have won just 16 of their last 31 games. So, regardless of location, Carmelo Anthony's team may just be a .500 team.
If the Knicks aren't careful, they'll continue to lose ground to the Brooklyn Nets, Atlanta Hawks and the aforementioned Celtics. All three of those clubs have been playing much better than the Knicks of late, and it's not out of the question that any of them could overtake the mediocre Knicks.
If New York can't hang onto it's precarious position, it could be a one-and-done postseason in the Big Apple.
3. Golden State Warriors
If there's any doubt about the power of the Golden State Warriors' home crowd, almost any clip from the team's improbable "We Believe" run of 2007 should make things clear: The crowd at Oracle Arena in Oakland is capable of some deafening performances.
And the Warriors feed off of that volume.
At home this year, Golden Sate has gone 18-7. On the road, its record has been just 15-17. The disparity in the total number of home and road games is a pretty good indicator that the Dubs are primed to go on a fairly big run to end the season.
With 16 of their final 22 games at home, the Warriors could start to make some noise, themselves.
In order to catch the Memphis Grizzlies, who currently hold the West's No. 4 seed, the Warriors will have to make up five full games in the standings. If they can pull off that improbable feat to gain home-court advantage in the postseason, their odds of winning a series improve drastically.
Of course, Golden State might also prefer to keep its sixth seed, which would mean a date with the L.A. Clippers in the first round. The Warriors have beaten the Clips three out of four times this year.
2. Indiana Pacers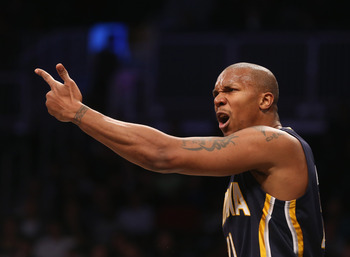 Bruce Bennett/Getty Images
The Indiana Pacers are one of the NBA's most terrifying teams. They're big, they're physical and they absolutely attack opponents.
Unfortunately, that analysis only applies to the version of the Pacers that shows up for home games.
With a 24-5 record at home and a 12-16 mark on the road, Indiana needs to avoid being the visiting team in a playoff series as much as any team in the East. The reason?
The Pacers are a horrible offensive team when they leave Banker's Life Fieldhouse. Per NBA.com, Indy has the league's second worst offense on the road, with an overall rating of 96.5. At home, they're not exactly point-scoring savants. But with an offensive rating of 105.1, they're right in the middle of the pack.
It's almost impossible to explain why the Pacers can't put up points on the road, but there's a big enough sample size now to show that their offensive anemia on the road is a very real trend.
Indy has played brilliantly of late, winning eight of its last 10 games. So it seems unlikely that it'll slip all the way down to the fifth seed over its next 25 games. And that's a good thing for the Pacers.
Because they won't make it far without home-court advantage.
1. Denver Nuggets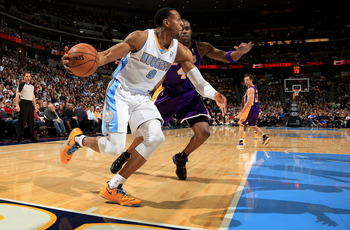 Doug Pensinger/Getty Images
When it comes to home-court dominance, there's just something in the air with the Denver Nuggets.
Well, actually, it's what's not in the air that allows George Karl's club to leave visitors to the Mile High City breathless: oxygen.
Teams that play in Denver always complain about the thin air that leaves them completely exhausted after a few minutes in the first quarter. Without being acclimated to the altitude, opponents are at a very real and scientifically demonstrable disadvantage.
It's not an accident that the USOC training center is in Colorado, after all.
As a result, Denver has won 24 out of 27 home games this season. Contrast that with a 12-19 record on the road and it's clear that the Nuggets are actually two different teams.
So it shouldn't be a surprise that they need to secure as many home games as possible this postseason.
At 36-22, Denver currently sits just two-and-a-half games out of the fourth slot in the West. If the Nuggets can continue to ride a hot streak that has (not coincidentally) featured a heavier portion of home cooking, they'll be a very dangerous playoff matchup.
If they can't climb high enough to grab one of the top four seeds, though, expect an early postseason exit.
Keep Reading