Buying or Selling Top Draft Prospects After the NFL Scouting Combine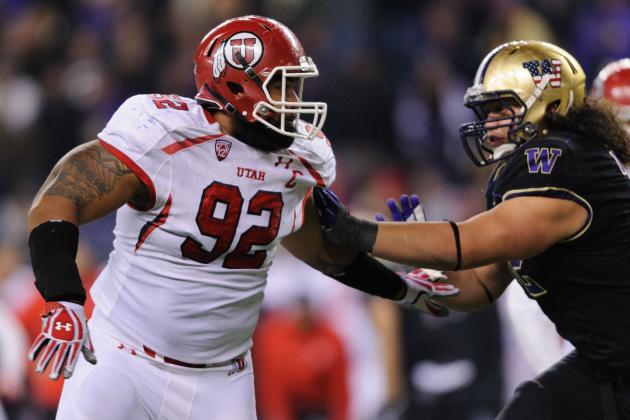 Steven Bisig-USA TODAY Sports

The NFL Scouting Combine is always a huge part of the process for evaluating draft prospects, and the 2013 combine revealed much about this year's crop.
The combine showed us how fast some players are, how big they are and how quick they are. These results have to be taken with a grain of salt, but they shouldn't be overlooked either.
Prospects are beginning to settle into a specific range, and such positioning can cause significant disagreement among analysts. Is each of the top draft picks worthy of the pick he's being valued at?
Did the combine change views on top prospects, or did they all stay even-keel?
Which of the 2013 NFL draft's top prospects should you be buying, and which should you be selling?
Begin Slideshow

»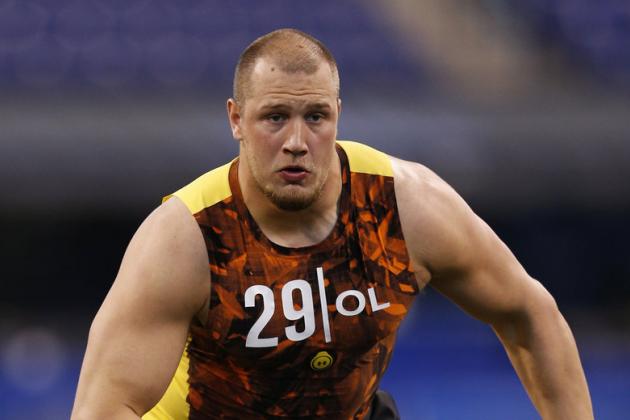 Prior to the scouting combine, Lane Johnson was underrated. In lieu of his brilliant performance in Indianapolis, Johnson's stock seems likely to rise.
Unless Johnson's stock somehow reaches the top five, he will still be a good value. He has as much pass-blocking upside as any tackle in the draft, and his ability in space is unparalleled.
Right now, Johnson's value seems to be around the No. 11 pick. If it stays that way, he is a great pick for any team.
Verdict: Buying
Kim Klement-USA TODAY Sports

After impressing in the bench and interviews, Cornellius Carradine again has many analysts talking about him. Carradine tore his ACL in November, but if he hadn't, he would likely be considered a top-10 pick.
Even with the increased talk, Carradine isn't being viewed as a top-10 selection. Most have him in the middle of the first round, where he would be a huge steal.
Regardless of how high his stock soars prior to the draft, Carradine will be a good pick. He is the total package at defensive end with a great floor and a high ceiling.
Verdict: Buying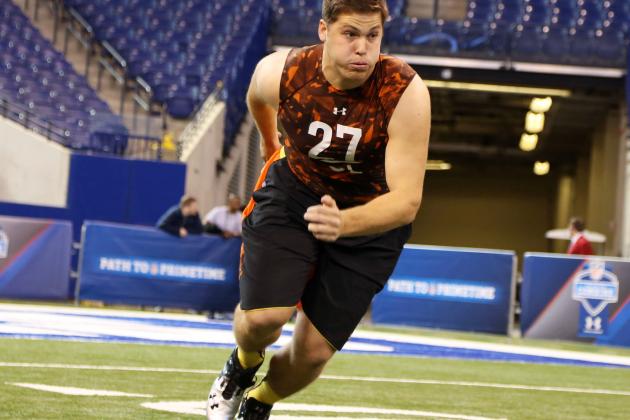 Brian Spurlock-USA TODAY Sports

There may not be anyone who genuinely dislikes Luke Joeckel as a draft prospect. There is, however, significant disagreement over just where he should be selected.
Many believe that Joeckel should be the No. 1 overall pick. He has great length, quickness and technique at left tackle and is widely considered a safe option.
As a top-10 pick, Joeckel is easy to like. However, he simply isn't worth the top pick of the draft and would be a reach that high.
Verdict: Selling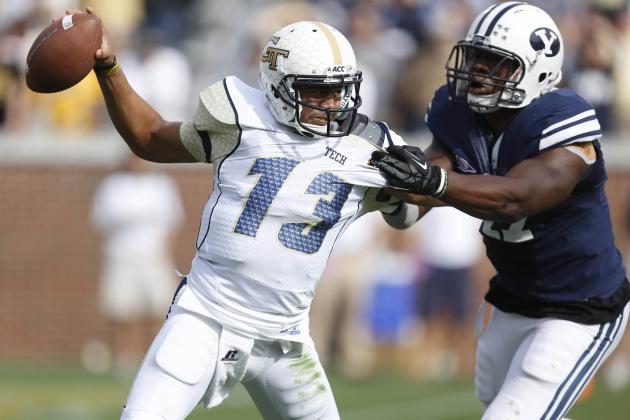 Josh D. Weiss-USA TODAY Sports

A huge offseason has boosted Ezekiel Ansah's draft stock into the top 10. The 6'5", 271-pounder is an incredible athlete with great size and power.
As a top-10 pick, Ansah offers terrific upside. He will likely be great against the run, and he can develop into an excellent pass-rusher as well.
Is Ansah worthy of his likely draft selection?
Absolutely.
Verdict: Buying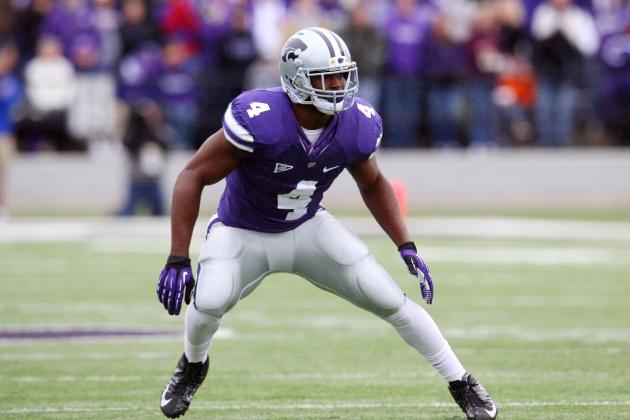 Scott Sewell-USA TODAY Sports

There is no player in the draft more undervalued than Arthur Brown. The 6'1", 241-pounder is a great athlete who explodes into backfields.
Brown has the ability to become the best inside linebacker in the NFL. However, concern about his size has many projecting him in the second round.
There is no legitimate reason for Brown to fall outside of the top 15 picks. At this point, though, he seems likely to do so. At the end of the first round, everyone should be buying on Brown.
Verdict: Buying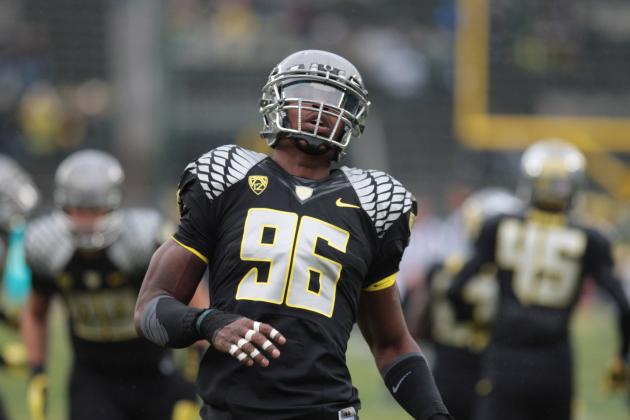 Scott Olmos-USA TODAY Sports

Dion Jordan's rare ability in space is well known. The 6'6", 248-pounder would at times line up at cornerback for Oregon, and his pass-rushing skills are also excellent.
Jordan's skill set will appeal to many teams. He can play in any scheme, and he has star potential regardless of where he plays.
The Oregon star could be drafted anywhere from No. 2 overall to the middle of the first round. Regardless of where he goes, though, you best believe in his ability to dominate.
Verdict: Buying
No pass-rusher in recent memory has brought the upside of Barkevious Mingo. At just 6'4", 241 pounds, he's undersized, but his athletic ability more than compensates.
Mingo possesses outstanding burst, flexibility and closing speed to go with a well-developed pass-rush repertoire. His length is also among the best in the draft.
It's possible that Jacksonville will select Mingo with the No. 2 pick, and it would be tough to fault the Jaguars for it. He would add a dynamic element to their defense—or to any other defense, for that matter.
Verdict: Buying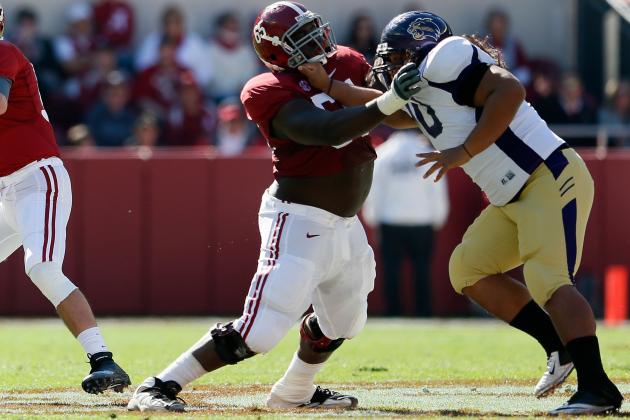 Kevin C. Cox/Getty Images

Chance Warmack is easily the most universally loved prospect in the 2013 draft. Few have him outside of the first round, and most consider him a top-10 player.
Warmack plays with incredible power, which he combines with surprising quickness and burst. His length is a huge asset in pass-protection, and he simply overpowers everyone in the run game.
Regardless of who drafts Warmack, his team won't be disappointed. He will live up to the hype, even if he is the first top-10 guard in a long time.
Verdict: Buying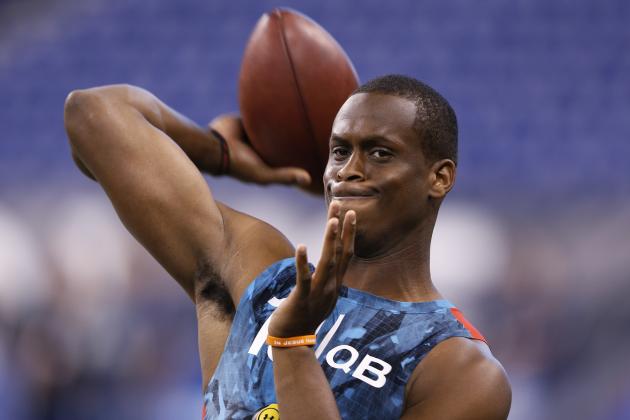 Joe Robbins/Getty Images

Geno Smith has his fair share of critics. This quarterback class is constantly being panned by analysts, and Smith sits at the center of it.
But why?
At West Virginia, Smith showed excellent pocket presence, ball placement and downfield ability. There is no reason why he can't be a franchise quarterback.
Because he has franchise-quarterback ability, Smith is a good pick anywhere. If he's the No. 1 overall pick or a second-round selection, he will be a good pick.
Verdict: Buying
No player in this draft offers the combination of long-term upside and immediate contribution that Star Lotulelei does. Simply put, Lotulelei is a beast.
The 6'3", 311-pounder is incredibly strong with great quickness and burst. He can play any interior line position at an elite level. He can rush the passer and he can stuff the run. He can do everything.
A test at the Combine showed a possible heart condition for Lotulelei. However, the failed test could be the result of dehydration and rapid weight loss. Look for this to be a non-issue.
With Alex Smith apparently headed to Kansas City, Lotulelei is the possible No. 1 overall pick. And that wouldn't be a bad move by the Chiefs.
Verdict: Buying