Washington Nationals: 4 Nats Who Are in Hot Water in 2013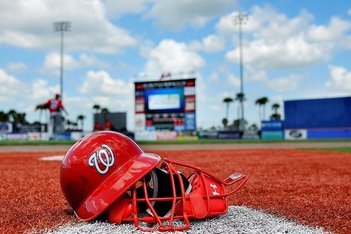 Brad Barr-USA TODAY Sports

Following what was widely deemed as a successful season, the Washington Nationals organization will naturally strive to perform at an even higher level heading into 2013.
While many may assume there aren't areas left to improve upon after such a stellar season, adjustments will need to be made for this franchise to take the next step, especially on an individual basis.
There are a handful of players that will shoulder a great deal of expectations and responsibility for the team's success going forward. Whether it is for contractual reasons or their overall inconsistencies on the field, the following four players could find themselves in hot water heading into 2013.
Begin Slideshow

»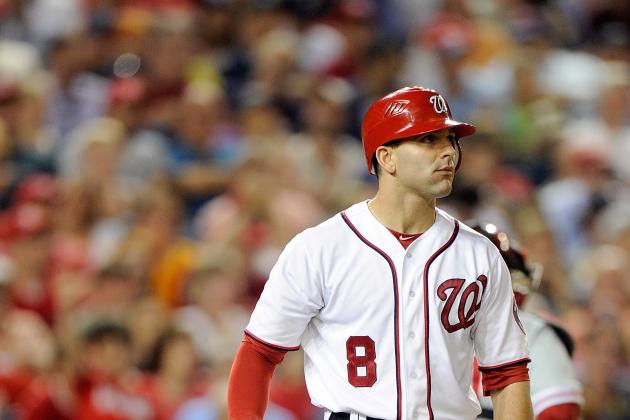 Greg Fiume/Getty Images

Danny Espinosa may still be in the early stages of his career and overall development, but he will need to shake a few shortcomings heading into 2013.
It's been noted that Nationals manager Davey Johnson is aware of the slower pace of his development thus far, but certain key areas must be improved upon in order for Espinosa to keep his spot in the starting lineup.
Espinosa is coming off a season where he led the National League in strikeouts with a monstrous 189 (in 594 plate appearances). He finished only behind Curtis Granderson (195) and Adam Dunn (222) in the entire league.
This is an obvious glaring flaw in Espinosa's game, which he is aware of the need for it to improve. He was recently quoted stating,
"Everyone can say what they want about the strikeouts, but it's going to be one of those things. I'm still learning, I'm still adjusting," Espinosa said. "If I'm producing the way I want to, then strikeouts don't worry (me). If I'm striking out with nobody on, it's not that big a deal. Now, if I'm striking out with guys in scoring position, then that's a little bit of a bigger difference."
Unfortunately for Espinosa, his strikeouts don't just have a negative impact on his batting average. His total runs scored, on-base percentage, walk rate and run production all take a major blow due to the flaw, basically burying him in the Nationals lineup.
Until he corrects his plate discipline, he'll most likely stay in the seventh slot in the order.
Espinosa will also have to keep in mind that he could eventually have competition at second base if he doesn't make these adjustments.
Steve Lombardozzi is a solid utility-type backup at the moment, but he could push Espinosa for playing time if he continues his consistent play on both sides of the ball.
The Washington Nationals' top prospect, Anthony Rendon, also could eventually be in the mix. While he's expected to start the season in the Nationals' minor league circuit, there have been whispers of Rendon potentially adding second base to his defensive repertoire.
It has recently been reported that Rendon worked on his footwork at second base with manager (and former Major League second basemen) Davey Johnson.
If he manages to blaze through the minor league system, the Nationals could certainly look to get him some major league reps at second base.
With an otherwise pretty complete roster, Espinosa might be the one in the hottest water heading into this season. There are still positive aspects to his game; he provides a nice combination of power and speed (he's had two near 20/20 seasons in a row).
Espinosa will need to finely tune his approach to hitting in order to secure his future in the Nationals' starting lineup.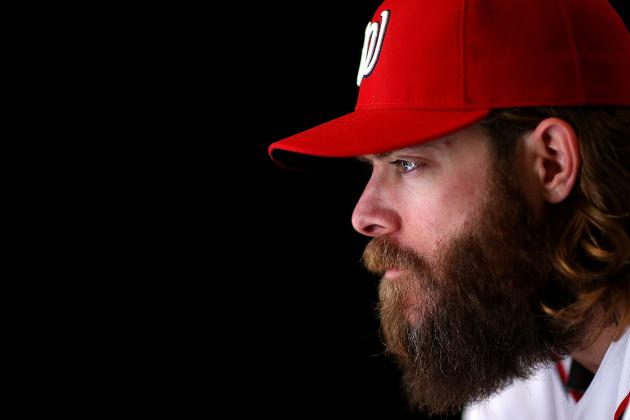 Mike Ehrmann/Getty Images

When the Nationals signed Jayson Werth to a seven-year, $126 million contract, expectations were set at an understandably high level.
When someone inks the 14th richest contract in baseball history, production will be expected, to say the least.
Unfortunately, Washington has yet to reap the benefits of landing Werth a couple years ago. Injuries have plagued most of his first two seasons as a member of the Nationals organization.
With now two less than stellar (statistical) seasons under his belt, Werth will certainly be expected to return to his previous form when he was a member of the Philadelphia Phillies.
While his hold on the starting right field gig may not be in doubt, he will need to stay healthy and produce in 2013 in order to stave off the dreaded "bust" label.
As of now, Werth should slot in at the fifth spot in the Nats lineup, an obvious area that will require his power numbers to return and stay consistent.
Werth recently admitted his wrist isn't as strong as he'd like it to be at this point in spring training. This could potentially become an issue, but he still has time before the season opener to strengthen it following the surgery he received in 2012.
If this happens to cause Werth to get off to a slow start in 2013, especially his power numbers, he'll need to focus on balancing out the rest of his production. The Nationals without a doubt need to get what they paid for starting this season.
Werth, who turns 34 in May, is certainly not getting any younger, which creates an obvious call for a sense of urgency.

In order for the Nationals to have continued success, a strong performance from Werth is a must. If the injury bug continues to stick with him, we could see a whole lot more of Tyler Moore throughout 2013.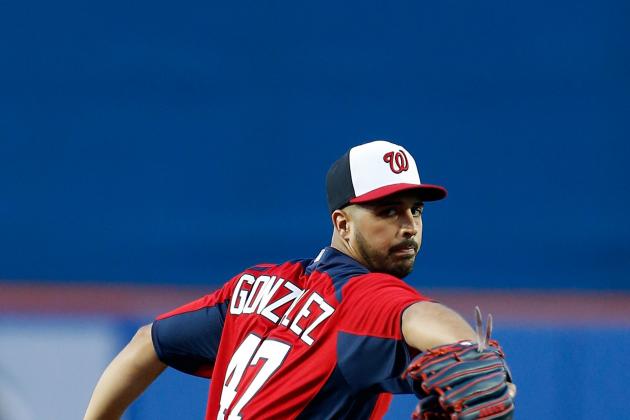 Chris Trotman/Getty Images

While I would prefer to keep Gio off this list following the clearing of his name regarding offseason PED accusations, he will unfortunately still deal with the backlash of the simple accusation itself, especially when you take into consideration the more recent history of steroid use throughout the league.
The media can be tough in situations like this, and regardless of Gonzalez now being innocent; he still could figuratively be in lukewarm water to start the season.
Following an unbelievable 2012 campaign where Gonzalez finished third in NL Cy Young voting and led the National League with 21 wins, his numbers are obviously not what are in question.
He is not in the hot seat due to production, but simply due to being linked to the offseason mess with the Biogenesis Clinic in Miami.
If Gonzalez can manage to keep his focus on improving his craft, he should have no problems going forward. He will easily silence the critics with another productive year in 2013, similar as to what Ryan Braun had to work through at the beginning of last season.
Much like Braun, Gonzalez has shown consistent improvement on a yearly basis in his young career (15, 16 and 21 wins respectively), which should further prove his natural (PED free) progression. If he tacks on another stellar season in 2013, Gonzalez should be in the clear and off the quote en quote hot seat.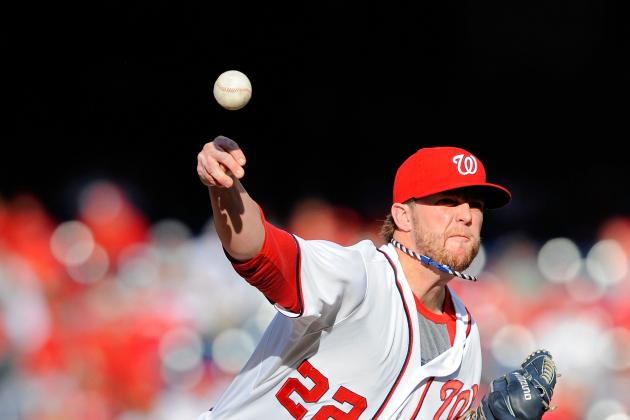 Patrick McDermott/Getty Images

Following the implosion in game 5 of last year's NLDS, Storen will undoubtedly find himself in hot water heading into 2013. While all of the blame for the abrupt end to the season doesn't fall on Storen's shoulders, a large heap of it does.
The Nationals organization wasted no time in the offseason, signing proven closer Rafael Soriano to a two-year, $28 million contract.
Soriano, 33, was dominant last season in replacing Mariano Rivera with the Yankees, notching 42 saves. He is now also the highest paid reliever in the entire league, all but assuring him the closers role.
Many may assume the demotion would be enough to send a clear message to Storen but he will still need to prove his worth in the upcoming season. He will continue to be relied on heavily as a setup man, behind Rafael Soriano and alongside Tyler Clippard.
Although, the Nationals bullpen now has the available depth to bury Storen, usage wise, if he actually does continue to struggle. He'll need to regain his confidence and prove to the organization that he is still a worthy contributor to this ball club.
"It's the best job when you're good at it," Storen said, "and it's the worst job when you fail."
Storen still received a vote of confidence from his manager, Davey Johnson. Who went on record saying he isn't worried about Storen's ability to bounce back.
"That happens," Johnson said. "I look at it as just a little bit of inexperience. I thought I saw the same thing with Gio [Gonzalez] in the postseason. Just a little bit trying to be too fine, trying to make the perfect pitch. That comes with experience in those situations. It's a natural occurrence. He's only human. But I'm not concerned at all. I don't think a lot back on the negative, as you know."
In 2013, we will find out how mentally tough Drew Storen is. As a former top-10 draft pick, this will ultimately go down as the year that defines the rest of his career. That path begins in spring training now.