Projecting the Biggest Early Season Upsets in 2013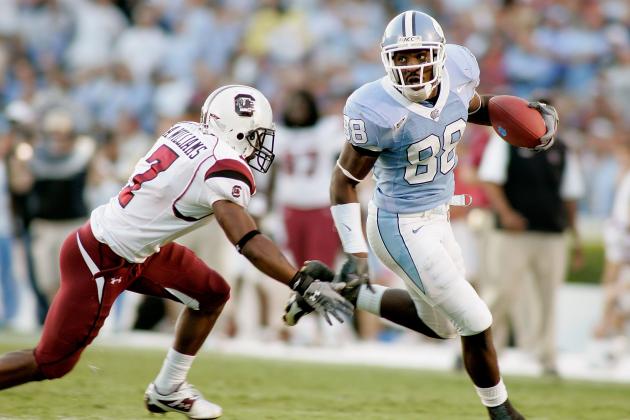 Grant Halverson/Getty Images

While fans eagerly await preseason rankings, players and coaches are focused more on the early competition that the 2013 college football season will offer. Every year, there are some early shockers, and next season won't be any different.
The first official preseason polls won't be released until August, but that doesn't mean we can't start predicting some upsets now, does it? With a heaping helping of monster showdowns in early September, there's room for a big shakeup in the rankings—even before those rankings really mean much in the race for the BCS title.
We'll give all of the amateur college football soothsayers out there a helping hand with our early edition of upset projections for the first part of the 2013 season.
Begin Slideshow

»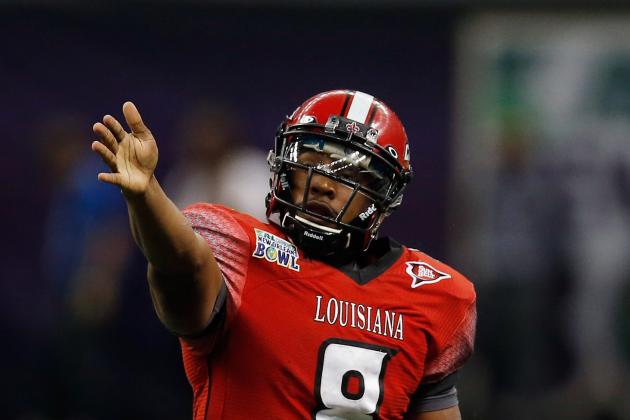 Chris Graythen/Getty Images

Beware the Sun Belt.
Long seen as "that other conference" in the south, the Sun Belt has burst onto the scene over the past could of seasons with some signature wins over some big-time opponents. We're not suggesting teams like North Texas or Western Kentucky are about to supplant programs like LSU and Florida, but the conference isn't viewed as marginally above FCS status any longer—despite a plethora of wet-behind-the-ears FBS programs like South Alabama, Texas State and now Georgia State.
Louisiana-Lafayette is one of those programs that seems to be just on the cusp of breaking out of that "mid-major" mentality after a pair of bowl wins over the past two seasons—which also happen to be the first two bowls in program history. Kansas State for its part will be dealing with a perceived Collin Klein hangover. The do-it-all quarterback is gone, and a defense returning just three starters from 2012 will need to be nearly completely retooled.
While this doesn't quite have the feel of a David versus Goliath, Louisiana-Monroe versus Arkansas upset to it, there's little question that a Ragin' Cajuns victory over the Wildcats would be a pretty impressive upset for Louisiana nonetheless.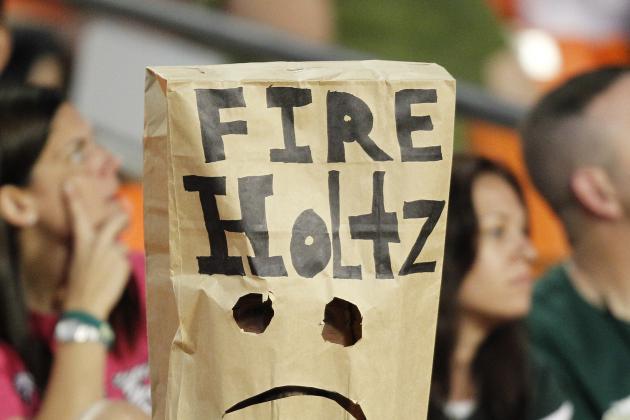 Joel Auerbach/Getty Images

South Florida finished 3-9 last season, just bad enough to cost Skip Holtz his job. But the Bulls are no strangers to upsets in the college football world.
USF famously—or infamously—knocked off Notre Dame in the opener to the 2011 season, and the Bulls also found a way to upset Clemson in the 2010 Meineke Car Care Bowl (now the Belk Bowl).
If Michigan State can't solve its massive problems on offense before the start of next season, this might not be the only early season upset loss for the Spartans.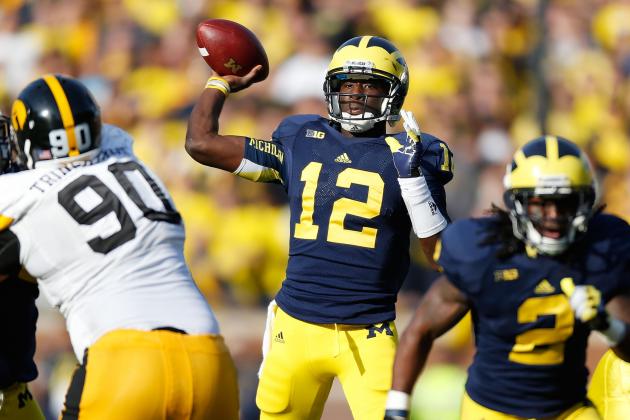 Gregory Shamus/Getty Images

When Michigan and Notre Dame get together, it's often difficult to consider anyone a true underdog. But with Notre Dame's success last season and a Week 1 gimme against Temple, there's little doubt the Wolverines will be hosting a top ten team in Ann Arbor.
Michigan, on the other hand, is a program that now appears to be on the cusp of it's own Notre Dame-like renaissance under head coach Brady Hoke. A couple of top notch recruiting classes combined with finally having a true quarterback taking the snaps will propel Michigan back into Big Ten contention.
We're not saying Notre Dame is magically and suddenly going to fade as quickly as it rocketed to the top of college football last season. After all, Everett Golson should be a more stable starter in 2013, and he'll be joined by quite a bit of returning talent. That's exactly why Notre Dame should be favored headed into the Big House for—wait for it—another epic night game. The last installment was a dandy, and with the annual series between these two traditional powerhouses coming to a close—at least temporarily—in the near future, the importance of the 2013 meeting can't be understated.
We don't know if we'll see another point-a-minute shootout that goes down to the last play, but a Michigan win over a top ten Notre Dame could be just the thing the Wolverines need to announce their triumphal return to relevance in college football.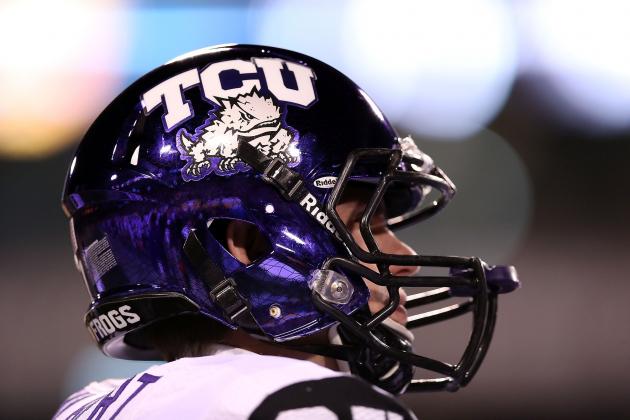 Christian Petersen/Getty Images

TCU joined the ranks of the BCS Automatic Qualifiers last season, and it didn't turn out as terribly as some might have predicted. Sure, the Horned Frogs weren't really in the hunt for a Big 12 title, but finishing 7-6 with big wins over Baylor, West Virginia and Texas show that TCU has the ability to hang with the big boys.
The biggest test for TCU since becoming an AQ program will be in Week 1 of 2013 when they face LSU in Arlington for the 2013 Cowboy Classic. LSU will be replacing most of its defense for 2013 while the Horned Frogs return seven on offense and ten on defense. Combined with LSU's history of sometimes underwhelming early performances, and this season's Cowboy Classic may be more of classic than we've seen in the past.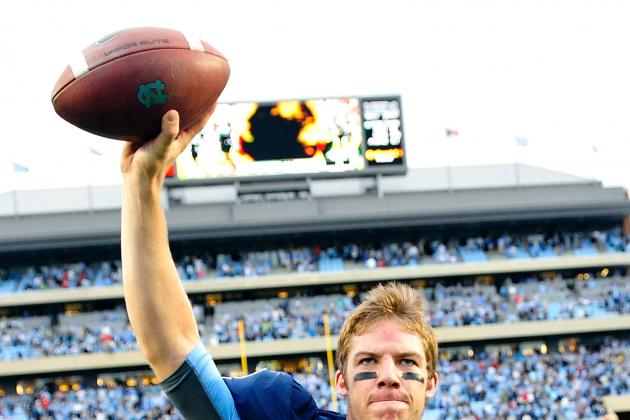 Grant Halverson/Getty Images

Believe it or not, the team from the SEC is not the team that leads this all-time series. The Tar Heels and Gamecocks have met 55 times over the years, and UNC has won 34 of those meetings (34-17-4). Also just as surprising, this will be just the third meeting in 23 seasons for these neighbors, and the first in Columbia since 1990.
While North Carolina hasn't beaten South Carolina in Columbia since 1983, the Tar Heels are returning a lot of talent from last season's 8-4 squad. The Tar Heels will certainly have their work cut out for them in this one, but if they can catch the Gamecocks looking ahead to a Week 2 SEC-East showdown at Georgia, it's entirely possible standout quarterback Bryn Renner could lead UNC to a much-needed marquee victory.