Wisconsin Football: 5 Players with Most to Gain in Spring Practices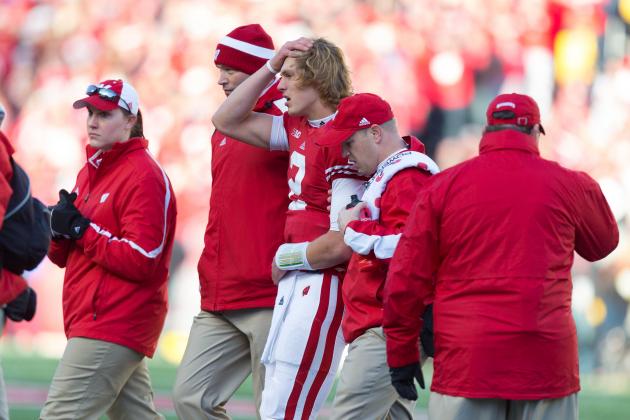 Jeff Hanisch-USA TODAY Sports

Incredibly enough, the Wisconsin Badgers begin spring practice on March 9, a date quickly approaching that has been lost with the whirlwind surrounding the NFL Scouting Combine.
This spring, there will be more eyes on the Badgers because of the coaching change and several position battles that will take place because of both Gary Andersen's arrival and players lost to graduation or the NFL draft.
Just about everything is up for grabs now in Wisconsin, and while there are two early enrolled freshmen, most of the attention will be focused on the quarterback competition, as well as how the Badgers will make up for the loss of Montee Ball at running back.
A lot of players will be looking to make an impression on the new coaching staff, especially those trying to earn a starting spot—or hold on to one. Here are the five players with the most to gain in spring practices leading up to the spring game.
Begin Slideshow

»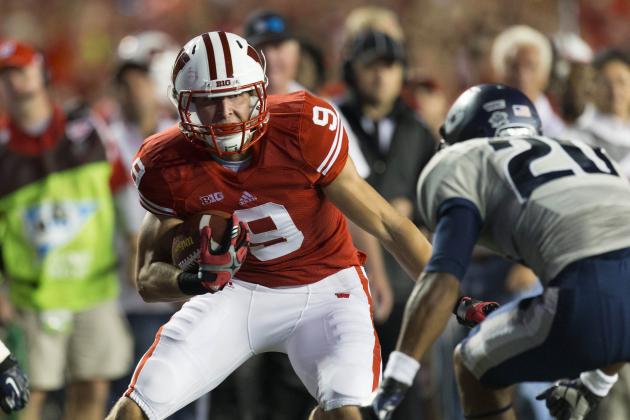 Jeff Hanisch-USA TODAY Sports

Last year as a redshirt freshman, Jordan Fredrick earned the No. 2 wide receiver job alongside all-conference performer Jared Abbrederis, but that's about the only thing Fredrick accomplished all season.
Fredrick only caught 17 passes for 196 yards and one touchdown, although that score did come in the Rose Bowl. The problem was a combination of the fluctuating quarterback position, the inconsistent play under center and Abbrederis being the only receiver these quarterbacks felt comfortable throwing the football.
Of course, Fredrick could have also worked open more often, but a new season should bring more stability at quarterback, as well as more competition for that No. 2 receiver slot.
Before 2013 wide receiver commits Jazz Peavy and Robert Wheelwright arrive to town, Fredrick has a chance to show the new coaching staff why he earned that starting gig as a freshman last season. Fredrick will also have to fend off returning receivers Kenzel Doe, Chase Hammond and Jeff Duckworth.
Fredrick has more height and size than Abbrederis, but if he wants to follow in his big footsteps, the upcoming sophomore will have to prove to Andersen all over again he has what it takes to line up alongside him after a disappointing 2012 season.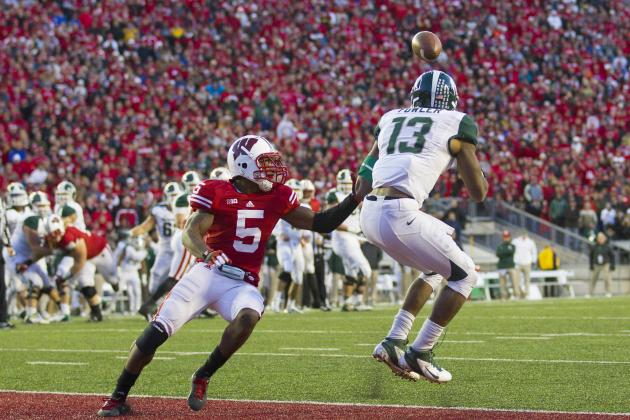 Jeff Hanisch-USA TODAY Sports

There will be a huge turnover in the Wisconsin secondary next season with safety Dezman Southward being the only starter to return. Incoming JUCO commit Donnell Vercher has a great chance to snag the opening next to Southward, but he won't arrive until summer.
The only other returning player who saw extended time in the secondary is redshirt freshman Darius Hillary, who played some nickel corner with Marcus Cromartie and Devin Smith. Now, both Cromartie and Smith are gone, and Hillary will look to lock down one of the two starting cornerback jobs by fall.
Hillary recorded 23 tackles and broke up two passes last season, and he will see new competition right off the bat with early enrollees Sojourn Shelton and Keelon Brookins, who both were recruited as cornerbacks.
That's not to mention other returning defensive backs like juniors Devin Gaulden and Peniel Jean who will also factor into the starting cornerback battle among others. Prior to Jean's broken foot last August, Hillary was set to be a backup option at safety, but was shifted back to corner where he could very well line up with Jean next fall.
Hillary has a leg up on the competition because of his experience last season, but he will need to prove to the new staff why he earned that playing time and deserves to start next season.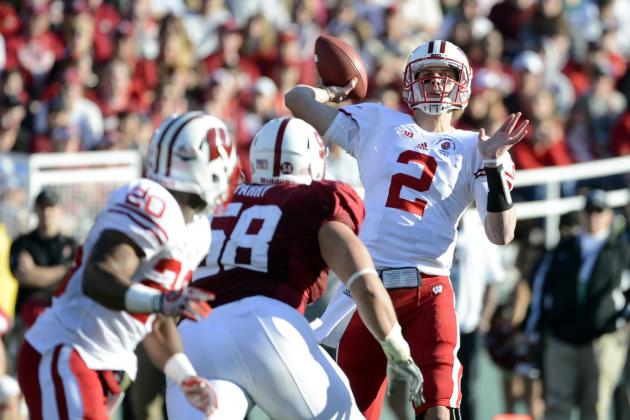 Richard Mackson-USA TODAY Sports

Remember when Joel Stave threw a pass in the Rose Bowl? It was actually right on the money, but Jared Abbrederis was unable to haul it in.
It would be Stave's only throw in Pasadena, even though the Badger offense struggled to do much of anything with redshirt senior Curt Phillips at quarterback. Had Stave stayed healthy all season, who knows? Maybe he leads Wisconsin to victory and avoids a third straight loss in the Granddaddy of them All.
Having done so would have given Stave a nice cushion in the quarterback battle, but instead, it appears to be a pretty even fight with Phillips returning for a sixth season and redshirt freshman Bart Houston looking to get in on the action.
Oh, and there's also a guy by the name of Tanner McEvoy, a last-second JUCO commit for Andersen out of Arizona Western College. McEvoy's dual-threat ability and connection to Andersen may put him in the driver's seat for now, but like Vercher, he won't arrive to Madison until the summer.
With McEvoy out of the picture this spring, that gives Stave an opportunity to show why he should be starting from the get-go, unlike last season when transfer Danny O'Brien got the call opening week. It figures to be the most intriguing battle in Badgers' camp for the third consecutive year.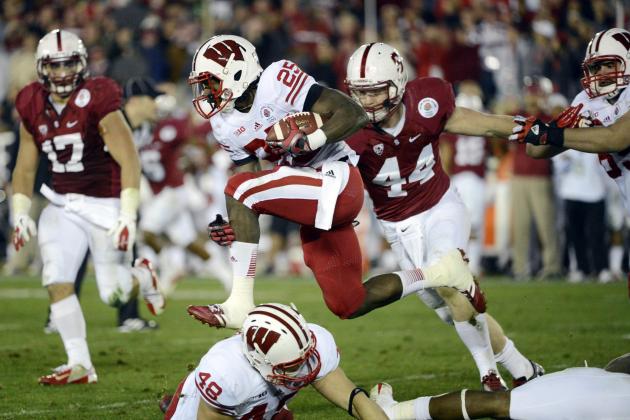 Richard Mackson-USA TODAY Sports

As a redshirt freshman last season, running back Melvin Gordon burst onto the scene in Madison with his explosive runs and blazing speed on the outside.
On just 62 carries, Gordon ran for 621 yards—a ridiculous 10 yards-per-carry average. He did a lot of his damage on the reverse and oddly enough wasn't given the opportunity to contribute much until Wisconsin's two most important games of the season.
In the national spotlight at the Big Ten Championship Game, Gordon stole the show by rushing nine times for 216 yards as well as a touchdown on a mesmerizing 60-yard dash. He then received more carries than junior tailback James White in the Rose Bowl, rushing nine times for a respectable 51 yards.
With Ball out of the picture, Gordon should see his carry total rise. White will also be returning, and the general consensus is that he will be given the distinction of feature back, but he has never been an every down-type of back, which could open the door for Gordon to receive the bulk of the carries.
A new coaching staff will have its eyes glued to the talented backfield, which now includes 4-star recruit Corey Clement (via Rivals) as well as junior Jeff Lewis and redshirt freshman Vonte Jackson. All that talent will naturally result in plenty of competition, so Gordon will look to prove why he deserves to take the reigns from Ball heading into next season.
The Badgers are losing just seven starters from last year's team, and one of those starters is outside linebacker Mike Taylor.
That leaves an opening in the front seven—possibly even two if the Badgers switch to a 3-4 formation on defense. Be on the lookout for redshirt freshman Vince Biegel to make a lasting impact on the new coaching staff.
Biegel was the No. 3 outside linebacker in the nation from the 2012 class and a 4-star recruit according to Rivals, but he broke his left foot in the preseason and aggravated the injury during the season, so he had no choice but to take a medical redshirt in his first year at Madison.
Assuming Biegel has recovered from the injury, he will be a factor in spring practice and a legitimate candidate to replace Taylor, especially with the drop-off in talent and ability after seniors Chris Borland and Ethan Armstrong. Yes, he was a Bret Bielema recruit, but he was the team's top recruit of 2012 and has the ability to be a four-year starter at Wisconsin if he can stay healthy.
Senior Conor O'Neill may have the inside track at the job, but fans are eager to see what the Badgers have in Biegel, and with a new head honcho in Andersen, anything could happen.