10 African Teenagers Set to Be World Football Stars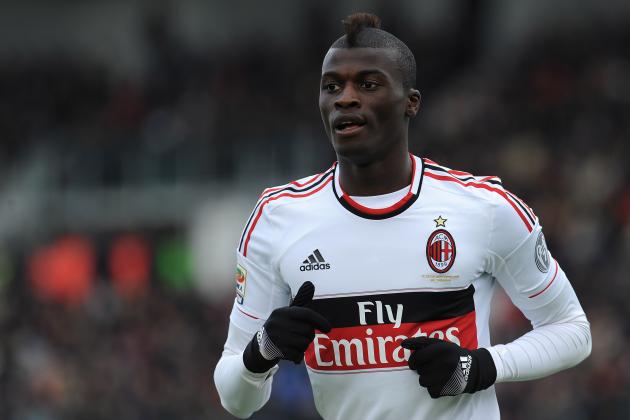 Valerio Pennicino/Getty Images

In this article, Bleacher Report's African Expert Ed Dove profiles 10 African teenagers who look set to grace the upper echelons of the sport.
All of these stars are currently based in Europe, but while they have taken various routes to arrive at their current destinations, all have trajectories that may well take them to the very top.
Several of these players are yet to declare for African nations, and may well go on to represent European sides in the international arena—either way, they are 10 names you should be aware of, and 10 footballing narratives you should begin to follow.
Begin Slideshow

»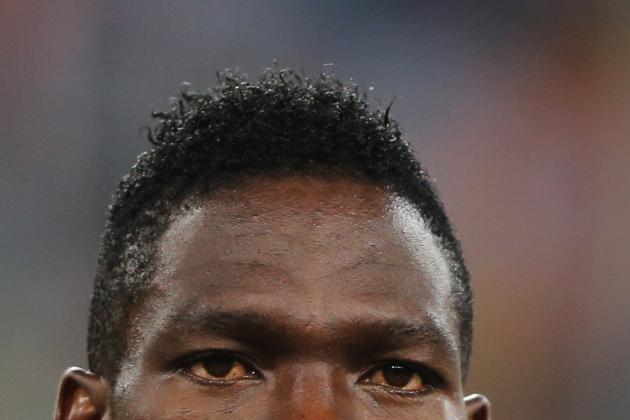 Ian Walton/Getty Images

One of the narratives weaved within Nigeria's triumphant Cup of Nations campaign was Stephen Keshi's thorough reduction in the first XI's average age.
The youthful talents of Godfrey Oboabona, Ogenyi Onazi and Kenneth Omeruo, with only a handful of international appearances among them, settled seamlessly into the side, and were among the Super Eagles' finest performers in the side's run to the championship.
Omeruo has all the qualities to be a top class defender: quick, powerful and capable of playing right-back.
His ability was spotted by Chelsea's scouts at a young age. Currently plying his trade on loan at ADO Den Haag in Holland, it may not be long before Omeruo returns to West London to complete his steep learning curve with the Pensioners.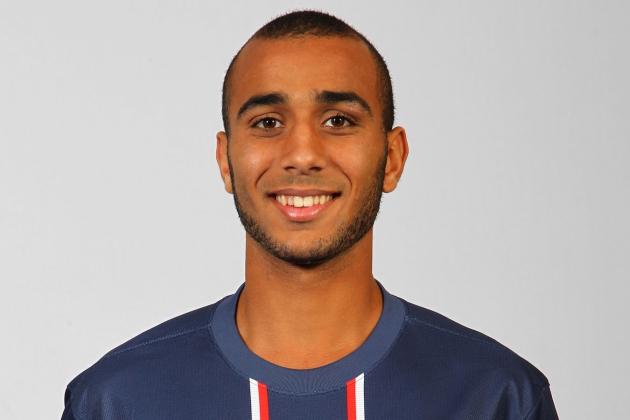 PSG Official Website: http://s.psg.fr/psg/image/joueur/hd/12/2397.jpg
My old friend Adam Moustafa, one of my colleagues at Egyptian website King Fut, raves about Abdallah Yaisien.
It's fair to say that, at times, the youngster seems too good to be true. Occasionally, an Egyptian superstar is forged on Egyptian shores before moving abroad, but it is rare that one of Europe's finest young talents declares his intent to join the Pharaohs' post Arab Spring revival.
Despite previously representing France's youth sides—to considerable acclaim—Yaisien has decided to buck the trend.
Raised in the suburbs of Paris, Yaisien is currently one of the bit-part players in another revolution, that of PSG and their Qatari development. A talented playmaker, he is capable of wowing with his delightful dribbling, composed assurance, and delicious creativity.
Out of contract this summer, Yaisien's future not be among the gorged millionaires of Paris, a clutch of European clubs have been put on watch as one of Africa's most exciting teenagers plots his next move.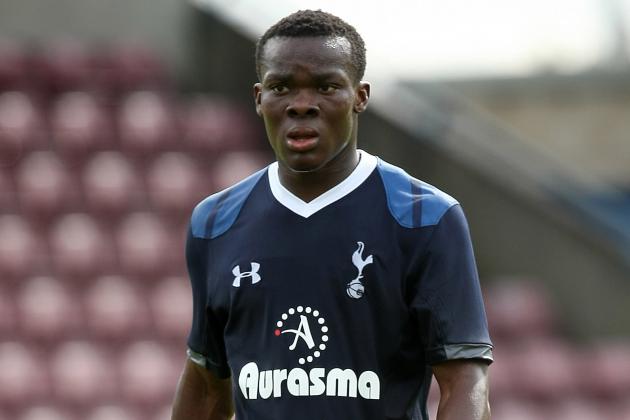 Pete Norton/Getty Images

I recently identified Souleymane Coulibaly as one of five potential Ivorians who could bring in a brighter future for the side following the disappointment of the so-called Golden Generation.
In truth, the young striker could have an influence in the sport far beyond his future involvement with the Elephants.
Friend of Bleacher, Sean Mescall, reminded me recently of Coulibaly's prodigal scoring record at the U17 World Cup. Not content with equaling the top scoring record set by Florent Sinama-Pongolle, Coulibaly only went and smashed it, scoring the nine goals in almost half as many matches.
Having moved to Italy as a teenager, Coulibaly's footballing education stepped up a gear at Siena, before London Giants Tottenham Hotspur stepped in to snap up the exciting talent 18 months ago.
Still a veritable mystery to Spurs fans, Coulibaly offers excellent off the ball movement, terrific finishing, and some explosive bursts of pace.
Few young Africans have generated as much excitement as the Ivorian prodigy.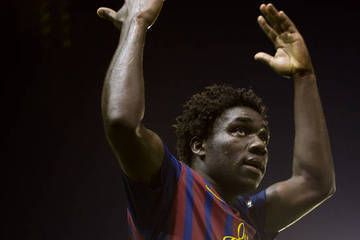 Lions4Life.com: http://lions4life.com/wp-content/uploads/2012/03/Jean-Marie-Dongou.jpg
Few monikers in football carry weight of pressure quite like 'The Next Eto'o', however Jean-Marie Dongou hasn't shrunk under he expectation.
Instead, the young forward is giving early indication that he might actually have the ability to arrive at a level near the iconic Cameroonian frontman.
Featured in my colleague Christopher Atkins' recent article on '6 Teenage Africans Tipped for Big Things', it was pointed out that Dongou was recently joint top scorer in the prestigious Next Gen Series.
Here, he excelled as part of a young Barcelona side considerably influenced by African, and specifically Cameroonian, talent.
With devastating pace, clinical finishing ability, and the versatility to play up front or on the wings, Dongou may well be the next talented La Masia graduate to make waves in the Barcelona first XI.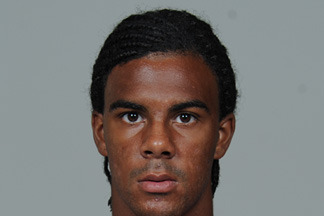 Greenscene.me: http://greenscene.me/wp-content/uploads/2011/07/spainu19-jonasramalho.jpg
Jonas Ramalho is a name that will forever go down in history.
On Nov. 20, 2011, he became the first mixed-race player to play for Athletic Bilbao, the Spanish side which feature exclusively Basque players.
Born to an Angolan father and a Basque mother, I imagine there are few other articles out there which have profiled Ramalho in an African context, however, the player—who turns 20 in less than four months—is eligible for this list.
Unfortunately, Ramalho's progress since that debut victory against Sevilla, hasn't perhaps been as meteoric as many had expected.
A feature for Spain's youth sides up to U19, he is yet to be promoted to the U21 side, and has generally struggled to add to his handful of appearances for the Basque side.
Time is on his side, and whilst his international future may still be with Spain, I understand that Angola would be prepared to make advances if another La Roja call-up is not forthcoming.
Able to play in midfield, or at the centre or the right of the defence, Ramalho is both imposing and fast. Expect him to make a greater impact for Athletic in the coming seasons.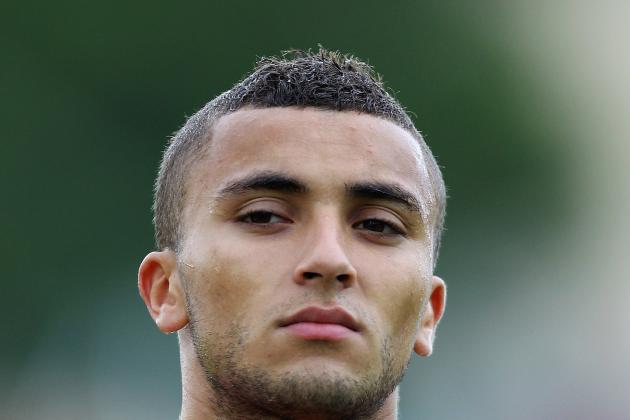 Matthew Lewis/Getty Images

Despite failing to make Morocco's Afcon squad earlier this year, Sporting Lisbon's creative midfielder looks to be the future of the Atlas Lions, following in the footsteps of QPR playmaker Adel Taarabt.
He is also the latest in the long procession of superstars who represented Holland at youth level, before switching their allegiance to the North African side later in their careers.
It won't be long before Labyad is playing regularly alongside the likes of Nordin Amrabat and Mounir El Hamdaoui, as well as Younes Belhanda, who has thrown his hat into the ring with Morocco after a handful of appearances for France's U20 team.
Labyad threatens to be the pick of the bunch, having demonstrated, in patches at least, evidence of supreme talent in Portugal.
Regularly, he may find himself as the smallest player on the pitch, but with lashings of technical ability, and an improving physicality, this may be much less of a problem moving forward.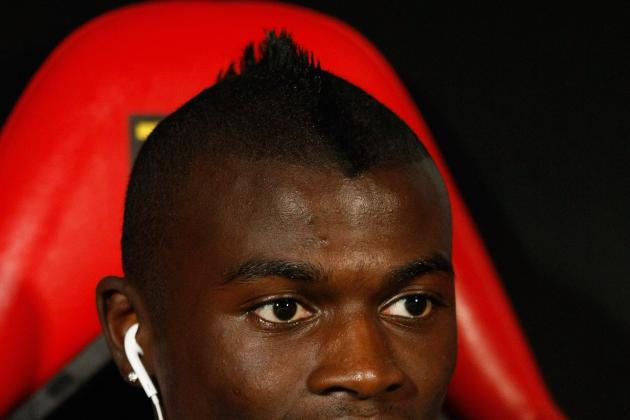 Maurizio Lagana/Getty Images

Two weeks ago, I wrote about M'Baye Niang as one of the 10 best up and coming African players on the planet.
I also lamented the fact that despite his Senegalese connections, it appeared likely that Niang would continue to represent France to senior level, as he does so so dynamically for the U21s at the moment.
One word often used in association with Niang is "raw"—he has supreme talent, but is obviously rough round the edges at the time being.
With Milan's current squad in a stage of transition, opportunities are there for young precocious players to step up to the plate and seal a first team place earlier than perhaps they would be able to otherwise.
Niang, despite being at an early stage of his development, is profiting from these conditions, he has signed a contract with the Italians giants until 2017, and has already etched his name into the club history as the second youngest scorer of all time.
Rumours that Niang rejected Arsenal to sign for Milan demonstrate the elevated company that the forward finds himself in, and if his development continues, he may well be set for a long career at the top.
UEFA.com: http://img.uefa.com/imgml/TP/players/14/2012/324x324/250022854.jpg
I was tempted to include a clutch of Afro-Belgian teenagers in this piece, but while the likes of Jordan Lukaku, Dolly Menga and Brice Ntambwe have failed to make the cut, Nathan Kabasele was hard to overlook.
While many in Belgium suggested that the departure of Romelu Lukaku would leave a chasm in Anderlecht's forward line, the emergence of Nathan Kabasele has given Paars-wit fans another young striker to revere.
The forward offers electric pace, ferocious upper-body strength and an array of tricks and skills to bewilder the finest defenders the Jupiler League has to offer.
With the ability to play on the right flank, or in a forward position, Kabasele has previously been linked with clubs such as Barcelona, Manchester United and Chelsea.
A chance to join Belgium's star-studded national side might be hard to refuse, but another option lies in Africa—where the Democratic Republic of Congo will doubtless be charting Kabasele's progress.
Gonzalo Arroyo Moreno/Getty Images

One of the great ironies of Malaga's rise to prominence is that one of their genuine star players hasn't been one of those bought with the club's influx of riches.
However, even though Isco has delivered a plethora of delightful performances over the last 12 months, there may be an even finer talent on the horizon.
Fabrice Olinga is one of the finest prospects on the planet, a product of the Samuel Eto'o Foundation in Cameroon, the youngster followed in his patron's footprints, moving to Mallorca to continue his sporting development.
Called into the Malaga first team at 16, the striker became La Liga's youngest ever goalscorer after scoring the sole goal in his debut performance against Celta in Vigo. He made an instant impact for Cameroon as well, scoring the winner against Cape Verde in Yaounde—unfortunately the victory was not enough to see the Indomitable Lions through to the Afcon in South Africa.
It was the contest which saw Samuel Eto'o return to the national fold, although with starlets like Olinga around the fringes of the squad, the icon may not be required for much longer.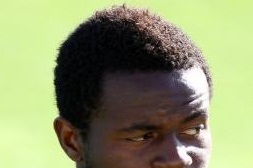 Ogol.com.br: http://www.ogol.com.br/img/jogadores/64/77364_ori_gael_etock.jpg
As I often declare, football works in cycles; prosperity over one decade can become isolated in history as famine sets in.
Nigeria may be the current continental champions, and in the middle of a flourishing phase of their history, but the Super Eagles have enjoyed barren spells in the past.
African giants Cameroon are in the midst of their own fruitless period at the moment, but there are green shoots on the horizon, and even if one or two of the Lions stars in this list realise their immense potential, the good times shouldn't be far off.
Along with Dongou and Olinga, Etock is the third product on this list to have come through the Samuel Eto'o Foundation in his homeland.
After a brief education in Barcelona, Etock found himself at Sporting Lisbon, where he excelled in last season's Next Gen campaign.
Despite reports that Etock had initially signed for Chelsea, it appears that Sporting is now his permanent home, and the Portuguese side look set to prosper from his signing.
It will be fascinating to watch Etock's progress in Portugal, and his potential blossoming on the international sphere.