10 Best Up-and-Coming Recruiters in College Football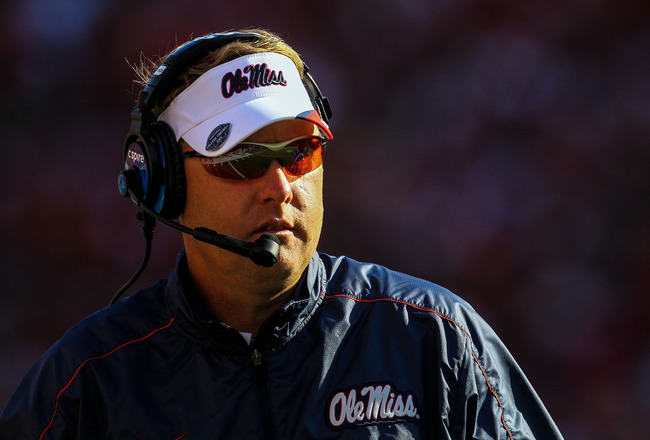 Daniel Shirey-USA TODAY Sports
While old pros like Nick Saban and Urban Meyer sit at the top of the recruiting game, there are several coaches on the rise in the recruiting game. And, as any Alabama fan will tell you, top-notch recruiting is vital for capturing the national championship.
These young coaches are overcoming challenges and have already risen up higher than where we thought they might be. Some of these coaches have had to deal with NCAA sanctions or the threat thereof, while still trying to get kids to come to their programs.
So, what coaches are the best recruiting rising stars? Read on.
Note: All recruiting data and class rankings listed here come from Rivals.com.
No. 10: Mark Stoops, Kentucky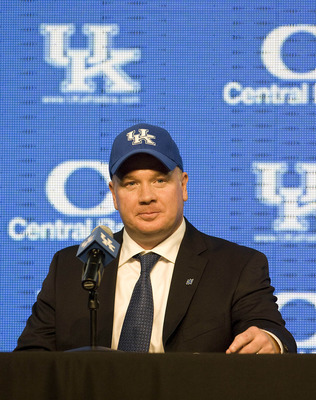 Mark Zerof-USA TODAY Sports
Mark Stoops' first recruiting class was impressive, pulling in the No. 29 class in the country.
Well, it seems good until you realize that Kentucky was No. 13 of 14 in recruiting in the SEC.
Still, Stoops' predecessor Joker Phillips' best class was No. 50 in the country. An improvement of 21 spots in your first year over the last coach's best class is nothing to sneeze at.
No. 9: Bill O'Brien, Penn State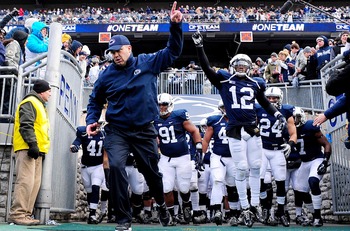 Evan Habeeb-USA TODAY Sports
OK, so the No. 42 spot in recruiting in 2013 may not turn many heads, but it's downright incredible when you consider the condition of Penn State.
After all, you've got to tell these kids that they won't get a chance to play for a Big Ten title or in a bowl game until they are juniors or redshirt sophomores.
Let that sink in.
When you add the crippling scholarship reductions, to get as high as No. 42 is nothing short of miraculous.
Bill O'Brien has definitely made the best of a horrible situation. Hats off to him.
No. 8: Al Golden, Miami (FL)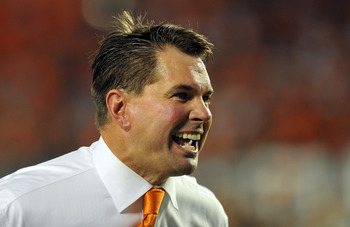 Steve Mitchell-USA TODAY Sports
Al Golden's recruiting job at Miami is, perhaps, one of the most underrated performances in college football.
Think about it. You've got to get players to want to come to your school when your program is under a self-imposed bowl ban while the program waits to see what the NCAA will do to you.
And yet, Golden has pulled in the No. 9 recruiting class in 2012 and the No. 20 class in 2013.
Amazing.
No. 7: Gus Malzahn, Auburn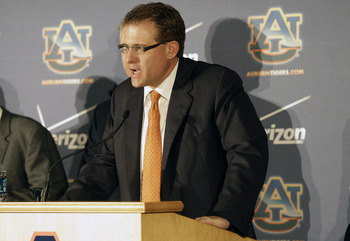 John Reed-USA TODAY Sports
Gus Malzahn inherited a program that recruits at the highest level, even though the Tigers have been doing poorly on the gridiron. Malzahn did well to retain most of the commitments Gene Chizik's staff picked up, with the exception of 5-star recruit Reuben Foster going to Alabama.
Foster aside, Auburn held onto two 5-star recruits in Montravius Adams and Carl Lawson. Getting recruits like that to stay after a change in head coach as well as a 3-9 finish in 2012 is impressive.
Still, I think we'll get a better feel for how well Malzahn can recruit when he puts together his 2014 class...
No. 6: Brady Hoke, Michigan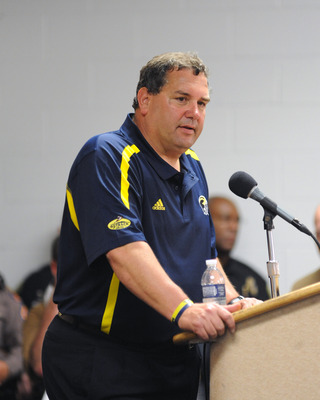 Al Messerschmidt/Getty Images
Brady Hoke seems to have the hang of recruiting at a powerhouse like Michigan. Hoke brought home the No. 7 recruiting class in 2012 and the No. 5 class in 2013.
He's got quite a task keeping up with Urban Meyer at Ohio State, but so far, he's holding his own. Yes, the Buckeyes were No. 2 in recruiting in 2013, but landing a top-five class at the very least should give Hoke the talent he will need to compete.
No. 5: Will Muschamp, Florida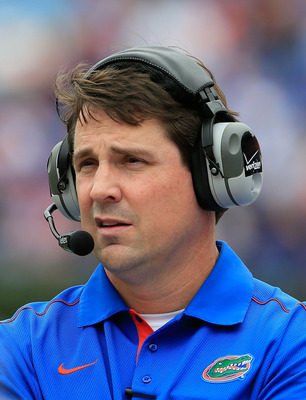 Sam Greenwood/Getty Images
Will Muschamp is entering just his third season as a head coach, but he's already established himself as a recruiting pro. Muschamp has brought in a Top Five recruiting class for the last two years in a row.
Even in the SEC, that will get you elite recruiting status. This season, he landed two 5-star recruits in Alex Anzalone and Vernon Hargreaves III.
Muschamp would be a bit higher on this list if he wasn't already a premier destination like Florida...
No. 4: James Franklin, Vanderbilt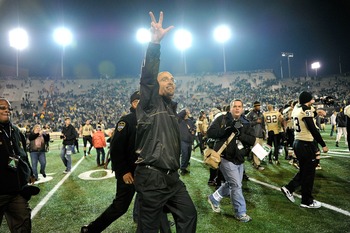 Frederick Breedon/Getty Images
Traditionally, getting good players to come to Vanderbilt is a hard sell. After all, Vanderbilt has high academic standards, the smallest stadium in the SEC and a history of being the bottom feeder within the conference.
Not anymore.
James Franklin has the Commodores believing they can compete by going to two straight bowl games and winning nine games in 2012, including five SEC games.Their recruiting has shot way up as a result.
Vanderbilt finished No. 19 in recruiting this season. I don't think anyone following college football ever thought they'd ever see Vandy do so well.
No. 3: Kevin Sumlin, Texas A&M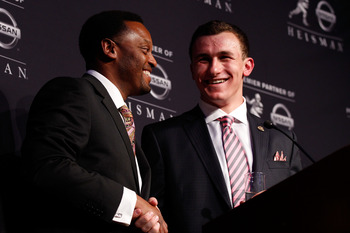 Mike Stobe/Getty Images
None of us really knew what to expect as Kevin Sumlin took the job at Texas A&M or how A&M would hold up in the difficult SEC West.
A Heisman winner later, I think we know.
True, Sumlin didn't recruit Johnny Manziel, but his recruiting has been impressive. The Aggies finished No. 11 in 2013 in recruiting with a solid 15 4-star recruits. While that's only No. 6 in the SEC, it's still impressive.
I have a feeling that Sumlin is just getting started.
No. 2: Jim Mora, UCLA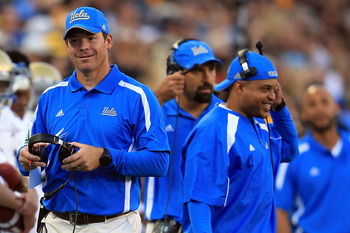 Doug Pensinger/Getty Images
My, how much power has shifted in Los Angeles.
While USC's Lane Kiffin has to fight just to keep his job in 2013, UCLA's Jim Mora is well on his way to building a Pac-12 South dynasty.
Mora put together the best recruiting class in the West, beating the likes of USC, Oregon and Stanford. In fact, they came in No. 8 in the nation with a whopping 17 4-star recruits.
Not bad for a coach who just completed his first year as a college football coach. True, he has a long track record in the NFL, but to come right into the college ranks and do so well is quite impressive.
UCLA still has to develop this talent, but they're already good enough to win the Pac-12 South. Who knows? With this kind of recruiting, Rose Bowls could be in the Bruins' near future.
No. 1: Hugh Freeze, Ole Miss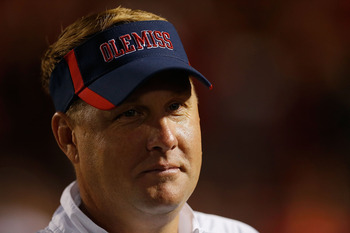 Scott Halleran/Getty Images
You expect SEC West powerhouses like Alabama to break the Top 10 in recruiting, particularly since Nick Saban and Les Miles have both won national titles.
The team you didn't expect to finish in the Top 10?
Ole Miss.
Let's face it: Ole Miss, over the past five years, has been mediocre at best and downright awful at worst. Hugh Freeze went just 7-6 in his first year, while former head coach Houston Nutt went 24-26 over his four seasons. Also, Ole Miss simply doesn't have the resources that teams like Alabama, LSU and Florida have.
That makes the fact that Ole Miss picked up three 5-star recruits, including the overall No. 1 recruit in the nation, Robert Nkemdiche, nothing short of spectacular. If Freeze can develop this fantastic crop of talent to its potential, Ole Miss may become a legit power in the SEC West.
Given who else is in this division, that's no small feat.
Keep Reading