NFL Combine 2013: Riskiest Prospects Who Clocked Fast 40 Times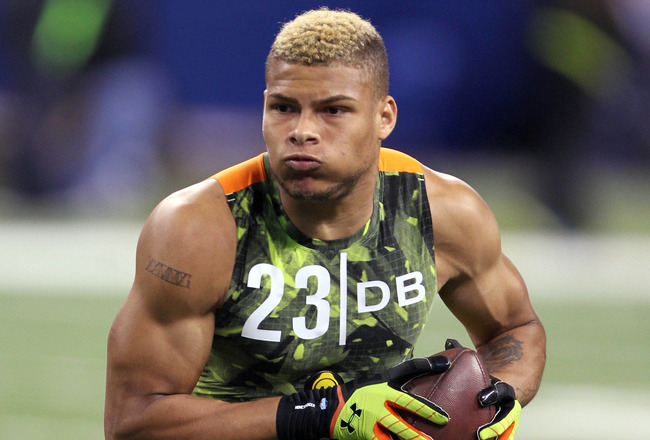 Will Tyrann Mathieu's draft stock continue to rise?
Brian Spurlock-USA TODAY Sports
A good 40-yard dash time at the NFL Scouting Combine only guarantees one thing: that a player is fast.
It doesn't automatically dictate that a specific draft prospect will transition to pro football and immediately dominate as a rookie.
A long and prosperous career does not instantaneously evolve after a player hits among the best times at his position, or even throughout all combine participants. The upside to the 40-yard dash, however, is that it will only help increase a prospect's stock.
Take Tyrann Mathieu as a prime example from the 2013 combine.
The guy is clearly a great athlete and possesses the physical capabilities to last in the NFL. But there are character concerns that unfolded during his days playing for LSU. So, whether it's off-the-field issues or sketchy production, risky prospects will always exist during the draft process.
Note: Full view of official 40 times from the NFL combine.
Tyrann Mathieu: DB, LSU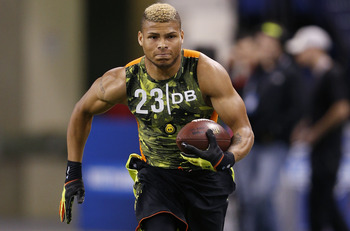 Joe Robbins/Getty Images
Everything regarding Tyrann Mathieu boils down to character.
We've seen his dominance on the field, because he ran 4.5 seconds in the 40-yard dash at the combine.
Plus, he was a Heisman Trophy finalist in 2011 and collected 133 tackles with 19 defended passes and 11 forced fumbles for LSU.
However, during the 2011 campaign, according to The Associated Press via Erick Smith of USA Today, Mathieu ran into some trouble:
"Defensive backs Tyrann Mathieu and Tharold Simon and running back Spencer Ware have been suspended, multiple news outlets, including The Associated Press, reported which cited a person familiar with the decision."

Also, from ESPN.com's Joe Schad last November:
Former LSU defensive back Tyrann Mathieu announced Thursday he is entering the next NFL draft.

Mathieu was arrested last month on a possession of marijuana charge. He also was dismissed from the football team in August for failing a drug test and entered a treatment program run by former NBA player John Lucas.

"I am committed to tackling my personal issues and will work to better myself every day as a man first and only then as a football player."
This will undoubtedly be a concern entering the NFL because the windfall that comes from pro football could potentially add temptation. And the last thing any team wants is to reach for Mathieu in the draft, then watch his off-the-field college days get echoed.
Fortunately, he has apparently gotten back on the right track, and Mathieu's 2013 combine was rather decent.
Denard Robinson: WR, Michigan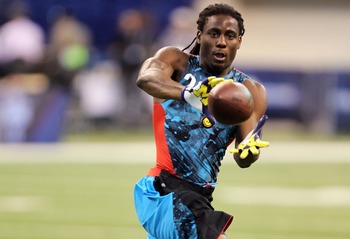 Brian Spurlock-USA TODAY Sports
Denard Robinson is a risk at receiver because he has limited experience at the position.
Will a team utilize his quarterbacking skills in the Wildcat or other formations? Perhaps.
But his potential impact on pro football needs work. Robinson hit 4.43 seconds on the 40 in Indianapolis, but straight-line speed only gets an athlete so far in the NFL.
Robinson caught just three passes for 31 yards in 2012, since he was primarily a quarterback, and has even less experience as a return specialist. For certain, his size, top speed and acceleration are capable of producing from the slot and as a returner.
By the same token, stronger, just as quick and more physical defensive backs will provide trouble in man coverage. From the Wildcat, he can definitely be dangerous inside the red zone and out of the pocket.
Playing time will just be scarce unless Robinson proves he will develop much faster than anticipated.
David Amerson: CB, North Carolina State
David Amerson is a legit playmaker, as he snagged 12 interceptions in 2011.
So, the pressure was inflated to echo that performance in 2012.
Despite defending 17 passes and recording five picks, Amerson is susceptible to quicker receivers who break fast on double-moves. He also must get more physical with receivers at the line, because failing to consistently jam and immediately give up inside leverage enhances the vulnerability.
At times, he has displayed the quick reactionary skills to screens, slants and outs, but NFL receivers will capitalize on this inconsistency.
The good news is that Amerson brings the physical tools to emerge into a solid defender. He's got the top gear—clocked 4.44 seconds at the combine—and lateral balance, which also helps with body control. It's now a matter of dissecting routes sooner and building strength to play at the line of scrimmage.
Amerson's size is also solid, and his ball skills give teams the option of trying him at safety. Nevertheless, recognizing plays and proving to assist more against the run is needed.
Kenny Stills: WR, Oklahoma
USA TODAY Sports
During his tenure at Oklahoma, Kenny Stills caught 204 passes for 2,594 yards and scored 24 touchdowns.
However, he could have produced much more in 2012 if he had been consistently reliable.
The guy simply had struggles catching the rock at a dominant rate. With Ryan Broyles out of the picture last season, Stills should have impacted to another level. The touchdown pass drop in the Cotton Bowl and not wowing at the combine didn't help his cause.
In addition, Stills was arrested during January 2011. Per John Hoover and Guerin Emig of the Tulsa World:
"Norman Police Department lieutenant Jennifer Newell told the Tulsa World on Saturday that Stills, 19, was arrested for misdemeanor driving under the influence at 2:10 a.m."
Regardless of a player's on-field production, these incidents—whenever they occur—are always a concern. Also in an article by Jason Kersey of The Oklahoman in January 2013:
"One NFL scout told The Oklahoman before the Cotton Bowl that neither [Tony] Jefferson nor Stills was ready for the NFL, and that both were likely to be fourth- or fifth-round selections."
On the bright side, pro football is a pass-driven league, and Oklahoma was a passing offense.
Stills hit 4.38 seconds on the 40-yard dash in Indianapolis. So, he undoubtedly possesses the skill set to make the transition; it's leveling up when given more targets and polishing crisp routes against tougher defenses in the NFL.
Zaviar Gooden: LB, Missouri
Zaviar Gooden completely crushed every workout at the combine.
For linebackers, he finished among the best in every drill and definitely increased his draft stock.
His 40 time was 4.47 seconds, which was the fastest of any defender from Monday's action.
Still, we must not put an extreme emphasis on the combine, as it doesn't dictate game action. Gooden certainly supplies the agility and speed to make plays anywhere in the front seven; however, getting more physical at the line and developing more of a pass rush have to occur.
Since he didn't blitz off the edge quite often, Gooden's tackles typically came downfield and after fighting off a block. In coverage, he must gain better field awareness, because NFL quarterbacks who spread the field will find open targets underneath.
Gooden does give excellent effort, though, so mesh that with awesome physical capabilities and the guy has great potential. Developing into a sound pro linebacker will require more consistent use of getting off blocks faster and shielding tight ends and slot receivers in coverage.
Keep Reading