The Carl Touchstone Memorial Mississippi 50 Trail Run offers ultra runners an opportunity to take to the trails for a demanding test of endurance, mental fortitude and willpower. For those runners, completing the 20-kilometer, 50-kilometer or 50-mile portion of the run isn't just about competing—it's about pushing the limits of what can be accomplished.
For the 16th year, runners will take to the Longleaf Horse Trail in Laurel, Mississippi's De Soto National Forest, which has been the home of the run since it was moved from Leland, Miss. in 1996 (per MS50.com). Due to Hurricane Katrina, the race was cancelled in 2006, breaking a string of 10 consecutive races in Laurel.
According to the event's official website, the Longleaf Horse Trail's "soft dirt trails, pine needle paths and fire roads," make it a relatively easy course for the event's ultra runners, who can choose to participate on the 20-kilometer, 50-kilometer or 50-mile loops.
This year's event will be the 12th race in honor of Carl Touchstone, who was instrumental in the race's move to Laurel in 1996. It once again will commemorate Touchstone and his "untimely death due to cancer."
Here's a look at the route, start time, date and other information for the event.
Date and Start Time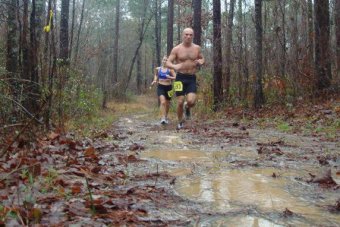 The Carl Touchstone Mississippi 50 Trail Run takes place on Saturday, March 2, but the start times vary based on the various distances and loops in which the runners will be taking part.
*Local time for the event is Central Time.
20K Runners: 9 a.m. ET
50K and 50M runners: 7 a.m. ET
Time Limit: 12-hour time limit for 50K and 50M runs
Route
The Longleaf Horse Trail consists of two loops: a 6.1-mile loop and a longer 12.5-mile loop.
Runners participating in the 20K run the long loop once. Fifty-kilometer runners do the large loop twice and finish the run with the shorter loop, while the 50-mile runners do the large loop three times and the shorter loop twice.
According to the Mississippi 50 Trail Run's official website, 50-kilometer and 50-mile runners pass the starting point several times throughout the run, allowing runners to leave extra clothes, shoes and "goodies" at the starting area.
Runners don't need to worry about taking on too large a task; switching races during the run is allowed, but those runners aren't eligible for a trophy when they finish the event.
Previous 50-Mile Winners and Times
Year
First Place (Male)
First Place (Female)
2012
Eric John 6:55:18
Kate

Brun

8:30:00
2011
Greg

Geahart

7:53:58
Karen Ray 8:36:41
2010
George

Sekzix

7:22:22
Deanna

Culbreath

8:46:21
2009
John

Brower

7:21:50
Kris

Whorton

8:05:44
2008
John

Brower

6:51:15
Ann

Heaslett

8:47:06
2007
Joel

Stahel

7:02:22
Ann

Heaslett

7:33:56
2005

DeWayne

Satterfield

6:51:37
Ann

Heaslett

7:33:07
2004
Eric Grossman 6:39:21
Sally Brooking 8:57:23
2003
Davy W.

Kennamer

6:34:58
Beth Simpson 10:08:47
2002

DeWayne

Satterfield

6:33:49
Tracy Rose 7:08:28
2001

DeWayne

Satterfield

6:42:23
Kiersten

Schnacke

9:42:05
2000
Dink Taylor 5:55:41
Kathy

Youngren

7:25:50
1999

DeWayne

Satterfield

6:56:53
Tracy Rose 7:08:26
1998
Dink Taylor 6:33:50
Susan

Kempema

8;12:40
1997

DeWayne

Satterfield

6:55:42
Kathryn Faulkner 8:03:00
1996
Dink Taylor 6:22:00
Barbara

Marquer

9:47:00
Trophies and prizes are awarded to participants of the run, as noted on the event's website:
Each entrant will receive a tech t-shirt. Trophies are awarded to the top several male and female runners in each race. A finisher memento (e.g.: running cap, or gloves or bottle) is given to each finisher. 50 mile finishers also receive a handsome belt buckle.
*All results acquired from MS50.com.