Updated Grades for Every Impact NBA Rookie Entering March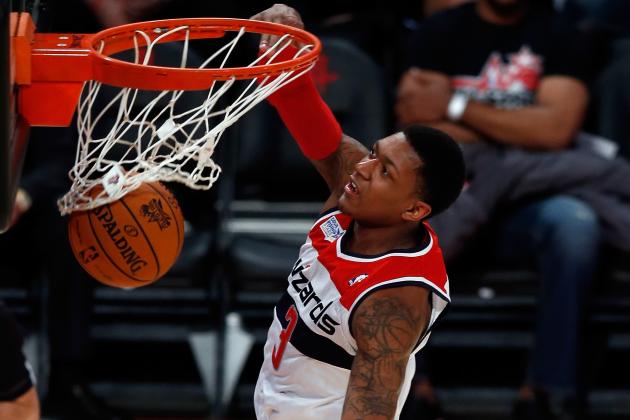 Scott Halleran/Getty Images

In the past few weeks, several 2012-13 NBA rookies have taken off their training wheels.
A pair of Eastern Conference guards tore through February on the strength of some career-best performances, while a trio of West Coast playmakers sought to take their talents to another level.
Not every newcomer had a fun month, though, and a few of them took a turn for the worse and actually saw their grades suffer.
Also, Anthony Davis was the No. 1 pick in last year's draft, but did he get the best grades of all the post players in the current rookie class?
*An "impact rookie" is one who averaged at least 17 minutes per game in February.
Begin Slideshow

»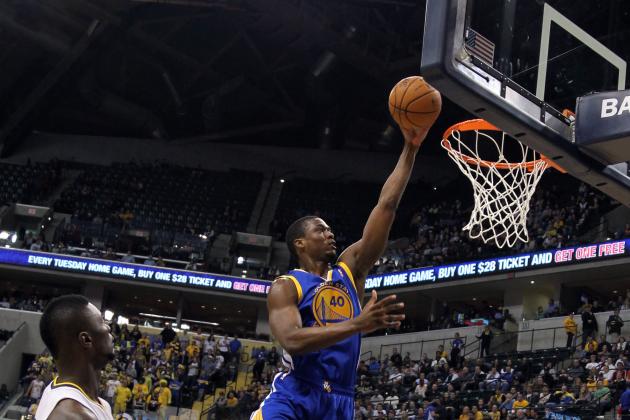 Brian Spurlock-USA TODAY Sports

February Stats: 25.4 MPG, 8.7 PPG, 2.8 RPG, 46.8% FG, 38.9% 3PT
Although Barnes' numbers have stayed the same, he's recently exhibited signs of improvement as a stopper and an offensive weapon.
Through two-thirds of the 2012-13 campaign, he has continued his supplementary role on the Golden State Warriors, but his approach and his confidence are much better.
He's more comfortable moving away from the ball and has become an even better cutter and finisher. Barnes doesn't shy away from contact and can convert difficult shots with his left hand.
With several top-tier scorers around him, it's not surprising that he only gets a small handful of shots per game. But his presence as a swingman defender and an inside-outside threat on offense will be critical for the Dubs in the playoffs.
Updated Grade: B+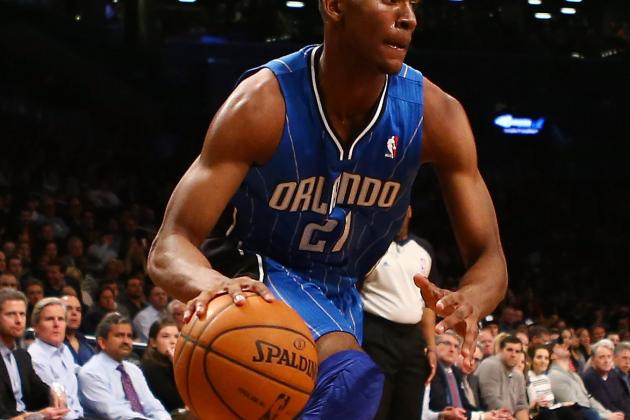 Al Bello/Getty Images
bradley beal
February Stats: 34.4 MPG, 11.5 PPG, 6.5 RPG, 1.3 SPG, 45.3% FG, 21.7% 3PT
Moe Harkless is finally filling up the hoop.
He's become markedly more involved and assertive in the Orlando Magic offense, posting double figures in six straight games.
Harkless does most of his work in the paint, acting as more of an undersized power forward whose outside shooting is suspect. Once his long-range skills catch up with the rest of his game, the Magic will be a much more versatile offensive unit.
His heavy minutes in a losing season aren't always pretty, but they'll help him tremendously for the future.
Updated Grade: C+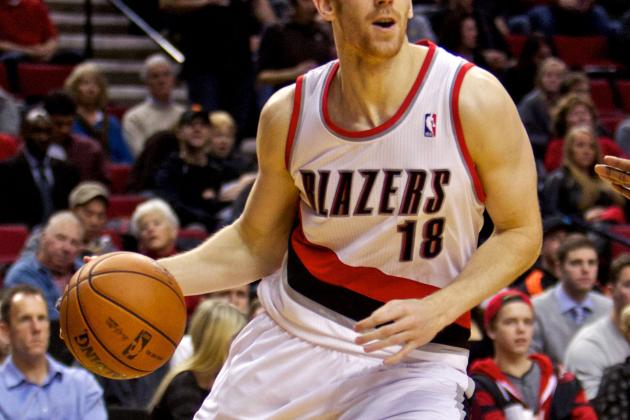 Craig Mitchelldyer-USA TODAY Sports

February Stats: 17.8 MPG, 3.3 PPG, 3.3 RPG, 41.5% FG, 25% 3PT
Spanish forward Victor Claver hasn't received much exposure in the NBA until the past few weeks, as Portland Trail Blazers coach Terry Stotts has used him in order to give his taxed starters some rest as the season wears on.
At this point, Claver is deferring offensively, only asserting himself with the occasional slash or three-pointer.
Aside from shooting, he's shown glimpses of nifty interior passing, as well as some bursts of rebounding. His 10 rebounds were a major factor in the Blazers' victory over the Boston Celtics on Feb. 24.
Updated Grade: C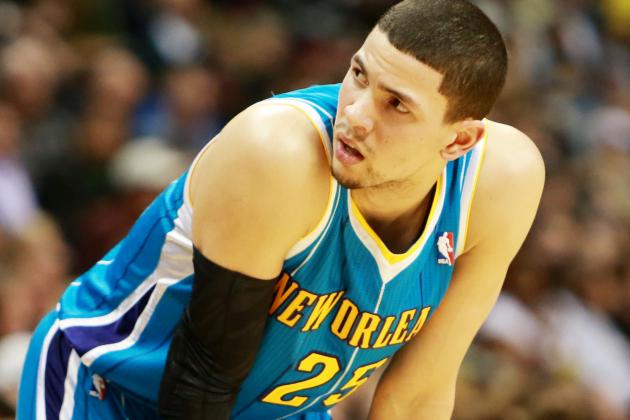 USA TODAY Sports

February Stats: 23.6 MPG, 6.3 PPG, 2.0 APG, 44.6% FG, 46.2% 3PT
Has Austin Rivers actually become an efficient NBA guard?
Judging by his last few weeks, he certainly has. He's shooting a great percentage inside and outside the arc, and he turned the ball over less in February than in any other full month.
Is Rivers a major factor in the New Orleans Hornets offense? No, but instead of his unproductive and often harmful offensive tendencies, we're seeing a more selective and helpful role player of late.
He has a long way to go in order to be considered a key piece on a winning club, but Rivers is clearly taking steps in the right direction.
Updated Grade: C+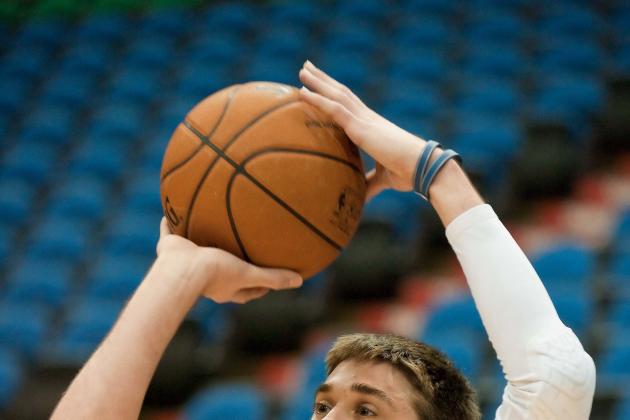 USA TODAY Sports

February Stats: 23.1 MPG, 8.8 PPG, 3.0 APG, 36% FG, 27.9% 3PT
Once Ricky Rubio reached 100 percent in terms of health and stamina, Alexey Shved's minutes and touches decreased a bit, along with his overall production.
Now that the two Minnesota Timberwolves guards are on the court together more often, Shved has served primarily as an off-ball wing rather than a combo-guard playmaker.
We've been wondering all year when his three-point shooting would turn around, and it just hasn't happened. He hasn't had a multi-triple game since Feb. 1.
Minnesota has suffered some tough, close losses recently, so a couple extra buckets from Shved could be the difference moving forward.
Updated Grade: B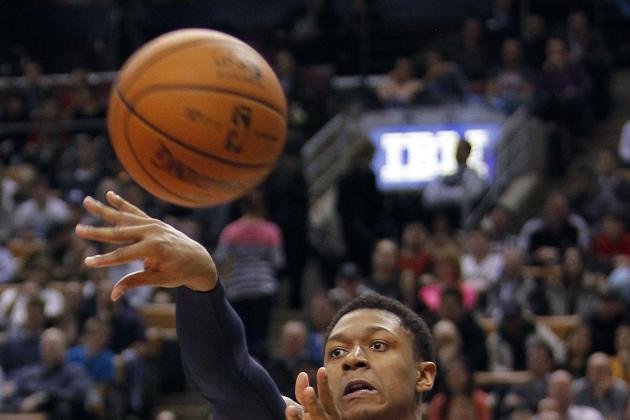 John E. Sokolowski-USA TODAY Sports

February Stats: 34.8 MPG, 17.5 PPG, 2.3 APG, 5.1 RPG, 48.1% FG, 42.4% 3PT
February has been a banner month for Washington Wizards rising star Bradley Beal. His confidence and execution are at an all-time high.
It's no coincidence that his brilliant play has occurred simultaneously with the club's 7-4 run in the last 11 games.
Not only is Beal's jumper clicking, but his facilitating has been extremely effective as well. When he can make plays off the dribble to help John Wall's efforts, the Wizards have one of the best backcourts in the East.
Nearly all of Beal's shooting-based statistics have gone up during each month of his rookie campaign, and that should get Washington fans excited about the month of March.
Updated Grade: A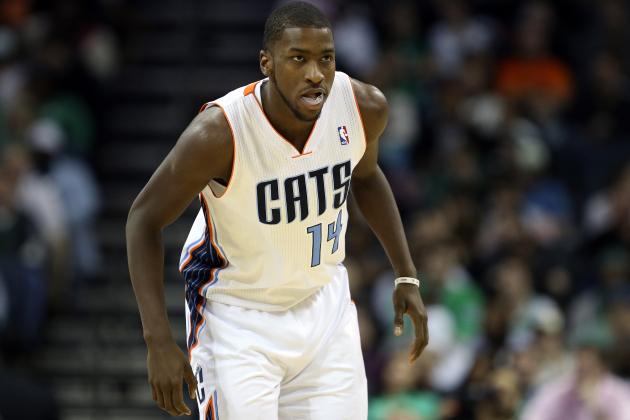 Streeter Lecka/Getty Images

February Stats: 20.8 MPG, 5.6 PPG, 4.1 RPG, 1.2 BPG, 31% FG
From the field and on the glass, Charlotte Bobcats forward Michael Kidd-Gilchrist has been struggling lately. He's not looking much like the top-five draft pick that the club thought it was getting.
His offensive impact, touches and shot attempts have been wildly inconsistent, as he hasn't posted double-digit attempts in back-to-back games since the beginning of January.
MKG is still a disruptive force on the defensive side, and he can swat shots better than most small forwards.
However, when he's on the court for 20 or more minutes, Mike Dunlap would love to get more than one or two field goals out of him.
Updated Grade: C+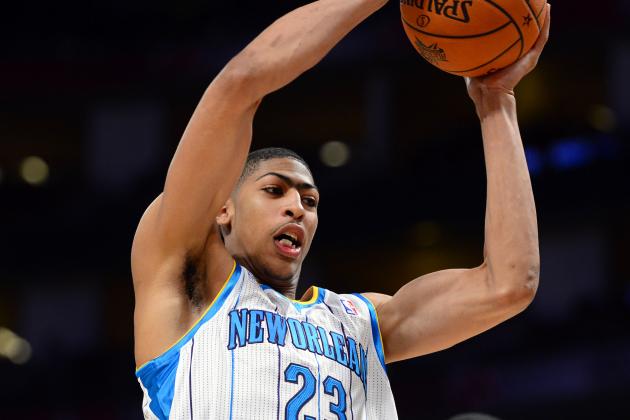 Bob Donnan-USA TODAY Sports

February Stats: 25.5 MPG, 11.2 PPG, 7.0 RPG, 1.8 BPG, 1.2 SPG, 44.3% FG
According to John Reid of The Times-Picayune, Anthony Davis is currently sidelined for an undisclosed amount of time due to a due to a shoulder sprain.
The timing of this injury is really unfortunate for the New Orleans Hornets because he had been playing some terrific hoops throughout the last couple weeks.
At one point, Davis racked up three double-doubles in four games, and he followed that up with 20 points and eight boards in New Orleans' win over the Sacramento Kings.
He shows excellent timing for a 19-year-old, and he continues to outrun other big men as he helps the Hornets get early offense.
There's plenty to cheer about regarding the young forward, but the injury bug has been derailing him too often thus far in his career.
Updated Grade: A-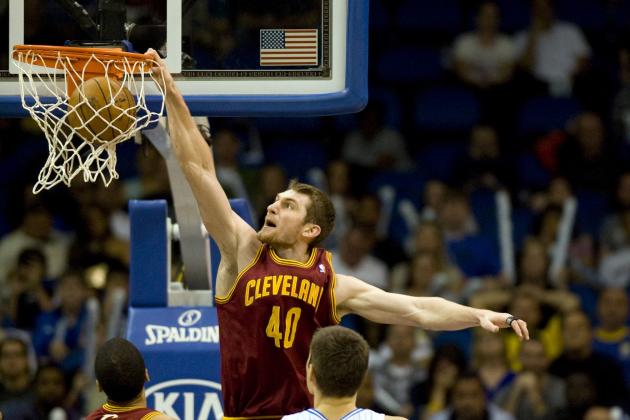 Jeff Griffith-USA TODAY Sports

February Stats: 24.1 MPG, 7.5 PPG, 5.3 RPG, 50% FG
Cleveland Cavaliers center Tyler Zeller doesn't dominate the paint physically and isn't a consistently productive post threat. But considering that he's a rookie who was forced into the starting lineup midway through the season, he's hanging tough.
He works the baseline well and utilizes his baby hook through contact, and he's also a nice target in transition.
On the other end, Zeller cleans up the defensive glass and is a great outlet passer to start the Cavs offense.
The upcoming schedule is a huge test for him, though, as he will face the stout frontcourts of the Los Angeles Clippers, New York Knicks, Utah Jazz and Memphis Grizzlies.
Updated Grade: C+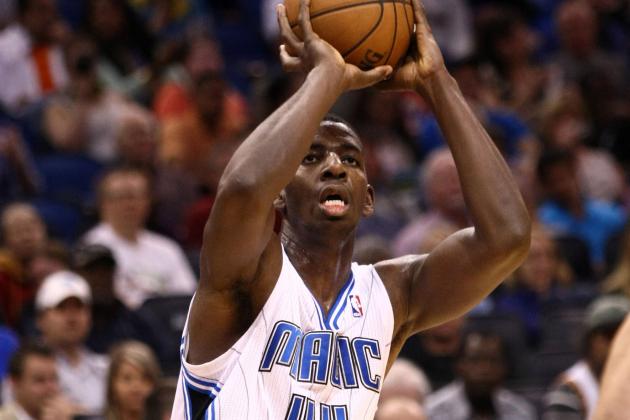 Douglas Jones-USA TODAY Sports

February Stats: 25.4 MPG, 11.4 PPG, 5.2 RPG, 53.3% FG
For the first couple months of the 2012-13 season, Andrew Nicholson played well in a limited role.
Now that he regularly plays 25-plus minutes per night, Orlando Magic fans are in for a treat almost every game. He's taken advantage of his uptick in playing time by feasting off mid-range opportunities.
The mid-range offense is truly a lost art for most young ballers, so it's a pleasure to see someone thrive in this area like Nicholson has.
He's also playing solid individual and team defense, as the Magic give up 7.2 fewer points per 100 possessions when he's on the floor (via 82games.com).
Updated Grade: A-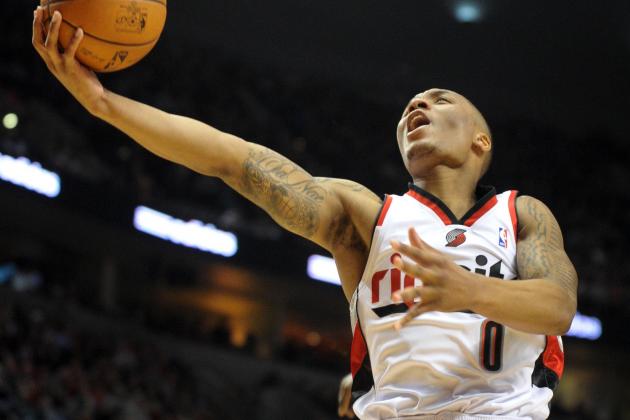 Steve Dykes-USA TODAY Sports

February Stats: 38.6 MPG, 19.8 PPG, 6.2 APG, 0.7 SPG, 41.5% FG, 31.4% 3PT
Damian Lillard's point totals are up, but so are his turnovers and missed triples.
The Portland Trail Blazers' star guard has assembled such an impressive rookie season that we are holding him to a higher standard than the rest of the league's newcomers.
Opponents are making more of an effort to throw him off his rhythm lately, but it has rarely worked. Lillard is finding new ways to get into the paint and make plays.
Despite the occasional speed bump of turnovers or a poor shooting night, I'm still impressed by what he has done because the Blazers have leaned so heavily on him as a rookie point guard.
Updated Grade: A-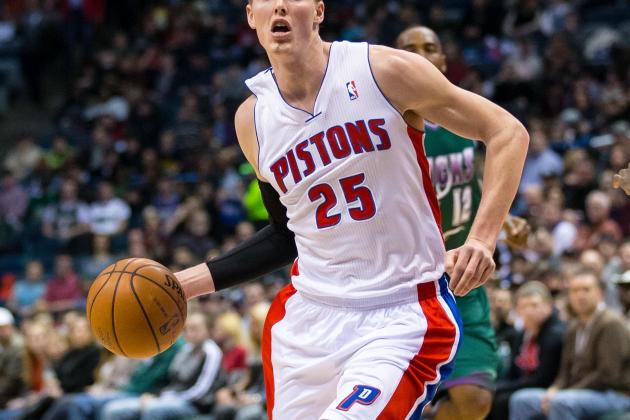 Jeff Hanisch-USA TODAY Sports

February Stats: 29.3 MPG, 10.0 PPG, 4.4 RPG, 45.7% FG, 33.3% 3PT
Nothing has been easy for the Detroit Pistons this season, and Kyle Singler has worked hard for every basket that he's scored. His adventure to find high-percentage opportunities carried over into February.
Whether it's off the bounce, in transition or off a cut, he exhibits exceptional timing and hustle.
Take this transition play, for example. While most players on both squads are still getting their bearings, Singler is already making a beeline toward the rim, and he gets rewarded for his sprint.
He might not shoot like Bradley Beal or finish like Anthony Davis, but there's a reason why Singler has received the fourth-most minutes of any rookie this season.
Updated Grade: B+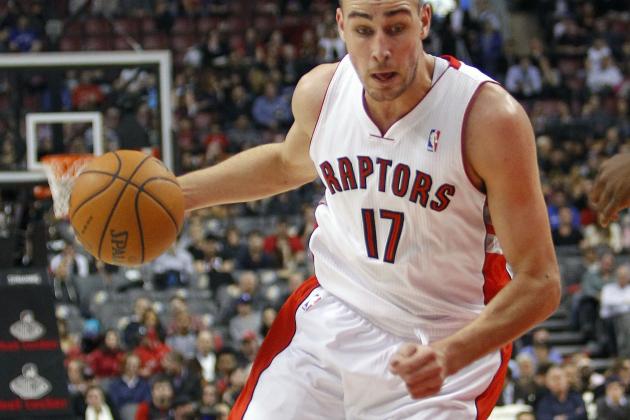 John E. Sokolowski-USA TODAY Sports

February Stats: 19.0 MPG, 5.0 PPG, 6.3 RPG, 51.2% FG
For a number of reasons, Lithuanian import Jonas Valanciunas is not quite ready to be a featured part of the Toronto Raptors offense.
His talent is developing, but he's still young and a little raw, and the Raptors prefer to ride their guards and swingmen.
Consequently, Valanciunas hasn't tried more than four shots in a game in his last seven contests, and he has hoisted double-digit attempts just once in February.
He does, however, have five multi-block games in the month, including three swats against the Cleveland Cavaliers on Wednesday night to finish out the month strong.
Updated Grade: B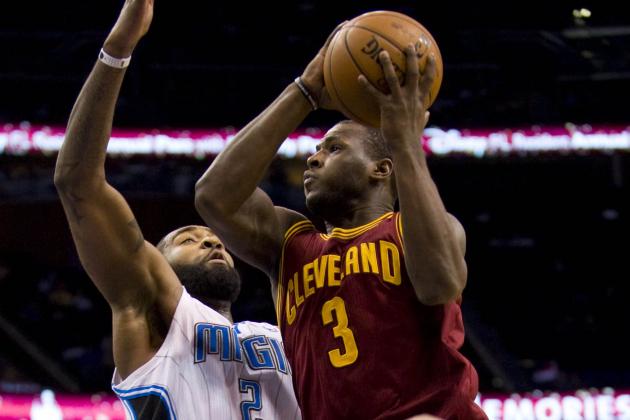 Jeff Griffith-USA TODAY Sports

February Stats: 28.2 MPG, 15.8 PPG, 3.1 APG, 1.1 SPG, 51.4% FG, 25% 3PT
In the last couple months, Cleveland Cavaliers guard Dion Waiters went from being a terribly inefficient shooter to a player who's scoring more often than missing.
He finished February with a particularly productive week. Waiters went toe-to-toe with the Miami Heat stars, carried the Cavs past the Chicago Bulls and then keyed a triumph over the Toronto Raptors.
Better decisions are leading to better shots and passes, and Cleveland is benefiting in the win column.
Considering the way that Waiters is playing lately, it will be "playoffs or bust" for the Cleveland Cavaliers next season if Kyrie Irving stays healthy.
Updated Grade: A-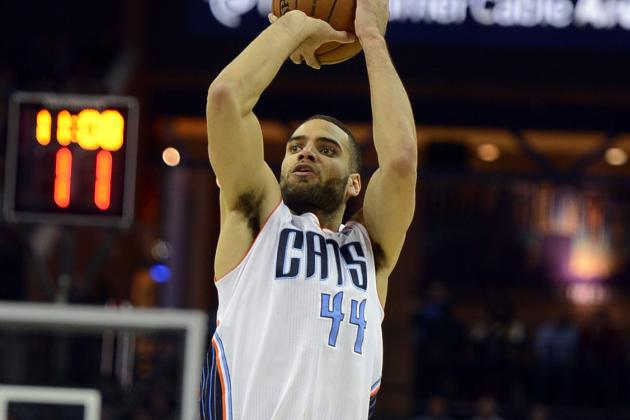 Curtis Wilson-USA TODAY Sports

February Stats: 19.5 MPG, 6.9 PPG, 1.9 RPG, 50.8% FG, 26.9% 3PT
Just when we thought Jeff Taylor was fading into irrelevance, he dropped a season-high 18 points on the Denver Nuggets on Feb. 23 without hitting a single trey.
That doesn't single-handedly boost his grade or stock, but it is a reminder of what he can do, even on a cold shooting night.
The 2012-13 Charlotte Bobcats are an upgrade over the 2011-12 version, but they're still a hapless bunch. There's not much a rookie can do to change that, so we can't judge Taylor too harshly.
Updated Grade: B
For more league-wide coverage, follow Daniel on Twitter: