Playing Pretender or Contender with Updated 2013 NBA Title Favorites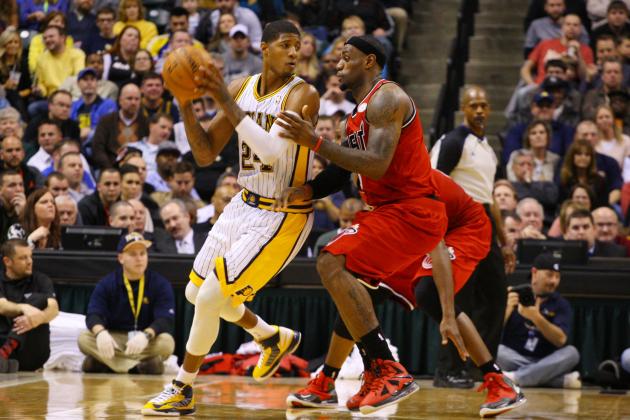 Brian Spurlock-USA TODAY Sports

Now that we're starting to gain a more complete understanding of what distinguishes a proven contender like the San Antonio Spurs from a hopeful up-and-comer like the Indiana Pacers, it's time to focus on which NBA teams have separated themselves from the pack.
Looking back, the month of February proved that, while each supposed contender may have flaws, some are much more significant and worrisome than others.
An intense NBA postseason is looming, and with so many quality contenders, this one promises to be as entertaining as ever.
Begin Slideshow

»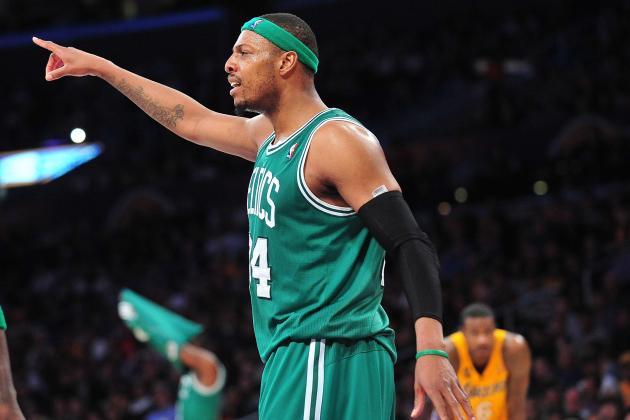 Gary A. Vasquez-USA TODAY Sports

It's tough to discount the Boston Celtics as a title contender after the perseverance they've shown these past few postseasons (appearances in the Eastern Conference finals, Eastern Conference semis and NBA Finals the last three years), but the team's lack of depth will ultimately prevent it from making an extended run in the playoffs.
Rajon Rondo's season-ending knee injury has put the Celtics in a bind, as they've been left with a point guard platoon of Avery Bradley, Jason Terry and newly signed Terrence Williams.
In addition, the team's frontcourt depth is limited at best, with Kevin Garnett, Brandon Bass and Jeff Green the team's only viable options at the 4 and 5.
Veteran leaders like Paul Pierce and Garnett will provide the Celtics with valuable playoff experience and wisdom, but in the end, the team's inability to keep pace with high-powered offenses will doom it.
Verdict: Pretender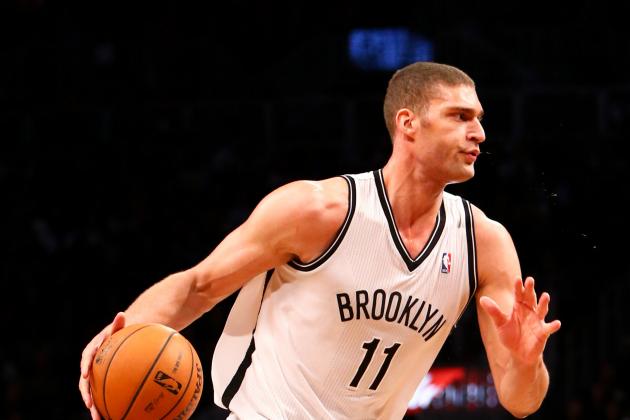 USA TODAY Sports

Once considered an elite contender in the Eastern Conference, the Brooklyn Nets have had several flaws exposed throughout the course of the 2012-13 season.
Point guard Deron Williams' performances have looked lackadaisical on more occasions than not, and Brooklyn's perimeter scorers have been far from consistent. The Nets simply don't have the look of a cohesive unit that can make a run to the NBA Finals.
All-Star center Brook Lopez has been the team's brightest spot, but the Nets offense doesn't have the firepower to back him up, as they rank 20th in the NBA in points per game (per Basketball-Reference).
Using this season as a learning experience, perhaps the Nets will come back stronger in 2013-14.
Verdict: Pretender
Greg M. Cooper-USA TODAY Sports

The Chicago Bulls' designation as a playoff contender or pretender is contingent on one thing and one thing only.
Derrick Rose's return to action is still very much up in the air, and with no specified return date in sight, it's beginning to look like the Bulls could play without their star point guard for the remainder of the season.
With Rose absent for the entirety of the season, the Bulls have had to lean on Kirk Hinrich and Nate Robinson to get the job done at the point, but the two haven't been able to combine to produce an effect nearly as profound as Rose's.
Joakim Noah, Taj Gibson and Luol Deng have led one of the league's most complete defenses (third in the NBA in points per game allowed, according to Basketball-Reference), but there isn't enough consistent offensive production coming from the team's starters and reserves to make a dent in the hopes of the conference's elite.
Verdict: Pretender (assuming Rose doesn't return)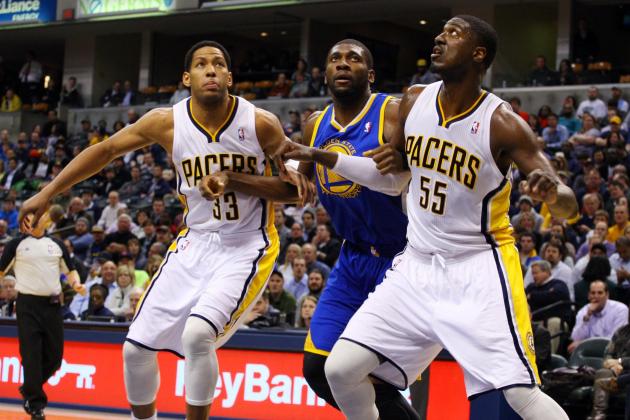 Brian Spurlock-USA TODAY Sports

Make no mistake about it: Frank Vogel's small-market warriors have solidified themselves as legitimate contenders.
With a defense that's unafraid to stick its nose in opponents' business, the Pacers have worked themselves into a groove, simply locking up all opponents to an average of 89.6 points per game, best in the NBA (per Basketball-Reference).
Also, while the season-long numbers don't reflect it (25th in points per game and 21st in offensive rating), the Pacers have a budding offense that could cause real matchup problems for opponents come playoff time.
Paul George has ascended into the upper echelon of wing players in just his third season, displaying a steady stroke from three-point range (38.6 percent), as well as an improved mid-range game.
Alongside George, the Pacers boast Danny Granger and David West, each of whom has an offensive game that complements George's beautifully.
West, in particular, should be viewed as a significant threat due to his elite mid-range jumper (44 percent shooting from 10-15 feet and 47 percent shooting from 16-23 feet, per HoopData) and his soft touch down in the post.
Verdict: Contender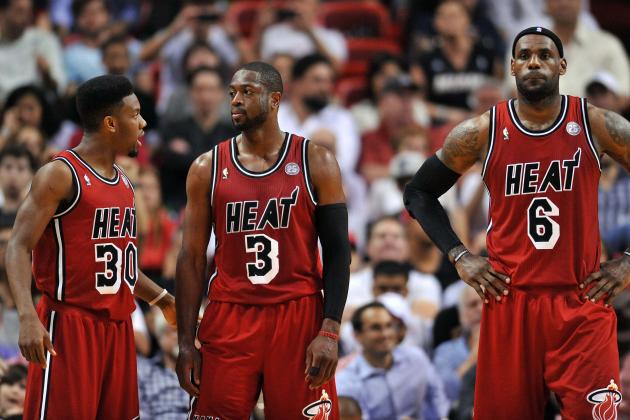 Steve Mitchell-USA TODAY Sports

There's really no debate here. The Miami Heat are the defending NBA champions, they possess the world's best player and they're coming off a month in which they won 12 of 13 games.
Having won 13 straight heading into Sunday, it's clear the Heat have found their groove, and it couldn't have come at a better time.
LeBron James is putting up numbers that are historically efficient (27.1 points per game on 56.4 percent shooting, 31.76 PER) but his partner in crime, Dwyane Wade, also had a fantastic go of it in February.
In the month of February, Wade posted averages of 23.9 points, 6.2 rebounds, 5.5 assists and 2.5 steals per game. He did all of that while shooting 53.2 percent for the month, leading to 59 percent shooting since the league's All-Star break.
The Heat are clicking on all cylinders, which is bad news for opponents looking to knock them off their championship pedestal.
Verdict: Contender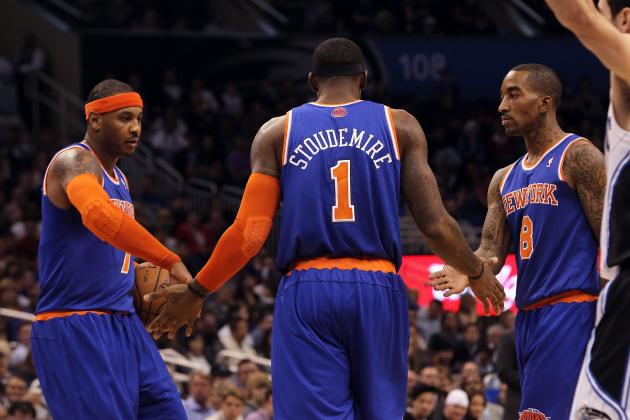 Kim Klement-USA TODAY Sports

It's been a rocky ride for the New York Knicks, who have seen their label as title contenders slip away after an underwhelming month of February.
Going 6-5 in February, the Knicks now hold a slim three-game lead over the Brooklyn Nets in the Atlantic Division and sit just 5.5 games ahead of the Boston Celtics in the Eastern Conference standings.
The Knicks' collective performance since the All-Star break has been troubling, with Carmelo Anthony shooting a dismal 38.9 percent from the field in five games since the break.
Another concerning statistic has been center Tyson Chandler's shooting percentage since the break. Chandler is converting on a meager 46.7 percent of his looks since the All-Star break, which is down nearly 20 percentage points from his average on the season.
The one real bright spot for the Knicks since the break has been the play of Amar'e Stoudemire, who has shot an insanely efficient 67.5 percent from the field en route to 13.8 points in just 22.8 minutes of work per night.
Fading in the season's second half, it appears the Knicks lack the intensity and drive necessary to be considered title contenders.
Verdict: Pretender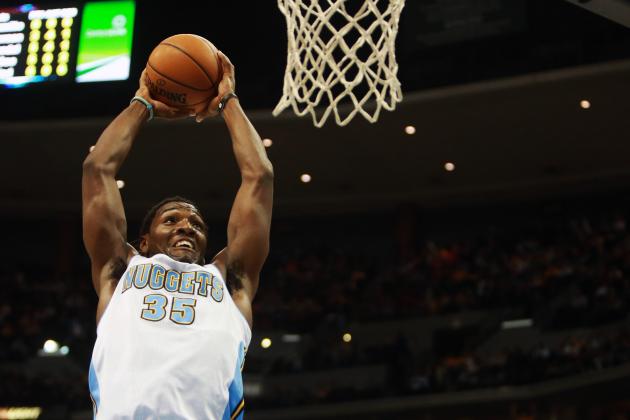 Chris Humphreys-USA TODAY Sports

A trendy preseason pick out West, the Denver Nuggets possess elements of a championship ballclub.
Playing at a breakneck pace, the Nuggets offense simply runs roughshod over athletically inferior opponents night after night.
Unfortunately for the Nuggets, the postseason is not a place for up-and-down affairs, with teams settling down and playing in the half-court at a much higher rate.
The Nuggets' third-ranked scoring offense (per Basketball-Reference) may be able to carry them to a series win, but that will likely be the extent of the team's postseason success.
With a defense allowing 101.8 points per game (26th in the NBA), it would be unreasonable to expect the Nuggets to compete for a conference or NBA title.
Verdict: Pretender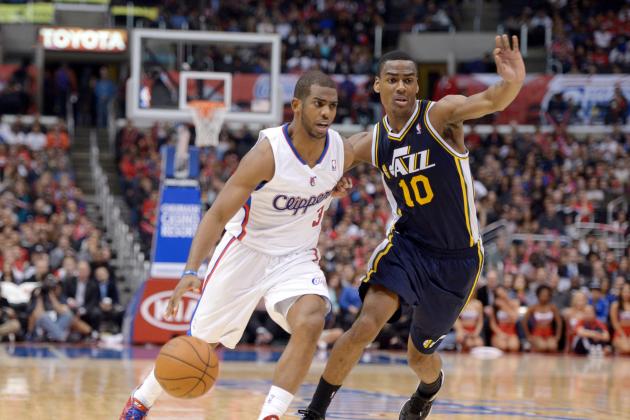 USA TODAY Sports

The Los Angeles Clippers possess all of the qualities normally associated with contenders. They're disciplined both offensively and defensively, they have scorers and they possess veteran leadership that permeates both the starting lineup and reserve groupings.
With both a top-10 offense and defense, according to Basketball-Reference, the Clippers have what it takes to compete deep into the postseason.
Vinny Del Negro's defense has allowed just 93.8 points per game this season, which ranks fourth in the NBA, while the team's offense has thrived, scoring 109.5 points per 100 possessions (seventh-best).
What's even better news for the Clippers is that, despite all of their athletic ability, they aren't reliant on the fast break to score copious amounts of points.
The Clippers rank 17th in the NBA in pace and have established themselves as one of the league's more adept teams at scoring in the half court.
With Chris Paul and Chauncey Billups providing veteran savvy and leadership while Blake Griffin, DeAndre Jordan and Eric Bledsoe deliver athleticism in waves, the Clippers may be hard to stop come playoff time.
Verdict: Contender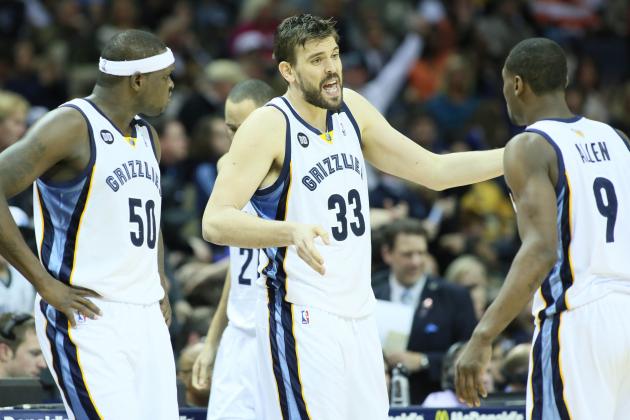 USA TODAY Sports

So much for the Rudy Gay trade hindering the Memphis Grizzlies' ability to make a run at a title.
Despite lacking an overly confident, quasi-elite, volume-scoring wing, the Grizzlies have thrived in recent weeks, winning eight straight, and currently sit 1.5 games ahead of the Denver Nuggets for the fourth seed in the Western Conference.
Lionel Hollins continues to roll out one of the league's most intimidating defenses, one that boasts Tony Allen out on the wing, while the interior is manned by the fearsome duo of Zach Randolph and Marc Gasol.
The Grizzlies currently rank second in the NBA in opponent's points per game (89.6) and second in defensive rating (100.0), per Basketball-Reference, but the team's offense still leaves something to be desired.
Relying heavily on the production of Randolph and Gasol to stabilize the offense, the Grizzlies are going to need to find some offense from Tayshaun Prince and Mike Conley in time to make a playoff push.
According to 82games, the five-man unit consisting of Conley, Allen, Prince, Randolph and Gasol is plus-seven in plus/minus, but that's primarily because of their stout defense.
That lineup is scoring just 0.98 points per possession, a number that will need to increase markedly should the team want to threaten the Western Conference superiority of the San Antonio Spurs and Oklahoma City Thunder.
Verdict: Contender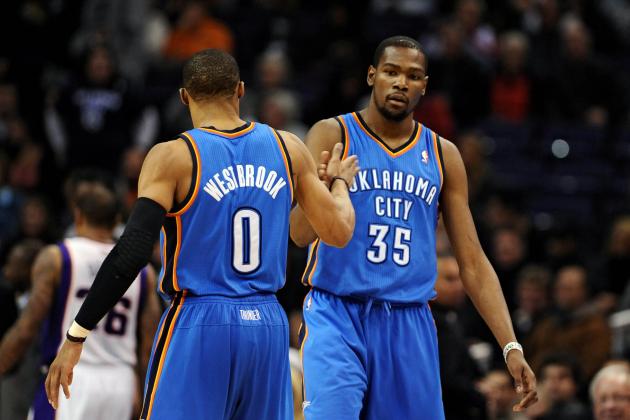 Jennifer Stewart-USA TODAY Sports

They're the defending Western Conference champions, and they've got their eyes on a repeat.
The Oklahoma City Thunder may not be first in the Western Conference standings right now, but then again, they don't need to be. After finishing three games behind the San Antonio Spurs in the West last season, the Thunder eliminated their rivals in a hotly contested Western Conference finals that lasted a grueling six games.
If the season were to end today, the Thunder would find themselves three games behind the Spurs for the No. 1 seed in the West, but as history tells us, the seeds may be irrelevant.
However, simply winning another conference title would be unacceptable for a Thunder team that has been driven by last season's failures in the NBA Finals.
With Kevin Durant and Russell Westbrook set to navigate the Thunder through a Western Conference riddled with elite contenders and scheming dark horses, OKC is in prime position to make another run at capturing the Larry O'Brien Trophy.
Verdict: Contender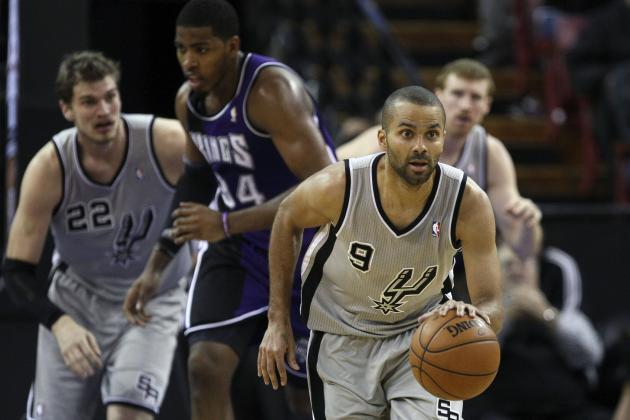 USA TODAY Sports

It feels redundant to say at this point, but it feels like the San Antonio Spurs seemingly waltz through the regular season en route to the NBA's best record nearly every season, receiving little recognition for their impressive achievements.
However, despite being a fantastic regular-season team, the Spurs haven't been able to break through the playoff wall in recent years, failing to make the NBA Finals after winning at least 50 games in each of the past five seasons.
Tony Parker's presumed absence (via Yahoo! Sports) for the next month may hurt the Spurs' chemistry, but if it does, the negative effect will be minimal.
The Spurs have one of the deepest and most disciplined teams around, so don't be surprised if the team continues to thrive with a platoon of Nando De Colo, Patty Mills and Gary Neal at point guard.
Verdict: Contender