Four Reasons the Red Wings Can Turn Things Around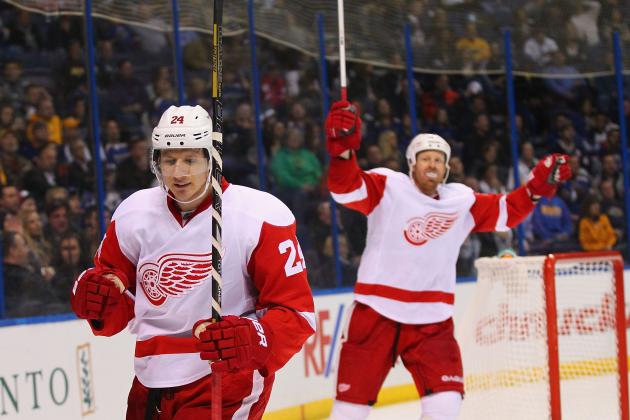 Dilip Vishwanat/Getty Images

When you take a look at the Red Wings 9-7-3 season so far, there are many things that can be said.
The first and most obvious thing is the injuries that have robbed the team of speed, some scoring and a consistent defense.
One can also look to the sub par defense which has, at points, left Jimmy Howard left to cover the team's lapses.
Goaltending has also been a concern with Howard playing in 17 out of 19 games.
Add in a inconsistent power play and the Red Wings have dealt with a number of problems during this season.
Not all is lost this season. There are four things in particular that the team can do to change their fortune for the remaining games.
Begin Slideshow

»
Gregory Shamus/Getty Images
Datsyuk looks to keep a consistent power play
Recently, the power play has been doing its job, as it provided three out of the eight goals in Detroit's win over Vancouver on Sunday. For durations of the season, however, the Red Wings have struggled to make opponents pay for their mistakes with an extra man.
Same can be said when the team has to kill a penalty. They have killed 76.9% of penalties this season, ranking 24th in the NHL (ESPN). Part of the issue is the team is missing vital penalty killer Darren Helm and also a new look defense.
If the team plans on making the playoffs again, they must solidify their place on the penalty kill and also being more consistent on the power play.
All of this comes from coaches being able to adapt with all the injuries and the other situations happening this season.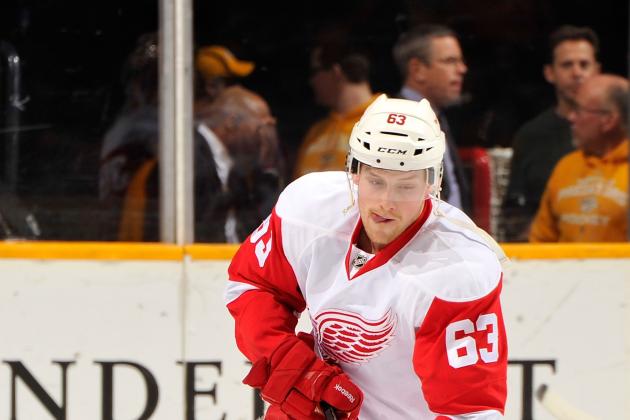 Frederick Breedon/Getty Images

Since the Red Wings have brought up Tomas Tatar and Joakim Andersson, the bottom six forwards have been more active in the scoring department.
Tatar has been in the NHL for 11 games in 2012-13 and has six points (three goals and assists). His energy and speed have been important to the Red Wings' third line. Even with his small frame (5'10", 186) he likes to get physical and maintain the puck.
Andersson has also filled a nice void on the third line as a center for injured Darren Helm. In nine games this season he has three goals and two assists.
Standing at 6'3" and 215 pounds, Andersson is a good skater and has on ice smarts who can pitch in on the offense and help in faceoffs. He has been applauded by coach Mike Babcock as being "smart and big" (Mlive).
Other bottom six forwards like Drew Miller, Patrick Eaves, and Jordin Tootoo have brought more consistency to the bottom six along with Dan Cleary and Justin Abdelkader who are getting top six minutes due to injuries.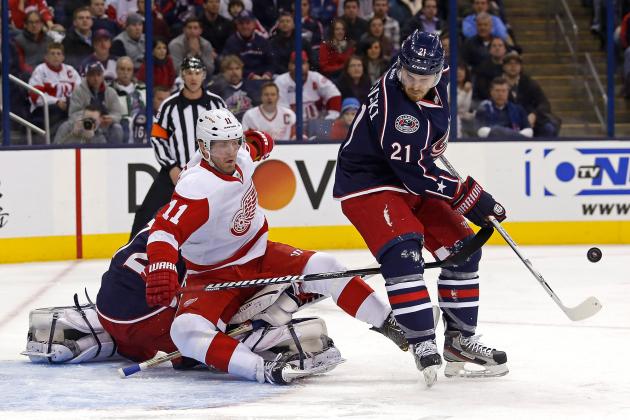 Kirk Irwin/Getty Images

With their first 12 of 19 games at the Joe, the Red Wings have not had to deal with the rigors of being on the road.
That's a very good thing for the team as well who has posted a 2-3-2 record so far in this season. And with only six home games for the entire month of March, the Red Wings will become road warriors.
Road trips to the West Coast will surely drain the team but having three west coast road trips separated across the month will give them some time to get over the travel lag and also allow for some healthy bodies to return to the lineup.
So, the treks out to Los Angeles and San Jose along with visits to Western Canada will cement this team's place in the Western Conference as they are trying to get a stable foot in the playoff race.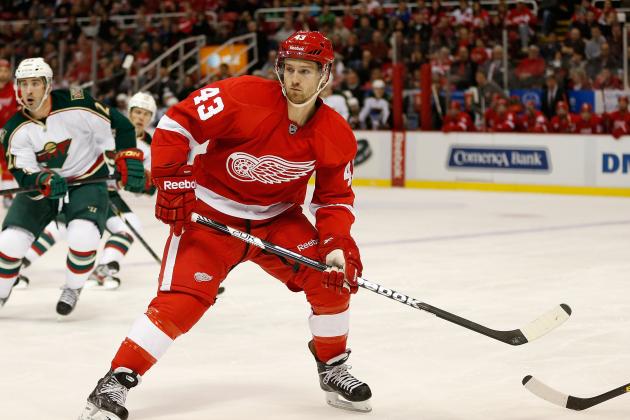 Gregory Shamus/Getty Images

Some of hockey's best teams have faced adversity with injuries. Most injuries only sideline players for a couple of weeks while there are a few injuries that will cripple a team.
For the Red Wings, it is becoming more likely that Darren Helm will miss a large chunk of the season with a lingering back problem.
Todd Bertuzzi and Mikael Samuelsson struggle to stay healthy and Carlo Colaiacovo is still dealing with a shoulder injury he suffered opening night against St. Louis.
While the team is getting healthier, you can't replace the value that Helm, Bertuzzi and Samuelsson give you on a particular night. The Red Wings are going through the motions and playing at a high level until they receive these complimentary pieces back in the lineup.
Once this happens, the Red Wings can fully be critiqued and judged as a playoff team. The talent is noticeable and they could push a few teams in the playoffs.