Showcasing Washington Redskins' Biggest Strengths and Draft Needs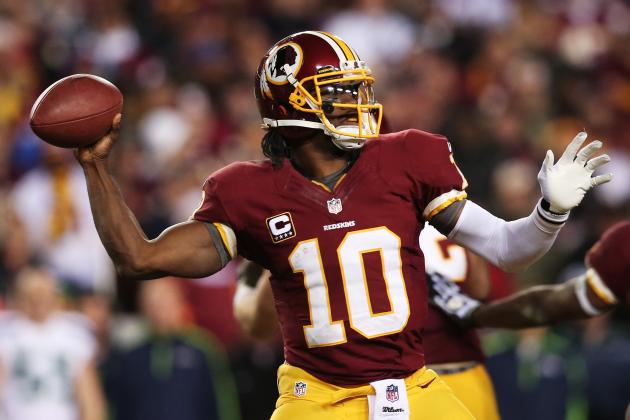 Win McNamee/Getty Images

The future looks bright in the nation's capital, at least as far as football is concerned.
Behind the arm and legs of rookie quarterback Robert Griffin III, the Washington Redskins rallied from a 3-6 start to win their last seven games and the NFC East division for the first time in over a decade in 2012.
But while RG3, the face of the franchise, recovers from offseason knee surgery, Washington will need to focus its attention to the 2013 NFL draft, which is just under two months away. With the free-agency period upcoming as well, the Redskins will have plenty of opportunities to improve their roster this spring.
Here, we'll break down Washington's biggest strengths and highlight some of the Redskins' most notable draft needs.
All player contract information according to Spotrac.com.
Begin Slideshow

»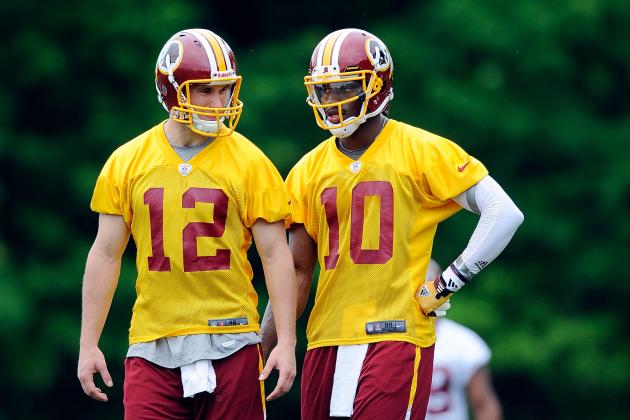 Patrick McDermott/Getty Images

The Redskins made sure to address their quarterback situation a year ago, acquiring superstar Robert Griffin III with the No. 2 overall pick and then backup Kirk Cousins later on in the fourth round of the 2012 NFL draft.
With the NFL's reigning Offensive Rookie of the Year having just turned 23, and his backup, Cousins, only 24, Washington is set under center.
Third-stringer Rex Grossman will become a free agent this March, but with two young studs at the position, Washington can focus its attention elsewhere on draft weekend and perhaps bring on a veteran to round out the depth chart through free agency.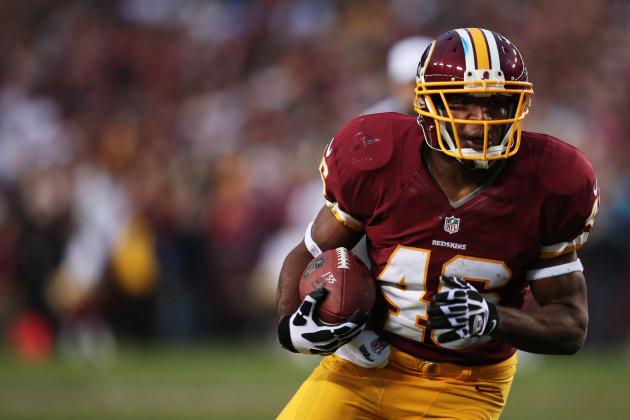 Win McNamee/Getty Images

While Robert Griffin III was busy lighting up the league with his arm last season, fellow rookie Alfred Morris was carrying the rushing load for Washington.
The Redskins drafted Morris in the sixth round of the 2012 NFL draft, but he wound up finishing only behind Adrian Peterson for the most rushing yards (1,613) last season. Behind Morris, Washington finished first in rushing during the regular season (RG3 accounted for 30 percent of that production).
Second- and third-string running backs Evan Royster and Keiland Williams, respectively, are both under contract through next season, but neither has been all that impressive. Williams has been waived by the Redskins once already in his career, and Royster rushed for just 88 total yards this past season.
Despite the lack of depth at running back, there's no pressing need for Washington to address during the draft. Morris is an emerging stud, and so long as he is healthy, the Redskins will be primed for success out of the backfield. At the same time, adding a running back with a late-round pick wouldn't be a waste.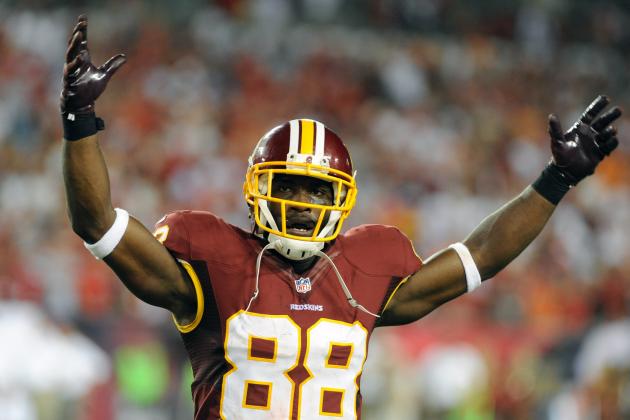 Al Messerschmidt/Getty Images

Washington isn't loaded at wide receiver, but it has a lot of money invested at the position.
Pierre Garcon and Josh Morgan, the team's leading receivers in terms of yardage and receptions, respectively, last season, are set to make roughly $13.3 million combined in 2013, while Santana Moss will make another $6 million.
If there's a concern at wide receiver, it's that the Redskins lack a go-to guy on the outside. Moss has lost a step and will turn 34 in June, and neither Garcon nor Morgan have proven to be go-to receivers in the clutch.
Leonard Hankerson and Aldrick Robinson are both under contract in 2013 but must step up and hang on to the ball next season in order to prove they are assets and not liabilities. With that said, the Redskins could perhaps target a big, reliable receiver in the later rounds of the draft this April.
At tight end, Washington should look to make some moves during free agency. Fred Davis, Chris Cooley and Logan Paulsen are all set to become free agents this offseason. Davis was injured for most of 2012 but should be re-signed to help ensure that one of RG3's favorite targets remains.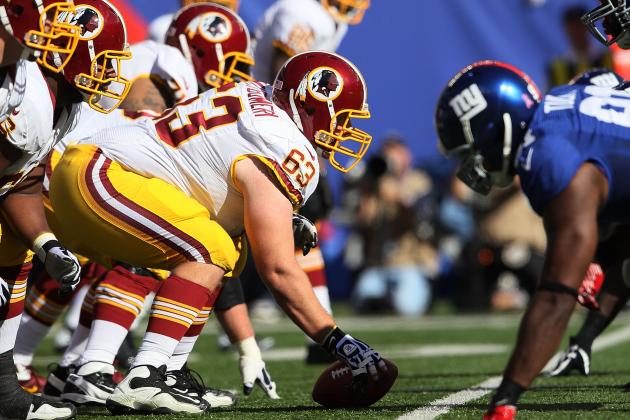 Alex Trautwig/Getty Images

With a franchise quarterback finally on board, the Redskins must do everything in their power to field a dominant offensive line in 2013 and beyond.
The team's highest-paid player is talented left tackle Trent Williams, who is signed through the next three seasons. Center Will Montgomery and right guard Chris Chester are both under contract in 2013 as well. But Washington will have to make some decisions when it comes to left guard and right tackle.
The Redskins will get right tackle Jammal Brown back in 2013. Brown, a two-time Pro Bowler who is under contract through 2015, was placed on the physically unable to perform list last season. Both Kory Lichtensteiger and Tyler Polumbus (who filled in for Jammal Brown) are set to become free agents in March.
Regardless of what it does during free agency, Washington would definitely be wise to draft an offensive lineman this April to help bolster the point of attack in 2013.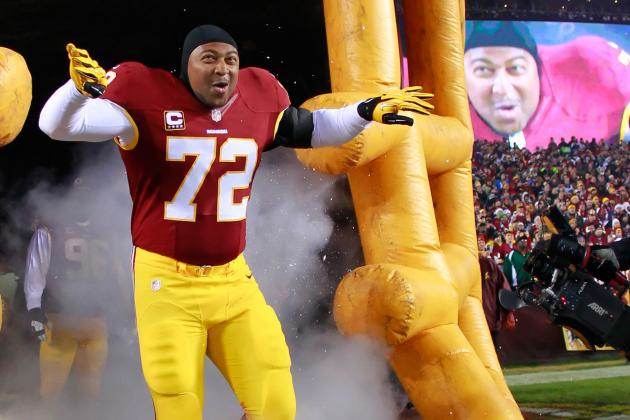 Geoff Burke-USA TODAY Sports

Washington runs a 3-4 defensive scheme, add the trench stars will all return in 2013.
Starting defensive tackle Barry Cofield is under contract for the next four seasons, while defensive ends Stephen Bowen and Jarvis Jenkins will both be around as well. An important note about this group: Cofield, Bowen and Jenkins each played in all 16 games last season.
Plus, Washington will get a huge boost with defensive end Adam Carriker returning from a season-ending injury in 2012.
Backups Chris Baker and Kedric Golston will both become free agents this spring, but neither player will be a huge loss.
The Redskins could look to bring in an elite pass-rusher through the draft, though, as they finished tied for ninth last season in fewest sacks, picking up just 32 through 16 regular-season games.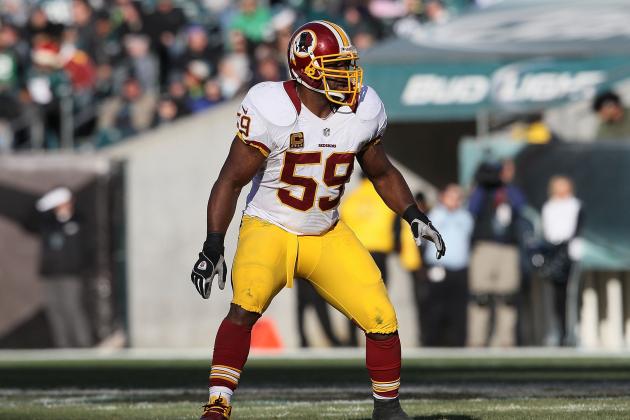 Alex Trautwig/Getty Images

Despite the fact that he'll turn 38 in May, inside linebacker London Fletcher is playing superb football, and he looks set for another strong year in D.C.
With Fletcher and Perry Riley set to return on the inside, and Brian Orakpo coming back from injury on the outside to join Ryan Kerrigan, the Redskins linebacking corps should be a strength in 2013. Eventually, Washington will need to find a replacement for Fletcher, but it's not something they will have to address during the 2013 NFL draft.
The Redskins may potentially lose a key piece in Lorenzo Alexander, who will become a free agent this offseason. Alexander recorded a career high in total tackles (34) and sacks (2.5) this past season.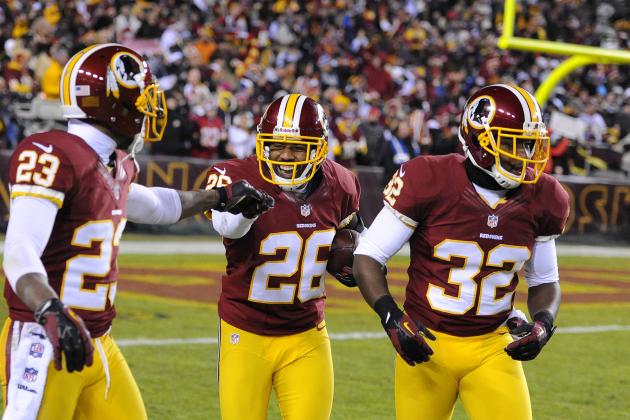 USA TODAY Sports

Washington's secondary turned out to be its biggest weakness in 2012, ranking 30th in fewest passing yards allowed.
The Redskins have two veteran corners under contract next season in DeAngelo Hall and Josh Wilson, but both must step up this coming season if the defense is going to take some pressure off of RG3 and company.
At safety, the Redskins have real problems, and that's why their first pick should be used on a talented young safety with the potential to start right away.
Brandon Meriweather can't seem to stay healthy and Reed Doughty is caught out of position far too often. Meriweather is under contract for three more seasons, but Washington could opt to move him if they feel he's too injury-prone. Doughty's contract will expire next year.
Expect Washington to take a safety with its first draft pick this April (second round) and possibly a corner in the later rounds. The Redskins secondary was exposed plenty last season, and Mike Shanahan knows as well as anyone that you can't win when you're giving up huge chunks of yardage through the air.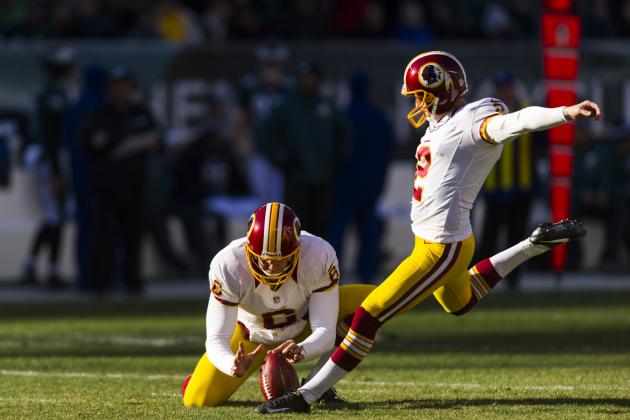 USA TODAY Sports

The Redskins finally have a dependable kicker in Kai Forbath. Unfortunately, Washington is in need of a reliable punter this offseason. Sav Rocca is set to become a free agent and was underwhelming last season anyway.
Washington finished the regular season ranked 29th in net punting average (38.1) and 25th in gross punting average (43.9). Don't be shocked if the Redskins take a punter with one of their later picks (sixth or seventh round).
As far as the return game is concerned, speedster Brandon Banks will become a free agent this spring, meaning the Redskins will either need to re-sign him or find a new man to do the job. Niles Paul showed some promise as a kick returner at times last season, and Richard Crawford did the same as a punt returner (averaging 19.5 yards on eight returns).
On special teams, the biggest need is at punter. Washington doesn't have a ton of draft picks to work with in 2013, but if the Redskins can snag a punter in the later rounds, then that'll be a big win this offseason.
Follow Bleacher Report Featured Columnist Patrick Clarke on Twitter.