NBA Veterans Who Are Most Likely to Be Bought Out or Waived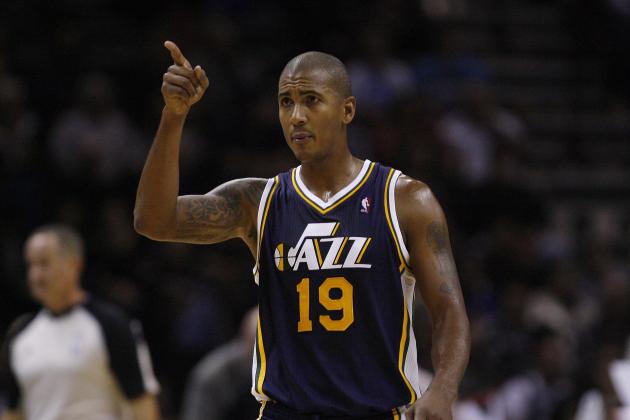 Soobum Im-USA TODAY Sports
Raja Bell has yet to play for the Jazz this season.
Now that the NBA Trade Deadline has passed, teams can only acquire players through waivers or free agency. Teams that are not competing for playoff spots will look into buying out veteran players in order to save money and to open up more playing time for younger players.
Players that teams look to buy out are almost always veterans with expiring contracts. If the team does not have plans to re-sign the player in the offseason, they won't be losing an asset as they look to save money.
Hakim Warrick was the first veteran to be waived, just two days after a trade sent him to the Orlando Magic. Here are other veterans that could be available for playoff contenders.
Begin Slideshow

»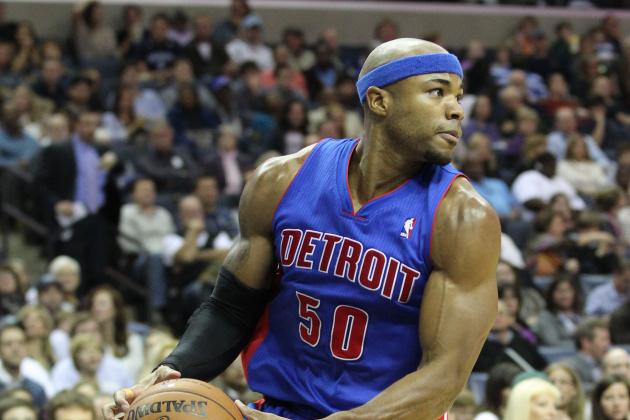 Nelson Chenault-USA TODAY Sports
Corey Maggette hasn't played since December for the Pistons.
Corey Maggette has only played in 17 games for the Pistons this season, and his nearly $11 million contract expires at the end of the season. The two sides would be smart to part ways sooner rather than later.
Before this season, Maggette had scored at least 10 points per game in each of the last 12 seasons. In Detroit he has only averaged 5.3 points, but he is also playing the fewest minutes per game of any season in his career.
If he was waived, Maggette would offer playoff teams a capable wing scorer who gets to the free throw line at a high rate, and knocks them down. Over his career, he has shot 82.2 percent from the line with 6.8 attempts per game.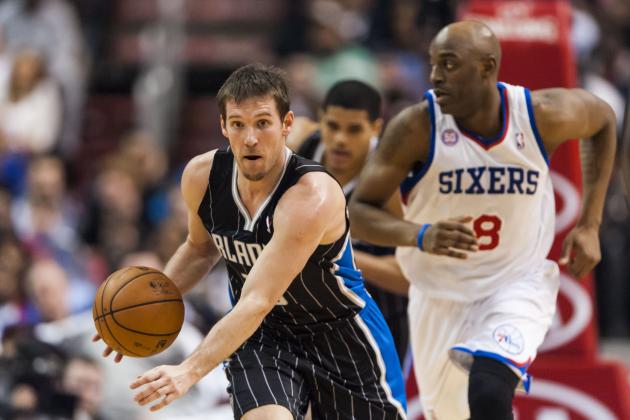 USA TODAY Sports
Beno Udrih could be on the move again after being traded to Orlando.
Beno Udrih was one of the key pieces in the trade that sent J.J. Redick from Orlando to Milwaukee. The Magic now have his $7.8 million contract, but he very well could be moving yet again.
Buying out Udrih would save the Magic money, which could be very important for the team that currently holds the second-worst record in the NBA. According to Hoopshype, Orlando is paying over $87 million in player salaries this season, including $20.8 million to the amnestied Gilbert Arenas.
If he were to be bought out, Udrih could add backcourt depth to any contender. He can play both guard positions and has shot 82 percent from the line and 35 percent from the arc over his career.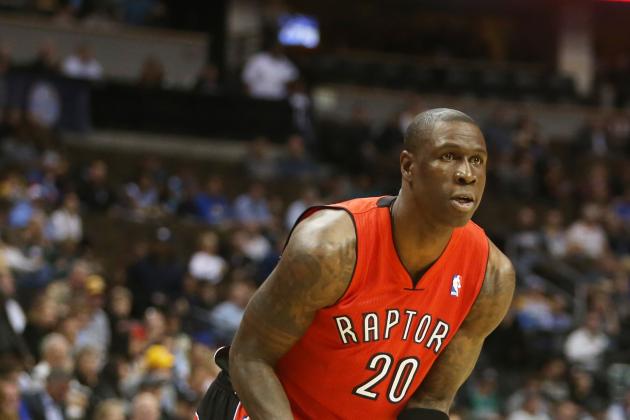 USA TODAY Sports
Mickael Pietrus has been a very solid wing defender in past years.
Mickael Pietrus has not played for Toronto since Jan. 6 because of knee tendinitis, but if healthy he could be a solid wing defender for contenders in either conference.
Pietrus spent most of his time on the court in the 2009 and 2012 playoffs matched up against LeBron. While no player or team is capable of shutting him down, they can slow the reigning MVP down and force him to take difficult shots. Pietrus' experience and length would be an asset to teams in the East hoping to knock off the Heat.
Likewise, teams in the West also have a small forward superstar to deal with, Kevin Durant. While Pietrus does not have the same history defending him, his defensive skill would be a welcome addition.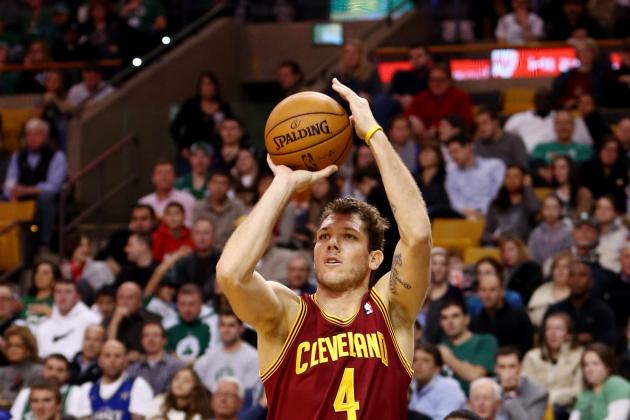 USA TODAY Sports
Luke Walton could add shooting to a playoff team.
Luke Walton is the oldest player on the Cleveland Cavaliers, a team that is currently nine games out of the playoffs in the East. He, along with Anderson Varejao, is one of only two players over the age of 30 on the very young roster. He also has a roughly $6 million expiring contract.
If he were to be bought out, there would be some interest from teams in need of a small-ball power forward and spot-up shooting. He has struggled from behind the arc this season, but he has the range to make defenses respect his shot. His 3-point percentage has been above 38 percent three times during his career.
The Cavaliers could look to save some of the roughly $6 million owed to Walton this season.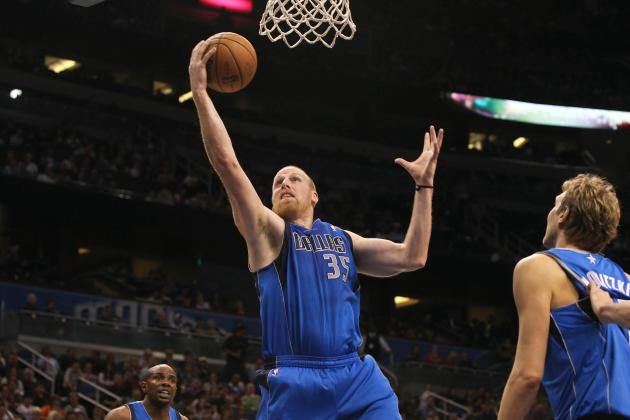 Kim Klement-USA TODAY Sports
Kaman would help any contender if he was bought out by Dallas.
If Mavericks owner Mark Cuban decides to pull the plug on this season, Chris Kaman could become the best buyout candidate available.
The Mavs are not completely out of playoff contention, especially with Dirk Nowitzki finally looking like his All-Star self; he scored 30 points against the Lakers on Sunday and had 21 points and 20 rebounds against the Bucks on Tuesday.
However, the team is still five games out of eighth in the West, and is not playing exceptionally well, with a 6-4 record in their last 10 games. Even if they were to find a way to make the playoffs, the Mavericks would face the Thunder or Spurs, the teams with the two best records in the NBA.
Kaman doesn't look to have a long-term future in Dallas. He was signed as a stopgap center to a one-year, $8 million deal this summer. He isn't expected to be re-signed as the Mavericks make a push for Dwight Howard this offseason.
Finding a starter-caliber center this late in the season would be a near miracle for many contenders if Kaman became available. He is averaging 12.2 points and 6.1 rebounds per game, and has a 16.41 PER. If he wasn't claimed on the waiver wire, the Heat would be clamoring for his services.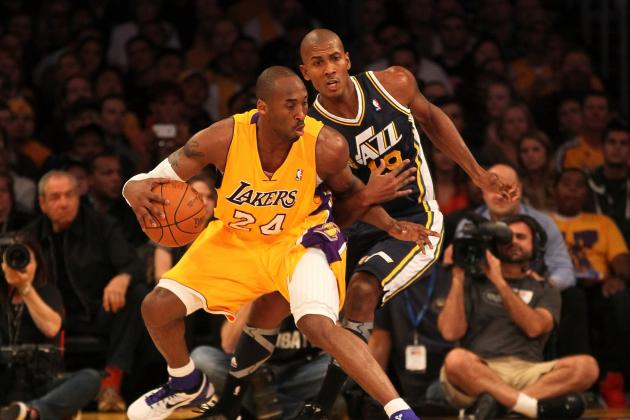 Stephen Dunn/Getty Images
Raja Bell has been rumored to have drawn interest from the Lakers.
Kobe Bryant and Raja Bell have a history together, famously capped off by a Bell clothesline in 2006. The two were constantly matched up as the Suns and Lakers battled for supremacy in the West.
Fast-forward to the summer of 2010, and Bryant wanted the Lakers to sign Bell, despite their past relationship. Instead, Bell signed a three-year deal with the Utah Jazz.
This season, Bell is still under contract with the Jazz, but he has been away from the team and has yet to play a single minute. The Jazz are paying him over $3 million this season not to play basketball.
If the Jazz are looking to save a little money this year, it stands to reason that the team could buy out Bell and let him sign with a contender.
The Jazz's biggest reluctance seems to be that they don't want the Lakers to get Bell as they compete for a playoff spot.
Several sources believe the Jazz will keep Raja Bell simply so he doesn't sign with the Lakers. Utah and L.A. will compete for playoff spot.

— Alex Kennedy (@AlexKennedyNBA) February 25, 2013
Bell would be excellent for the Lakers, with his solid wing defense and career 40.6 percent shooting from beyond the arc.