Ranking the Top Threesomes in the NBA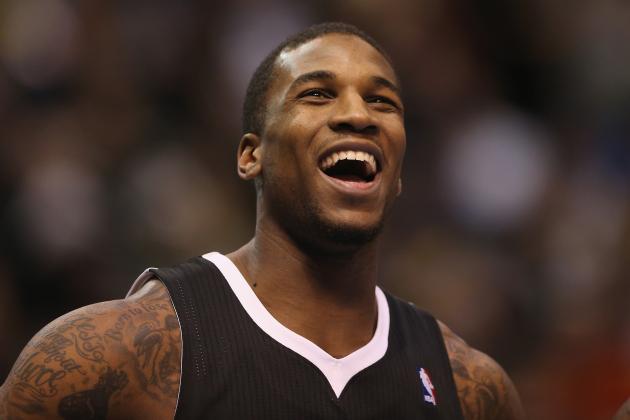 Ronald Martinez/Getty Images

In the NBA, it's no secret that three is a magic number.
And we're not talking about the near-record number of triples the Houston Rockets have launched this year.
We're talking about the recent formula for a Larry O'Brien trophy. Do the math.
Dwyane Wade + LeBron James + Chris Bosh = 2012 championship.
Paul Pierce + Ray Allen + Kevin Garnett = 2008 championship.
Kobe Bryant + Pau Gasol + Andrew Bynum = two championships.
Tim Duncan + Tony Parker + Manu Ginobili = four championships.
It's as elementary, my dear, as Schoolhouse Rock. (By the way, if you can find the 1997 Nike commercial with Total Max Uptempo shoes dangling from a chain net, set to this same Schoolhouse Rock song, please send me the link.)
With last year's number-five overall pick Thomas Robinson joining superstar James Harden and talented point guard Jeremy Lin, the Rockets just might have created their own version of that magical title formula.
Which begs the question: Which NBA teams have the best trio of players?
The first few are either incomplete threes, threes with problems or threes in progress. The top four trios (you would think I would have made it three, right?) are ranked.
Begin Slideshow

»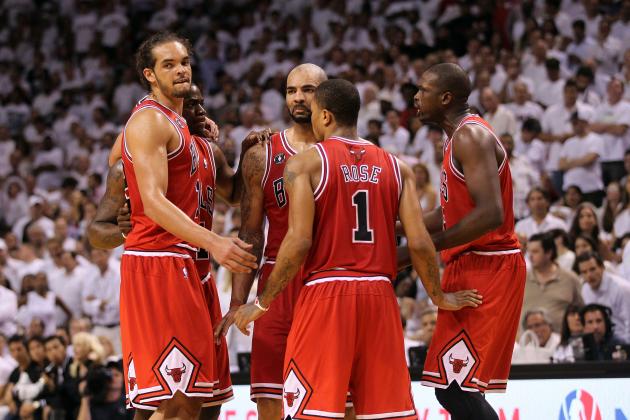 Mike Ehrmann/Getty Images

Carlos Boozer has been a force in the NBA for a long time—so long that his impact is no longer what it once was. But bruiser Boozer still commands respect.
Note: I could have substituted Luol Deng for Boozer. Deng has been more important to the Bulls for the last several years, and it's not not to love the guy's defense. But he isn't as big a name as Boozer, even though the latter isn't playing up to his contract.
Joakim Noah has had more efficient seasons, but he's playing lots of minutes and has a strong game overall, with good passing skills for a big man, a decent offensive game (despite his spastic shot), and solid rebounding instincts.
The key here is Derrick Rose. With him back at full amazing-ness (which is no guarantee), this three becomes mighty. So this one's a wait and see.
Trio ranking: INCOMPLETE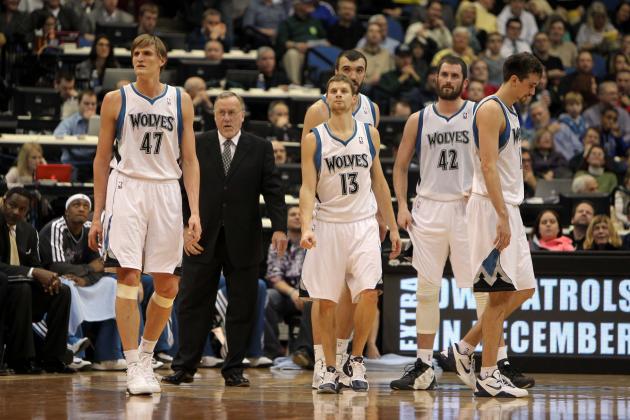 Brace Hemmelgarn-USA TODAY Sports

The Minnesota Timberwolves have a problem. A good problem, but a problem nonetheless.
As I expected, Derrick Williams has unquestionably found his confidence and made huge progress while Kevin Love has been injured.
What to do with all these big men?
Kirilenko, although 6'9", is the incumbent small forward, and is having one of his best seasons in years.
That still leaves two starting positions to divide among Nikola Pekovic, who's taken the next step this year, Williams and Love.
We know when Love returns, he'll start. That means Williams goes back to the bench.
Somehow four has to become three. But however this shakes out, this is a fine trio now, and will be a three to be reckoned with upon Love's return. And that's not even considering Ricky Rubio, who started the season late and started slow, but has of late been looking like the confident and talented master passer we all know him to be.
Trio ranking: TBD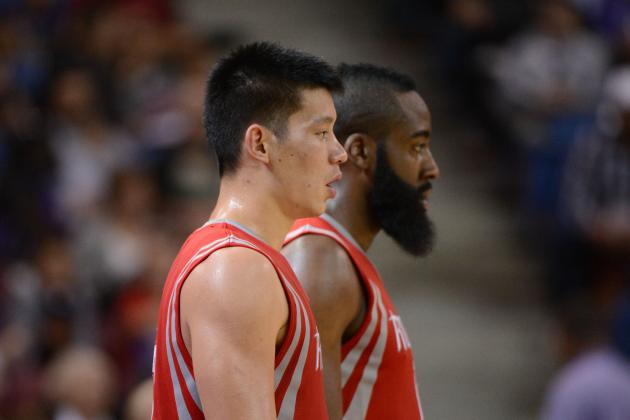 Kyle Terada-USA TODAY Sports

This three makes the ranking based on the future potential of Jeremy Lin and Thomas Robinson, because right now the Rockets' threesome are Lin, James Harden and Chandler Parsons.
Harden has seized this season and made it his own, putting his unique skill set of isolation play, transition offense and fearless drives front and center in the NBA.
Although I was hoping for more consistent progress from Lin this season, he's shone brightly several times while adjusting to life without the ball as the team comes upcourt. I'd call him a developing point guard, and if he progresses with his jump shot next season, the basketball world may be Lin for a treat.
Robinson was pilfered from the clueless Sacramento Kings in the biggest ripoff since a $24 necklace bought Manhattan.
It's appropriate he's come to the Lone Star state, because right now Robinson is a concealed weapon. Before long though, he'll be the starting power forward, and showing why he was fifth overall draft pick as he rips off a string of double-doubles for the Rockets.
Trio ranking: KEEP AN EYE ON THEM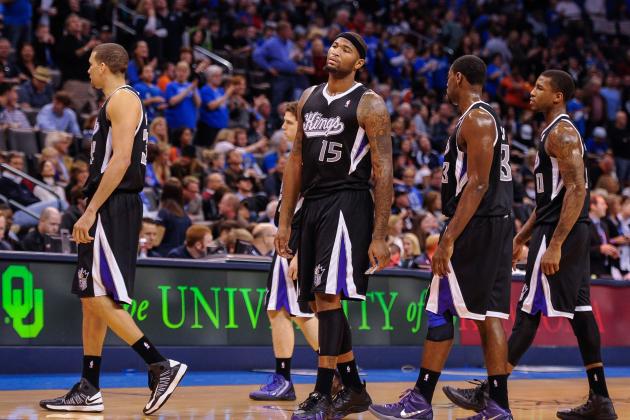 USA TODAY Sports

This is a threesome in flux, not sure where they're going or what's going to happen once they get there.
5'9" Isaiah Thomas plays big on the court and has become the de facto leader of his Sacramento Kings squad. It wouldn't be an error to call him the face of this franchise, because the other two members of this threesome simply haven't stepped up.
There is no denying DeMarcus Cousins' talent. Since I'm judging on-court skill, I have no choice but to recognize his abilities. But from his suspensions to his on-court outbursts, he has proven himself to be an unstable player, perhaps even an unstable person.
Tyreke Evans can be a delightful player to watch—when he's on the court and giving his all. But one can't help but feel he should be on the court more, and playing harder when he is. If I were the Kings, I'd question giving him the huge contract he'll probably ask for.
In this case, the whole is less than the sum of its parts.
Trio ranking: DANGER WILL ROBINSON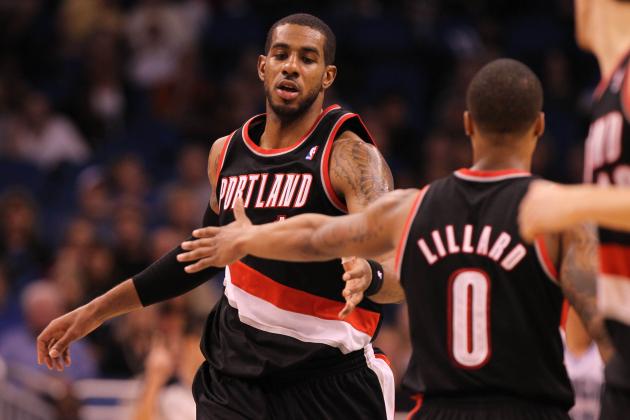 Kim Klement-USA TODAY Sports

This is a sleeper three. Unless you live in Portland, these guys didn't come to mind when you started reading the article. And if you say otherwise, you're lying.
Damian Lillard is a point guard made in pick-and-roll heaven—and not a guy I would pick a fight with. The tough-minded rookie would be well-served to facilitate a little more, but that's being nit-picky.
All-Star LaMarcus Aldridge is to me reminiscent of former Trail Blazers great Rasheed Wallace. With his terrific offense and above-par defense, he's everything you could ask for in a power forward.
My editor and I had a lively back-and-forth on the final name of this alliance. J.J. Hickson's profile has skyrocketed as he's created the season of his life. Big, strong and energetic, Hickson plays above the rim, has an improved shot, pounds the boards hard and seems to be in the right place at the right time offensively.
But Nicolas Batum is playing the most minutes of his career, scoring the most points, and is one of the league's top young forwards.
I'm big on efficiency, and Hickson wins that battle this year. But overall, Batum certainly has the higher ceiling.
My editor wins. Fancy that.
Trio ranking: QUIET STORM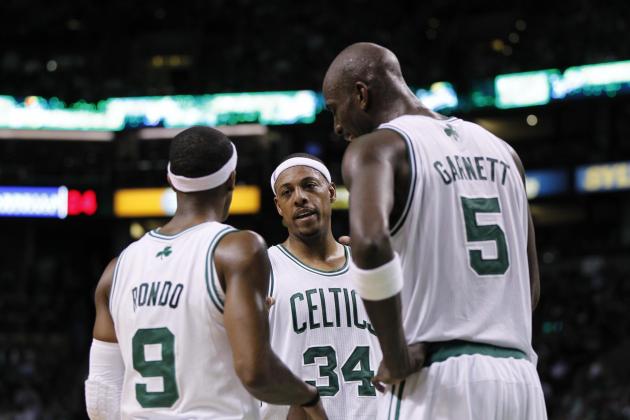 Greg M. Cooper-USA TODAY Sports

The flame is flickering on two of the three pieces here.
Paul Pierce's numbers are holding strong, but his shooting percentage is the worst it's been since 2004.
Kevin Garnett, one of the few remaining great low-post players in the NBA, is still the Celtics' leader in player efficiency, and like Pierce, his stats are consistent with what he's put up for the last few years.
But his comment to CBS Sports in Boston about the All-Star game hinted that the end of the road might come before his contract expires in two years:
For it being my last [All-Star game] I guess, I got some family coming down...this is definitely my last All-Star game...y'all don't know what I know...
And then there's Rajon Rondo. The pass-first, defend-second, make-a-jump-shot dead last point guard is uniquely enjoyable to watch. But these days he's playing a lot more Connect Four than basketball. In case you're interested, he plays like a chess grandmaster, often involved in multiple games at once.
These guys get in the article purely out of respect.
Trio ranking: SLIP SLIDING AWAY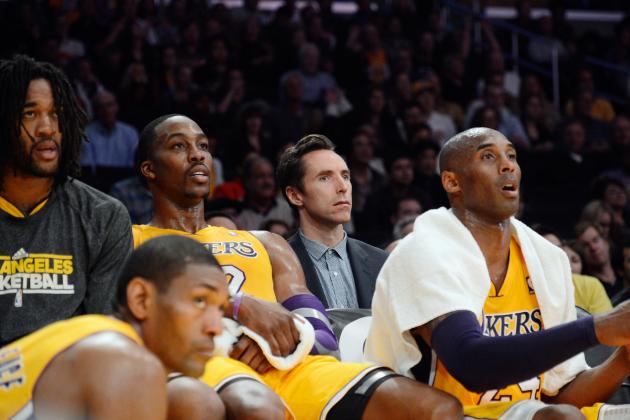 Kevork Djansezian/Getty Images

We all know these guys so well, seeing their names together makes you see triple. As in championships.
And yet on-court, this triumverate of talent may not even make the playoffs.
The names alone, though, deserve recognition:
Two-time MVP Steve Nash, who missed a lot of time this year and whose numbers are down, but who still frequently fights Father Time and turns back the clock;
The face of the NBA and the league's best player for more than a decade, Kobe Bryant;
The preeminent big man of his time, Dwight Howard, a talent so massive that 16 points and 12 rebounds per game qualifies as a down year.
These three may not go anywhere come April 20, but they sure looked good standing next to each other this season.
Trio ranking: ONLY ON PAPER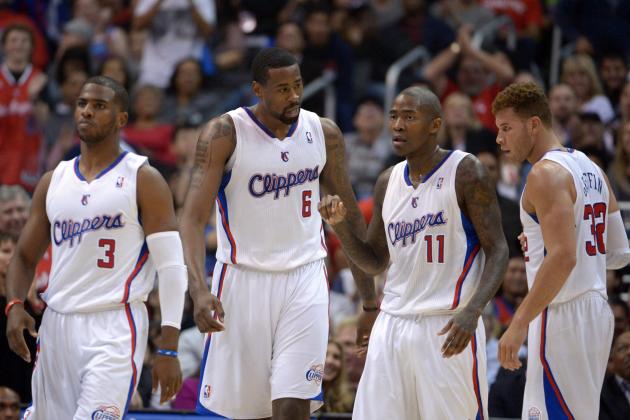 USA TODAY Sports

It was difficult to put these guys as low as fourth.
Chris Paul is one of the game's most breaktaking talents. He does everything with and with panache. He's third in the league in assists per game, first in steals, third in player efficiency, scores 16-plus points a night, and can hit from absolutely anywhere on the court.
Blake Griffin ranks ninth in player efficiency, scores with regularity, rebounds with intensity and can ignite the crowd with his emphatic flushes.
Jamal Crawford is having the second-best year of his career from three-point range and is second on the team in scoring. Plus his wife just gave birth, and as the song says, three in the family is a magic number.
Trio ranking: FOURTH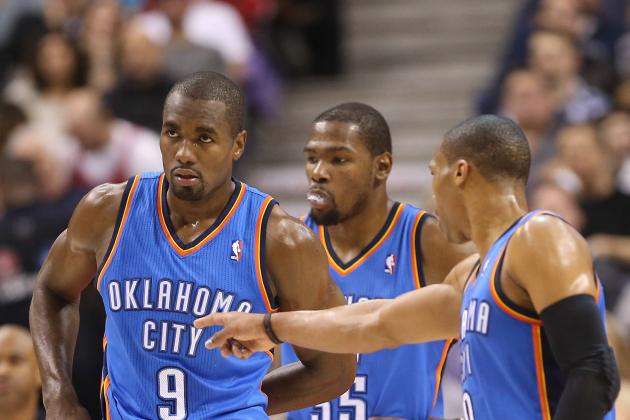 Tom Szczerbowski-USA TODAY Sport

Kevin Durant is the league's best player who doesn't bear the surname James (and we're not talking Mike).
His range is infinite, his attitude is effervescent, his efficiency is second in the league, and no one scores more points per game. He rebounds, he swats, he passes, and he even finds time for touch football every now and then.
Russell Westbrook is Durant's partner in sublime. I'd call him the poor man's Chris Paul, but I can't, because he gives Paul a run for his money. Like Paul, he is an aggressive player, a shooter with range, and he also notches plenty of assists.
Serge Ibaka is having his coming-out season. Second in the league in blocks per game, efficient offensively, and one of the best defenders in the league—if not the best—Ibaka fits perfectly next to Durant. Maybe that's why he bought a house next to KD.
Trio ranking: THIRD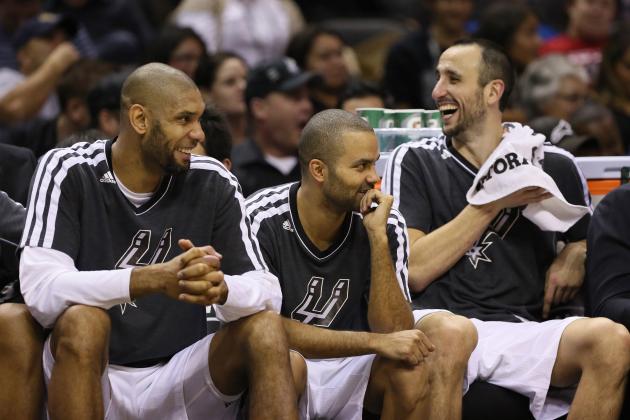 USA TODAY Sports

These guys are the real-life Uncle Drews of the NBA. Would you believe that, with Tim Duncan at 36, Manu Ginobili at 35, and Tony Parker at 30, all three are among the top 20 in the league in player efficiency?
Much more has been made of the Celtics' former Big Three and the Heat's current Big Three. But it's easily arguable that this trio, as a group, is the finest the NBA has ever seen. It's a perfect example of a whole being greater than the sum of its parts.
Duncan is one of the game's top all-time big men, and a first-ballot Hall of Famer. Parker is scoring at his second-highest clip ever, and his field goal percentage is likewise the second-best in his career. Ginobili's minutes are shrinking, but he's rebounding at the second-highest rate in his career.
Will someone please explain to these three the concept of aging?
Trio ranking: SECOND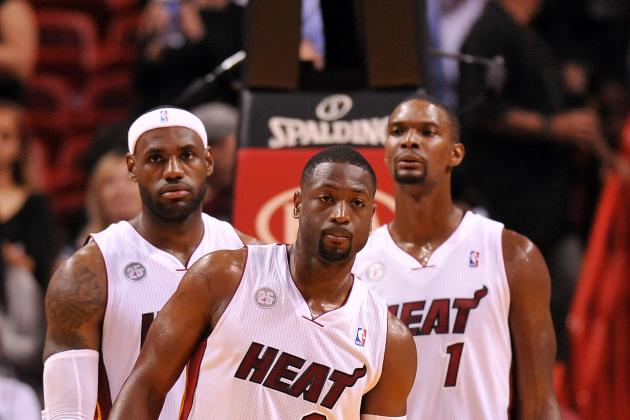 Steve Mitchell-USA TODAY Sports

I don't like the way these guys got together. Not one bit.
But I cannot deny their results.
LeBron James just won his fifth Eastern Conference Player Of The Week award this season. He is more efficient than a Tesla, not only leading the league in player efficiency, but also having become in January the first player to hit 64 percent of his field goals (minimum 200 attempts) since Kareem Abdul-Jabber in 1983.
Chris Bosh is hitting 54 percent of his shots, a career high by a country mile for the forward-cum-center. Yes, the Heat would like his rebounding rate to be higher, but Bosh is invaluable for his mid-range game and the respect he commands from defenses.
Dwyane Wade's scoring isn't what it once was—although he's taking fewer shots than he ever has. But the man is still sixth in the league in player efficiency. He picks his spots like a wise old boxer.
It used to be the phrase Big Three meant either cars or television networks. But with Honda and Toyota long since having made their presence known, and with both the advent of Fox and the decline of NBC (whose ratings are, unbelievably, behind Univision), there is only one Big Three left.
You're looking at them.
Trio ranking: FIRST