Upsets have been an ongoing trend in college basketball this season. Top-ranked Indiana fell to Minnesota earlier in the evening, and Tennessee continued the pattern with a 64-58 win over No. 8 Florida Tuesday night.
Volunteers guard Jordan McRae caught fire in the contest and finished with a game-high 27 points. Despite playing excellent defense throughout the season thus far, the Gators were unable to find an answer for the junior guard.
McRae was the only Tennessee player to score in double figures, but forward Jarnell Stokes made a massive contribution on the glass. He grabbed 14 rebounds, including six on the offensive end of the floor.
For the Gators, Mike Rosario led the team with 16 points, while Patric Young chipped in 15 and Casey Prather came off the bench to add 10 more.
But a rowdy crowd in Knoxville and big nights from McRae and Stokes allowed the Volunteers to pull off one of the biggest upsets in the SEC this season.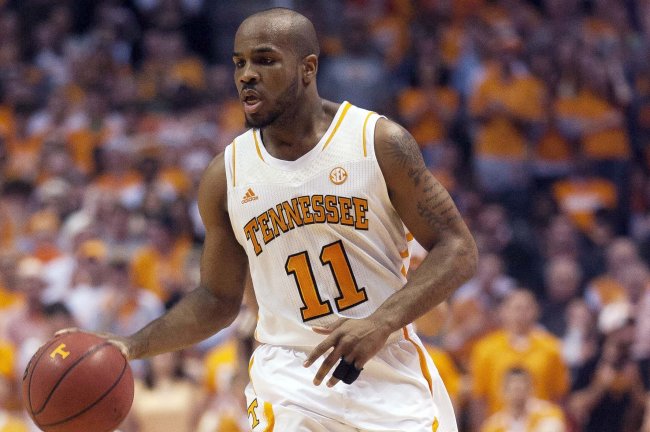 USA TODAY Sports
Twitter Reaction
The Courier-Journal's Kyle Tucker noted that Tennessee did not make this game easy on itself:
Tennessee thoroughly outplaying Florida tonight. If the Vols could hit a free throw, lead would be well into the double digits.

— Kyle Tucker (@KyleTucker_CJ) February 27, 2013
ESPN's Edward Aschoff points out that going on the road without a key player is not a recipe for success:
Tennessee's hot but man Florida just doesn't play well when it's down on the road. No consistent inside game without Yeguete

— Edward Aschoff (@AschoffESPN) February 27, 2013
Yahoo! Sports' Pat Forde notes how motivating the prospect of playing in the NCAA tournament can be this time of year:
The power of the desperate bubble team at home: Minnesota, Xavier, now Tennessee?

— Pat Forde (@YahooForde) February 27, 2013
CBS Sports' Jeff Borzello gave a primer on Florida's main weaknesses prior to the game, and the Gators proved him right:
In our "Scouting Florida" piece last week, opposing coaches pointed to three weaknesses: reliance on 3s, depth, and physical play.

— Jeff Borzello (@jeffborzello) February 27, 2013
All three showing up at various times tonight against Tennessee.

— Jeff Borzello (@jeffborzello) February 27, 2013
247 Sports' Wes Rucker gave Stokes the credit he deserves for his rebounding performance in the contest:
That was Jarnell Stokes' 14th rebound tonight. And he's been battling foul trouble for most of the game.

— Wes Rucker (@wesrucker247) February 27, 2013
After another wild night in college basketball, CBS Sports' Jeff Goodman summed up all the action:
Indiana loses at Minnesota, Florida loses at Tennessee, Memphis at Xavier and Towson wins at George Mason. Another crazy night.

— Jeff Goodman (@GoodmanCBS) February 27, 2013
What's Next
The Gators drop to 22-5 on the season and 12-3 in the SEC. The team will face Alabama at home on on Saturday.
The Volunteers are now 17-10 overall and 9-6 against conference opponents. They travel to face Georgia on the road this weekend.