10 Most Critical Big East Studs as CBB Season Enters Stretch Run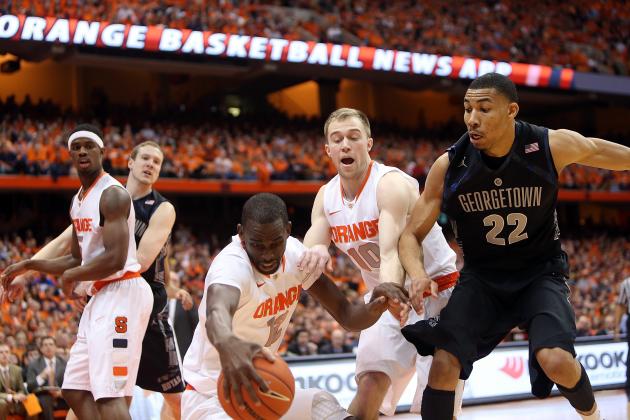 Nate Shron/Getty Images

It's getting to be that time of year where every game can change the trajectory of an entire season. The Big East is loaded at the top this year with deep, talented teams all poised to make a run through the conference tourney and into the big dance.
With up to nine teams either a lock or on the verge of making the tourney, each game means that much more as we lead up to March. For each team to live up to their lofty goals, they will need their big-name players to summon their inner Kemba Walker and elevate their game through the end of the season.
Here are the players that are in most need of big performances down the stretch.
Begin Slideshow

»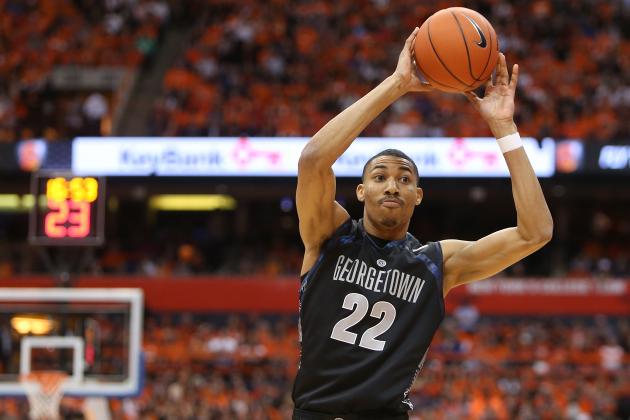 Nate Shron/Getty Images

Georgetown's sophomore sensation has had a breakout campaign, but has really elevated his level of play lately.
During Georgetown's current nine-game winning streak, Porter has scored in double figures each game while shooting the long ball at just a hair under 50 percent. He most recently demolished No. 8 Syracuse, scoring 33 of the Hoyas' 57 points. He played all 40 minutes, collected eight rebounds and hit five threes.
This is the type of play that the 6'8" Porter is going to have to keep up if Georgetown has a chance down the stretch. This team goes as he goes. One subpar game can derail its hopes, as we have seen this year. In each of its four losses, Porter has performed well below his season averages.
Porter has put this team on his back with the absence of forward Greg Whittington. No player can single-handedly dictate their team's fate like Porter can. The Hoyas control their own fate at the moment with only three losses in conference play. Porter and company have their sights set on far bigger goals beyond a regular season title.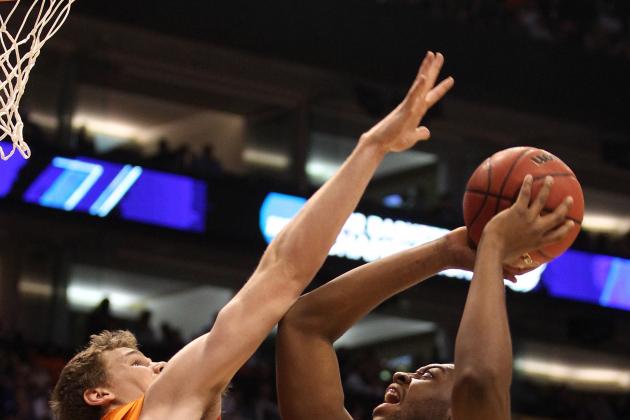 Christian Petersen/Getty Images

Marquette has always been an undersized team. The presence of the 6'8" Davante Gardner has been irreplaceable for the Golden Eagles this season.
He has been one of the most pivotal aspects of the team's under-the-radar success this season. In Marquette's seven losses, Gardner has averaged a paltry 6.5 points per game, roughly half of his season average.
Gardner has to come up big down the stretch, much like he did against Syracuse last night, going 7-for-7 with 26 points. Marquette knows what it will get from its guards, but with the luxury of a 290-pound big man down low, Gardner provides an added element that this team has rarely had. His play will largely dictate the direction of this team going forward.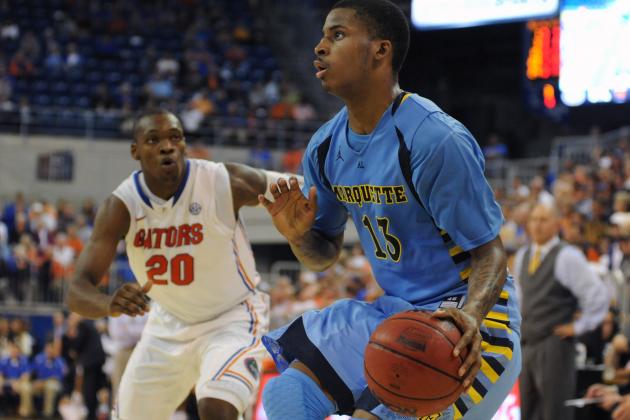 Al Messerschmidt/Getty Images

Marquette's junior guard is the team's leading scorer, although he has been inconsistent at times.
This team is markedly better when Vander Blue is performing at a higher level. He has to avoid the occasional clunkers he has had this season, such as when he shot 2-for-10 in a shocking loss at Green Bay.
The upperclassman needs to step up now that his team has eclipsed its underdog title. If Blue can get hot, this team can go a long way. He is Marquette's main option on offense, and although it has a deep team, it could very easily see an early exit in the Big East tourney if Blue throws up another bad performance.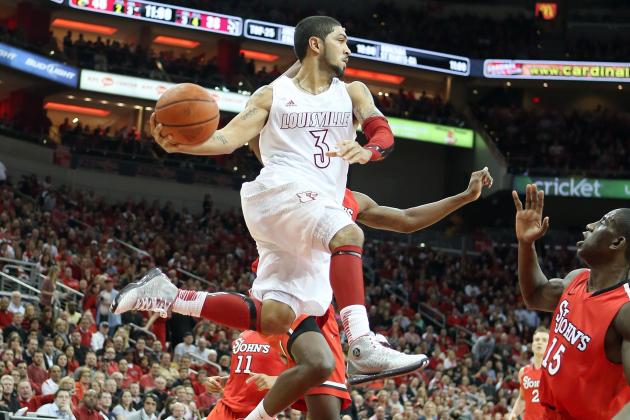 Andy Lyons/Getty Images

Louisville's diminutive point guard is the straw that stirs Coach Rick Pitino's drink. He is the unquestionable catalyst that drives the team.
In three of Louisville's last four losses, Siva has scored under three points. Its wing players, Chase Behanan, Russ Smith and Wayne Blackshear, all rely upon Siva feeding them the ball.
Without the senior's playmaking ability in full effect, Louisville is an average team. All of its losses were to big-name programs. The Cardinals are definitely battle tested, and their recipe for success runs through Peyton Siva. They do not have the point guard depth to make up for a lackluster performance on his part.
The time is now for the Seattle native to seize the moment. Louisville has a tough stretch to end the regular season, as it still has to make a trip to the Carrier Dome to face Syracuse, followed by a visit from Notre Dame in a rematch of the five-overtime thriller.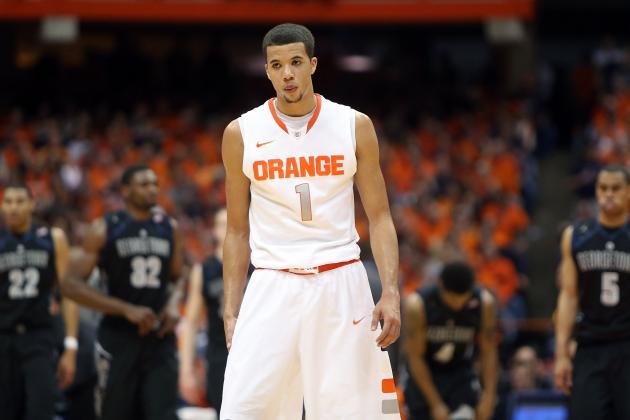 Nate Shron/Getty Images

As Michael Carter-Williams' numbers have fallen from the stratosphere, so has the Syracuse Orange.
The sophomore point guard's numbers at the beginning of the season were astronomical, leading the country in assists and steals for quite some time. However, since Big East play has started, Carter-Williams has recorded only two double-doubles after putting up nine prior to that.
Syracuse is slipping with all five of its Big East losses coming in the last nine games, and Carter-Williams has come up small in each of them. It was evident early in the season how devastating this team could be when its point guard was running the show. He would jump passing lanes and turn steals into electrifying fast breaks with relative ease.
If Syracuse is hoping to avoid another disappointing end to its season, it needs look no farther than No. 1 to keep that from happening.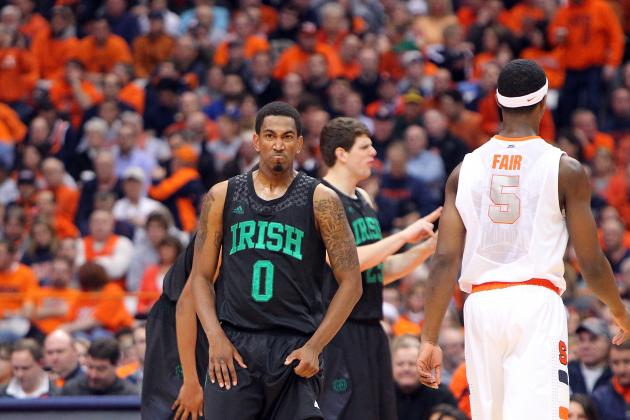 Nate Shron/Getty Images

Forward Jack Cooper is the Fighting Irish's best player, but they beat to the tune of Eric Atkins' drum.
Cooper and the rest of the team have seen some ghastly performances when Atkins fails to distribute the ball. In the Irish's five Big East losses, Atkins has averaged just 3.4 assists per contest.
Notre Dame is not a dynamic offensive team and will slip into long droughts when Atkins does not bring his A-game. It is of utmost importance that he shows up for it to have any chance of winning.
With games still to come against Marquette and Louisville, things will get very dicey down the stretch. The Irish will need their junior point guard to be at his absolute best to pull off either of those upsets and secure a higher seed heading into the Big East tourney.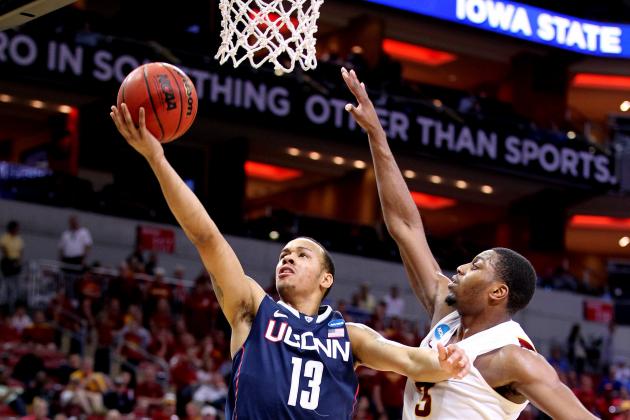 Andy Lyons/Getty Images

UConn is not very deep offensively. Its game plan is fairly simple, with most of the offense running through junior Shabazz Napier and fellow backcourt-mate Ryan Boatright.
When Napier is held in check, this team struggles mightily. Napier and Boatright are relied upon to handle the majority of the scoring and distributing, both averaging over 15 points and four assists per game. The team is simply incapable of overcoming subpar performances from either of them.
UConn has been quietly hanging around in the race for Big East supremacy. After a dreadful two-point performance against No. 6 Syracuse, Napier has exploded for 27.5 points per game in the team's last two games, both victories. The recipe for success is clear: Napier has to dazzle for the Huskies to shine bright. If not, their season will end with a whisper.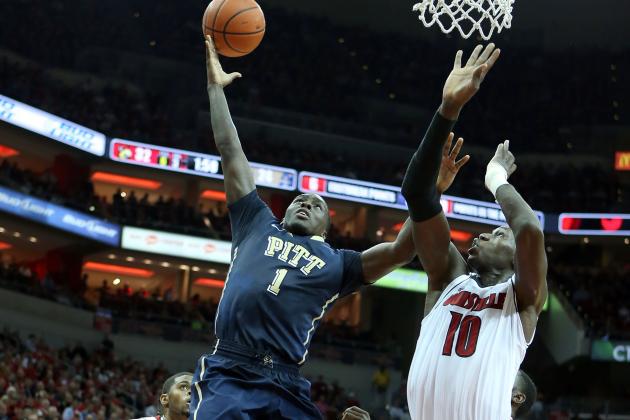 Andy Lyons/Getty Images

Pitt does not play a very exciting brand of basketball. It lacks any star power, and no one on the team will "wow" you with anything jaw dropping.
The Panthers rely on their depth and their fundamentals to win games. At 21-7 they are right in the thick of the Big East.
In order for them to emerge from the wilderness, senior point guard Tray Woodall needs to make his presence felt. He leads the team in scoring and assists at 11.4 points and 5.2 assists per game.
Pitt recently endured a brutal stretch where it played five ranked teams over the course of six games. Woodall stepped up his offensive output during this time, but not enough to overcome its daunting schedule. For Pitt to make an improbable run deep into March, its senior point guard has to step up even more and rally the troops behind him.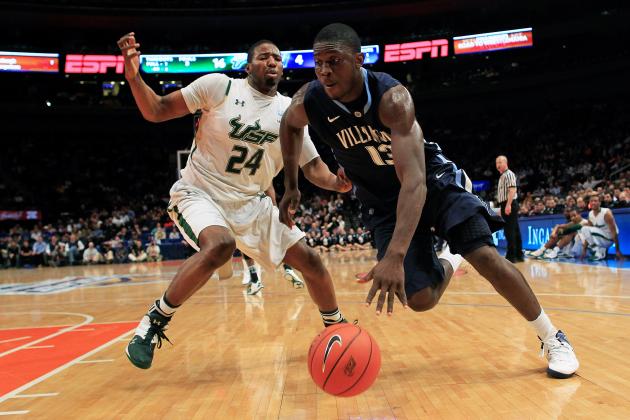 Chris Trotman/Getty Images

Villanova's 6'10" forward was non-existent at the beginning of the season. The senior started off slowly, which set the tone for the slow start for the Wildcats.
Of late, Yarou has stepped it up considerably. He is averaging 11.8 points and 10.3 rebounds per game since a dismal scoreless outing in a loss to Providence, in which he posted a single rebound.
Nova's tourney hopes rest on every game down the stretch. At 18-11, it is firmly on the bubble and must rely on its big senior to keep bulldozing people down low. With a dearth of premium big men in the conference, Villanova has an advantage down low that it must continue to utilize.
It has shown that it can compete with the cream of the crop after knocking off Louisville, Marquette and Syracuse. Villanova will need to continue to play that brand of basketball with huge games at Pittsburgh and against Georgetown coming up.
Jonathan Daniel/Getty Images

Cincinnati has fallen apart since starting the season 12-0. With losses in five of their last six games, the Bearcats find themselves fighting for their tournament lives. They will need to get it together fast and prove themselves in the Big East tourney if they have hopes of playing deep into March.
Kilpatrick is the team's leading scorer with over 17 points per game. He started the season on a tear before the losses started mounting.
The noticeable trend is that with each loss, Kilpatrick throws up abysmal shooting numbers. In all but one of Cincinnati's nine losses, Kilpatrick has shot under 38 percent while making just 20-of-74 threes.
Kilpatrick is in love with the three ball, ranking 10th in the nation in attempts. However, when his shot is not falling, this team simply does not win. In order for the Bearcats to advance as far as they can, either Kilpatrick has to step up and start knocking down more shots, or they'll have to alter the offense. They simply cannot afford to watch him hoist up threes all game when they are not falling.