Kentucky Basketball: Comparing Each 2013 Player to a Past Wildcat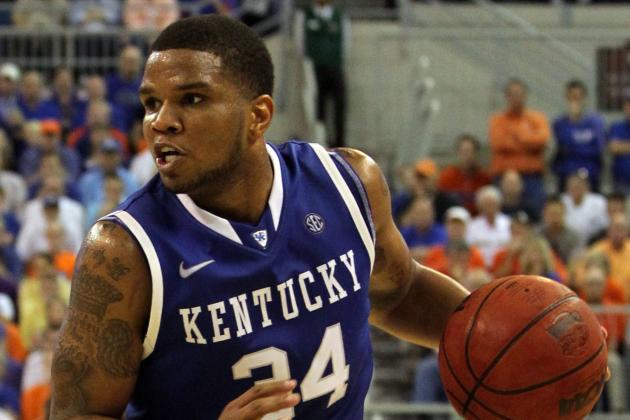 Kim Klement-USA TODAY Sports

The 2012-13 version of Kentucky basketball has been compared to teams of the past all season.
Well, in all fairness it did start when Nerlens Noel committed to the Wildcats. Instantly Big Blue Nation began comparing Noel's game with last season's freshman sensation, Anthony Davis.
One person who wouldn't make that comparison, however, was Kentucky head coach John Calipari. Then when Noel went down with a torn ACL, people began to compare fellow freshman Willie Cauley-Stein to Noel.
Despite what Calipari says, fanbases, especially Kentucky's fanbase, will always compare players from present to past. We'll help fuel the fire by comparing Kentucky's scholarship players, outside of Noel, this season with a Wildcat from the past.
Begin Slideshow

»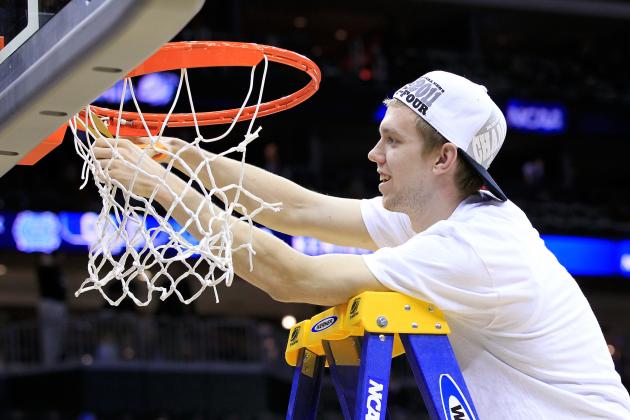 Chris Trotman/Getty Images

It's tough to find a comparison for Jon Hood due to the fact he's seen little action due to injury and being buried behind 5-star recruits.
However, when you watch Hood play he appears to be a very smart player that has a solid mid-range game. Before his ACL injury he was a lot more athletic and even competed in the dunk contest at the Derby Festival Basketball Classic.
While Cameron Mills wasn't as athletic as Hood, both are outside shooters that see the game extremely well. Mills played at Kentucky from 1994-98 and didn't really make his mark until his junior year. After playing in only 15 games his first two seasons, Mills played in 31 and 38 respectively his last two seasons in Lexington.
Mills famously hit a three against Duke in the Elite Eight in 1998 when Kentucky was down by two with 2:15 left to play. Couldn't you see Hood hitting a big shot in the NCAA tournament due to foul trouble in the next two years?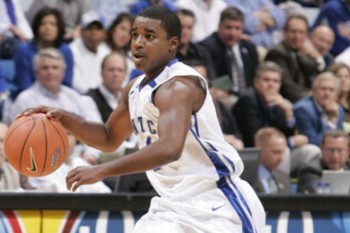 www.bigbluehistory.net
Jarrod Polson developed from loveable walk-on that only played at the end of blowout games to a major contributor on what should be an NCAA tournament team.
Brandon Stockton had a similar type of development after being named Mr. Basketball in the state of Kentucky in 2002. After playing no more than five minutes per game in his first three years in Lexington, Stockton played 10 minutes per game in 2005-06 and even cracked the starting lineup.
Polson combined to play four minutes a game during his first two years, but this current season has been called on to be the Wildcats' backup point guard and steady hand when Ryan Harrow is struggling.
Both players have their limitations, whether it's Stockton's height or Polson's quickness. But, both players were fan favorites in Rupp Arena due to staying in state and always playing hard, no matter their role.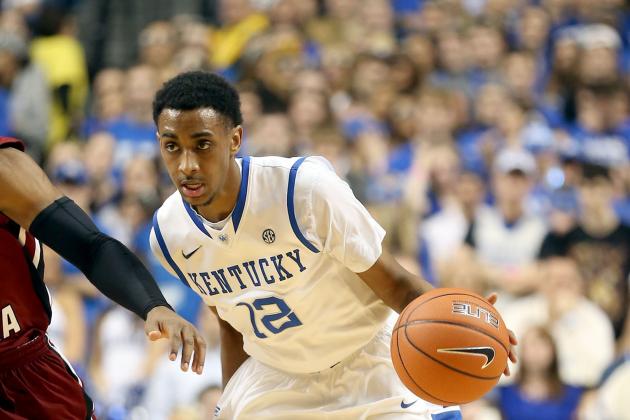 Andy Lyons/Getty Images

Now, this isn't saying Ryan Harrow is as good as Cliff Hawkins was at Kentucky. But, rather their games and tumultuous seasons have been similar.
Hawkins finished his career in the as one of the 10 best passers in Kentucky history. He averaged 4.3 assists per game as a sophomore in 2001-02 while also averaging over six points per game. The next season he was forced to miss the first seven games as a junior due to academic trouble.
Sound a little similar to Harrow? Just switch academic trouble with personal issues and it's almost the same.
Harrow is currently averaging over three assists per game and just a shade under 10 points. Harrow, much like Hawkins, is not turnover-prone either. The North Carolina State transfer is currently averaging 1.6 turnovers per game.
If Harrow were to play all four years at Kentucky, it's not unrealistic to think he'd finish right at, if not better, than Hawkins in the record book for assists.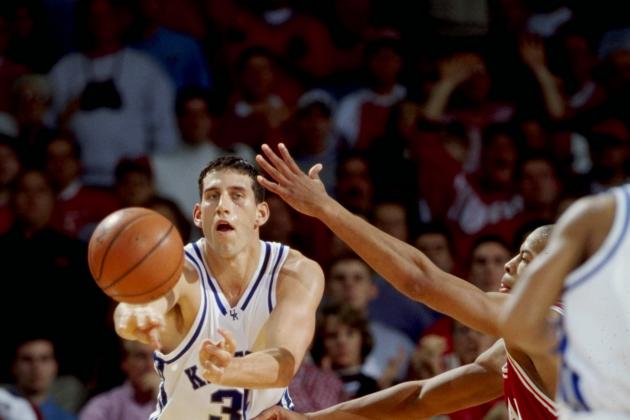 Andy Lyons/Getty Images

This may be one comparison where the two players could pass as relatives as well.
Kyle Wiltjer stands 6'10", 230 pounds while Scott Padgett is 6'9", 240 pounds.
Both are power forward who can play both in the paint and behind the arc. While Wiltjer is known more for his outside shooting, Padgett shot over 39 percent from the three-point line as a junior. To compare, Wiltjer is currently shooting 40 percent this season.
Both players spent their freshman years playing minimal minutes due to a plethora of future NBA players on the roster. Wiltjer had the likes of Anthony Davis, Terrence Jones, Darius Miller, Doron Lamb, Marquis Teague and Michael Kidd-Gilchrest hogging the minutes.
Padgett played alongside Tony Delk, Wayne Turner, Rodrick Rhodes, Walter McCarty, Jeff Sheppard, Mark Pope and Antoine Walker.
Despite playing sparingly their freshman year, both players grew to be a vital part of the team the following year.
Expect Wiltjer to stay all four years in Lexington and garner awards such as All-Conference Team, Regional MOP in the NCAA tournament and be a 1,000-point scorer like Padgett was.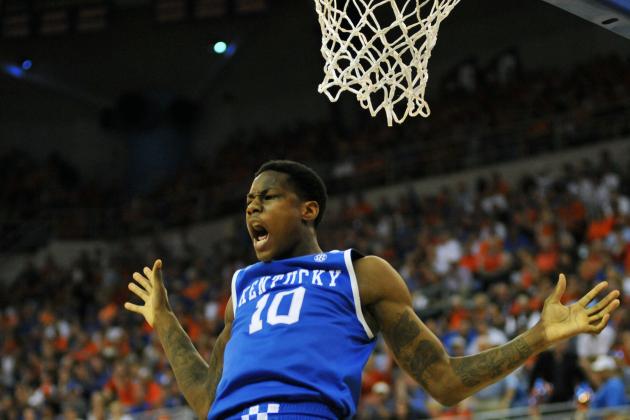 Al Messerschmidt/Getty Images

It's a challenge to compare Archie Goodwin to just one player in the past because his game has a little bit of multiple players in it.
There are times his explosiveness reminds you of Eric Bledsoe. His demeanor on the court reminds you a little of DeAndre Liggins. However, it's Gerald Fitch who Goodwin most emulates.
Both players were plucked from another SEC team's backyard. Goodwin from Arkansas and Fitch from Georgia. Both are built very similar with Goodwin standing at 6'5", 198 pounds and Fitch is 6'3", 188 pounds.
Goodwin and Fitch both struggled with consistency from the field and free-throw line. During his freshman year, Fitch shot 45 percent from the field but only 69 percent from the charity stripe. Meanwhile, Goodwin is currently shooting 43 percent from the field and 65 percent from the line.
Both are, or at least can be, ferocious defenders. When Goodwin wants to be he can lock down almost any wing player in the country with his size and strength, while Fitch averaged over a steal per game in his career.
Goodwin won't have all four years to develop like Fitch did, but in the meantime his game is continuing to trend more toward Fitch's than anyone else.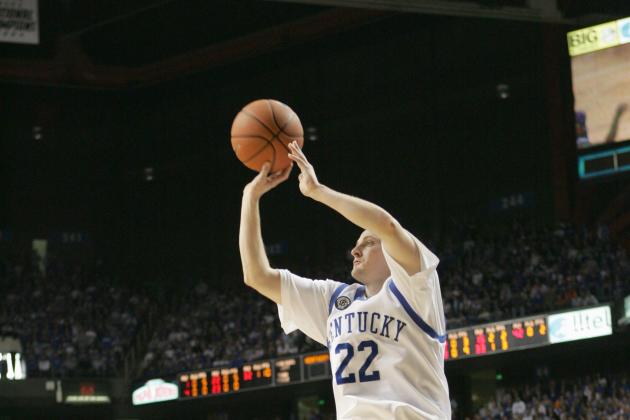 Andy Lyons/Getty Images

This comparison is short and sweet.
Julius Mays and Patrick Sparks both transferred from a mid-major to Kentucky.
Both are spectacular knock-down shooters.
Both became the veteran leaders the moment they stepped on campus.
Both players have hit big shots to help lead Kentucky. Whether it was Sparks' free throws against Louisville or Mays' three as the shot clock wound down against Missouri.
So again, simply put, Julius Mays is Patrick Spark 2.0.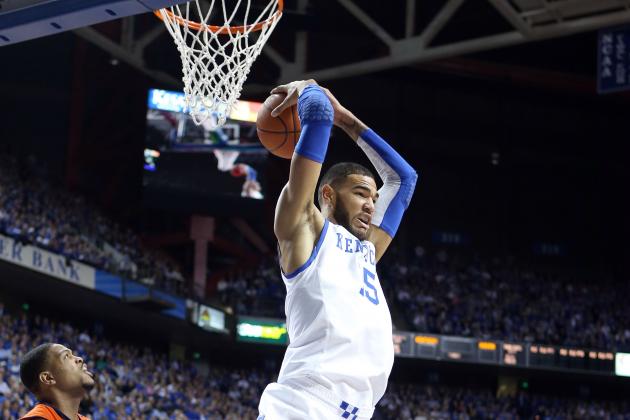 Andy Lyons/Getty Images

If Daniel Orton was three years younger, he'd be in Willie Cauley-Stein's shoes, right?
Think about it. Both Orton and Cauley-Stein were overshadowed by fellow freshmen big men. For Orton, he was recruited behind DeMarcus Cousins while Patrick Patterson returned to campus for his junior year. Cauley-Stein was recruited behind Nerlens Noel and Kyle Wiltjer returned for his sophomore year.
Both players came to Lexington with a raw offensive game, but became more polished as the season went on. It's easier to tell for Cauley-Stein who plays more minutes than Orton did due to the lack of depth this season.
Orton was an established defender and rebounder when he came into college—something that was also expected out of Cauley-Stein this season.
Orton was only at Kentucky for a year before being the fifth Kentucky player to be drafted in the first round of the 2009 NBA draft. While, I think Cauley-Stein will stay a second year, it's not out of the realm of possibility for him to leave early and be drafted in a similar spot as Orton.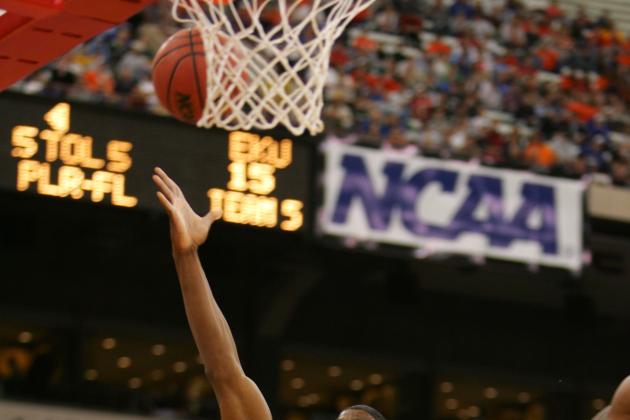 Elsa/Getty Images

We've seen a player like Alex Poythress in the blue and white before. It wasn't even that long ago either.
Poythress has looked like a second-coming of Kelenna Azubuike. Whether it's body type or similar games on the court the comparison between the two is uncanny.
The comparison between these two players may be best summed up by a Tubby Smith quote about Kelenna Azubuike.
Looks like Tarzan. Plays like Jane.
Poythress might actually look more like Tarzan than Azubuike does, as he stands two inches taller than his predecessor.
The play is similar though. Both players have the body and show glimpses where they can take a game over at anytime. But, on the flip side, both players frustrate or frustrated Kentucky fans beyond belief when they would refuse to be aggressive.
Another similarity these two may share will be leaving Kentucky without playing in a Final Four. Azubuike played in two Elite Eights during his three years in Lexington, and while the season isn't over for this season's squad, a Final Four seems like a stretch for Poythress.