Tennessee Titans Mock Draft: 7-Round Predictions, Post-Scouting Combine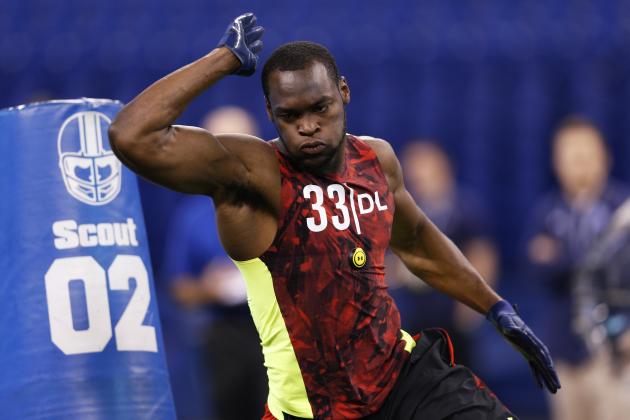 Joe Robbins/Getty Images

A lot has changed now that the NFL Scouting Combine has finished up, and now the 2013 NFL Draft is just right around the corner.
The Tennessee Titans have their work cut out for them to get back into playoff contention. It will take a strong draft to turn things around next season.
There were a few players that really improved their draft stock this past week, and the Titans should certainly take a look at some of these players.
Here is the latest mock draft for the Titans.
All combine results courtesy of NFL.com
Begin Slideshow

»
Chris Graythen/Getty Images

There were a bunch of players from the SEC who really performed well during combine, and Barkevious Mingo was definitely one of them.
Mingo's 40-yard dash time might have been most impressive as he ran it in 4.58 seconds, good for second-best among defensive lineman.
His vertical jump was also quite impressive as he finished second-best again in the class with a jump of 37 inches.
The Titans have already somewhat taken care of their need in the secondary by snatching up veteran George Wilson from the Bills, but they still have a lot of improvements to make on the defensive line.
What Mingo lacks in power, he makes up for in his freakish speed and athleticism. The Titans desperately need a guy like that who can get into the backfield in a hurry.
Mingo is also hard working individual who has his head in the right place.
This should be the No.1 guy on the Titans' radar after his strong showing at the combine.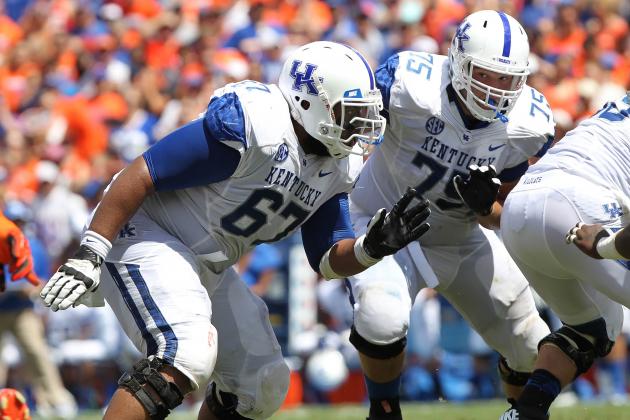 Kim Klement-USA TODAY Sports

Larry Warford didn't have an amazing combine, but he did maintain his great strength with 28 reps on the bench press.
His 40-yard dash time was towards the bottom of the class, but that's not a major problem for an offensive guard prospect.
What Warford did during the combine was keep his stock steady, which is hovering as a 2nd-round prospect.
Some experts even have him going as late as the 3rd round, so the Titans certainly have a great opportunity to get him.
Warford could very easily drop to the Titans' grasp in the 2nd round, and that would be huge steal. It would upgrade the offensive line immediately and make the first two rounds of the draft very productive ones.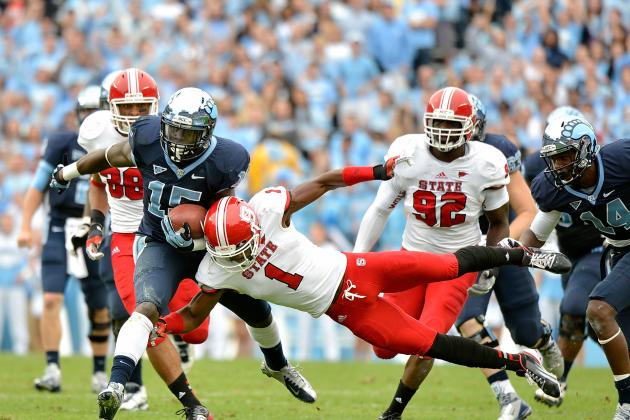 Grant Halverson/Getty Images

There were questions heading into the combine if David Amerson was fast enough to be a cornerback in the NFL.
It's safe to say that he answered those questions with his 40-yard dash time of 4.44 seconds. That shows that Amerson has the speed to hang with NFL receivers.
His vertical jump at 35.5 inches was right up there with another high-sought cornerback in out-sized, who was at 36 inches.
Amerson is a hybrid player who could end up playing cornerback or safety when it's all said and done. Versatility is what the Titans need right now.
Alterraun Verner is heading into his contract year, and we're still not sure how long the 32-year-old George Wilson will actually last at safety for the Titans.
Amerson's unique ball skills would instantly add to the Titans' chances to get key turnovers, which have really been lacking in recent seasons.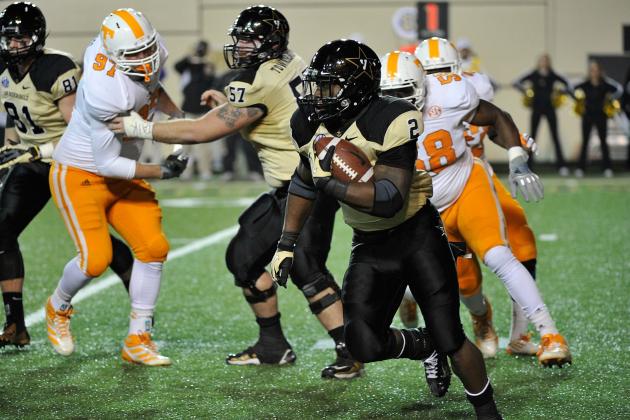 Frederick Breedon/Getty Images

Zac Stacy was one of those guys who really had to have a strong showing at the combine to ensure even getting drafted, and he did that by being a top performer in a few key categories.
Stacy showed his ability to be a power back by completing 27 reps on the bench press, which was tied for 4th in the class.
Another category that Stacy really helped his case in was the three-cone drill where he posted a time of 6.7 seconds.
He came up just a fraction short of leading the class as Christine Michael from Texas A&M finished with a time of 6.69 seconds.
Stacy relied on his agility a lot during his career at Vanderbilt, and that was on full display during the combine.
The Titans need a high-character guy like Stacy to share some snaps with Chris Johnson next season. He wouldn't steal the show, but he would certainly give Johnson some much needed help.
This would be a smart pick in the 4th round, and Stacy's strong combine showing would mean that waiting past the 4th round would be risky if the Titans want him.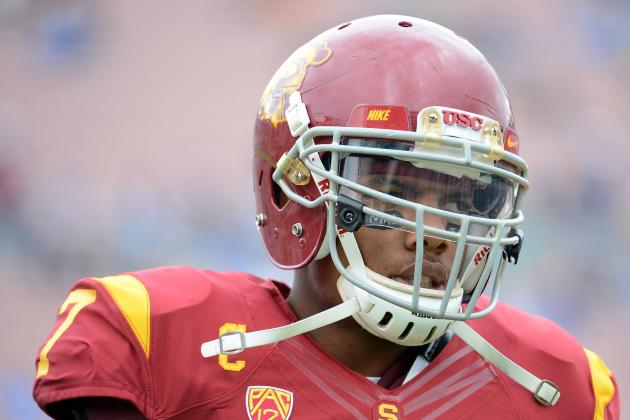 Harry How/Getty Images

Even though the Titans have already addressed the safety position in free agency, it still doesn't mean that they can't begin prepping for the future.
T.J. McDonald is probably not ready to be an immediate NFL starter, but he has a ton of potential.
McDonald is said to not have the agility to be a reliable contributor in the pass-happy NFL. His combine results make him a guy that would be a safe draft pick in the 5th round for the Titans.
His best result came in his vertical jump, which was right at 40 inches. That was just behind the highly-regarded Eric Reid.
There were also some results that indicated that McDonald will be a work-in-progress once he gets onto an NFL team.
His average 40-yard dash time was 4.59, while his time in the three-cone drill was just 6.89 seconds. Those times were both way back in the pack of safeties.
The Titans need to start prepping an athletic free safety to step in if Michael Griffin continues his inconsistent ways, and McDonald would be a strong suitor for that need.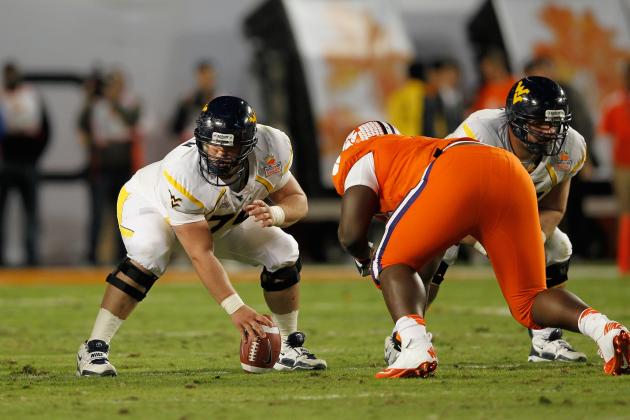 Streeter Lecka/Getty Images

Sometimes the 7th round of the draft can prove to be the most pivotal one. There are plenty of steals to be made at this late point in the draft.
Hopefully, the Titans will have all of their drastic needs taken care of, and that means that the Titans have a little freedom on what to do with this last pick.
It wouldn't hurt for the Titans to get a center to start prepping up for the future. This is a position that is somewhat of a question mark right now.
Eugene Amano has gotten plenty of criticism as not being a long-term solution, and Kevin Matthews looks to be heading out in free agency.
Joe Madsen had a productive four years with the high-powered West Virginia offense, and his combine results were modest.
Madsen posted a pedestrian 25 reps on the bench press, but posted a good enough time on the three-cone drill to show that he has the ability to get to the next level in his blocking.
His time on the three-cone drill was 7.6 seconds, which was good for 12th in the class among offensive lineman.
He would certainly be a guy that would have to work his way up to being a reliable starter, but there's not much risk here in the 7th round. Madsen did a decent enough job in the combine to be given a chance if the Titans want to get a young center.