El Clásico: 5 Things We Learned from Barcelona vs. Real Madrid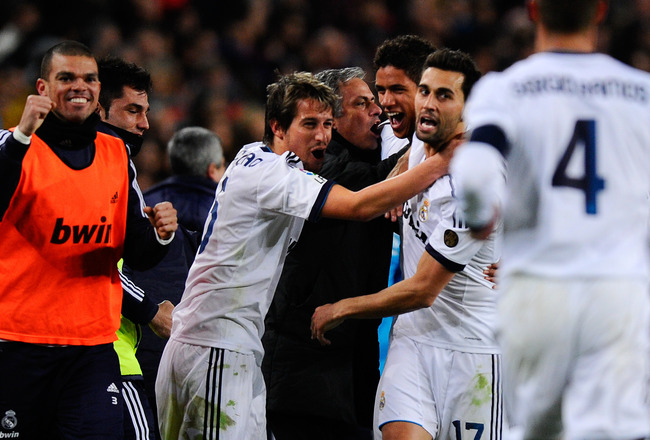 David Ramos/Getty Images
Tuesday's match marked the fifth time Barcelona and Real Madrid have met this season. El Clásico is one of the most anticipated matchups in the world and it never seems to disappoint.
While Real Madrid were victors this time, we know firsthand the matches can go either way.
On the pitch were two of the world's greatest clubs and two of history's greatest players. You can't help but learn something in the clash of these giants.
Varane Is World Class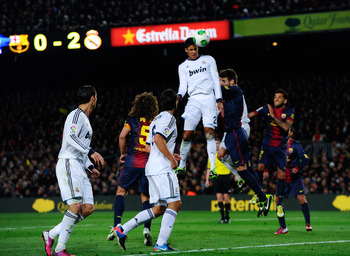 David Ramos/Getty Images
When Raphael Varane made the €10 million transfer to Real Madrid in the summer of 2011, the signing looked to be one for the future. The then-18-year-old had been promising in his performances with French club Lens, though his team was ultimately relegated.
Madrid made the swoop for the relative no-namer thanks to efforts fro Zinedine Zidane and they haven't looked back since.
Jose Mourinho is not known for developing youth players, but with regular starter Pepe's surgery, Raul Albiol's disappointing ability and Ricardo Carvalho's age, Varane was tossed into the fray. Fans didn't really know what to expert. Varane looked sharp in the few chances he was given and had one impressive back-heel goal last season, but that was all he had shown.
Come the first leg of the Copa del Rey against Barcelona and Varane immortalized himself. In a game featuring some of the greatest players to ever touch a ball, it was not Iniesta, or Xavi, or Messi, or Ronaldo who made the greatest impact. It was a 19-year-old.
Whether it was his crucial interceptions, his last-man tackle on Cesc Fabregas or his late equalizing goal, Varane absolutely dominated in Madrid.
In the second leg, he fared no worse. Although he didn't have any awe-inspiring defensive moments, he did have yet another last man tackle and (surprise) another goal. Simply stunning.
When Varane was signed, Pepe said in two to three years the Frenchman would be one of the world's best centerhalves. In reality, it's taken just a year.
Ronaldo Was Better Than Messi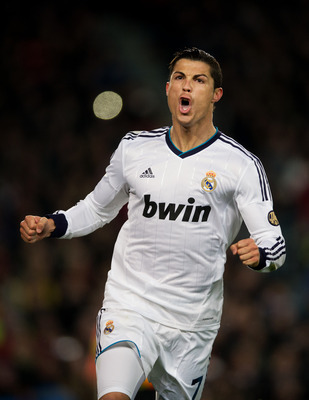 Jasper Juinen/Getty Images
Messi might very well be better than Ronaldo, but in recent meetings Ronaldo has been the better of the two. This matchup was no different.
Statistically, Ronaldo was better in almost every imaginable way, completing more passes, taking and getting more shots on target, completing more dribbles and scoring more goals. But you didn't need to see statistics to know who was better.
On nearly every break, Ronaldo exerted his influence, whether it be on his marvelous dribbles or in drawing defenders away from play. He was simply faultless on the day, earning and putting away a early penalty and making the most piece of work from Pinto.
By contrast, Messi was dormant. On nearly every touch he seemed smothered by defenders and failed to deliver any of the spectacular runs fans have come to expect. His passing was subpar and he managed just two shots.
For all the criticism Ronaldo used to receive for not showing up in big matches, it seems almost unimaginable that Messi is now the one deserving of such criticism.
Barcelona Contributed to Their Own Demise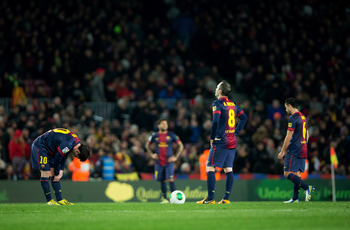 Jasper Juinen/Getty Images
Jordi Roura played right into Jose Mourinho's hand in this match, so it's no surprise Madrid came out on top.
Barcelona don't really have a reputation for mixing up tactics or starting lineups, and while Madrid's starting 11 wasn't exactly a shock, no one knew how Los Blancos would approach the game.
Barcelona opted for their usual 4-3-3 and their tiki-taka game, while Real Madrid went for a game fabricated largely on quick and venomous counterattacks. Thanks largely to the work of their pacey wingers, Barca quite simply got caught on the break too often.
In contrast, when Barcelona was attacking, there were few positives to point to. Passing lacked directness. Finishing was lacking, and there was really no creativity. Xavi's miserable performance is partly to blame but credit Madrid for foiling nearly every Barcelona attempt on goal.
Di Maria in Form Is One of the World's Best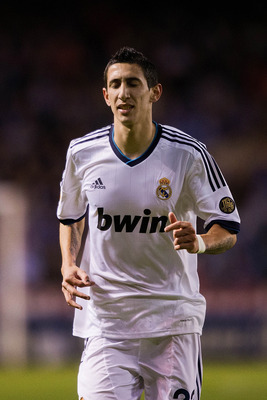 Gonzalo Arroyo Moreno/Getty Images
Angel Di Maria is one of the best wingers in the world when in form.
That "in form" distinction is an important one to make. The biggest knock on the Argentine's play is lack of consistency. In this match, we saw just how dominant he can be.
Ronaldo was the man of the match, but Di Maria terrorized the Catalan defense as much as the Portuguese. His work ethic was remarkable. In one moment, he was winning the ball back for his side; in the next, he was racing down the flank taking on defenders.
The highlight for his night has to be masterfully working veteran Carles Puyol in the build-up to Ronaldo's second goal. Were he that brilliant every night, no one could possibly question his ability.
El Clásico Is Still the Match to Watch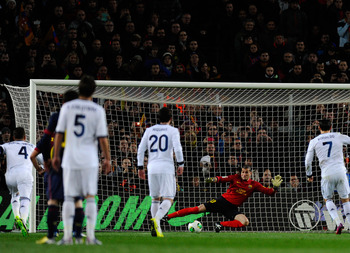 David Ramos/Getty Images
El Clásico never disappoints, does it? Despite being one of the more one-sided matchups in recent memory, this game was nothing less than anyone expected. The passing was beautiful. The players were incredible. The goals flowed, tempers flared and the match was largely unpredictable and nerve-wracking.
Whether you watched to cheer on your favorite side or to see tensions flare as egos and history collide, you could not look away from this showing. As both clubs look to continue their brilliance for years to come, this derby seems it will never lose its appeal
Keep Reading

Real Madrid: Like this team?