Cleveland Cavaliers vs. Chicago Bulls: Postgame Grades and Analysis for Chicago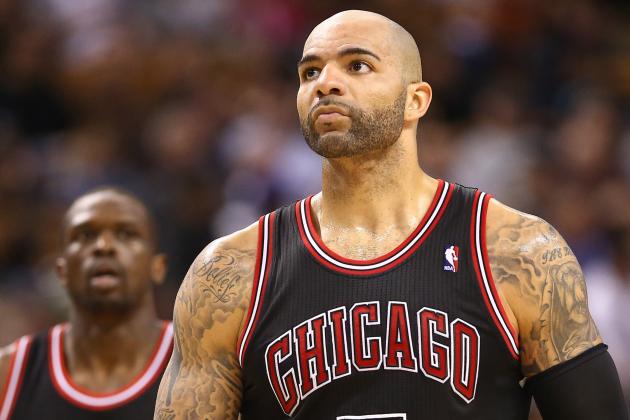 Tom Szczerbowski-USA TODAY Sports

The Cleveland Cavaliers brought their 8-22 road record into the United Center Tuesday night to face the Chicago Bulls. Implausibly, the Cavs stunned the Bulls and came away with a 101-98 victory.
Cleveland played without Kyrie Irving due to a hyperextended right knee; he suffered the injury on Sunday against the Miami Heat (per Royce Young of CBS Sports).
Instead, Dion Waiters victimized the Bulls for 25 points on 10-of-16 shooting. The injury-befuddled Shaun Livingston made his first start for Cleveland and poured in 15 points to aid with the victory.
Cleveland began the fourth quarter with a five-point lead thanks to a three-pointer at the buzzer from Wayne Ellington (who had 13 points off the bench) followed by a technical called on Joakim Noah. That was a four-point swing in a game ultimately decided by just three points.
Chicago trailed by as many as nine points in the fourth. They were within two in the final minute but couldn't complete the comeback. Carlos Boozer finished with 27 points and Luol Deng had 26 in a losing effort.
The Bulls needed to wash the horrible taste out of their mouths left by Sunday's 30-point defeat; they got their doors blown off by the Oklahoma City Thunder and shot a minuscule 29.1 percent from the field in the process.
While Chicago shot 50 percent in this game, they just couldn't get the clutch buckets they needed as the entire offense ran through Boozer and Deng.
Chicago came into Tuesday at 32-24, just half a game separating them from the Brooklyn Nets and Atlanta Hawks for fourth place in the East. For some reason, the Bulls struggle at home (15-13) and actually have a better road record (17-11), a trend which continued in this contest.
Cleveland is scuffling at 18-38. The Cavs have had Anderson Varejao and Kyrie Irving in the same lineup for just five games this season due to injury, and the whole team defends about as well as a scarecrow.
As of Tuesday, Cleveland has allowed the most points per game and the second most points per possession in the East. Fortunately for them, the Bulls offense is currently 25th in the league in points scored per possession (per ESPN).
The Cavaliers defense was just that bit better than the Bulls offense down the stretch, which sealed the victory. So let's get our red marker and give out some grades for this narrow loss.
Begin Slideshow

»
Kirk Hinrich, PG: A-
Hinrich, whose shot had deserted him this season, was locked in from long range. He knocked down three of his five attempts from downtown in the first half.
Hinrich could do no wrong through the first two quarters, grabbing five boards and dishing five dimes.
While Hinrich managed just two points in the second half, he ended up with 11 assists for a tidy double-double. He also contributed a steal and a block, and he was really the sole member of Chicago's backcourt worth mentioning on this night.
His 4-of-9 from the field and 3-of-5 from downtown are both very encouraging signs. Hinrich is actually shooting better from three-point range (39.1 percent) than he is on two-point field goals this season. This was an excellent performance for someone currently shooting just 37.8 percent.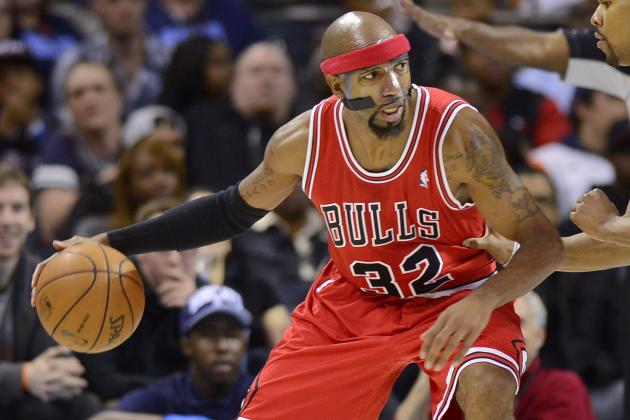 Curtis Wilson-USA TODAY Sports

Richard Hamilton, SG: C-
Veteran Rip Hamilton was not much of a factor in this one. After being shut out in the first half, he scored six points in the second half to go with his three assists and three turnovers.
Hamilton did not look good in his 18 minutes, and the 35-year-old may be wearing down.
Over his previous 10 games, he's shooting just 37.8 percent from the field, and his scoring average has declined with each month of the season. Rip is down to averaging only 7.3 points a game in February.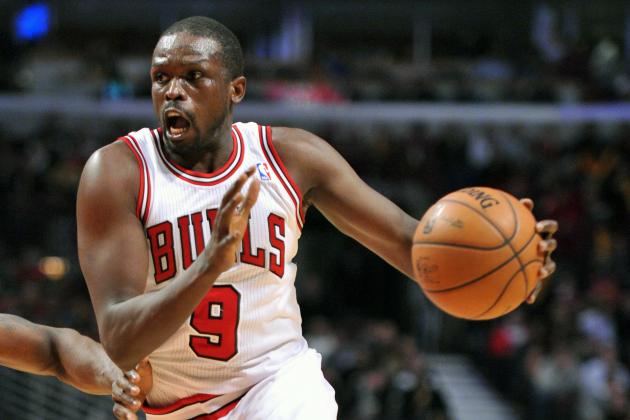 Rob Grabowski-USA TODAY Sports

Luol Deng, SF: B+
Deng put up 13 very efficient points in the first half, shooting 5-of-7 from the field. And he continued to pour it on in the second half, finishing with 26 points in addition to seven boards, five dimes and a couple of steals.
Deng also bricked a three-pointer with the Bulls down by three and just over two minutes remaining. On the other end, he then allowed Shaun Livingston to best him for an offensive rebound, leading to a Luke Walton jumper (yes, that Luke Walton) that put the Cavs up by five.
While Deng did make a pair of free throws in crunch time, he also missed on the potential game-tying shot with 16 ticks left to seal the Bulls' fate.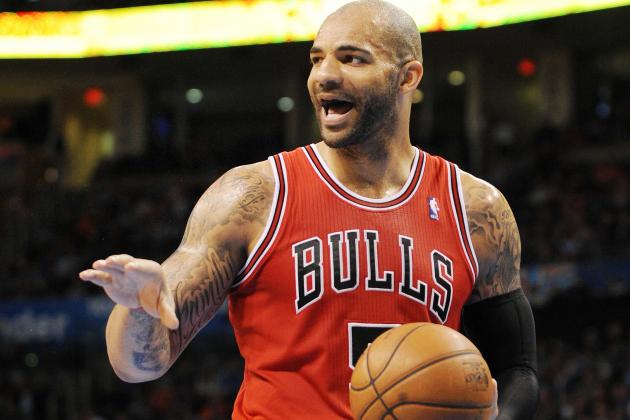 Mark D. Smith-USA TODAY Sports

Carlos Boozer, PF: A
Boozer threw down a nasty dunk over Shaun Livingston in the first quarter. For some reason, the Cavaliers had Luke Walton guarding Boozer at certain stages. Boozer obliged Cleveland by putting up 13 first-half points.
The Booze Cruise finished with gaudy stats to the tune of 27 points on 13-of-20 shooting, five boards, four assists and a block.
But his turnover on an inbounds pass with the Bulls down by four and just 15 seconds left was a costly miscue. Credit Luke Walton with excellent defense on the play, as well as an assist from Kirk Hinrich's leg for the change of possession.
Walton actually finished with eight points, five rebounds and five assists off the bench.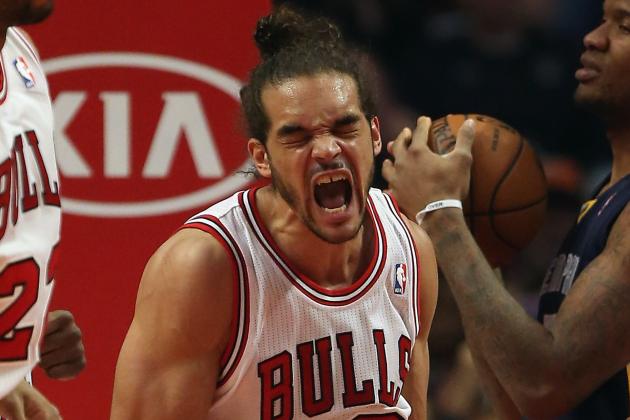 Jonathan Daniel/Getty Images

Joakim Noah, C: B-
In the first half, Noah had just two points on a rim-rattling dunk. But he also swatted three shots.
He finished up with nine points, including a hopeless dunk to close the gap to three points with four seconds remaining. Noah also snatched nine rebounds and dished five assists.
Ultimately, Noah was the only member of the Bulls frontcourt that was held down statistically, finishing slightly under his double-double season averages.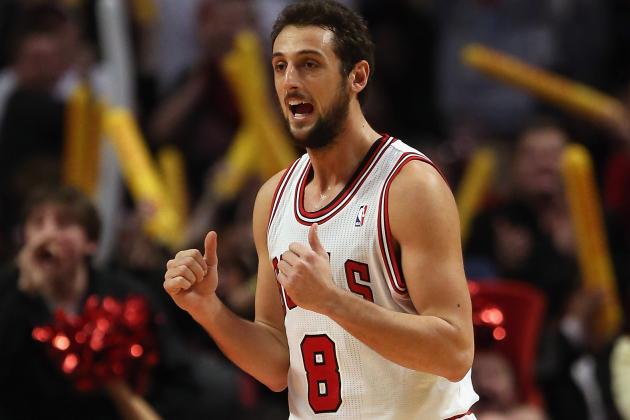 Jonathan Daniel/Getty Images

Marco Belinelli, SG: C+
Belinelli was just 3-of-10 from the field, but that included a pair of threes. He also snagged two rebounds and had a couple of turnovers.
You would hope for more than eight points from your sixth man over the course of 22 minutes. Statistically, the Bulls were at their worst with Belinelli on the court considering his minus-11 point differential.
On a team that prides itself on defense, Belinelli's below-average defense sticks out like a sore thumb.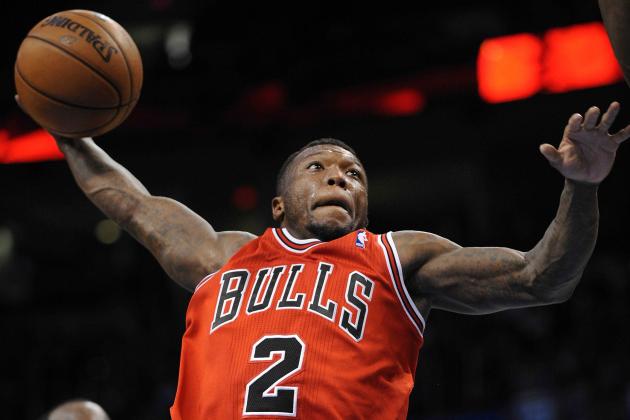 Mark D. Smith-USA TODAY Sports

Rest of Bench: C-
Jimmy Butler drained a three-pointer just as the first quarter's buzzer sounded. Butler also had three boards, three assists, a steal and a block to go with his six points. He also brought his typical brand of stifling defense.
Nazr Mohammed played just six minutes but did tally a couple of rebounds.
Nate Robinson scored just five points on six shots in his 15 minutes. He also dished a pair of assists, but the Bulls could have used a hot shooting night from Little Nate. He did not oblige.
Taj Gibson is nursing a sore left knee and did not dress for the game. The rest of the Bulls remained glued to the bench thanks to Tom Thibodeau's nine-man rotation.
Ultimately, Chicago needs Derrick Rose to return if they want any hope of getting past the second round of the playoffs (as I've written previously).
The Bulls will have a chance to get off the schneid on Thursday when the Philadelphia 76ers come to town.