10 Players Who Should Consider a Position Change During Spring Practice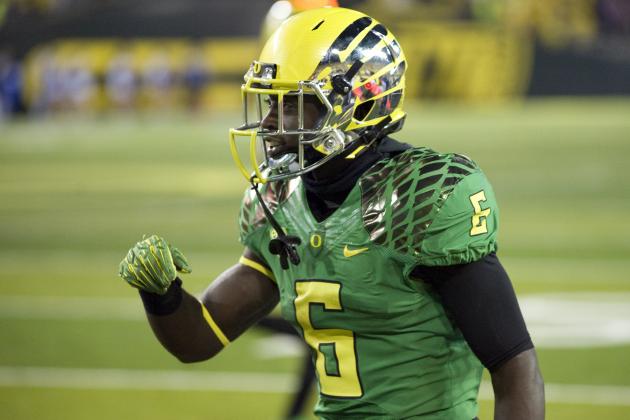 Steve Dykes/Getty Images

College football spring practice is all about experimenting. It gives you the opportunity to do things that you usually wouldn't try during a typical off week between games. With the regular season still several months away from taking place, this is where the coaches can get crazy with the depth chart and play with the team a little bit.
What about putting that sure-handed receiver in the secondary and turning the defense into a strength? You know, that athletic outside linebacker would sure look good lining up as a tight end, and would create mismatches for opposing teams.
Anything you could possibly think of has been tried in spring practice, as it is one of the few times it allows coaching staffs to completely turn things upside down.
We saw last year how effective quarterback Denard Robinson was as a running back. The problem is that it took head coach Brady Hoke forever to realize that this move made sense. If he had played around with the idea in the spring and the team was able to adjust quicker to the change, the Wolverines wouldn't have missed a beat when the games counted.
There should be nothing off limits in spring ball, and every idea should be given some thought.
So with that said, here are 10 college football names that should consider changing positions, at least for a couple of months.
Begin Slideshow

»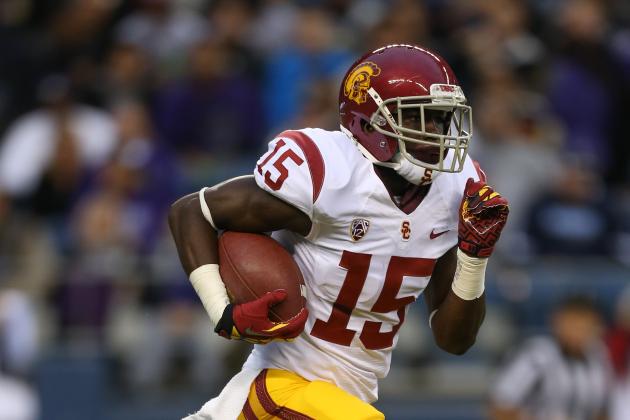 Otto Greule Jr/Getty Images

Position Change: Safety
The USC Trojans have questions at the safety position heading into spring practice. With both T.J. McDonald and Jawanza Starling graduating, both the free and strong safety spots are open.
Former linebacker Dion Bailey is expected to switch over to strong safety, but he will miss spring actives due to a shoulder injury. The depth is such an issue to the point two 2013 recruits in Su'a Cravens and Leon McQuay III could be the ones that are patrolling the backfield this year for the Trojans if things don't start looking up.
This is why Nelson Agholor should fine tune some of his skills on the defensive side of the ball. Recruited out of high school as a safety, the former 4-star recruit has the size and quickness to play the position. He also came on late as a wide receiver last season, proving that he has the ball skills to fit in nicely on the other side.
USC has guys with potential at receiver that could replace Agholor and his production on offense. But right now defense should be the No. 1 priority for a Trojans team that is looking to turn things around.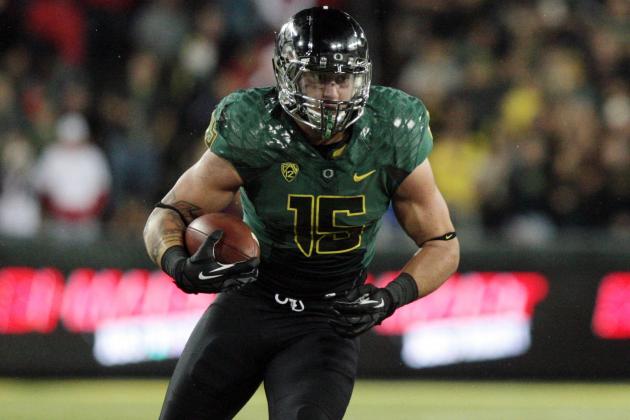 Scott Olmos-USA TODAY Sports

Position Change: Linebacker
Oregon has issues it has to fill out on defense as well before talks about a Pac-12 title begin surfacing. The Ducks lost two of their most productive players at the linebacker position with both Michael Clay and Kiko Alonso graduating. Those guys were not only productive players on the field, but were the glue that kept the Oregon defense from breaking completely.
Tight end Colt Lyerla could certainly help provide depth and toughness to the position. He is a big body at 6'5", nearly 240 pounds, and it was tough for many scouts to decide exactly what position he would fit best at when coming out of high school. You see this physical player that can change direction quickly and can shed blocks, and you immediately think defensive guy.
Lyerla has been a nice player at the tight end position the last two seasons for the Ducks, hauling in 32 receptions, 11 of which have gone for touchdowns. However, something tells me that Oregon will be just fine without him on the offensive side of the ball if he were to switch sides.
Putting him back there would at least spark up the competition a bit for the younger players.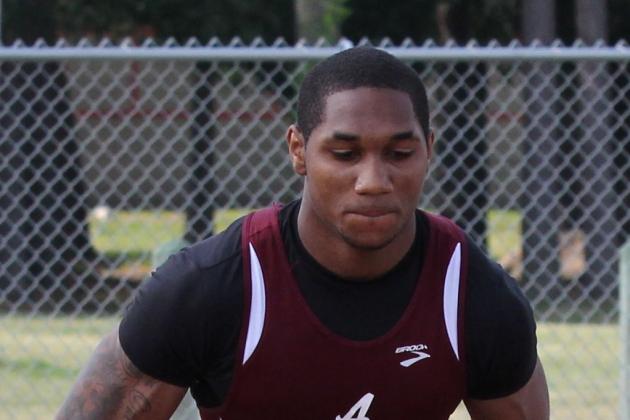 Credit: 247Sports.com
Position Change: Cornerback
Texas is slowly putting together a wide receiver corps that should be respected across the country. With players such as Mike Davis, Jaxon Shipley and a younger guy in Cayleb Jones, who has a promising future, the Longhorns have pieces on offense.
Kendall Sanders may fit in there somewhere, but he has a much brighter future on defense. He was a highly recruited player coming out of the 2012 class, but only finished the season with two receptions his freshman year. With the depth in place and younger guys looking to pass him on the depth chart, Sanders could soon become the forgotten man.
This is somebody who has a solid frame at 6'0", 185 pounds, and has that physicality to his game that you love to see from a corner. He has real fluid hips, and his quick feet are some of the most impressive you will see from a younger player. Sanders' ability to highpoint the football is also a reason worth giving him a look defensively.
I know playing offense may earn you more media time and is sexier with today's causal fan, but that Texas defense needs help. If Sanders could provide a helping hand, he should jump at the opportunity.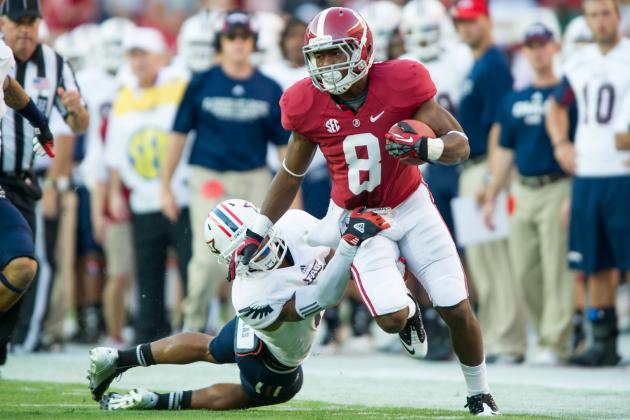 Michael Chang/Getty Images

Position Change: Cornerback
Cyrus Jones finds himself in a similar position as Kendall Sanders. Actually, his is a lot worse. Alabama is loaded at the wide receiver position with Amari Cooper, Kevin Norwood, Christion Jones and DeAndrew White. That doesn't even include Kenny Bell and Chris Black returning from injury, who are sure to see playing time in the upcoming season.
Where does the 5-star recruit fit in all of this?
Jones saw playing time in mop-up duty last year, catching a lousy four passes and not having much of an impact the way many Tide fans had hoped. Unless he changes positions, there is a great chance he will continue to be ineffective. Jones has the quick feet, athletic ability and some of the best ball skills you will ever see to play cornerback. He also isn't afraid to come up and make a tackle in run support, as he played defensive back in high school.
Jones did not come to Alabama to be buried on the depth chart, and there is nothing worse than to see a talented kid spend a couple of years on the bench. Making the switch to defense would get him on the field soon and allow him to become the impact player we all thought he would be.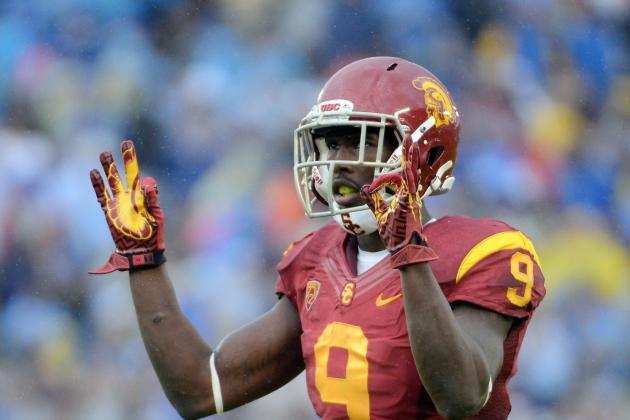 Harry How/Getty Images

Position Change: Safety
In case of emergency break glass.
Desperate times call for desperate measures, and using Marqise Lee on the defensive side of the ball would be just that. But let's assume that both true freshmen struggle early on and the rest of the inexperienced guys in the secondary can't hold their weight. The USC defense continues to get burned deep and give up big play after big play.
Who do you call?
Lee left high school as an athlete who spent a lot of time at safety. His lengthy frame and physical nature allowed him to be a productive prospect at the position. He also has remarkable ball skills, which also don't hurt. Lee covers a lot of ground in a short amount of time and can be that ball-hawking player that every defensive coordinator wants.
There is no question Lee is the best wide receiver in the country, and switching him full-time to defense would be insane. However, I know the kid can play offense at the highest level. If I need somebody to hold down the fort defensively for a drive or two, I'd like to know Lee can be the guy to step in and get the job done.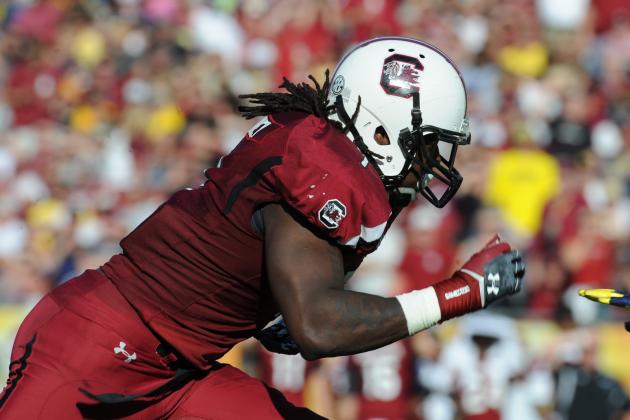 Al Messerschmidt/Getty Images

Position Change: Everywhere
There have been talks about Jadeveon Clowney sitting the entire 2013 season to avoid injury. When you are considered the best player in all of college football and nearly guaranteed to be the first overall pick, you wouldn't want to stub a toe, would you?
Good news is that Clowney is not going to sit out. Already showing he is a once in a generation talent at defensive end, Clowney prepared himself to spend some time at middle linebacker as well. In fact, the overly talented player said making the switch to a whole new position wasn't even that difficult for him.
Well, good.
Mr. Clowney, I would like to use you in tight end packages, where you use your athletic frame to help out in goal-line situations. With the linebacker position not looking so hot at the moment, asking you to see more reps at the position wouldn't be too much to ask, would it? I am also wondering if you could kick field goals because last year's 64.7 percent could really improve.
Hey, when you have a kid this talented, you take advantage of it. After all, Gamecocks fans only have one more season left with the young man.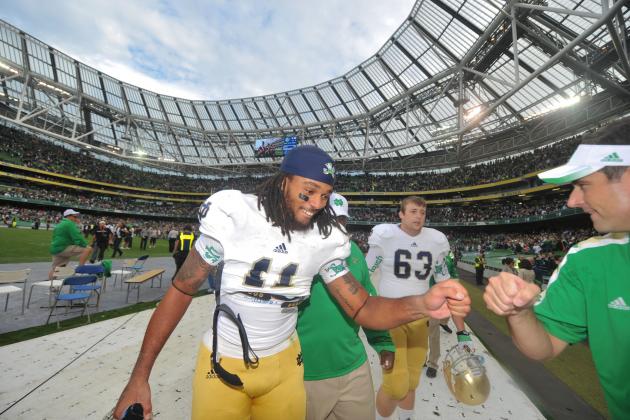 Barry Cronin/Getty Images

Position Change: Tight End
Who is going to continue the trend of being the next great Notre Dame tight end? Who is going to be the security blanket for quarterback Everett Golson and catch more than 30 passes? Forget the defensive side of the ball for a second, the Irish need to find a replacement for Tyler Eifert.
Look no further than Ishaq Williams.
This is somebody who has a ton of upside at linebacker and will become a monster at defensive end once he continues to grow into his man body. However, you put this kid on the offensive side of the ball right now and there aren't many defensive coordinators who will have an answer for him. With his size at 6'5", athleticism and speed to get down field, he instantly becomes the difference-maker for a Notre Dame offense that struggled to move the ball a year ago.
Williams played both sides of the ball in high school and had very little trouble abusing kids offensively. Notre Dame may be looking for somebody to replace Manti Te'o, but if this former 4-star recruit could make the transition, the tight end spot will remain safe and sound in South Bend.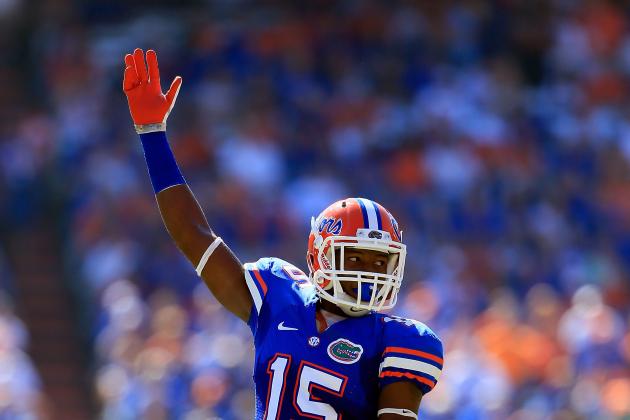 Sam Greenwood/Getty Images

Position Change: Wide Receiver
Loucheiz Purifoy is a young player with a bunch of upside, but playing defense was tough for him at times. He made a bunch of tackles and broke down five passes, but was also beaten in coverage and his inexperience showed. He would likely have little trouble developing into a solid cover man, but there are better options available for him at this point.
Purifoy is somebody who needs to play offense, just as much as the Gators need him at wide receiver. This is a player who is a threat to go the distance anytime the ball is in his hands, and he has the size at 6'1" to become a true No. 1 threat at the position. Purifoy has a lot of natural athletic ability and can go up and get the football the way you would like to see a rangy wide receiver go get it.
The Florida Gators offense ranked 12th in the SEC last season, and the scoring-offense was good for 78th in the country. Let cornerback Vernon Hargreaves III do his job of covering the receivers, and Purifoy needs to switch sides of the ball.
It will be a win-win for both parties involved.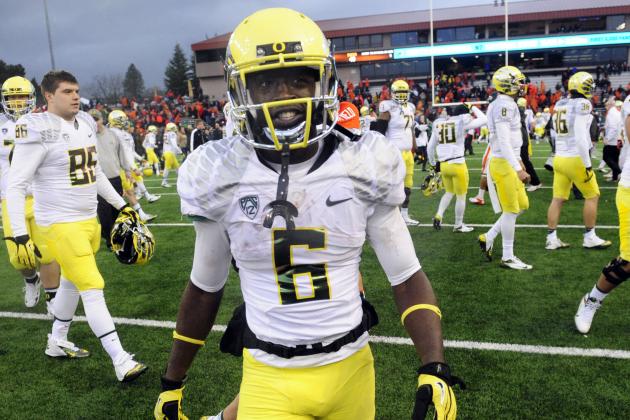 Steve Dykes/Getty Images

Position Change: Secondary
De'Anthony Thomas was actually on his way to play for USC, and was going to be a defensive player. That was when Chip Kelly convinced him that he would be a star in his spread offense. Thomas quickly changed his commitment and the rest is history.
The Black Mamba is one of the fastest college football players of the last decade and should be unfair to use in offensive packages. But the same way he scores truckloads of touchdowns, is the same way he could help out the Oregon defense.
His vision of the field, change of direction, closing speed and instincts on the field are all things you look for in a secondary player. Thomas also has above-average ball skills with a total of 91 receptions in his first two seasons in Eugene. As mentioned in his Scout profile, this is somebody who could have been a 5-star player at numerous positions.
Because of the small frame, Thomas shouldn't be included on defense for long periods of time due to risk of injury. However, in nickel and dime packages, it couldn't hurt to have this playmaker on the field.
Position Change: Linebacker
Derrick Henry wants to play the running back position, and when you are the all-time leading rusher at the high school level, you certainly deserve your shot to prove yourself. However, regardless of where he wants to play, or what he offers at the position, this is a kid who has linebacker written all over him.
His size at 6'3", 240 pounds is the perfect frame to play the JACK position in the Kirby Smart defense. The same speed that has scouts drooling offensively is what would make him effective in coming off the edge. His lateral quickness and toughness he brings to the table would allow him to hold his own against the run, and he should have no problem shedding blockers with his athleticism.
Some would say that Henry should be given every opportunity to succeed at running back before just saying he isn't a great fit at the position. But with the depth in the backfield already and a defense that must replace a handful of starters, the 5-star recruit could contribute right away defensively.
Henry is going to be an effective player no matter where he lines up, but with everything he brings to the table, he shouldn't put all of his eggs in one basket. With a potential NFL career on the line, Henry should consider all of his options and give defense at least a look during spring practice.