What Manchester United Must Learn from Madrid's Barcelona Blitz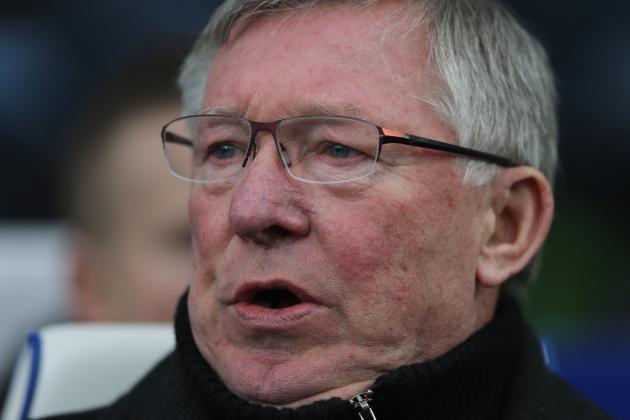 Ian Walton/Getty Images
Plenty to ponder for Sir Alex Ferguson
Sir Alex Ferguson was amongst the many onlookers at the Camp Nou on Tuesday night as Real Madrid put in a powerful performance to destroy Barcelona on their own patch
The Manchester United manager was scouting Los Blancos ahead of his sides Champions League round of 16 second leg meeting with Jose Mourinho's men next Tuesday, and the Scot must have been impressed with the way the La Liga champions saw off their arch rivals.
A Cristiano Ronaldo brace and another from Raphael Varane led Madrid to a 3-1 win on Catalan turf––earning them a spot in the Copa del Rey final.
Madrid went into the game trailing on away goals following a 1-1 draw at the Santiagoe Bernabeu three weeks ago, and the situation will be identical when Mourinho leads his side to Manchester next week.
So what will Ferguson have learnt from Madrid's menacing display and how can the he avoid the traps Barca assistant coach Jordi Roura fell into?
I take a look at five things Ferguson should have heeded from Real Madrid's blitz of Barcelona
Begin Slideshow

»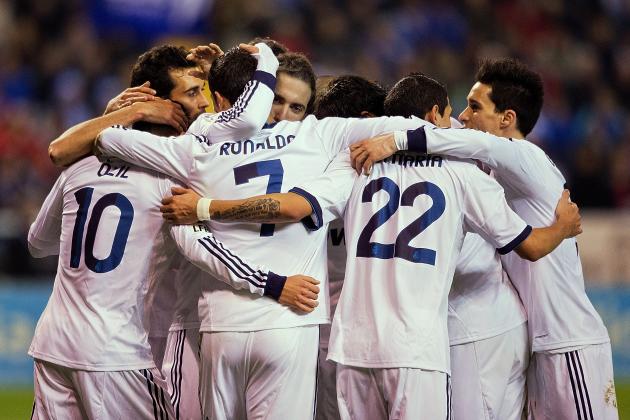 Gonzalo Arroyo Moreno/Getty Images
You don't want to go a goal down to this lot
Sir Alex Ferguson certainly won't need reminding that going behind in a Champions League knockout tie is bad news, but against this Real Madrid side it could be potentially fatal.
Like a great boxer Madrid are at their most potent when on the ropes, rolling with the punches before springing forward to deliver their own blows.
I certainly can't recall a side who break with such devastating effect as Los Blancos, and if Manchester United do concede first they will not have the defensive mobility to contain Cristiano Ronaldo and co on the counter.
Ferguson has a balancing act to get right considering a 0-0 draw would do, and the concerning conundrum for the Scot is that ceding possession is just as dangerous as controlling it.
The Red Devils were buoyant in their search of an away goal at the Santiago Bernabeu, but I suspect Ferguson will go against the grain and look to contain at Old Trafford.
United are also a frightening prospect when they have space to break in to and nullifying the game up until a period when Real need to open up could be the best course to take.
The first goal will be crucial so United need to box clever. Patience is the key.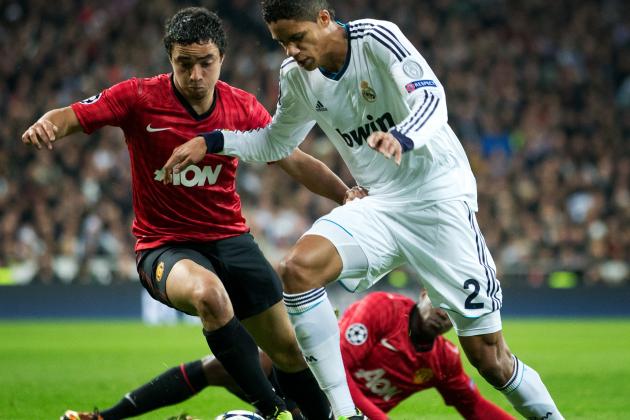 Jasper Juinen/Getty Images
Rafael needs to be reigned in
A feature of Real Madrid's demolition of Barcelona was the positioning of Cristiano Ronaldo and Gonzalo Higuain.
Madrid's most offensively minded players were given freedom to roam, but both operated in overtly wide positions, effectively man marking Barca's full-backs.
That tactic was in part to reduce the effect Dani Alves and Jordi Alba had going forward, but it was also a ploy to exploit any space left in behind when they did venture forward.
Barca's bravado meant they fought fire with fire with Alves and Alba pushing forward in their usual fashion, but time and again one single ball released Madrid's forwards into the flanks.
Manchester United usually give licence to their backs to bomb on, but given the circumstances, Rafael and Evra should be tapered to the central defenders.
None of Vidic, Ferdinand or Evans are blessed with the sort of pace to keep Madrid at bay, and the Reds defensive solidarity will be boosted by having a back four intact throughout proceedings.
United have enough firepower in wide positions and up front to be able to create without support from defence.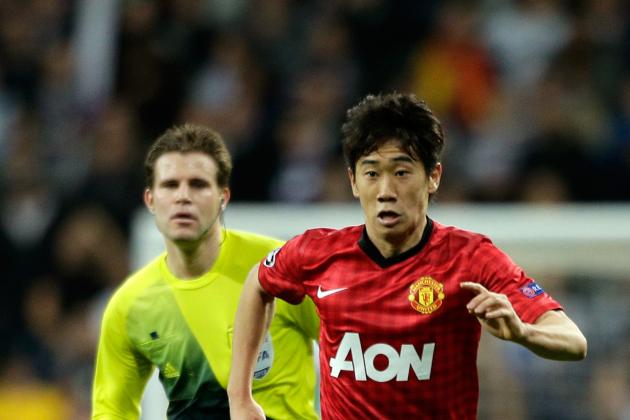 Gonzalo Arroyo Moreno/Getty Images
Kagawa can be key
Real were resolute in the face of Barcelona's tika-taka football, but can they cope with United's whippet wingers whipping balls in from out wide?
Madrid have conceded plenty of goals all season, four of which came against Jurgen Klopp's dynamic Borussia Dortmund side.
The Bundesliga champions lined up against Los Blancos with Marco Reus and Kevin Greusskreutz down the flanks in both games, and rarely have I seen a Mourinho side struggle to contain the opposition.
Like Ferguson, Klopp insists on a high tempo passing game with a focus on attacking at pace and width, and those traits caused havoc for Madrid over two ties in this seasons group stages.
Sergio Ramos was given the run around at right back in both games and when balls were put into the mixer, neither Raphael Varane or Pepe looked particularly comfortable aerially. Three out of four of Dortmund's goals came via the flanks over those two games and the Red Devils are similarly well endowed on the wings.
Dortmund are a fantastic side in their own right but one which do have similarities to Manchester United in the way they go about their business.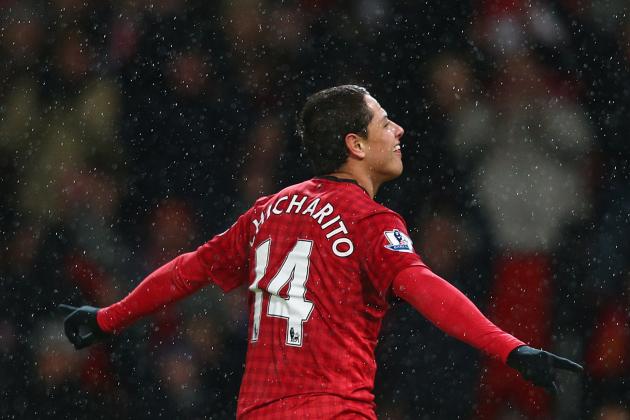 Clive Mason/Getty Images
Chicharito can catch Madrid cold
For large parts of the game against Barcelona, Real Madrid operated with what appeared to be a suicidally high defensive line.
The aim was to press Barca back and limit the space in between the lines for their ball players to scheme, but I for one failed to understand why Jordi Roura's men didn't look to drop balls in behind.
It's not the Barcelona way of course and their stubbornness to stray from the La Masia method eventually cost them dear, but United have more than one way to skin a cat.
If Jose Mourinho goes with that plan again then Javier Hernandez could be a better foil for Robin van Persie than Wayne Rooney.
The England striker was innocuous at the Bernabeu, and Hernandez's mobility and willingness to run the channels will give the "Special One" a dilemma.
Michael Carrick––amongst others––has the arsenal to clip balls over the top for Hernandez, and with the Mexican in the side Madrid will be forced to drop deeper, instantly handing some of the initiative to United.
Rooney's energy seems to have sapped in recent seasons and he regularly floats looking to influence from deep.
Ferguson may choose Rooney to disrupt the rhythm of Xabi Alonso and Sami Khedeira but in this instance I reckon he will be better served by the predatory instincts of Hernandez.
Mike Hewitt/Getty Images
Ferguson needs his midfield runners
Sir Alex Ferguson's team selection in the first leg raised eyebrows but not for the first time in major European battles, the Scot got it spot on.
Phil Jones and Danny Welbeck were the surprise inclusions, but their energy helped set about Madrid and also gave United another outlet going forward.
The evergreen Paul Scholes and Ryan Giggs might have the advantage of experience in ties like this but they no longer have the vivacity to stop a mobile Madrid midfield who ping passes about for fun.
Ferguson needs to pick his quickest and most agile set of players to chase and hurry Mourinho's men, and Giggs and Scholes do not fall into that category.
There are injuries doubts surrounding Jones but I'd be astonished if that was anything other than Ferguson smoke and mirrors, and I'd get him back into the midfield engine alongside Carrick, with Kagawa and Nani out wide.
Man for man, the Premier League leaders do not have the technical capacity of Madrid, but they can counter that with tenacity––but only if they can get close enough.
Ferguson must pick his runners.
For more, follow me on Twitter @bainesyDiego10