Michigan Basketball: 5-Step Plan to Peaking Before the NCAA Tournament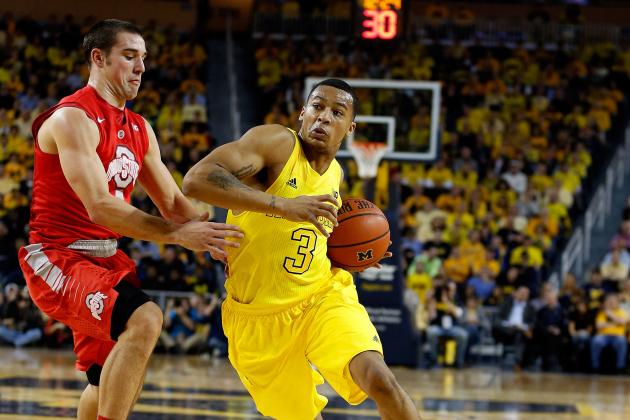 Gregory Shamus/Getty Images

Michigan basketball, like many other members of the ultra-competitive Big Ten this season, has recently fallen on hard times.
With three losses in their last six contests, Michigan will look to rebound before the conference tournament and March Madness.
Once considered a shoe-in for a top seed, Michigan must win out and make it to the conference tournament championship if they are going to see their name on the top line.
In order to reach their full potential, there are five key areas that Michigan must improve upon before they tip off in March.
Begin Slideshow

»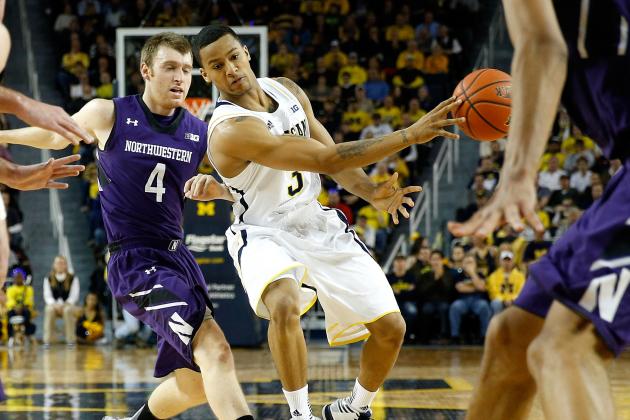 Gregory Shamus/Getty Images

Michigan has one of the most potent offenses in the country.
Its offense is also incredibly efficient.
Michigan commits the third-lowest number of turnovers per game with fewer than 10.
The Wolverines, though, only dish out 14.9 team assists each contest.
This statistic is indicative of a larger problem the Wolverines face.
While it is great to have dynamic scorers such as Trey Burke and Tim Hardaway Jr., the Wolverines offense can often be stifled by their poor shot selection early in the shot clock.
Michigan's backcourt thrives in creating off the dribble, but again, this ends up stalling the offense at times.
If Michigan wants to reach their peak potential, they must distribute the ball better as a team, and that starts with their guards.
Gregory Shamus/Getty Images

Michigan does a lot of things great, but rebounding is not one of those things.
At just 35.5 rebounds per game, Michigan ranks 142nd in the country.
In their four losses this season to Indiana, Michigan St., Ohio St. and Wisconsin, the Wolverines were out-rebounded 145-112.
This margin of 33 rebounds is simply unacceptable, especially in the ultra-physical Big 10.
Moving forward, Michigan's frontcourt of Mitch McGary and Glenn Robinson III must make rebounding a top priority.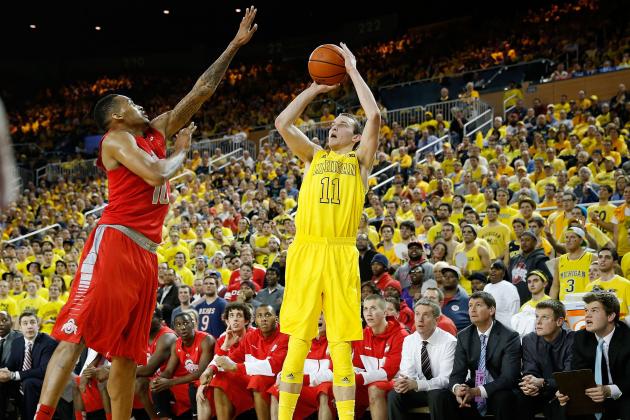 Gregory Shamus/Getty Images

Nik Stauskas, at one point considered a dark horse Big 10 Player of the Year contender, has seen his numbers drop drastically from the beginning of the season until now.
At 11.8 PPG, it may seem excessive to ask for any more from the talented freshman out of Ontario. This speaks more to his relative capability and less to his overall production.
We've seen Stauskas be the difference maker for the team. His ability to shoot the basketball with incredible accuracy is what made Michigan's offense so dangerous to start the season.
However, as Stauskas has drawn more defensive pressure, his shooting percentages have dropped across the board.
Consequently, defenses do not feel the need to track him out to the perimeter as often, and teams are able to clog the lane and force jump shots from Burke and Hardaway Jr.
Stauskas' numbers will tell you that he is still a contributing member to the offense, and he certainly is.
That being said, the greatest contribution he can make to the team is to demand defensive attention away from the lane and bury big shots when his number is called.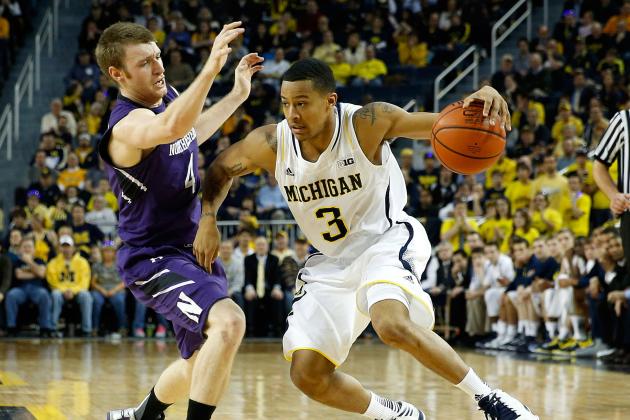 Gregory Shamus/Getty Images

There is no doubt that Burke and Hardaway Jr. are the heart and soul of this Michigan team.
They are easily in the discussion for America's best backcourt duo, and their numbers speak for themselves.
The two combine for 34 PPG and 9.2 APG. Both Burke and Hardaway Jr. shoot over 45 percent from the field, near 40 percent from beyond the arc and each play close to 34 minutes each contest.
For Michigan to be successful, they must continue to run their offense through their superstar guards.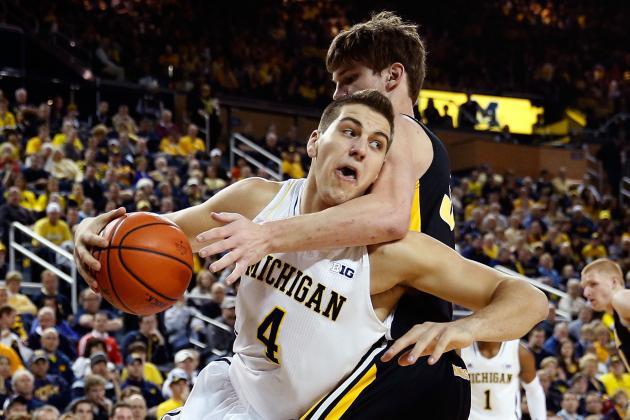 Gregory Shamus/Getty Images

Michigan's guards have been good enough to carry this team through the season, but if the Wolverines have any hope of reaching a Final Four, they must get more production out of their frontcourt.
While the perimeter will always be more important to Michigan's pick-and-roll offense, it is hard to imagine a team that's center does more harm in blocking the lane than good as a scorer being successful.
Glenn Robinson Jr. has elevated his game as he has received more touches down the stretch of this season. He is a scoring threat that defenses will have to keep track of moving forward.
Freshman Mitch McGary, on the other hand, will not scare opposing defenses with his offensive game. With just six points per game, he is far from an elite center.
If McGary is incapable of functioning as a scorer on this team, he would do well to clear the lane after high ball screens and track down as many offensive boards as he can.
It is said that the frontcourt is the foundation of any NCAA Tournament run, and if that is the case, Michigan is going to need to make their frontcourt a priority quickly.