Every AP Top 25 Team's Most Important Spring Practice Position Battle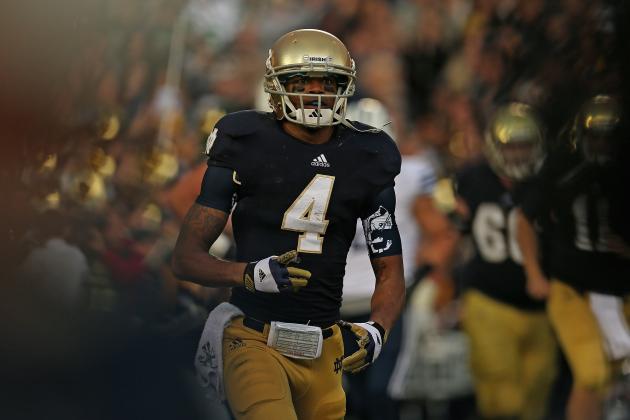 Jonathan Daniel/Getty Images

With spring practice for college football teams right around the corner, it is the perfect time to look ahead to the biggest position battle for each top 25 college football team.
Some teams lost much more talent than others but, for every top 25 program, there are some key battles that will not only be taking place this spring, but also through the summer and even into fall camp.
Every coach will have a huge decision to make concerning his team and it could go a long way toward determining just how successful his squad is this coming season.
Just last year at this time, Heisman trophy winner Johnny Manziel was in a spring battle that went well into the summer for the starting quarterback job at Texas A&M.
Good thing head coach Kevin Sumlin made the right call on that one.
Here is the biggest position battle for every team in the final AP top 25 poll heading into spring practice.
Begin Slideshow

»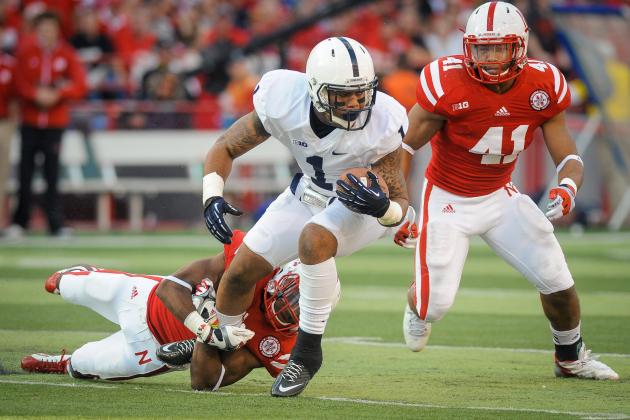 Eric Francis/Getty Images

The Cornhuskers will have to replace all three starting linebackers from a season ago so, needless to say, the jobs at all three positions are essentially wide open.
Those three linebackers were not exactly all-world, as the Nebraska defense struggled to stop just about anybody by the end of the season.
There are plenty of names who will be in consideration for the starting roles, but right now it looks like David Santos, Zaire Anderson and Jared Afalava might be the three players who have the inside track.
Among the other names who have a chance to crack the starting rotation are Michael Rose, Thomas Brown, Max Pirman and a few others. It should be a very interesting spring camp for the Cornhuskers, as they try to improve on a defense that struggled big time last year.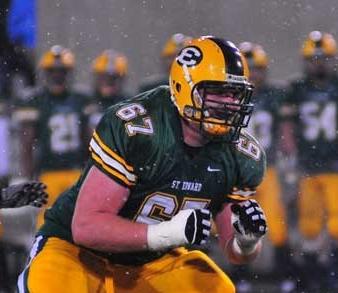 http://touchthebanner.blogspot.com/2012/03/2012-recruiting-awards.html
With the exception of All-American Taylor Lewan, the Wolverines offensive line left a lot to be desired a season ago.
This year with the graduation of three seniors, including both guards, the key battles in the spring will be for those two starting roles.
Among the biggest names battling for a starting job are a pair of redshirt freshmen, Kyle Kalis and Eric Magnuson. Magnuson is likely more slated for tackle, however.
If head coach Brady Hoke wants to go young, these two players should have the inside track.
There are a few more players with a little experience, including the man who is likely first on the depth chart, Chris Bryant and redshirt sophomore Joey Burzynski.
Other names like Chris Fox and Kyle Bosch will also be in the mix, along with Blake Bars.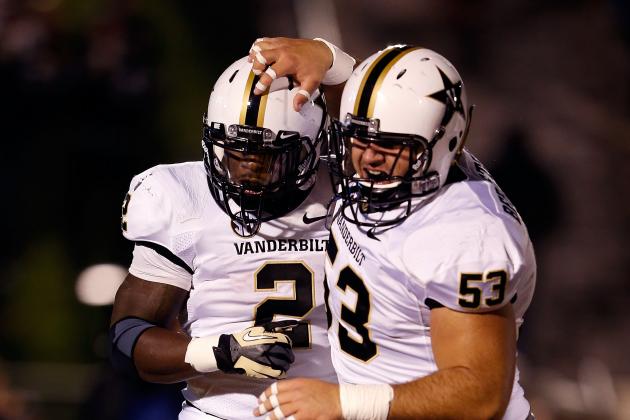 Jamie Squire/Getty Images

Vanderbilt is yet another team who will have to replace some serious talent along the interior of the offense line.
The combination of Ryan Seymour and Josh Jelesky helped the Commordores win their final seven games of the 2013 season to finish the year 9-4.
Last season, those two starters were backed up by a pair of youngsters in redshirt freshman Jake Bernstein and true freshman Adam Butler.
While Butler redshirted, Bernstein saw plenty of action a year ago, it was mostly at tackle. Now, he appears ready to step into the starting role.
If Butler cannot develop into a starter, there are plenty of other players ready to take his place.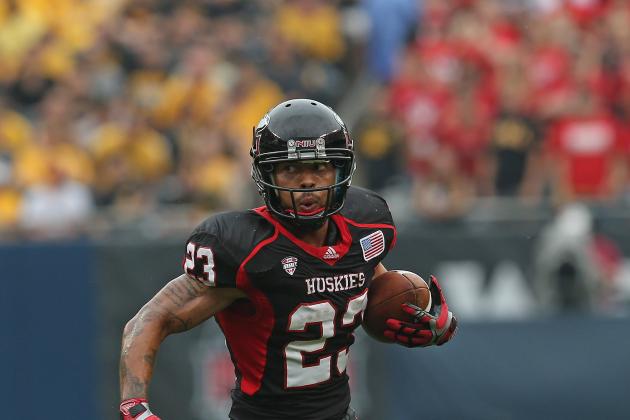 Jonathan Daniel/Getty Images

Even though Northern Illinois gets its three leading rushers back, there was still be a battle for the starting tailback job.
The leading rusher is quarterback Jordan Lynch. Second on the list is the incumbent Leighton Settle.
Last season, he rushed for 453 yards on 101 carries, but his backup Akeem Daniels is also back. Daniels only carried the ball 68 times last season, but totaled 447 yards and nine touchdowns.
Both players will be entering their senior seasons and the battle should be heated throughout spring camp, as these two talented players strive to carry the bulk of the load behind Lynch.
The Huskies will be very talented offensively once again.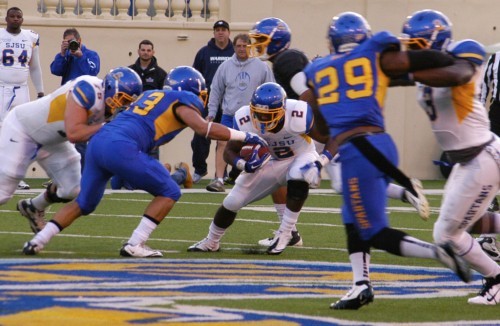 http://www.heraldextra.com/sports/college/byu/football/addition-of-putnam-enhances-solid-byu-defensive-line/article_584022fc-d80b-11e0-8364-001cc4c03286.html
San Jose State was very talented a season ago, but the Spartans will be in the business of finding a starting running back when spring practice begins.
Gone is leading rusher De'Leon Eskridge, who ran 1,025 yards last season.
The two men most likely to replace him are do it all back Tyler Ervin and Jason Simpson.
Ervin was a former cornerback, who can do a little bit of everything. He returned kicks last season and also carried the ball 45 times.
There is no question he will get a few more carries in 2012. The wildcard could be Jason Simpson. The redshirt senior has not seen much action, but he has the experience to be a starter in 2013.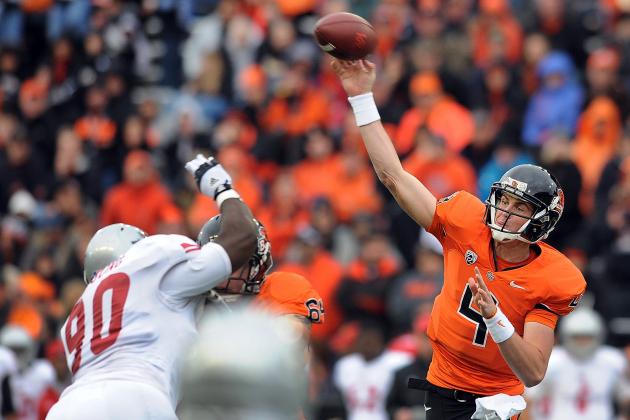 Steve Dykes/Getty Images

Few quarterback position battles will be as intense as the one Oregon State fans are going to witness this coming spring that may continue well into the fall.
The two men going at it for the starting job behind center will be junior Sean Mannion and senior Cody Vaz. Mannion was the starter to begin last season and when he went down with an injury in October, Vaz took over.
The Beavers did not miss a beat ,but when Vaz went down with an injury of his own, Mannion took over and led the Beavers down the stretch.
This seems to be a complete deadlock, but Mannion's talent might give him the edge here.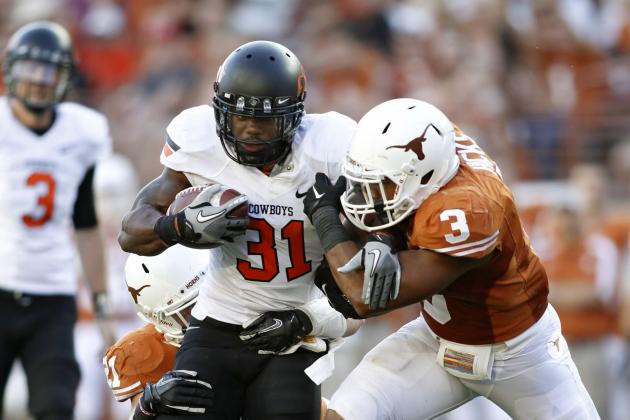 Erich Schlegel/Getty Images

The Texas linebackers suffered through a season of injuries and disappointments in 2012. The 2013 season will be a chance at redemption for the group.
It looks like the starting jobs are virtually up for grabs. There are three names that might have the inside track to start in 2013, but others will certainly be in the mix in this open race.
Peter Jinkens, Steve Edmond and Jordan Hicks might have the slight edge for the starting roles, but don't count out names like Tevin Jackson, Dalton Santos and Kendall Thompson.
Whoever stands out in this group will be named starter, but do not expect too much from the Texas linebacker group in 2013, similar to 2012.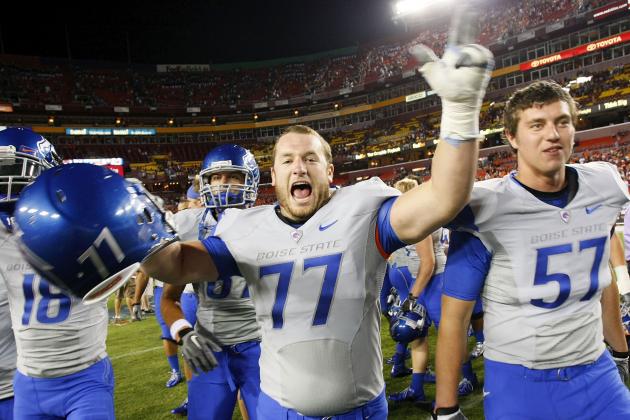 Geoff Burke/Getty Images

There is a lot of talent returning for Boise State along the offensive line, which will certainly result in a ton of competition. Most of that competition could come from the guard position.
Names like Jake Broyles and Spencer Gerke did see some action as starters last year on an offensive line that only allowed seven sacks all season long.
They will be tested however in spring camp by a few players nipping at their heels. Among those players are Travis Averill and Chris Tozer.
One more name who could be in the mix is Mario Yakoo.
These big boys will be battling it out all spring and summer.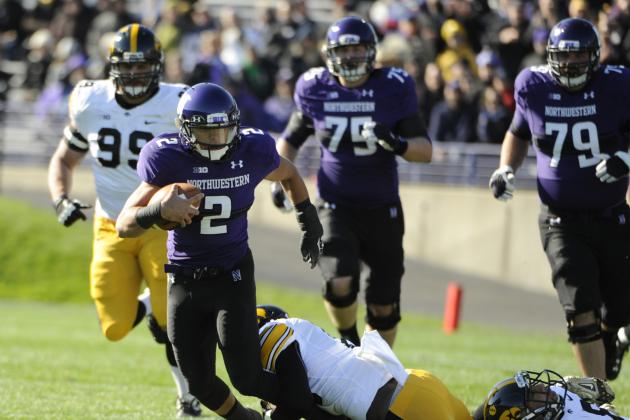 David Banks/Getty Images

Northwestern had quite a season in 2012 and will be looking to build on that in 2013. The first step in that process will be figuring out who will run the show from the quarterback position.
Last season, two quarterbacks saw significant action for Northwestern,and both will return to battle it out for the starting job.
Junior Trevor Siemian is more of the conventional drop-back passer, who is going up against dual threat senior Kain Colter.
Colter is dangerous not only through the air, but on the ground. Look for these two to contend for a coveted job, as Northwestern could be a legitimate contender in the Big Ten this year.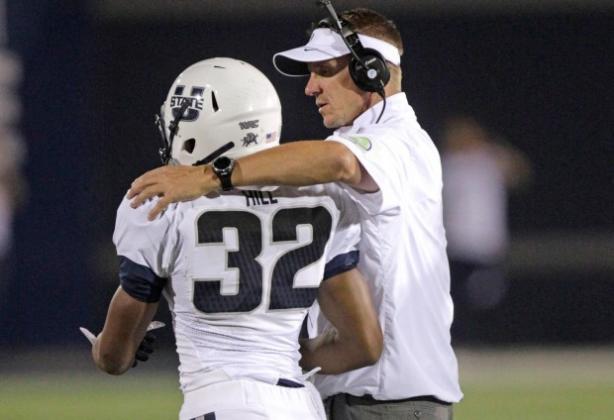 http://host.madison.com/sports/college/football/badgers-football-despite-love-of-utah-gary-andersen-heads-to/article_c4b9c794-49a2-11e2-862c-001a4bcf887a.html
Everybody knows about Utah State star quarterback Chuckie Keeton, but not much is known about the Aggies running back situation.
Last season, Kerwynn Williams rushed for over 1,500 yards, but he is no longer in the fold. The two players other than Keeton who received the most carries were Joe Hill and Kelvin Lee.
This spring, those two youngsters will be battling it out for the starting role.
Hill has a year more experience, but Lee might be the more talented of the two.
By the start of the season, these two could be splitting carries, but one will likely emerge at some point.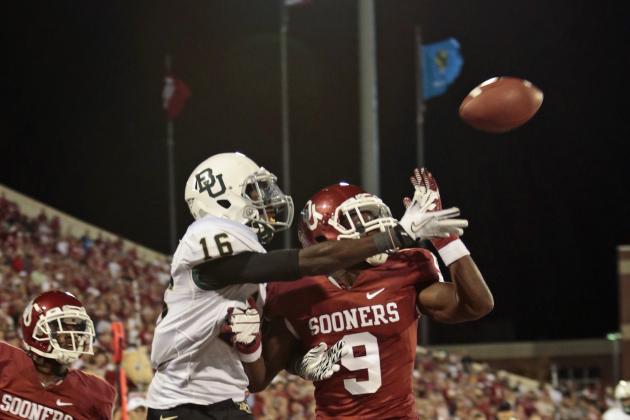 Brett Deering/Getty Images

While Oklahoma does have other battles, including possibly the quarterback position, the biggest battle that will be happening at spring practice for the Sooners comes at the safety position.
With free safety Tony Jefferson leaving early for the NFL and strong safety Javon Harris having graduated, there will be some new names in the secondary for the Sooners.
Jesse Paulsen is also gone leaving both spots wide open.
The fight for the free safety spot will likely come down to Quentin Hayes and possibly Kasseim Everett. The strong safety spot could come down to a number of players including true freshman Hatari Byrd.
Byrd is very highly-touted and will be battling Gabe Lynn who might have the inside edge. Julian Wilson could also be a factor, as could Eric Doughtie and another incoming freshman Ahmad Thomas.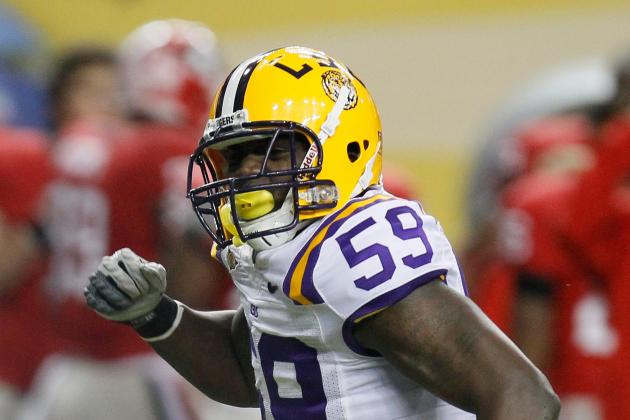 Kevin C. Cox/Getty Images

With Sam Montgomery and Barkevious Mingo both leaving early for the NFL, the Tigers will need some new defensive linemen to step up.
Out of all the spring battles, this one might feature the most young talent.
The man who might have the edge for one of the spots is Jermauria Rasco. He played in nine games as a true freshman in 2011 and saw action again last year in a reserve role.
The other spot will be completely up for grabs with possibly four names in the mix to fill it. Those names include Frank Herron, Danielle Hunter, Jordan Allen and possibly Kendall Beckwith.
Look for these four guys to go at it for the final starting spot at defensive end.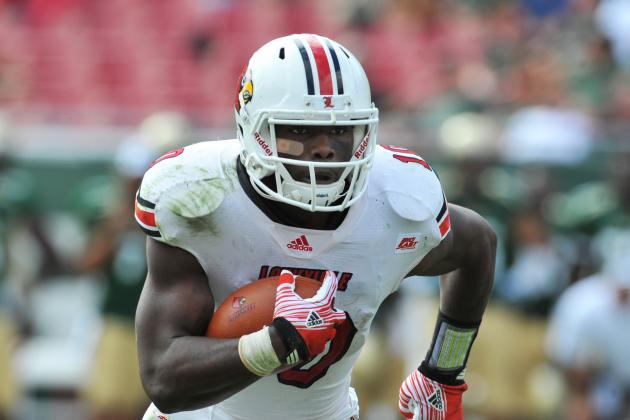 Al Messerschmidt/Getty Images

Even though Louisville returns its top three running backs from a season ago and former starter Dominique Brown will return from injury, this competition will be completely up for grabs.
Last season Jeremy Wright and Sinorise Perry received the bulk of the carries. Perry went down with an ACL injury toward the end of the season, so he is another player who will be coming back from injury.
Look for things to get competitive between these three players with the potential for a fourth in speedster Corvin Lamb, who only received 13 carries a year ago, but has a wealth of potential. He received 11 of his 13 carries on the year in the final three games of the season and could be a factor in some shape or form.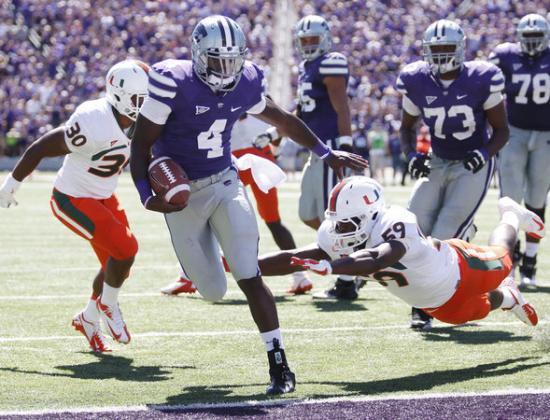 http://www.kansas.com/2012/09/08/2481100/hurricane-klein-k-state-swamp.html
Collin Klein is gone and the quarterback position at Kansas State is now wide open.
The player who might have the inside track is Daniel Sams. Sams served as the backup to Klein last season as a freshman, but only threw eight passes all year.
He will get some competition for the starting job from junior college transfer Jake Waters. Waters has the potential to make an impact for a team looking for a quarterback. Kansas State fits the bill.
Another name to not rule out is Sam Johnson. He might not be as talented as the other two names ahead of him, but this will be his fourth year in the program and he knows the system.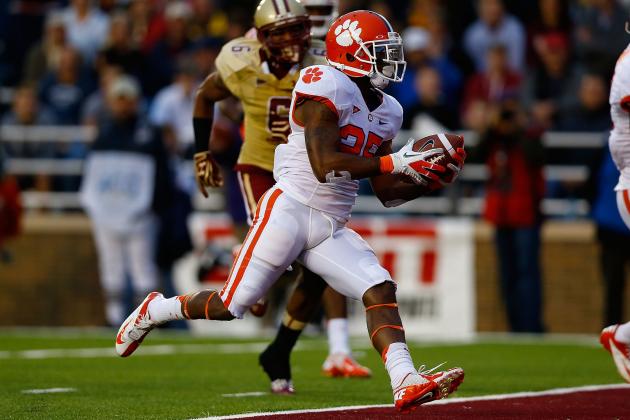 Jared Wickerham/Getty Images

Andre Ellington is now getting ready for the NFL draft after tweaking his hamstring at the NFL scouting combine. Clemson will have to replace the very talented back, a tough act to follow.
The man with the best chance of filling Ellington's shoes Roderick McDowell. He was the primary backup a season ago, rushing for 424 yards and five scores.
Another name that can not be counted out is D.J. Howard. He received 35 carries a season ago, rushing for 138 yards and two touchdowns.
Zac Brooks also received some time last year and will get his shot again in 2013.
While these three players will be the favorites, do not count out two 4-star recruits in Wayne Gallman and Tyshon Dye.
Dye is the more heralded of the two and it is likely at least one will redshirt.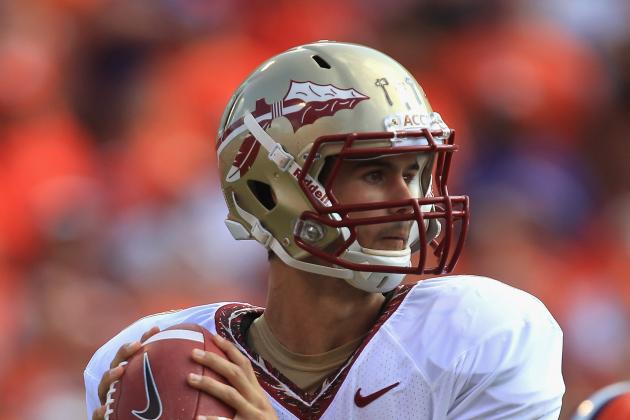 Streeter Lecka/Getty Images

EJ Manuel has moved on from Florida State and replacing him is not going to be an easy task as he saw a lot of action over the past four seasons.
Currently, there are three names in the mix and the player at the top of the list is redshirt junior Clint Trickett. He saw action as a backup to EJ Manuel over the last two years and is the front-runner.
Trouble for him is there might be two talented quarterbacks right behind him. Leading the way in that mix is Jameis Winston.
He was highly-touted out of high school and did not see action as a true freshman in 2012. He also doubles as an outfielder on the baseball team.
Another name in the mix is redshirt sophomore Jacob Coker. He has size at 6'6" and will be going head-to-head with Trickett in the spring, as Winston will likely be occupied by baseball obligations.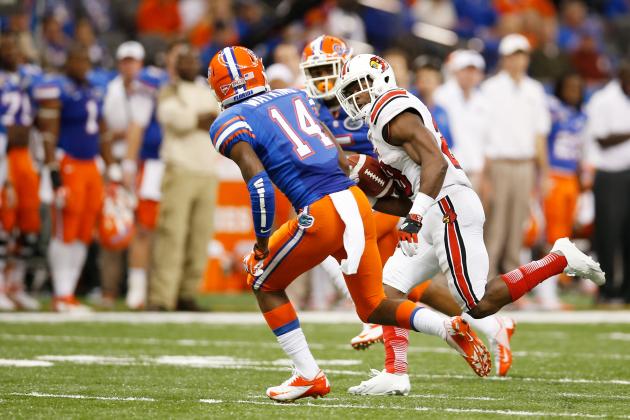 Chris Graythen/Getty Images

Florida is another team that lost several key contributors in the secondary. Both safety starters have moved on, including Matt Elam and Josh Evans.
With these two talented defenders no longer in the fold, the position is wide open. There are plenty of candidates, as both are young and experienced with a chance to win a starting job.
Foremost among the favorites is Jaylen Watkins. He served as the primary backup to Elam a year ago and is the favorite to step into the starting role at strong safety.
The free safety spot might be a little more wide open with Jabari Gorman having an opportunity. He was a backup to Evans last season and might have the inside track.
Some names to look out for are sophomore Brian Poole, who was impressive last season in the nickel. Keep an eye on incoming freshman Marcell Harris, as well as incoming freshman Kenau Neal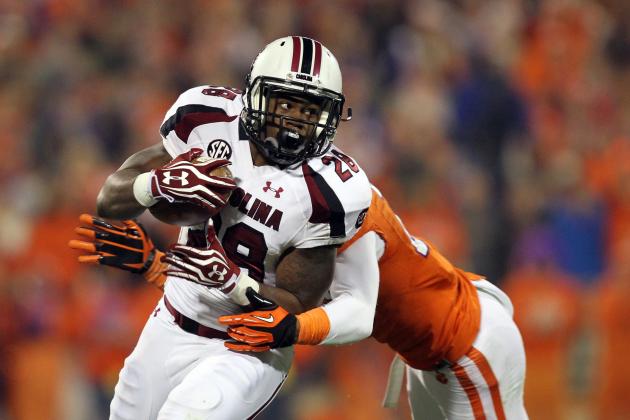 Streeter Lecka/Getty Images

Replacing a guy like Marcus Lattimore (set for the NFL draft) is never an easy thing to do, but South Carolina has proven on more than one occasion that they are fully capable of filling holes with similarly high-caliber players.
While there might be four or fix guys in the mix for the starting job, it will likely come down to either Mike Davis or Brandon Wilds.
Davis might be the front-runner even though he was only third string last year behind Lattimore and Kenny Miles who is also departed. He carried the ball 52 times a year ago and will get his main competition from Wilds who missed all of last season with a injury.
A few other names to keep an eye on are Kendric Salley, who redshirted last year as a freshman and true freshman David Williams.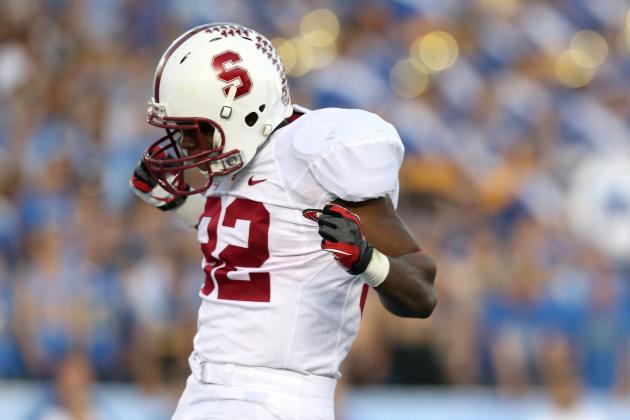 Stephen Dunn/Getty Images

Replacing a guy like Stepfan Taylor could be a large task but, with the way the Stanford program has dominated the Pac-12 over the past few seasons, that is certainly a doable task.
There are three likely candidates for the job, but the man near the front of the pack appears to be senior Anthony Wilkerson. Wilkerson received 50 carries last season in a backup role.
At least two younger players will be challenging him for the starting role, including Ricky Seale and Remound Wright.
While Wilkerson might be the frontrunner now, do not count out the two younger players and their wealth of potential.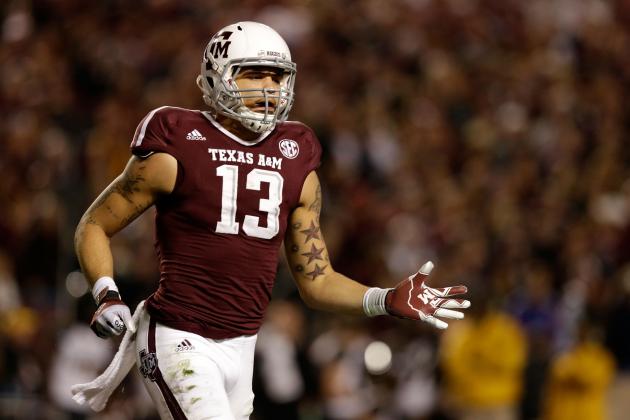 Scott Halleran/Getty Images

Even though Texas A&M is losing its number two receiver from a year ago in Ryan Swope, this receiving corps could still be one of the most talented young groups in the nation.
With four starting spots open, one of them is likely to go to sophomore Mike Evans, who led the team with 1,105 yards and five scores a year ago.
The other three spots could be wide open. Among the frontrunners are four incoming 4-star recruits with high upside.
Among those names, the most likely to earn a starting job is JaQuay Williams. Another name to look out for is Ricky Seals-Jones. The other two freshmen, Sebastian LaRue, Kyrion Parker and Laquvionte Gonzalez, might be more of wild cards.
There are incumbents who these youngsters will be battling with, including Derel Walker and Edward Pope.
This will be one of the most intriguing battles not only of the spring, but also into the fall, when most of these youngsters arrive on campus.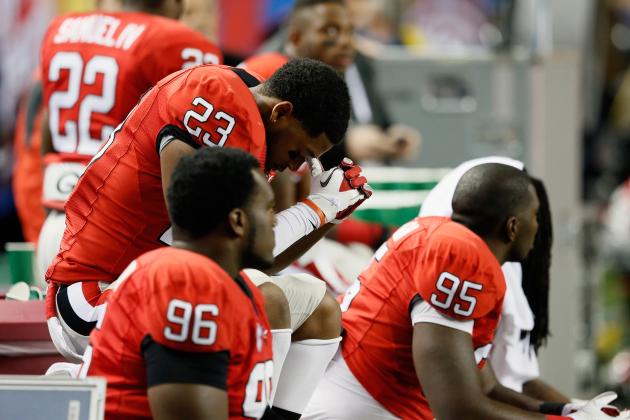 Kevin C. Cox/Getty Images

With John Jenkins now having moved onto the NFL and the surprise announcement that Kwame Geathers was going to do the same, the nose tackle position for Georgia is almost completely up for grabs.
The position could come down to two main contenders: John Taylor and Mike Thornton.
Big things are expected out of Taylor this season. He is a guy with a wealth of talent. Enough to compete against the talent of the SEC.
Another name to watch out for is Mike Thornton. He s a guy who will be competing head-to-head with Taylor for the job.
The final name to consider is Chris Mayes. He is another big kid who might be a factor come spring practice.
Jonathan Daniel/Getty Images

The top two running backs from a season ago are no longer with Notre Dame, as both Theo Riddick and Cierre Wood have moved on to the NFL.
That leaves the job wide open. The man who was third-string last year was George Atkinson III. He has the inside track at the starting job, but will get some competition.
Atkinson rushed for 361 yards and five touchdowns on only 51 carries (7 yards per carry) a year ago. The junior will get his main competition will come from some younger players.
Incoming freshman Greg Bryant brings a wealth of talent to the program and could see ample playing time as a true freshman.
There are a few others players already in the program who might make a splash, including Cam McDaniel, Amir Carlisle and William Mahone.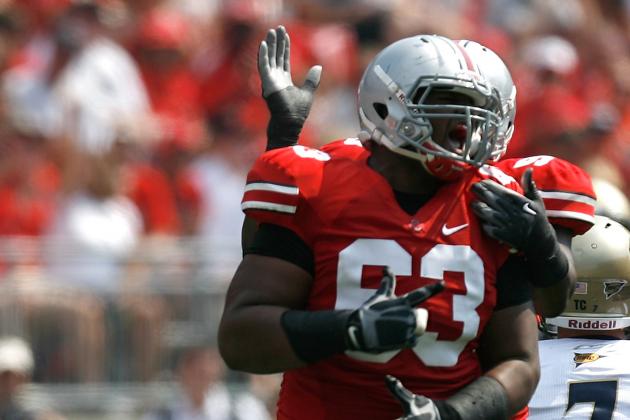 Kirk Irwin/Getty Images

Ohio State lost all four of its starters along the defensive line from the 2013 squad, three to graduation and Johnathan Hankins, who left early for the NFL draft.
While there is plenty of young talent to replace those players, it is going to be a battle in spring camp.
The defensive tackle position might be a little more set in stone with sophomore Adolphus Washington likely to take one spot with either Joel Hale or Tommy Schutt grabbing the other.
At defensive end it is more wide open. Sophomore Noah Spence is one of the frontrunners, along with junior Michael Bennett.
There are plenty of other names to consider, including J.T. Moore and Steve Miller.
As always, head coach Urban Meyer has some talented freshmen coming in, including Joey Bosa and Tyquan Lewis, who will compete for playing time.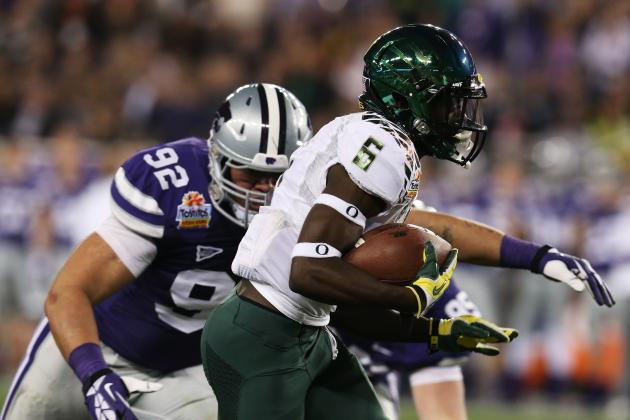 Stephen Dunn/Getty Images

Kenjon Barner is no longer an Oregon Duck, which leaves junior De'Anthony Thomas (32 offensive touchdowns over the past two seasons) as the man with the most experience.
This is likely to be a three-man battle with Thomas being joined by sophomore Byron Marshall and incoming freshman Thomas Tyner.
Thomas, at 5'9", 175, is not an every-down back and thrived splitting time with lead tailback Kenjon Barner. This could be good news for some of the younger players.
Marshall saw plenty of action last year as a true freshman and is quite a talent.
The most talented of the bunch however might be 5-star recruit Thomas Tyner. He is regarded as one of the top 20 players in the incoming class.
Very few positions have more talent in the entire country than the Oregon running back group.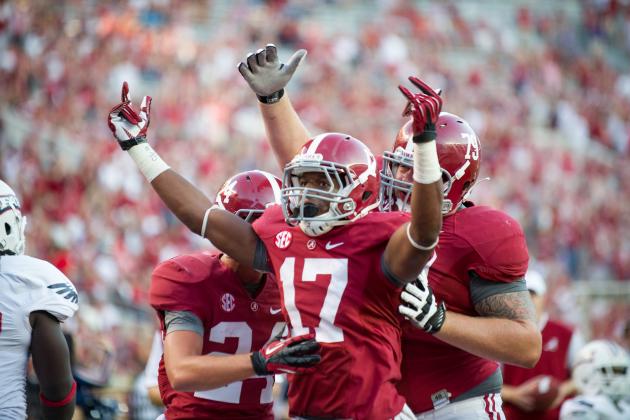 Michael Chang/Getty Images

Alabama is yet another team that lost a ton of talent along the offensive line, but we all know the Crimson Tide are going to reload through recruiting and developing players who served as depth last year.
One of the returning starters is right guard senior Anthony Steen. While he is not as heralded as some of the other players from last years squad, he is very solid.
Where the intense competition will likely take place is at left guard, filling the void left by Chance Warmack.
The leading candidate right now is junior Chad Lindsay who served as the primary backup to Warmack last season. The other candidate is Arie Kouandjio, who is the brother of starting left tackle Cyrus Kouandjio. He was the backup last season at right guard and will get his shot along the left side.
There will be some competition from freshmen for the left guard spot. Pay special attention to in-state player Grant Hill, one of the top incoming guards in the nation.