Why Liverpool Fans Would Be Excited to See Christian Eriksen at Anfield for 2013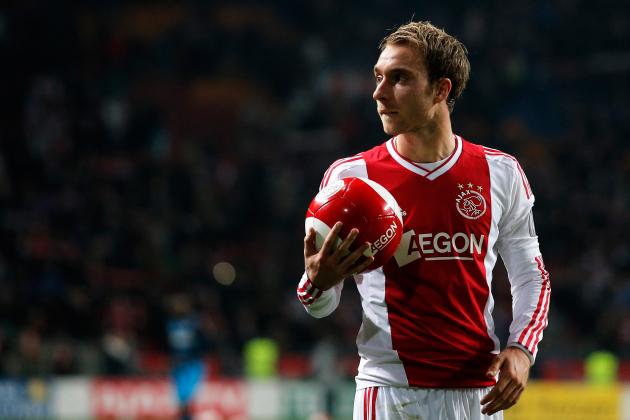 Dean Mouhtaropoulos/Getty Images

Liverpool fans are already starting to look ahead to the summer to try and determine which positions the management might look to strengthen when the summer transfer window opens—and to dream of which big-name player might make the move to Anfield.
In many cases, one name which keeps cropping up is Ajax playmaker Christian Eriksen.
The Danish attacking midfielder has long been linked with a transfer to the Reds and stirred the rumour sections of the media this season when he stated he would move on after making his mark with Ajax (via Goal.com).
I think that my future lies in England, Germany, Italy or Spain. These are the competitions that I like. I will leave Ajax at one point, but I want to leave at the right moment and in the right way. I do not know what I will do in a few months' time yet, but I want to leave my mark before moving on. The Europa League final in our own stadium would be a good opportunity for that. I have learned a lot here and I don't want to leave with empty hands. I want to win something and then move on.
If he decides that his next destination could be Liverpool, it would certainly excite the Reds' fans. Here's exactly why.
Begin Slideshow

»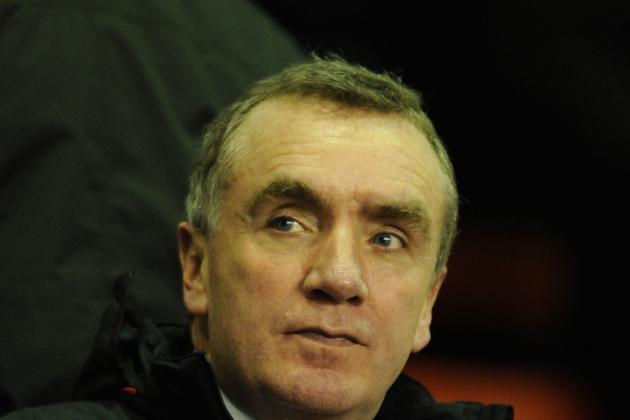 Chris Brunskill/Getty Images

What Liverpool need more than anything are quality additions to the team, regardless of any other traits or attributes.
Having said that, the club have already made it perfectly clear that age will be an overriding factor when it comes to agreeing on transfer targets, as per Ian Ayre talking with the Telegraph:
As everyone saw in the summer we renewed deals with many of our senior player. So experience is vital and we will consider more experienced players where it makes sense. But where a player is younger and talented with the right level of ability, we will always go for the younger option because it's a better long term investment for the club to have someone who will be here a long time.
Eriksen certainly ticks the boxes in terms of ability and potential to get even better, and at age 21, he also fits the profile of recent club purchases being in their low-20s.
The other majorly appealing factor in the transfer is that Eriksen could be signed this season for a significant discount; whereas he could normally cost anywhere between £15 to £20 million, with just one year remaining on his contract, there is a chance he will move for between £8 million and £12 million this summer.
Still a significant outlay, but rather less than if he were to renew his contract with the Dutch club and then be sold.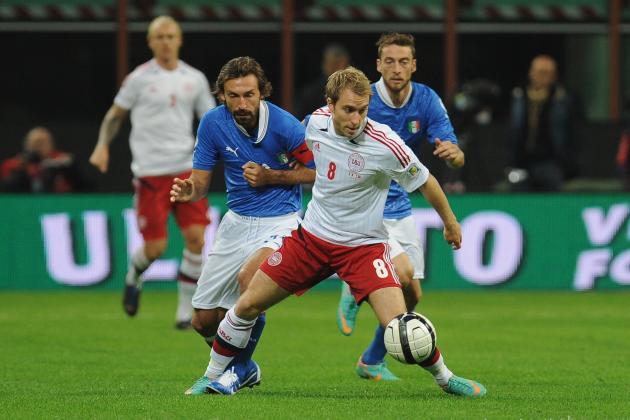 Valerio Pennicino/Getty Images

So another potential-filled youngster then, in amongst a group who already have plenty of untried but promising talents to show off?
Not quite.
Eriksen might only be 21 years old, but he has already accumulated significant experience in his playing career.
His next league appearance will be his 100th in the Dutch Eredivisie, while he has also amassed 30 games on the continental stage and has 31 international caps for Denmark. Those Danish appearances have been spread across a FIFA World Cup and a UEFA European Championships already, highlighting his standing with the national team despite his young age.
In total, Eriksen has almost 200 senior appearances to his name, significantly more than comparable young attacking midfielders Tom Cleverley (age 23, 138 games), Jack Wilshere (21, 122) and Isco (20, 103) have managed so far.
He also has more than double the number of international caps than those three put together.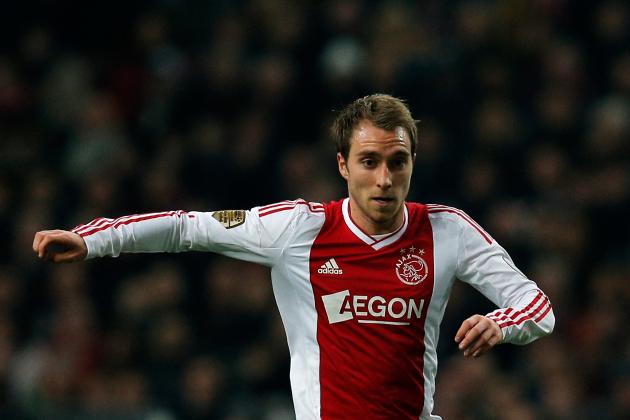 Dean Mouhtaropoulos/Getty Images

Onto his actual footballing abilities: Christian Eriksen has made himself known as a terrific playmaking attacking midfielder who loves to get on the ball and make things happen in the final third.
Though he is talented in dribbling with the ball at his feet, his true strengths lie in his vision, ability to make incisive passes and consistency in his finding his man.
A first-touch return pass can be far more effective at times than trying to dribble through a defence and is significantly quicker, too. Eriksen excels at this skill, blending a good weight on the pass with being comfortable enough to use either foot.
He is also proficient at taking set pieces, and while current Red Luis Suarez has hit the headlines recently for his free-kick prowess, most teams would agree you can never have too many players who can provide good set-piece delivery.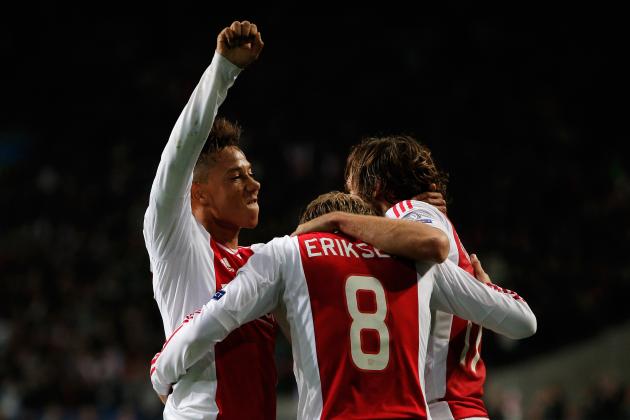 Dean Mouhtaropoulos/Getty Images

First and foremost, Eriksen is a creator of goals.
However, his goalscoring record has improved too; as Ajax's system becomes rather more flexible, Eriksen has been able to get himself into good positions in the penalty area more often.
Allied to the natural progression of his game, this has translated into a better strike rate this season.
His "goals scored" column remains relatively regular; nine goals in 2010-11, eight in 11-12, 10 so far this season in 12-13.
However, a closer look shows that his ratio of scoring league goals has improved noticeably this year; from a goal every 404 minutes last season, Eriksen has managed one every 286 minutes this term. He still has a few more games to play this year, too.
His natural tendency to find space, use the ball well and provide teammates with chances to score also means Eriksen will continue to find assists easy to come by.
Dean Mouhtaropoulos/Getty Images

Liverpool need to beef up their squad at the back this summer, no doubt about it. A full-back, a centre-back or two and even a holding midfielder are all top-end requirements.
But nothing gets the juices flowing quite like a club signing a big attacker, and that's exactly what Eriksen is.
The Danish international is a top talent who can yet become even better. He brings great creativity to the side and a touch of the flair which is at times sorely lacking in a Red shirt which doesn't have a No. 7 on the back, and he is always looking ahead of the play to see who he can pick out with his next pass.
In short, Christian Eriksen is an exciting player; fans would love to see him grace the Anfield turf, link up with fellow attackers Suarez, Daniel Sturridge and Philippe Coutinho and have a big impact on results in the Premier League.
At this stage, it's nothing more than a wishlist, but if Christian Eriksen's name is somewhere near the top of Brendan Rodgers' own list this summer, then Liverpool fans might be approximately 100 times happier on September 1st, 2013 than they were on the same date 12 months previous.
Statistical data from TransferMarkt.co.uk