Duke Basketball: 5 Reasons to Doubt the Blue Devils as a Final Four Contender
Streeter Lecka/Getty Images

With the days of March rapidly approaching as we count down until the start of tournament play, we as fans begin to pay close attention to the teams that will be discussed as having the best chance to reach this year's Final Four.
Among those top teams, the Duke Blue Devils will essentially receive the utmost scrutiny.
Although it will certainly not come as any surprise, considering that the Duke basketball program is a consistent threat year-in and year-out to challenge for a national championship.
And this season has been no different, especially when looking at Duke's overall resume up to this point of the season.
However, the Blue Devils are not invincible.
For Duke to ultimately produce a successful run towards the 2013 Final Four, it will need to overcome these five indispensable concerns that could potentially derail them of its journey towards a 16th Final Four and a fifth national title in school history.
Begin Slideshow

»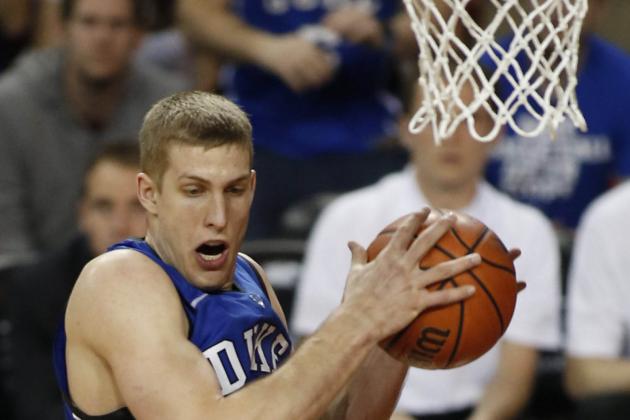 Greg M. Cooper-USA TODAY Sports

Back in the 2009-10 season when Duke captured its fourth national championship, the Blue Devils were one of the more respectable rebounding teams in the country.
In fact, if you look at the last five national champions, each team ranked inside the top-25 in rebounding during their title-clinching season.
| | | | |
| --- | --- | --- | --- |
| Team | Season | RPG | Season Rank |
| Kentucky | 2011-12 | 39.2 | 12th |
| Connecticut | 2010-11 | 39.6 | 10th |
| Duke | 2009-10 | 39.3 | 22nd |
| North Carolina | 2008-09 | 42.3 | 2nd |
| Kansas | 2007-08 | 38.9 | 21st |
This season, however, Duke's most glaring flaw has been its severe lack of rebounding.
The Blue Devils are currently 183rd in the country, averaging 34.6 rebounds per game. Besides senior Mason Plumlee's team-leading 10.7 rebounds per game and fellow senior Ryan Kelly's 5.4 rebounds—at the time of his injury—the remaining eight players from the Duke roster averaged less than four rebounds per contest.
In the NCAA tournament, where specific matchups are crucial, a team with good size and athleticism will present an enormous amount of problems on the glass which could result in a early tournament upset for the Blue Devils.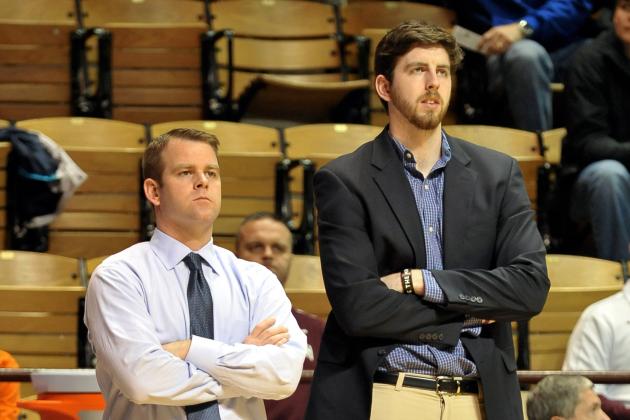 Lance King/Getty Images

While it hasn't been easy for the Duke Blue Devils, they have managed to remain inside the top-10 despite the loss of its most critical player, senior Ryan Kelly.
As his status has become the most asked question in college basketball, the waiting game should be coming to an end soon.
At this point, it's no longer a matter of "if" but "when."
In an interview with USA Today's Eric Prisbell on Tuesday, head coach Mike Krzyzewski alluded to the fact that Kelly will be in uniform in the near future.
"Depending on what he is able to do this week will determine if he can play next week or for the ACC tournament," Coach K told Prisbell. "We definitely believe he is going to play before the NCAA tournament."
The latest question will now be if Kelly can return to mid-season form, which saw Duke compile a perfect 15-0 record at the time of his injury.
As expected, his timing will be off considerably. He will also not be in game shape.
Luckily, he is a senior. And it lessens the chance of ruining any type of team chemistry developed during his absence.
However, for Duke to be successful in this year's upcoming tournament, Kelly will need to supply the Blue Devils with the same amount of production as he was at the time many pegged them as the odds-on favorite to win the national title.
If he is unable to do so, his return will be all for nothing.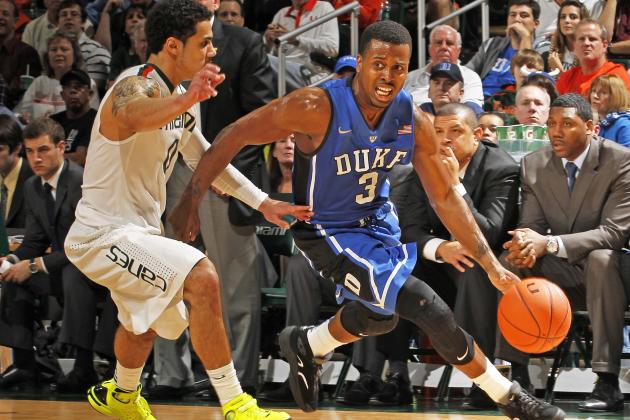 Joel Auerbach/Getty Images

With Mason Plumlee evolving into a dominant presence on the inside, and an array of talented scorers from the perimeter led by Seth Curry, Duke possesses the most productive starting lineup in the country.
As shown below, most, if not all of Duke's success this season can be attributed to its starting five, which combines to account for nearly 87 percent of its total scoring.

| | | | | |
| --- | --- | --- | --- | --- |
| GP | Pts. by Starters | Starter Avg. | Team Pts. | Pct. |
| 27 | 1842 | 68.2 | 2130 | 86.5 |
Without question, that is an outstanding statistic.
However, it places a lot of pressure on the Duke bench.
Since Ryan Kelly has been injured, Josh Hairston and Amile Jefferson have done a nice job filling in when needed. Both players have performed well in spots, earning quality minutes while becoming valued contributors in a number of games.
The same can be said for backup point guard Tyler Thornton, whose tough-nosed defensive pressure can become hazardous for the opposing team.
Still yet, this is a team that relies too much on its starters to provide the production that decides either capturing a win or receiving a loss.
With Kelly's inevitable return approaching, even more emphasis will be placed on the Duke bench to perform at a high and most challenging level come tournament time.
In order to reach the Final Four with the opportunity to play for a national championship, it is essential that Duke receives positive plays on both ends of the floor from each and every member of the roster.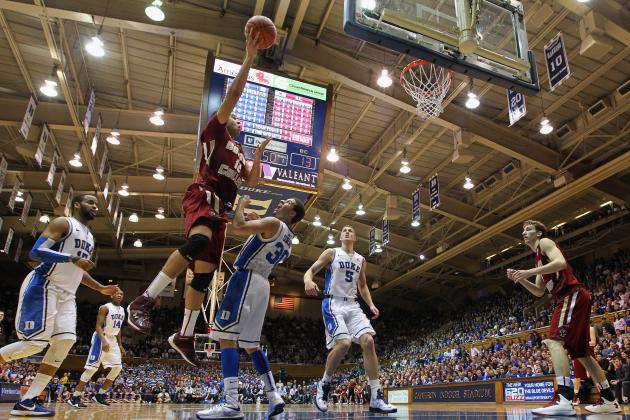 Streeter Lecka/Getty Images

Last season, it was quick to point out that the Duke defense was simply terrible. Whether it be in transition, guarding dribble penetration or on the inside, it was a struggle for the Blue Devils to get a stop at crucial moments of a game, which ultimately led to its second round upset to the Lehigh Mountain Hawks in the 2012 NCAA tournament.
This season, however, the defense has improved significantly.
Although, that was through the first 15 games of the season and mostly because of the presence of its versatile senior Ryan Kelly.
Since then, the Blue Devils have gone 9-3 in its last 12 games without Kelly. While they've continued to compile the victories, they have also been the victim of seeing its defensive prowess diminish.
Despite going 5-1 in its last six games, Duke is giving up 70 points per game with nearly 51 percent of that coming from points in the paint.
As Duke has gotten back to the ways of its patented pesky perimeter defense, their main weakness is exposed when trying to defend against athletic, slashing guards and containing them from getting in the lane and scoring around the basket.
Unless the Blue Devils can quickly fix this continuous problem, teams with physical guard play present the most problematic obstacle that stands in Duke's way of reaching the Final Four.
Stats via GoDuke.com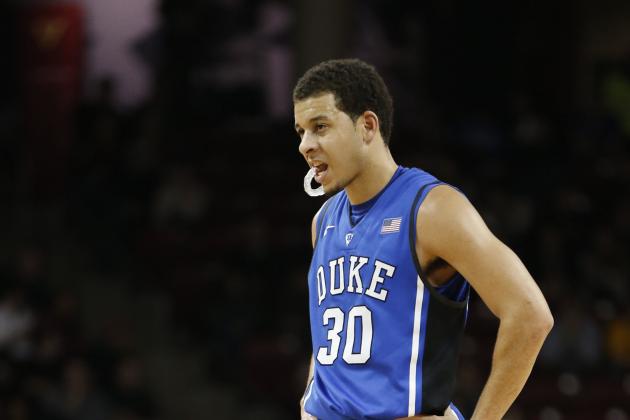 Greg M. Cooper-USA TODAY Sports

To sum up Seth Curry's senior season for Duke in one word, what would fit best?
In my mind, it's courageous.
Curry is currently in the middle of by far his best season at Duke. The senior guard ranks third in the ACC in scoring with 16.8 points per game, 2nd in free-throw percentage at nearly 83 percent and 4th in three-point field goal percentage at just under 44 percent, a career best.
All of that, despite playing the entire season with lingering pain in his right shin that leaves him sidelined during practices.
While he has downplayed the injury all season, there has been a number of different times that you can clearly tell that he is visibly affected by the pain.
Which is a serious cause for concern for the Blue Devils going forward.
With just four regular season games remaining before the start of tournament play, the key for Curry is to stay as fresh and well-rested as he can.
Although, that could make for a difficult task as Curry's collegiate career is rapidly coming to an end.
In any case, Curry's toughness cannot and should not be questioned. However, the severity of the pain he is dealing with could be the collapse on Duke's road to the Final Four.