Picking an NHL All-Star Squad Based on Season to Date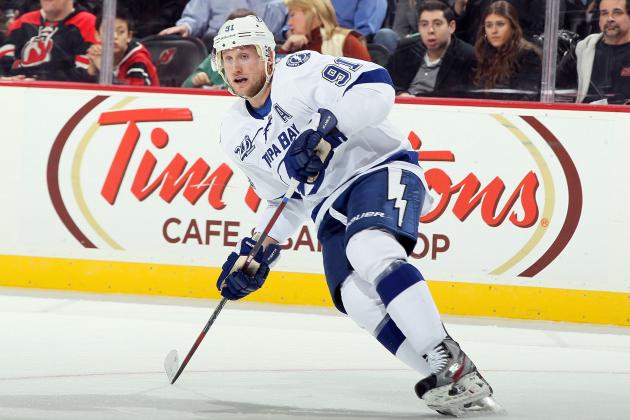 Jim McIsaac/Getty Images
Does Steven Stamkos make the cut?
As March grows closer, the race for the playoffs is just heating up. Teams are doing all they can to get in the best position possible to make a deep run. One team that won't be competing, though, is the All-NHL team.
There's no All-Star Game this year, meaning players won't have a way to be recognized for their contributions to this point in the season. At the end of the year, a team will be voted on and noted as the top players at their positions this year.
But let's crunch those two ideas together. It was tough to pick between all the top talent on show, but here's a rundown of a proposed "All-NHL Team" based on this season's performances.
Stats courtesy of NHL.com, Yahoo! Sports
Begin Slideshow

»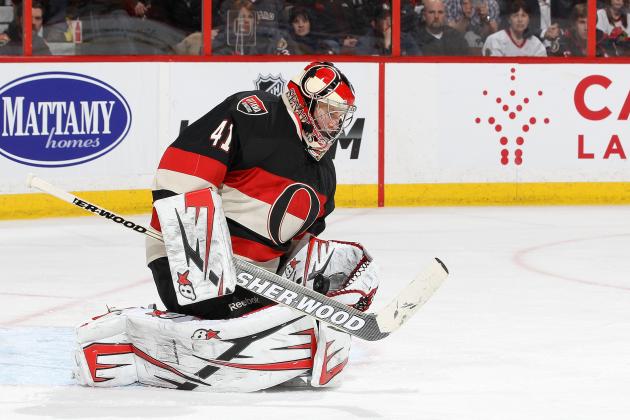 Jana Chytilova/Freestyle Photo/Getty Images
Craig Anderson has been stellar in net for Ottawa.
Craig Anderson has been a name I've brought up time and again in recent weeks. I named him the front-runner for the Vezina a couple weeks ago, and outside of a recent injury, not much has changed since then.
Yes, this injury could slow down his road to the Vezina, but this isn't about looking forward. Rather, it's to celebrate the excellent seasons enjoyed by the featured players this season. And "Andy" has certainly had an excellent season to this point.
He still leads the NHL in save percentage (.952) and goals-against average (1.49), and was likely well on the way to his third shutout of the season, which would be tied for the league lead, before being injured against the Rangers last Thursday.
The Senators have jumped up to fourth in the Eastern Conference standings, one point behind their national rivals, the Montreal Canadiens. And they would certainly not be as well set as they are were it not for their fantastic talent between the pipes.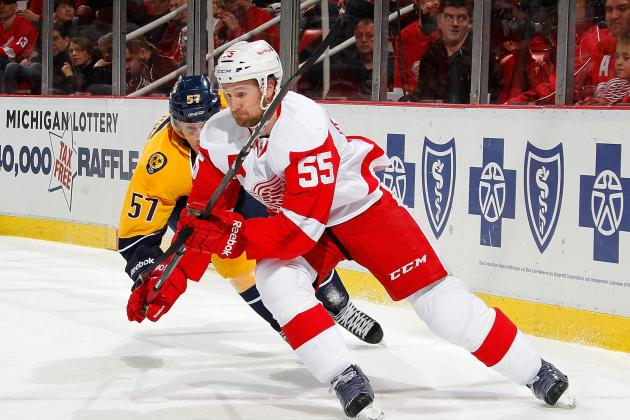 Gregory Shamus/Getty Images
Niklas Kronwall (55) has stepped up for Detroit.
When club legend Nicklas Lidstrom retired, it left a big hole in the Detroit Red Wings defense. And it was going to be down to fellow Swede Niklas Kronwall to take up the mantle as the main man in front of Jimmy Howard.
And Kronwall has certainly done the best he can to do so. He currently leads all NHL defensemen in points with 16, with 10 of those coming in power-play situations (also best among NHL d-men).
Kronwall has notched a goal and two assists in each of the Wings' last two games, big wins over the Nashville Predators and Vancouver Canucks.
While players like Pavel Datsyuk and Henrik Zetterberg gain most of the media's attention for their offensive contributions, it is Kronwall who has been the unheralded hero for the Wings as they look to boost their playoff credentials.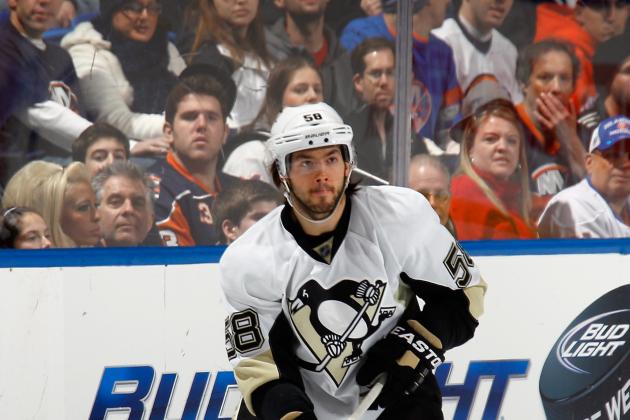 Bruce Bennett/Getty Images
Kris Letang has recaptured his stellar form from last season.
As the Pittsburgh Penguins fight for the top spot in the Eastern Conference, it'll be a player we'll discuss later that will take the headlines. After all, that player is the captain of the squad and a face of the NHL. But teammate Kris Letang deserves just as much credit.
Letang was one of the league's better blueliners last season, with his 42 points coming in just 51 games due to multiple injuries. 2013 has seen him regain his nearly point-per-game pace, with 15 in 16 games. This includes six in his last five games, and 10 in nine February appearances.
More importantly, perhaps, is that his plus-minus ratio is a very solid plus-seven. While not the best in the league, it's a sign that his presence on the squad is an immensely positive one. And with Evgeni Malkin shelved for the time being, Letang will have an even bigger role to play.
Erik Karlsson was the front-runner for this spot, as well as the Norris Trophy, before his devastating injury ended his season. Now Letang has shown that he's taking over the title of "best defenseman in the league" in 2013.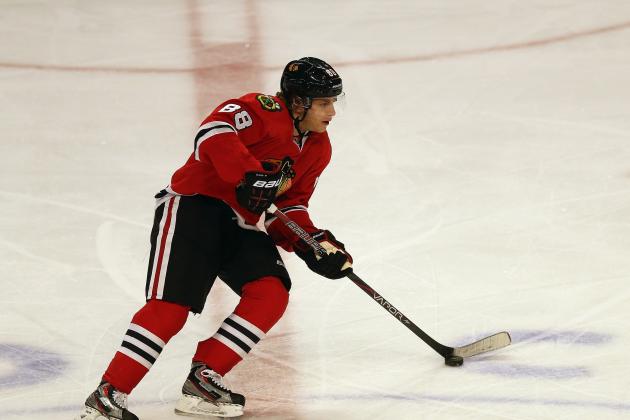 Jonathan Daniel/Getty Images
Patrick Kane has helped Chicago break records.
With the Chicago Blackhawks tearing up the record book one game at a time, it's no surprise that their players would merit consideration for a place on a squad like this. And at the right wing spot, Patrick Kane is almost a shoe-in here.
The American has racked up 10 goals so far, tied for most among NHL right-wingers, while his team-best 14 assists have helped balance the Blackhawks' attack. He's getting it done on the power play, too, with four goals and four helpers.
The 24-point total is tied with two other players at his position, but the biggest difference between Kane and those others is that he plays for the best team in hockey. He's a great talent in a great situation, and he's flourished ever so well in 2013.
I named him my Hart Trophy favorite earlier in the season, and he's certainly still a top contender for the award.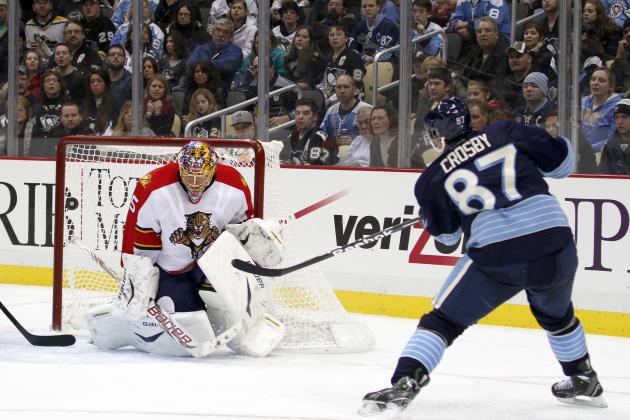 Justin K. Aller/Getty Images
Sidney Crosby is back to his old self in 2013.
Yeah, here's the "face of the league" I mentioned earlier. Sidney Crosby has battled concussion problems over the past couple of seasons, but he's perfectly healthy now, and it's showing.
He may not lead the league in any major statistical category, but his impact has gone beyond the stat sheet. After all, he has captained his side to the Atlantic Division lead and he has helped make the Penguins the second-best offense in the league.
Crosby has recorded three points six times in February, helping guide the Penguins in their fight for Eastern Conference supremacy. He's tearing the NHL up in ways we haven't seen since his initial injury.
And he's showing no signs of letting up.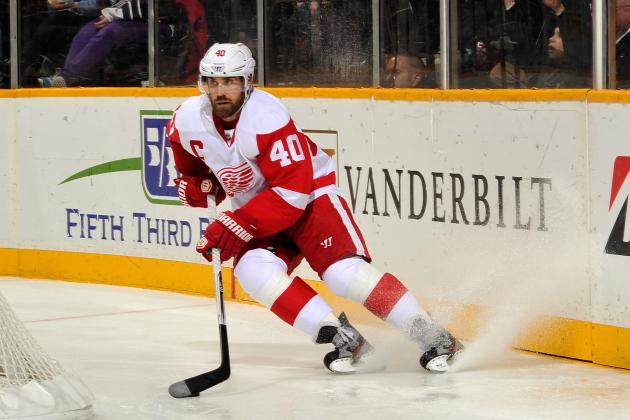 Frederick Breedon/Getty Images
Henrik Zetterberg has taken over as Detroit's captain.
With Niklas Kronwall taking over Nick Lidstrom's defensive role, leave it to another Swede to take the captaincy: Henrik Zetterberg. And the new skipper has not disappointed thus far, with 25 points from 19 games.
Playing alongside a guy like Pavel Datsyuk has its benefits, with the duo combining for 47 points already. And this strong play has kept the Wings in the thick of the playoff hunt.
"Hank" has shown up at some pivotal times, too. Sunday night's 8-3 demolition of the powerful Vancouver Canucks featured a goal and two helpers from the Swede, while he also picked up a hat trick and two assists against their division foes, the St. Louis Blues, on February 1.
Combining his statistical contributions and his impact on his team's fortunes, Zetterberg has been the best at his position so far.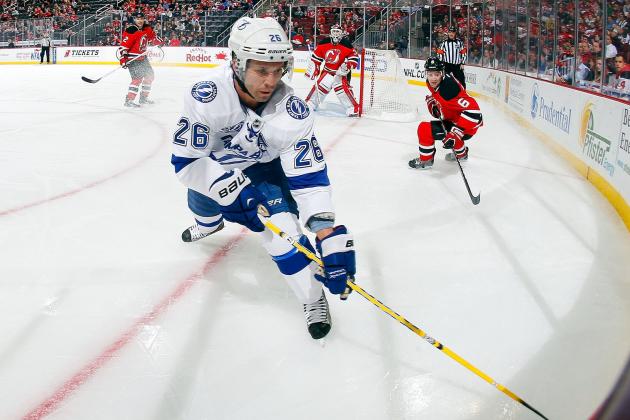 Jim McIsaac/Getty Images
Martin St. Louis has defied his age this season.
Goaltender: Corey Crawford, Chicago Blackhawks - The injury that kept Crawford out for four games recently might be the only thing preventing him from beating Anderson. This kid's been fantastic for the high-flying Blackhawks, and could beat Anderson to the Vezina when all's said and done.
Defensemen: Duncan Keith, Chicago Blackhawks; Kevin Shattenkirk, St. Louis Blues - Keith has been a rock at the back for the Hawks, as they set the league on fire. Shattenkirk, meanwhile, has thrust himself amongst the game's elite blueliners with some strong play this season.
Right Wing: Martin St. Louis, Tampa Bay Lightning - The diminutive winger has been huge in the Lightning's offensive powerhouse. The 37-year-old benefits from playing alongside one of the game's young greats, with his 20 assists better than Crosby and Zetterberg.
Center: Steven Stamkos, Tampa Bay Lightning - Very easily could've been selected over Crosby, but the Penguins' better record made the difference. The youngster would be on pace for nearly 60 goals if this were to be an 82-game season, and leads the league in points to boot.
Left Wing: Thomas Vanek, Buffalo Sabres - Loses out to Zetterberg due to Buffalo being dead last in the East. His 25 points are nearly twice his team's point total. If long-time Sabres coach Lindy Ruff can leave, what does that mean for Vanek's future?
Who did I miss? Let me know below, or on Twitter.