UConn Basketball: 5 Keys to Beating Georgetown in Big East Matchup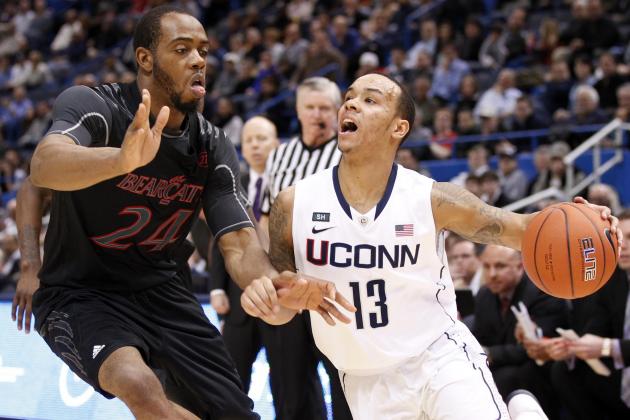 USA TODAY Sports
Napier has bounced back nicely in his last two games.
When the UConn Huskies (19-7, 9-5 Big East) host long-time rivals the No. 7 Georgetown Hoyas (21-4, 11-3 Big East) they might just be facing their stiffest test of the season.
The Hoyas are big, physical and are in the thick of the race for a Big East championship and a possible No. 1 seed in the NCAA tournament.
Georgetown enters having won nine straight games to seize the top spot in the conference and will face a Huskies team that has won back-to-back games after dropping a disappointing result to Villanova.
Both teams are playing for something, the Huskies for pride and the Hoyas for postseason position, and these games are always intense.
These are the five keys for the Huskies to nab their 20th win of the season.
Begin Slideshow

»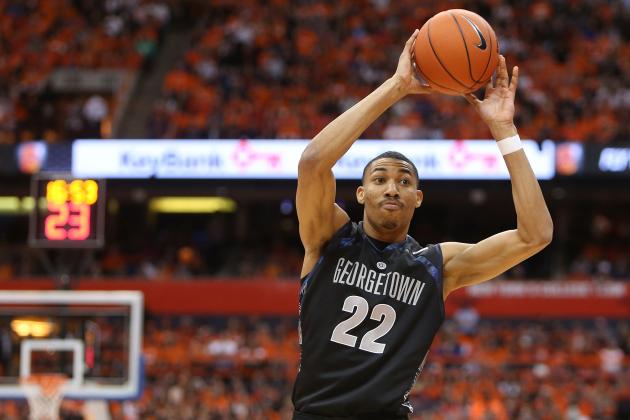 Nate Shron/Getty Images
Porter is the key to the Hoyas offense.
Georgetown sophomore forward Otto Porter Jr. is the type of player who can absolutely dominate a game if you don't put a body on him.
Even then he's difficult to stop.
Porter averages just under 16 points and eight rebounds a game and is coming off his best performance of the season, dropping 33 at Syracuse in a Hoyas win.
The Huskies will need to play him tough and physical and prevent another of those breakout-type performances if they hope to pull the upset.
DeAndre Daniels certainly has his work cut out for him.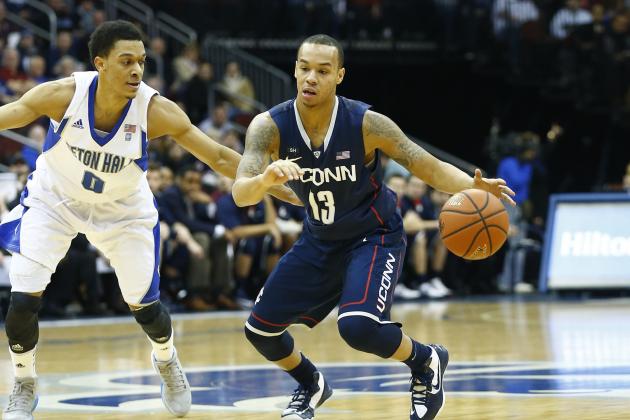 Jim O'Connor-USA TODAY Sports
Hard to see a way UConn can win without a big game from Napier.
The Huskies have a lot of talent, but there is no question that they are much more dangerous when Shabazz Napier is on top of his game.
The junior guard took his share of heat after a dismal 1-of-8 shooting and just two points in a loss to Villanova
But he has bounced back nicely, perhaps an understatement, dropping 27 points against Cincinnati and 28 at DePaul, both Huskies wins.
Granted neither the Bearcats nor Blue Demons are close to Georgetown.
Napier has upped his season average to a shade over 17 points per game and will need to pace the UConn offense.
If the guy who played Villanova shows up, there could be a big problem.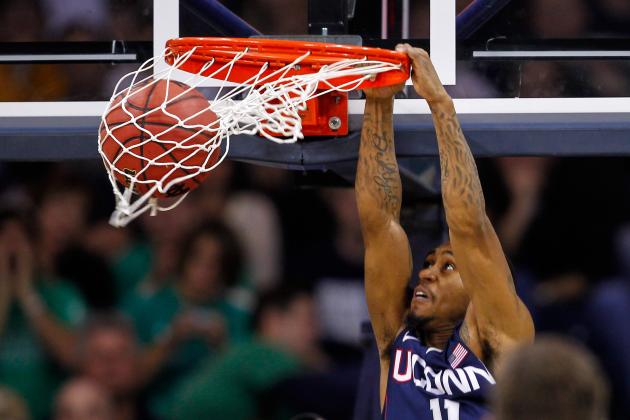 Michael Hickey/Getty Images
Boatright and the Huskies are lights out from the charity stripe.
If there is one thing UConn does very well, it's shoot free throws. The Huskies are lights out and as a team shoot 75 percent from the charity stripe.
The trio of guards—Napier, Ryan Boatright and Omar Calhoun—are all excellent from the line and will need to slash to the basket to create opportunities for easy points and three-point plays.
It's something that all three are capable of doing as well as any other guard combination in the entire nation.
Getting the Hoyas into foul trouble early would certainly help, giving the Huskies a chance to get some easy points from the line.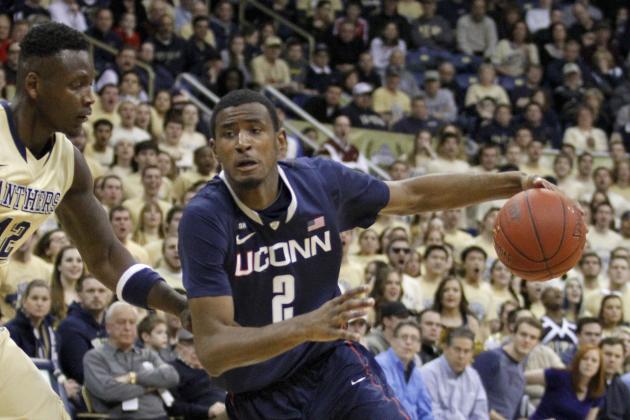 Justin K. Aller/Getty Images
DeAndre Daniels will need to grab some boards.
DeAndre Daniels is tall enough to be a solid rebounder but lacks the physicality and body mass to bang around down low and grab the tough ones.
It's almost been like clockwork for the sophomore this season, who seems to grab five boards, no more and no less, on a night in, night out basis.
In the Hoyas, Kevin Ollie's club will face a team that provides them with a rare opportunity to not only compete on the glass but win the battle.
UConn enters the game, as of this writing, an absolutely dismal 276th in the country in total rebounding. Georgetown on the other hand isn't much better, sporting just the 246th rebounding team in the nation.
The Huskies absolutely can and should be able to compete on the boards in this game.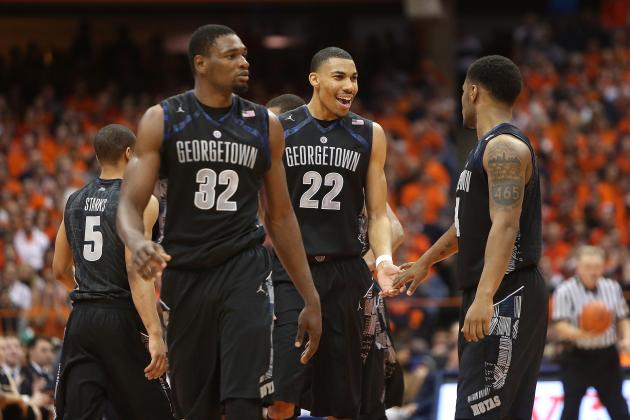 Nate Shron/Getty Images
The Hoyas ruined Camelo Anthony's big night with an upset of the Orange.
Georgetown has won nine straight games, including home wins against Louisville, St. John's and Marquette, and road wins at Syracuse, Notre Dame and Cincinnati.
That's a pretty impressive stretch for any team and has placed the Hoyas atop the Big East with a chance to compete for a top seed in the NCAA tournament.
With that type of stretch behind them, the Hoyas cannot afford to see their effort suffer, even a little bit.
While the Huskies have no postseason hopes, they have played like a team with something to prove. They haven't been an easy out for anyone and have embraced the role of spoiler.
If Georgetown takes the pedal off the metal even a little bit, they could find themselves in a great deal of trouble against a young team that has begun to gel as the season has gone along.