Ranking the Best Young Backcourts in the NBA Entering March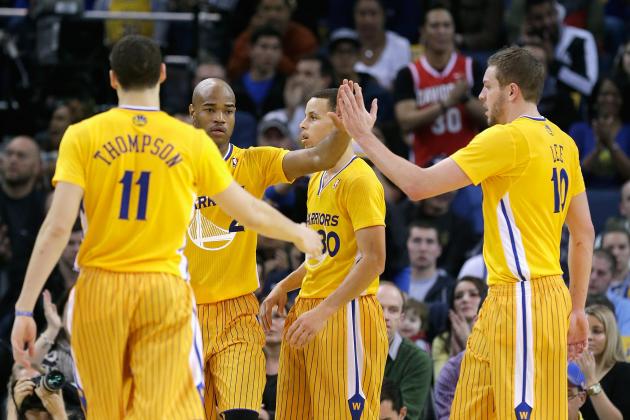 Ezra Shaw/Getty Images

The NBA has become a league in which every point guard seems to be able to get to the rim and put up some big-time numbers.
What that will translate to once these guards age and improve is still up in the air, but there's no doubt a point guard is only made better if he's given a solid running mate in the backcourt.
This year, we've seen the emergence of guys like Jrue Holiday, Kyrie Irving and Stephen Curry into top-level players, while others have put together very respectable seasons.
I took a look at the league's best young backcourts a few months back, and the landscape of the NBA has changed a lot since then.
There are a few qualifications that need to be met for this ranking.
To be considered young, the duo has to have an average age of 25 or lower. Both players must be in their team's starting lineup, and they must be primarily used as guards.
Begin Slideshow

»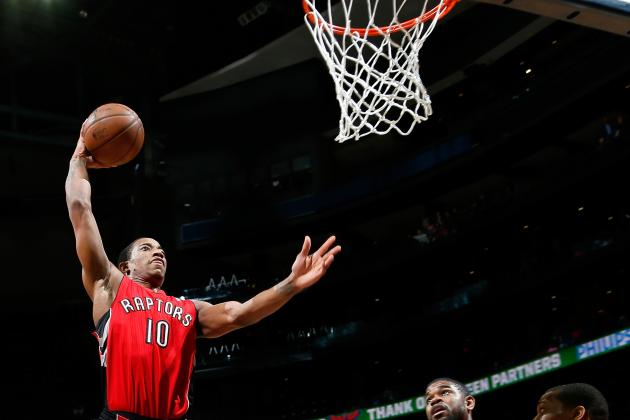 Kevin C. Cox/Getty Images

Combined Stats: 30.4 points, 8.6 rebounds, 8.5 assists, 2.3 steals, 0.6 blocks
An injury to start the season and a battle for the starting spot with Jose Calderon led to a shaky start for Kyle Lowry, but he's settled down of late and really started to figure out his role on the offense.
With the acquisition of Rudy Gay, DeMar DeRozan and Kyle Lowry may be overlooked a bit by the casual fan, but they're every bit as important to the success the Toronto Raptors are having as Gay has been.
Now that Gay and DeRozan are both hanging around the perimeter, teaming up together and slashing to the rim, Lowry has some solid targets to play with.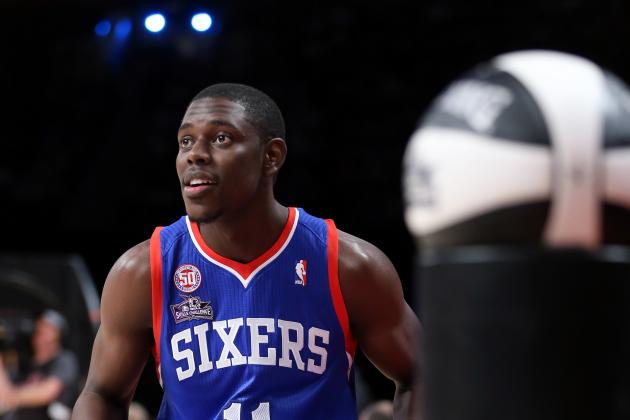 Ronald Martinez/Getty Images

Combined Stats: 30.5 points, 6.6 rebounds, 10.2 assists, 2.1 steals, 0.7 blocks
Jrue Holiday is definitely in the discussion for the Most Improved Player Award. While he's paired up with the incredibly inefficient Nick Young, he's done enough to put the duo into the top 10.
Holiday has emerged as a legitimate all-around point guard, capable of scoring, rebounding, passing, shooting, defending, controlling the pace of the game and being a leader.
This Philadelphia 76ers team has had problems all year long with injuries, and they're still a borderline playoff team. If they sneak in, Holiday will be the reason why.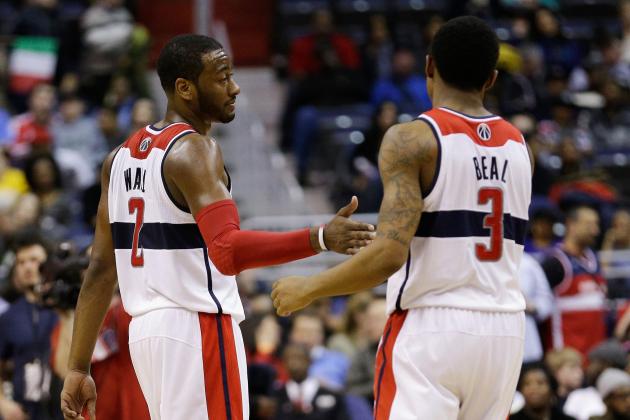 Rob Carr/Getty Images

Combined Stats: 27.9 points, 6.6 rebounds, 10.1 assists, 1.9 steals, 1.4 blocks
We finally got to see what is going to become of Bradley Beal and John Wall after Wall found his way back into the starting lineup.
Since Wall came back in mid-January, the Washington Wizards are 12-9. They're looking like a team that could make a serious playoff run next season. While neither are scoring efficiently, they can fill up a stat sheet.
Wall's athleticism allowed him to come back and continue to play at a solid level, and Beal looks to be living up to the No. 3 overall pick.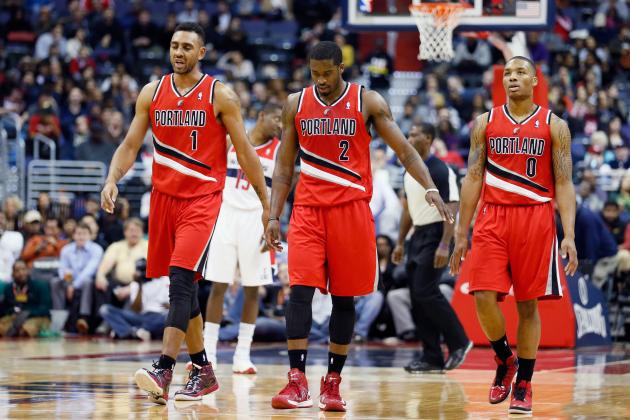 Rob Carr/Getty Images

Combined Stats: 33.3 points, 6.0 rebounds, 9.3 assists, 2.4 steals, 0.6 blocks
While Damian Lillard has been lighting up the Rose Garden in his rookie season, Wesley Matthews has been a more-than-capable running mate. He hits big shots, logs heavy minutes and racks up steals.
Lillard looks to be the clear favorite for Rookie of the Year, and both players don't have any semblance of a bench to fall back on.
Matthews has battled a laundry list of physical ailments this year, and he has suited up while hurt a number of times. With Lillard being a first-year player, look for him to only improve.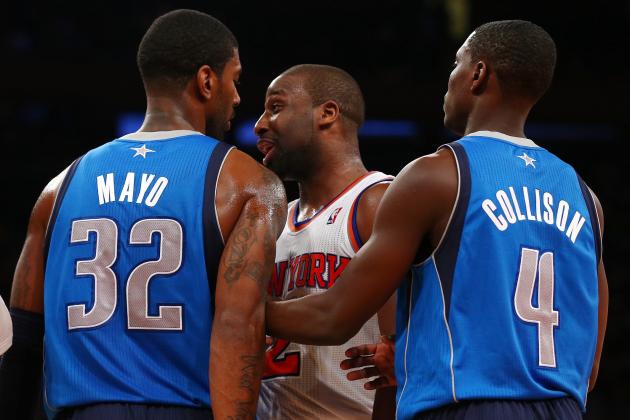 Elsa/Getty Images

Combined Stats: 30.2 points, 6.5 rebounds, 9.9 assists, 2.7 steals, 0.4 blocks
While Darren Collison had a rough stretch in the beginning of the season in which he dealt with being benched, O.J. Mayo was proving that he was clearly worth his two-year, $8.22 million contract.
Mayo is a fine passer for the reputation he has as a shoot-first player, while Collison is quite good at penetrating and passing out of the lane to the open man.
Mayo has cooled off from his torrid start to the year, but the two still form a competent backcourt.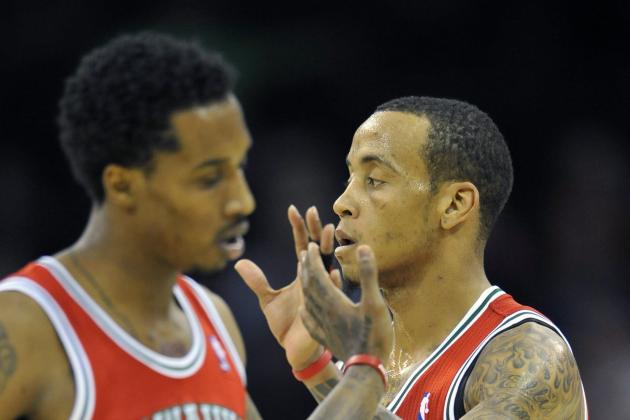 USA TODAY Sports

Combined Stats: 37.1 points, 7.2 rebounds, 11.7 assists, 3.8 steals, 0.6 blocks
Monta Ellis and Brandon Jennings are a high-scoring duo, but they don't exactly play well off one another. If you take a look at the box scores or watch them play, it is rare when both have great games.
They lose more standing when you take a look at how inefficient the two of them are. Additionally, although they play the passing lanes well to get steals, the two aren't known for their defense.
With J.J. Redick in town, it will be interesting to see what happens to them after this year. For now, we'll get to enjoy them chucking up shots and playing isolation ball down the stretch.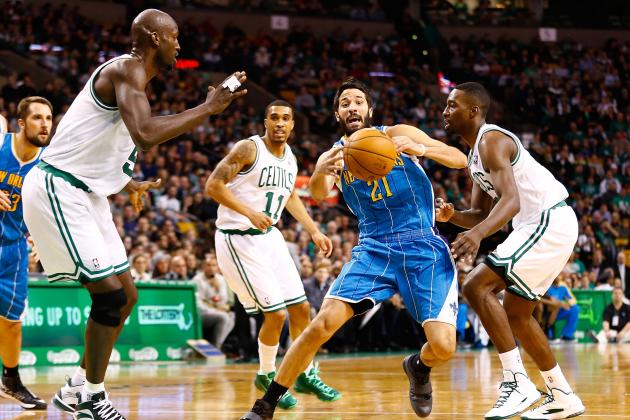 Jared Wickerham/Getty Images

Combined Stats: 30.5 points, 6.0 rebounds, 12.5 assists, 1.8 steals, 0.3 blocks
Last time I took a look at the league's best young backcourts, Eric Gordon had yet to return to the New Orleans Hornets. Greivis Vasquez had the unfortunate pleasure of starting alongside the inefficient Austin Rivers.
Once Gordon came back, things started to flow better offensively, the inside-outside game with Anthony Davis became a staple, and Gordon and Vasquez became legitimate complements.
Gordon is a tremendous isolation player capable of scoring with little help from his teammates, while Vasquez relies more on set plays. The result has been a stretch of games in which the Hornets are actually over .500 (13-12 over their past 25).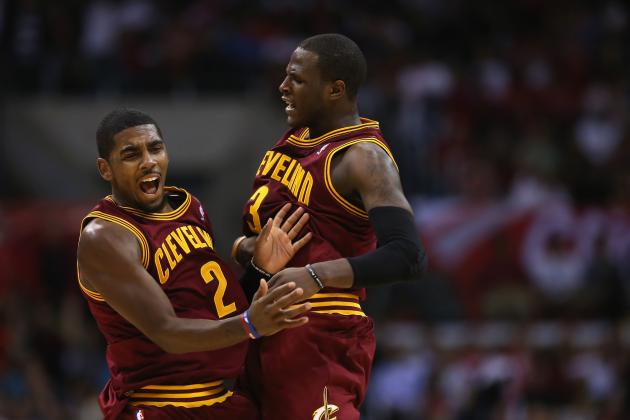 Jeff Gross/Getty Images

Combined Stats: 37.7 points, 6.1 rebounds, 8.8 assists, 2.6 steals, 0.6 blocks
While Kyrie Irving continues to carry a good portion of the load for these two, Dion Waiters is coming around.
Irving continues to be the guy we've seen all season long, while Waiters' uptick is thanks to solid improvement in shot selection and a few more of his ridiculous, off-balance jumpers falling compared to earlier in the season.
Waiters is finally shooting over 40 percent for the season, and he is actually shooting 51 percent from the field in February (even though he is struggling from the three-point line).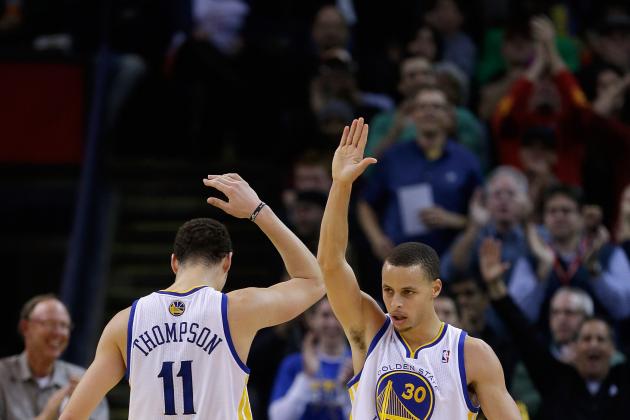 Ezra Shaw/Getty Images

Combined Stats: 37.3 points, 8.1 rebounds, 8.9 assists, 2.5 steals, 0.7 blocks
Klay Thompson has taken a step back in terms of efficiency this season, which has been hurting this duo. He's still a dangerous shooter, but he may need to cut back on some of his contested jumpers.
Stephen Curry continues to improve as a passer, and he looks to be the best three-point shooter off the dribble since Steve Nash was knocking them down with regularity a few years back.
There's just one thing keeping them from being No. 1, and that's the next guys.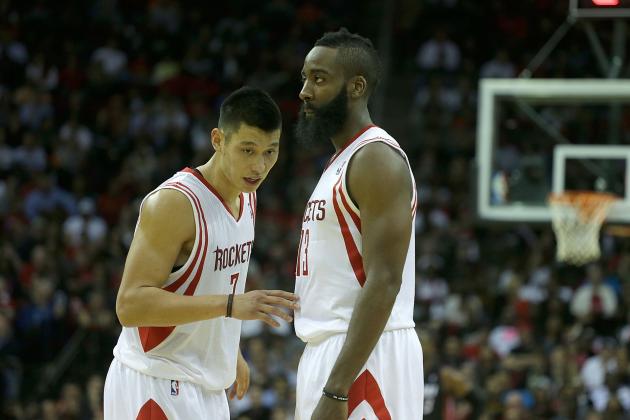 Scott Halleran/Getty Images

Combined Stats: 39.1 points, 8.2 rebounds, 11.8 assists, 3.8 steals, 0.9 blocks
In the beginning of the year, there were a ton of questions surrounding the Jeremy Lin-James Harden duo, mainly if the two ball-dominant guards would work well together.
One way to deal with the issue would be to get them as many offensive possessions as possible, which is what Kevin McHale has done with Houston's offense.
While James Harden was a slam dunk from day one, Jeremy Lin has worked his way back up to respectability. He's not in full-on Linsanity mode, but he's getting there.