Syracuse set out to avoid its second straight loss on Monday night, but Marquette had designs for an upset, besting its Big East foe, 74-71, with an impressive second-half showing.
The Golden Eagles twisted the screws throughout the second half, applying pressure to a Syracuse team reeling from four losses in its last eight contests. With Syracuse trailing late in the game, Marquette binged from the free-throw line, making 29-of-35 from the charity stripe and never allowing Syracuse to chip away at the lead.
Turnover problems have plagued the Golden Eagles this season, but they took care of the ball down the stretch. Paired with poor shooting at times on the part of Syracuse (as ESPN's Chicago-based TrueHoops affiliate points out), the game was never as close as the final score indicated.
James Southerland (Syracuse) just went 1-4 on threes in a single possession. That was crazy.

— Bulls by the Horns (@BullsbytheHorns) February 26, 2013
Syracuse was favored to walk away from Marquette's home floor with a win. Inconsistency has beleaguered the young squad this season, though, especially in the second half. Dan Wolken of USA Today Sports provides his insight on its performance since the start of January:
Syracuse plays in the Big East and has two good wins since New Years

— Dan Wolken (@DanWolken) February 26, 2013
Syracuse's inexperience is ultimately the reason it has failed to consistently close out games this season, as Brian Koziol points out in this tweet:
#Syracuse has ability to beat anyone in the country...but they also have shown when they let teams hang around, they struggle to finish

— Brian Koziol (@BrianWGR) February 26, 2013
That inexperience is also the reason for some underwhelming scoring totals on behalf of Syracuse's starters this year, as the four points combined from freshman Jerami Grant and sophomore Rakeem Christmas illustrated in this contest.
The Golden Eagles didn't exactly get key contributions from their starters, either, but forward Davante Gardner was fantastic, and his 26-point performance off the bench was ultimately enough to lift his team past its opponent in this critical conference matchup.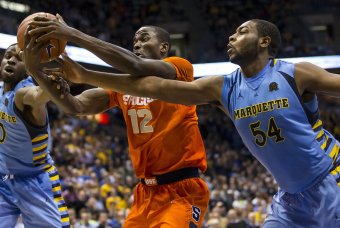 Jeff Hanisch-USA TODAY Sports
With the game clock in Marquette's favor, Syracuse was forced to foul often late in the contest, but an 8-of-24 mark from behind the arc didn't facilitate a comeback effort. The Golden Eagles continued to make crucial free throws, and Syracuse failed to make enough shots from the floor in the final minutes.
Even with the late-game comeback attempt, Syracuse managed to best Marquette in both field-goal percentage and three-point percentage. The Golden Eagles simply made the most of their opportunities, making 22 more free throws than Syracuse even attempted in the contest.
Marquette deserves a lot of credit for its ability to both get in the paint and make free throws, but its defensive performance can't be overlooked. Throwing a 2-3 zone at Syracuse, the Golden Eagles were able to limit the damage, as Jon Rothstein of CBS Sports references here:
Marquette having much more success stopping Syracuse when they were in a zone. Taking a page from Georgetown's blueprint.

— Jon Rothstein (@JonRothstein) February 26, 2013
For the two programs, getting a win on Monday was crucial in the quest for sustained momentum heading into March. Syracuse dropped to fourth in the conference standings, as NBA.com's Adam Zagoria points out:
Syracuse will lose its 2nd straight and fall into a tie with Notre Dame for 4th in the Big East at 10-5.

— Adam Zagoria (@AdamZagoria) February 26, 2013
While Syracuse continues to struggle with consistency, Marquette continued its string of incredibly impressive basketball on its home court. Paint Touches weighs in on the Golden Eagles' home winning streak:
Marquette has now won 24 straight home games, extending the second longest home winning streak in the country. #mubb

— Paint Touches (@PaintTouches) February 26, 2013
With tournament basketball quickly approaching, both teams walk away from this contest with some important goals. For Marquette, maintaining this momentum will undoubtedly be the focus.
Syracuse must simply turn its attention to a matchup with No. 10 Louisville on Saturday and hope its final three contests will end on a better note.