Boston Celtics vs. Utah Jazz: Live Score, Results and Game Highlights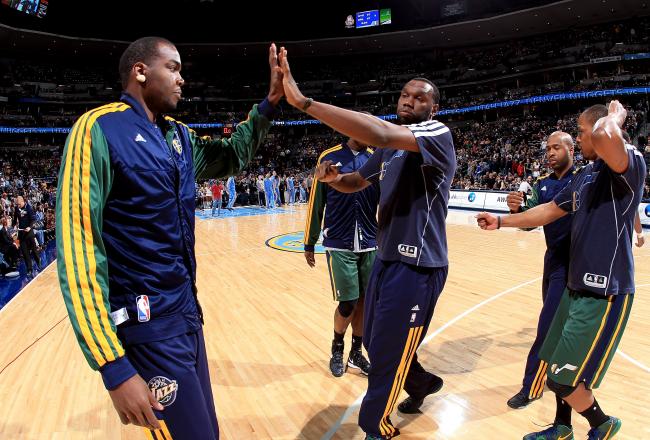 Doug Pensinger/Getty Images
Commentary from the 110-107 Overtime victory by the Boston Celtics over the Utah Jazz in Salt Lake City's Energy Solutions Arena on Feb. 25, 2013.
Randy Foye did indeed come off a double screen for a long three that he wasn't fully on balance for. It wasn't a horrible look, but it also wasn't the kind of shot that falls at a high percentage, even for a guy like Foye who hits 40-plus percent from distance.
Keys to the C's win:
1) Paul Pierce was brilliant. He missed the final shot of regulation, but made up for it by scoring seven straight points in OT, which enabled the C's to put some distance between themselves and the Jazz that Utah ultimately was unable to overcome.
2) Great Backcourt pressure: Courtney Lee and Avery Bradley absolutely harassed another backcourt. The Jazz had 13 turnovers, which isn't a ton, but their offense was often disorganized and scattered from the ball pressure.
3) Good Interior Play: The Celtics lost the battle of the boards 44-37, but held Paul Millsap and Al Jefferson to a combined 31 points, while the C's PF/C combo of Brandon Bass and KG scored 28. Giving up only -3 points at the 4/5 spots to the Jazz will usually result in a win for teams who aren't too heavily reliant on their own frontcourts.
CELTICS 110, JAZZ 107 — FINAL in OT
The Celtics were able to burn nearly two seconds off the clock before Courtney Lee was finally grabbed on the baseline. Lee calmly sank both free throws to make this very difficult on the Jazz.
They'll get one last look here, but they need a three and won't have any time to work it for one. With how quick the C's are at chasing around screens, they're likely going to run a double screen for either Randy Foye or Gordon Hayward.
It's an "all the eggs in one basket" approach, but the C's have been very quick getting to shooters and to spend three of the five players on the court on getting one good look seems to make sense here, does it not?
CELTICS 110, JAZZ 107 — 1.2 seconds OT, Jazz ball
DeMarre Carroll fouled Paul Pierce quickly. There wasn't a single free throw shooter under 80 percent on the floor, other than KG (78 percent).
The Jazz had a foul to give, and Jeff Green was unable to get the ball in with 3.3 seconds on the clock. He called for a 20-second timeout. It's funny when having a foul to give can really work to a team's disadvantage.
CELTICS 108, JAZZ 107 — 3.3 seconds OT, C's ball
The Jazz were looking for a three and a three only. They threw it around the horn, but no one could get a good look. Over nine seconds ran off the clock (between the play and the forced inbounds following a Courtney Lee foul) before Paul Millsap drew a foul from inside the arc. KG's foul prevented them from getting a three on a subsequent pass. That's smart basketball.
CELTICS 108, JAZZ 107 — 4.2 seconds OT, C's ball
Apparently, it had something to do with timeouts and how many the Jazz had left. Ty Corbin burned another 20 second timeout, and he'll look to draw something up here to find a three. Bank on it.
CELTICS 108, JAZZ 105 — 13.8 seconds OT
They've added 0.5 seconds back to the clock. The refs are still huddled up, but it's unclear why.
CELTICS 108, JAZZ 105 — 13.8 seconds 4th, Jazz Ball
The Celtics picked up a shot clock violation on what will likely be their final possession of the game. Jeff Green passed up an open look and threw it out to Kevin Garnett, who couldn't get it off in time.
The ball has to go to Gordon Hayward for the three-pointer here. Brian Scalabrine is commenting on the game, saying there's still time to go for a two and foul, but I think the right call here is to work to get Hayward open. He's hit 4-of-7 from three-point range, despite the fact he's missed his last three.
CELTICS 108, JAZZ 105 — 13.3 seconds, Jazz ball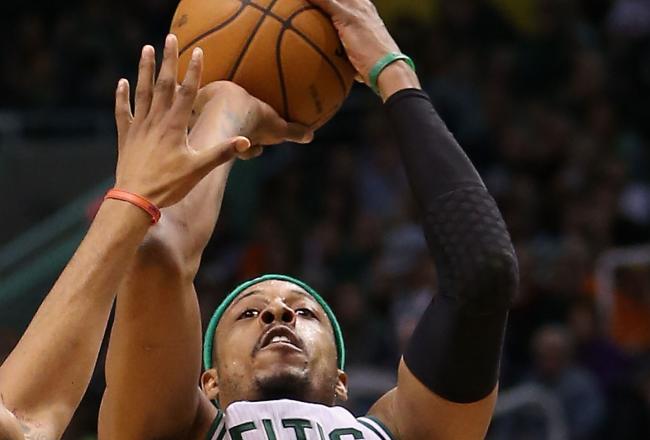 Paul Pierce responded to the increased defensive pressure by hitting another jumper, rolling off a high pick. That's a 7-0 run all by Pierce.
CELTICS 106, JAZZ 101 — 1:12 OT, Jazz Timeout
Five straight points from Paul Pierce have put the C's up three. He's trying to make up for that miss at the end of regulation, and by golly, he's doing it. The Jazz are trying to keep the ball out of his hands, but that only leaves open a ton of looks for Jason Terry and KG. Pick your poison.
CELTICS 104, JAZZ 101 — 1:18 OT
DeMarre Carroll struck again with a corner long two-pointer. Carroll has eight points off the Utah bench, and his defense has been superb.
Paul Pierce responded with a triple. He has 22 on the night, and has hit 3-of-10 from distance.
CELTICS 102, JAZZ 101 — Under 2 minutes, OT
The Celtics lineup is the same as their starting lineup with one exception: Jason Terry will get the call instead of Courtney Lee. Presumably, this is a move on Doc Rivers' part to keep more offense on the court.
Kevin Garnett scores the first bucket of overtime on a jumper, which is met by a Paul Millsap jumper.
CELTICS 99, JAZZ 99 — 3:45 OT
The Celtics isolated Paul Pierce for the final shot. Pierce dribbled away the entire clock and then took a tough fade away over DeMarre Carroll. Gordon Hayward had switched off when the screen came, but it wouldn't have mattered either way.
Pierce is a great closer, but ideally you want a look going towards the basket with at least a second or two on the clock to leave the door open for a put-back. At least, that's my philosophy towards last second shots.
CELTICS 97, JAZZ 97 — End of Regulation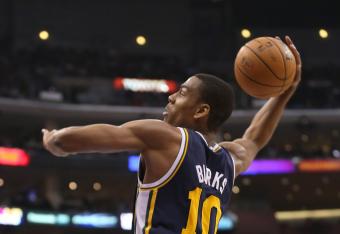 Alec Burks hit a very nice up-and-under lefty layup to tie the game. Credit the assist to none other than Mr. Hayward who found Burks cutting through traffic.
CELTICS 97, JAZZ 97 — 19.1 seconds, Boston Ball
Paul Pierce's pump fake sent DeMarre Carroll flying by him...big time. Carroll's over-commitment to blocking Pierce's "J" left him wide open to knock down an easy and clean look. He's been doing that his entire career, young blood.
CELTICS 97, JAZZ 95 — 36.6 seconds in 4th, Jazz timeout, Jazz ball
Paul Pierce threw a true touchdown pass to Jason Terry for a layup to give the C's a two point lead.
CELTICS 95, JAZZ 93 — 49.1 seconds in 4th, Gordon Hayward shooting two
If you think Al Jefferson isn't consciously thinking "This could finally be my first win over my old team!"...his steal with just over two minutes to go from Kevin Garnett on the baseline gives the Jazz a good chance to go ahead in this one. Gordon Hayward shot it way short, though, and the C's resume control of the ball with 1:41 in the game.
CELTICS 93, JAZZ 93 —1:41 4th
The Celtics have missed like five good shots in a row, including a dunk attempt.

— Stephen Coston (@NBA247OFFICIAL) February 26, 2013
The C's are getting second shots, but only because they can't seem to hit anything.
Al Jefferson has his 27th double-double of the 2012-13 NBA season. 15 points, 11 rebounds.
CELTICS 93, JAZZ 93 — 2:46 4th, Celtics Timeout
DeMarre Carroll forced an over-and-back violation that has Doc Rivers and Paul Pierce fuming. They believe it was deflected. The call was reversed and the ball returned to the Celtics with 12 seconds on the shot clock.
CELTICS 93, JAZZ 91 — 3:28 4th
The Celtics are just 2-of-9 from the floor in the fourth period. After a 32 point Celtic third quarter, Ty Corbin has to be pleased with the night-and-day difference defensively for his Jazz team.
CELTICS 93, JAZZ 91 — 3:45 4th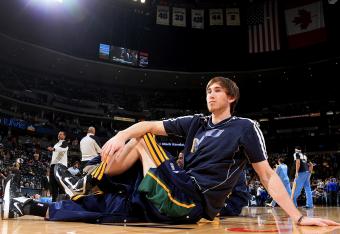 When I wrote my "All-Stars in 3-5 Seasons" piece a week or so for B/R, I didn't include Gordon Hayward on the list of future All-Stars. He didn't even make an honorable mention in the slideshow.
That changes after watching him tonight. Hayward has created for teammates, knocked down his jumpers and played excellent man-to-man defense. My apologies to the commenter who felt I left Hayward out. I thought he was just a Jazz fan.
JAZZ 91, CELTICS 91 — 5:16 4th
#jazz now out of fouls with 6:16 left the #celtics are one from the limit, BOS leads 89-87

— gary washburn (@GwashNBAGlobe) February 26, 2013
This means the last six minutes of this game may take a while, but the whistles hadn't been blowing that often through the first three quarters.
All Celtics starters have scored in double figures except KG as we head down the stretch of the fourth quarter. Didn't see that coming, did ya?
CELTICS 89, JAZZ 89 — 5:45 4th, TV Timeout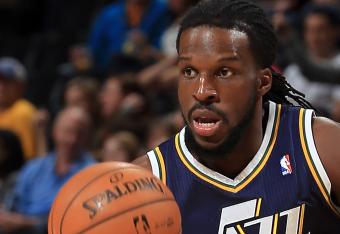 DeMarre Carroll played some excellent defense on Paul Pierce, but the result was much the same as when Gordon Hayward covered him: a tough mid-range jumper knocked down as if he were wide open. Pierce just has made a habit of hitting tough shots.
DeMarre Carroll said "I can do that, too" and hit a three on the other end.
JAZZ 88, CELTICS 87 — 6:20 4th
This article is
What is the duplicate article?
Why is this article offensive?
Where is this article plagiarized from?
Why is this article poorly edited?