13 Hottest Starts to the 2013 NHL Season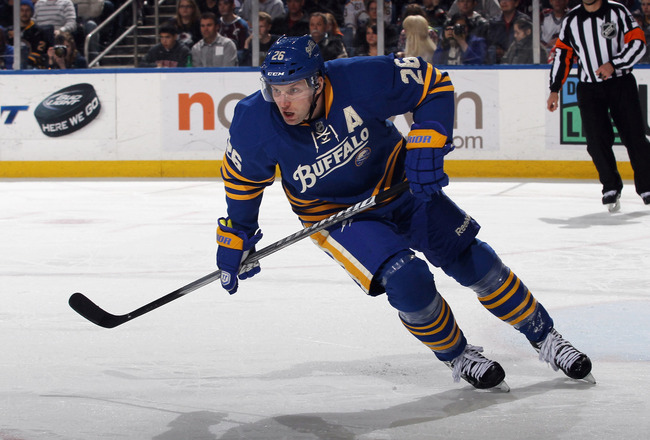 Bruce Bennett/Getty Images
After the 2012-13 NHL lockout ended and the shortened season was agreed upon everyone and their hockey-loving grandmothers knew that hot starters could very well outdo steady performers.
As such, everyone (and their hockey-loving grandmothers) have proven prophetic so far for the 2013 season. Teams that came out of the gate hot greatly lessened the pressure on themselves moving forward while turning up the temperature on the other teams in their division to win more games (hello, Central!).
And players that have come out flying have been boons to their respective squads.
I mean, how many games would the Buffalo Sabres have won so far if not for Thomas Vanek and his ridiculous streakiness? Where would the Anaheim Ducks be without the Vezina-caliber play of newcomer Viktor Fasth?
Through 82-game seasons these hot and cold streaks have a way of working themselves out. But with only a small percentage of those games to be played in 2013 before the playoffs roll around, the hot hands could very well be the ones making a charge for the Stanley Cup while the more steady competitors are sitting at home watching (and playing) golf.
As always, if I left your guy out I apologize. I don't hate him. Bleacher Report doesn't hate him. The East Coast doesn't hate him. I just didn't write about him.
That said, here are 13 of the hottest starts in the NHL so far.
Thomas Vanek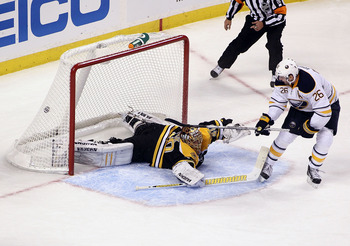 Alex Trautwig/Getty Images
Through six games in January, Thomas Vanek posted a whopping 15 points while shooting at a ridiculous 21.5 percent. The Buffalo Sabre had two five-point games in that span—including one hat trick against the Boston Bruins to close out the month.
Since the calendar rolled over Vanek has put up "only" 10 points through 12 games. He's still sitting fourth overall in league scoring, and as his scoring whims go, so go the Sabres. They've lost four straight and Vanek has only a goal and an assist in that span.
Steven Stamkos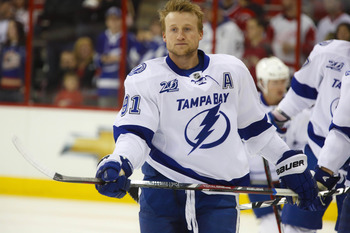 James Guillory-USA TODAY Sports
I'm going to have to take a vocabulary expansion class or two just to prevent myself from running out of words to describe the pure scoring ability of Steven Stamkos. There are only so many ways to say "this kid knows how to score real hard" before it's a broken record.
He's played 13 games so far for the Tampa Bay Lightning, and he's only failed to notch a point three times. In those other 10 games, Stammer has ripped off a mind-numbing 29 points.
Right now it looks like it'll be a dogfight between him and Sidney Crosby for the scoring title... just as it should be.
Sidney Crosby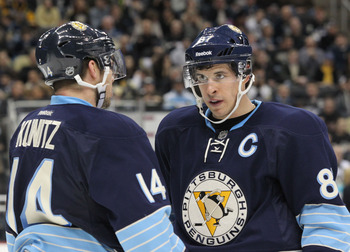 USA TODAY Sports
I don't care if you like him. If you can't respect a guy that's on pace for 71 points in 48 games played then I just can't help you. Maybe hockey isn't your thing.
Every time Sidney Crosby touches the puck, something happens. There's a goal-scoring chance or a slick pass or a penalty is drawn. The talent is limitless and the drive is second-to-none.
After going at a point-per-game pace through the first month of the season, Sid has found a new gear in February to the tune of 21 points in 12 games. Mirrors!
Eric Staal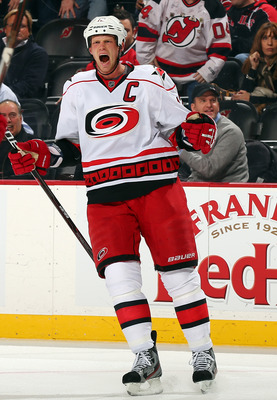 Elsa/Getty Images
The Carolina Hurricanes would have had a lot of buzz heading into a normal 82-game season. The lockout took the edge off a bit for a team that made a handful of big moves over the summer to try and make it back to true contender status.
A lot of eyes were on newcomers Alexander Semin and Jordan Staal, and while both have proven to be excellent additions, the majority of chances and scoring is still coming from the same place as always for the 'Canes.
Eric Staal has been better than a point-per-game player for Carolina, and seems to be thriving in an environment where there are only two or three finishers on the team. He's only been held pointless twice since opening the season's first two games without hitting the score sheet, and has really come on in February.
Thirteen of Staal's 19 points have come since the first month of the season, and the Hurricanes are currently leading the Southeast Division.
Henrik Zetterberg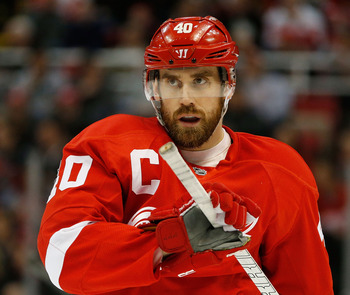 Gregory Shamus/Getty Images
No one thought that replacing Nicklas Lidstrom was going to be easy. Not the Detroit Red Wings, and certainly not the man that was tapped to replace the captain, Henrik Zetterberg.
That memo never made it to Z however.
So far in 2013 he's been remarkable for the downtrodden, beat up and Lidstrom-less Wings. If you're looking for an identity crisis or a team in transition you might want to keep on looking.
The Euro-Twin duo of Zetterberg and Pavel Datsyuk are both among the top-10 scorers in the NHL right now, and Zetterberg is garnering Hart Trophy chatter for the way he's trying to will the Wings into the playoffs.
Z has posted 25 points in 19 games played. Not surprisingly he's notched a point in all but one of Detroit's nine victories in 2013.
Pavel Datsyuk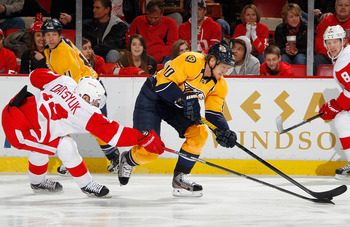 Look at that reach.
Gregory Shamus/Getty Images
Might as well keep Z and D together here, as they've both been dynamite for the Detroit Red Wings.
Pavel Datsyuk hasn't been any less consistent than Henrik Zetterberg, but he's certainly made some of the flashier plays so far this season. Like when he banked the puck off of the cheating shoulder of Jake Allen against the St. Louis Blues last week.
He's always been a wizard with the puck, but Datsyuk has finally been let off the leash a little bit for a banged up Red Wings club. While he started off the year slowly, he's since posted points in seven of his last eight games.
Viktor Fasth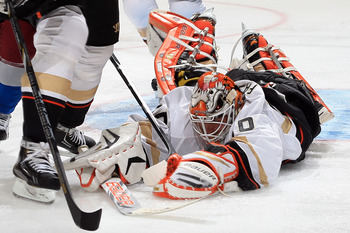 Doug Pensinger/Getty Images
I'm not going to go out of my way to list netminders, but I'd be remiss if I failed to mention Viktor Fasth here. Is he Jim Carey-like flash in the pan? Or is he just a late bloomer in the vein of Tim Thomas?
We won't know the answer for that for at least another several months, but as it stands right now Fasth has arguably been the best goaltender on the face of the earth since the start of the 2013 NHL season. He's won his first eight NHL starts while sporting a 1.8 GAA.
He's played so well that the Anaheim Ducks have decided to sign him to a two-year extension. Is there a goaltender controversy brewing with Jonas Hiller?
Craig Anderson
Grant Halverson/Getty Images
One of the few netminders that has played as well as Fasth is Craig Anderson. He's been lights out for the Ottawa Senators this season.
Before sustaining an injury that will keep him out of action for a few games, Anderson had won nine and had been responsible for keeping the Sens afloat while they play without Jason Spezza and Erik Karlsson.
His GAA of 1.49 and his save percentage of .952 are both ridiculous.
John Tavares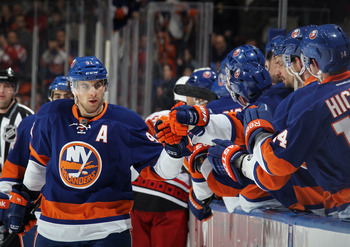 Bruce Bennett/Getty Images
It's hard to find a picture of John Tavares when he isn't celebrating a goal. He's had eight multi-point games for the surprisingly offensive New York Islanders, and 25 points through 13 games played. Tavares has already posted a hat trick this season, and once his top line settles down a bit he could pick up even more steam.
Martin St. Louis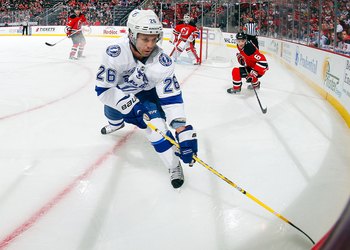 Jim McIsaac/Getty Images
I'm sure I'm not alone when I say that I've been waiting for Martin St. Louis to slow down for a few years now. He still doesn't seem aware of the fact that he's smallish and aging—he really just keeps on scoring.
He has 24 points through 18 games so far, and though St. Louis would probably like a few more goals, he's still making magic happen with his slick assists for one of the most high-octane offenses in the NHL.
Matt Moulson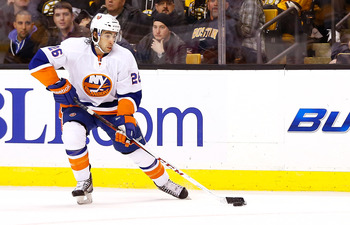 Jared Wickerham/Getty Images
Matt Moulson has increased his points total in every full season he's played so far in the NHL. He's very much on that same uptick so far in 2013, and the time may be arriving where the guy begins to gain some notoriety aside from being the wing of John Tavares.
The first unit of Moulson, Tavares and Brad Boyes is starting to find some chemistry, and Moulson will only continue to benefit. Thus far he's notched 10 goals and added 13 assists through 19 games played.
Patrick Marleau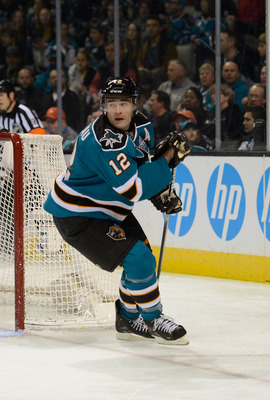 Thearon W. Henderson/Getty Images
If Patrick Marleau hadn't scored another goal all season, starting off with four straight two-goal games would have still landed him on this list. Sticks don't get much hotter, and we witnessed history with Marleau and the San Jose Sharks to kick off the 2013 season.
It was the quickest start for any player in the modern era, and though he's come down to Earth since then, the nine goals in five games right out of the gate still garners a mention.
Jakub Voracek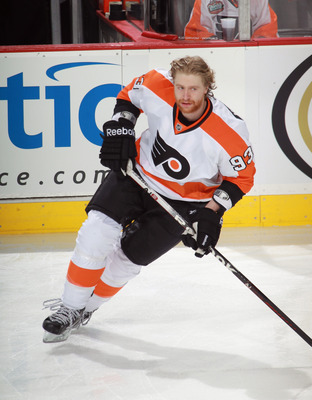 Bruce Bennett/Getty Images
Where did Jakub Voracek come from all of a sudden?
In February he's been channeling his inner Jaromir Jagr, and has ripped off 19 points in 13 games. The NHL saw fit to name him as the NHL's First Star for last week's performance of 11 points through four games played.
In that span he posted his first four-point game and his first hat trick. It's a good week to be Voracek and the Philadelphia Flyers.
The Chicago Blackhawks... All of Them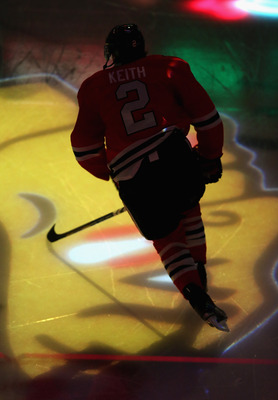 Jonathan Daniel/Getty Images
If you've been reading through this looking for Patrick Kane, Jonathan Toews, Corey Crawford, Ray Emery and the like then you've found them.
All of them.
You don't pick up points in 19 straight (25 straight if you go back to last season) without everyone on a team playing their A-games every single night. Everyone is doing everything right for this wonderfully constructed team, and I'm starting to wonder...
Are the Chicago Blackhawks going to lose in regulation at all this season?
Honorable Mentions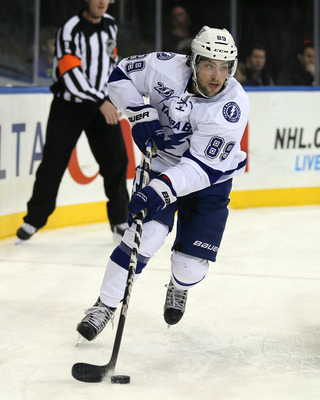 Elsa/Getty Images
Cory Conacher—Scored a point in five of his first six, went pointless for six and is currently on a five-game point streak.
Chris Kunitz, Evgeni Malkin and James Neal—All three of these Pittsburgh Penguins forwards are among the top-20 scorers in the NHL right now. Combined with Sidney Crosby, the Four Horsemen of the Pens-pocalypse have been terrifying thus far.
Mike Ribeiro—There haven't been many bright spots for the Washington Capitals this season, who are obviously tanking to get their hands on Seth Jones. Ribeiro has been better than advertised, and has been among the most consistent Caps.
Daniel Sedin—Mostly so no one yells at me.
Keep Reading