Videos of Coaches Losing Their Minds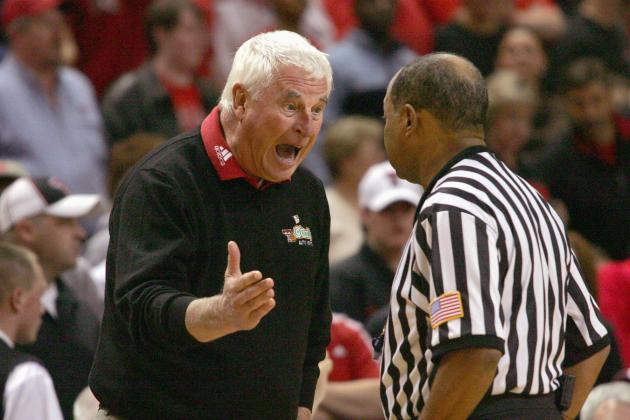 Ronald Martinez/Getty Images

They're the captain of the vessel and the marshal of their troops.
Coaches are the anchor of athletic programs—steady, resolute and able to steer their players through whatever murky, rough waters they might find themselves in as a team.
But they're still human beings.
Head coaches aren't exempt from the knee-jerk emotions players and fans experience while watching sports, and sometimes they just can't reign it in when their temper flares.
The following are some of the most amazing coach meltdowns we've seen in sports. They involve everything from snarky quips to roof-shaking fury, and they're not about to talk this out the nice way.
Begin Slideshow

»
Crowning Moment: The soaring falsetto high note creeping into Jim Mora's voice on "offs!"
Coors Light might have brought it to the masses in recent years, but Jim Mora's incredulous "Playoff" explosion was an instant classic when it occurred in 2001.
Mora might have won 125 games during his career as an NFL coach, but it's mighty difficult for people to remember that when you're pumping out lines like this to the media.
Also, it's worthy noting that Mora coached the New Orleans Saints before being hired on with the Colts. And it was there when he—a grown man—said "diddly poo."
Crowning Moment: Take your pick, there about ten of them. My personal favorite is the "Makes me wants to puke" mic drop at the end.
Whether or not Mike Gundy truly meant his words, the Oklahoma State coach's 2008 postgame rant had enough sonic force to rip a car door off its hinges.
It was one of those ridiculous moments in sports where the incident itself stands larger than the individual who perpetrated it. And it's glorious.
Crowning Moment: Guy with the vertical striped shirt halfheartedly trying to stop the rumble.
There's only two ways about it—you either love John Calipari, or you want to choke him out in a room full of cameras.
John Chaney became the ladder of these two in 1994, when the Temple head coach charged into Calipari's press conference (then coach for the University of Massachusetts) and got within two feet of Falcon punching Cal through a wall.
Chaney stated he was upset with Calipari's treatment of the referees after the end of a triple-overtime game (that he had won), and wanted to settle the beef right then and there.
Crowning Moment: *Telephone throw*/ "Put that in your ****ing pipe and smoke it."
The water. The recording equipment. The telephone.
Nothing is safe when Mount McRae finally blows.
After a 5-3 loss to the Detroit Tigers, Kansas City Royals Hal manager was tired of answering clown questions, bro.
And when a particularly sensitive inquiry about, the man just raged—throwing anything and everything that wasn't nailed down across the room.
One unfortunate reporter was struck in the face by one of the thrown objects (probably a tape recorder), and at 57-second mark you can see him walk past the cameraman bleeding visibly.
C'mon, Hal. You're better than that.
Crowning Moment: "And we let 'em off the hook!"/ "...thanks coach..."
After dropping a 20-point lead and losing to the Chicago Bears in 2006, former Arizona Cardinals head coach Dennis Green was a wee bit disappointed
Green's huffing and podium slapping was comically blusterous, and the reporter awkwardly thanking the coach as he stormed out of the room made for a priceless cherry on top of this coaching meltdown soufflé.
Crowning Moment: "Hello?"
The Herm does not mince words.
The Herm does not care what you think.
And least of all, the Herm does not quit.
Crowning Moment: "They got every stinkin' offensive rebound and we didn't get one of them!"
Kevin Borseth crashed the podium harder during his interview than the Lady Wolverines hit the glass during a 2008 game against the Wisconsin Badgers.
Crowning Moment: Hand swipe at ground follow by textbook temper tantrum.
Jim Harbaugh's reaction to a questionable call at this year's NFC Championship game truly broke the mold for abject childish behavior from a head coach.
Look on the bright side, Niners fans—he exhibited a youthful zeal for the game, and completely avoided being sent into timeout.
Warning: Video contains strong language.
Few coaches can pull off the whole "I would rather eat rug marbles than talk to the press" posture with the same exquisite apathy as Jim Boeheim.
That being said, the Syracuse head coach blew a microchip in 2006 when one of the university's student newspapers printed a story calling 'Cuse guard Gerry McNamara "overrated."
Boeheim's fury comes out of nowhere–starting with a slow boil before frothing out of control. It wasn't the first time (or the last) that Boeheim showered the press with some choice words, however.
Crowning Moment: The sky-high hat kick at the 38-second mark that sends the crowd into hysterics.
The hat throw. The dust kicking on the ump's shoes. Kicking his own hat.
There simply isn't one thing that this Lou Piniella meltdown doesn't have going for it.
Crowning Moment: The staredown from the 13-second to 16-second mark.
After a tough loss to unranked UConn earlier this month, Jim Boeheim was in no mood to speak to ESPN reporter Andy Katz.
The tense moment was evidently rooted in an earlier incident involving a hostile interview Katz sprung on the Syracuse head coach in 2010.
Sure, Boeheim doesn't lose his marbles in this one, but the situation very easily could've headed south had Katz decided to get into it with the Syracuse head coach.
Crowning Moment: Tossing of the Holy Hand Grenade.
If you haven't seen Phil Wellman's incredible "meltdownapalooza" before, well, I don't know what to tell you.
It's difficult to fully describe all the shades of crazy Wellman illustrates in this amazing meltdown, but I'll say this—if the Double-A manager's intention was to garner publicity for his team, he succeeded with flying colors.
Crowning Moment: "And that's it!"
It was short, to the point and wading in expletives.
John McLaren's rant showed just how frustrating it was to be associated with the Seattle Mariners franchise in 2008.
McLaren's rant also begs the question: If this is what he was saying to the media about the team's problems, what kind of milk-curdling language was he dropping in the clubhouse?
Crowning Moment: The Zeus-like way Playfair climbs atop the bench in order to rain hot splinters on the ice.
Not one to let a bad call lie, former Abbotsford Heat coach Jim Playfair decided to to express his disagreement with an official's decision by breaking several hockey sticks during a 2010 game against the Hamilton Bulldogs.
Also notice the players sitting feet away from the splintering wood who have obviously seen this kind of behavior before.
Crowning Moment: Knight standing with his hands on his hips after throwing the chair, a "This is my kingdom, you have no jurisdiction here" look on his face.
Simple. Elegant. Iconic.
Bobby Knight's legendary chair throw was a level of protest no one had ever seen before from a coach in a game of Divison I basketball, and we'll probably never see anything like it again.
And that makes me kind of sad.
Crowning Moment: Allen Crabbe immediately hopping back into the game as if nothing had even happened.
Some say it was too much. Others think it was no big deal.
Regardless of your opinion, Cal coach Mike Montgomery got very into the game—and his "motivational" shoving of guard Allen Crabbe raised eyebrows of fans and members of the media around the nation.
Crowning Moment: "OooWAAHWW!!"
I can't find much on this video, or who this soccer coach is, but I do know one thing—the sound that escapes that man's mouth at the seven-second mark is primal and amazing.
The two morons chuckling about it afterward, however...
Not as amazing.
Crowning Moment: Is obvious, but don't overlook the brief bench tug-of-war Ftorek has with the assistant coach before slinging the bench on the ice.
Former New Jersey Devils coach Robbie Ftorek upped the ante on Bob Knight's chair throw by lobbing a very heavy, very wooden bench on the ice after disagreeing with a referee's call.
Crowning Moment: "Lets go have a beer, Doc.
Warning: Video is filled with pervasive language.
Have you ever seen such an amazing meltdown in such high quality video before?
South Georgia Peanuts manager Wally Backman went full "Rampage" after an an exchange at the plate ended in an ejection for the batter.
Crowning Moment: "They put his picture up there, and the F-ers boo him! ...F-ers..."
In what might be the most underrated coaching rant ever, former Minnesota Vikings head coach Jerry Burns lost his melon in 1988 and went on a expletive-laden tear defending offensive coordinator Bob Schnelker after a loss.
Burns doesn't give a single flying hell throughout the four minute spiel, and seems to be enjoying himself thoroughly for every second of it.
And while the Vikings might've lost the game, Burns won the postgame presser. Forever.