Rating the Tottenham Players Against West Ham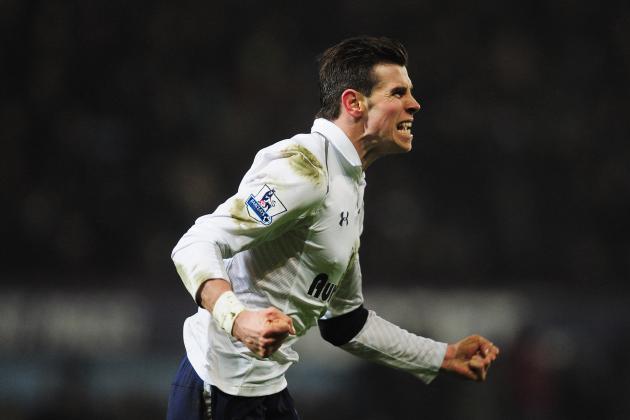 Jamie McDonald/Getty Images

With another three points in hand, Tottenham's bid for a top-four finish continues its 2013 push, and Andre Villas-Boas' men will now have European football within their sights.
With that in mind, such a feat would undoubtedly not have been possible were it not for the scoring exploits of a certain Welsh Wizard, as Gareth Bale was once again on hand to save the day for Spurs.
However, Tottenham's 3-2 triumph over West Ham was owed to more than just the one player, and here we'll consider just how each individual coped with the challenge at Upton Park, ranked with a mark out of 10.
Begin Slideshow

»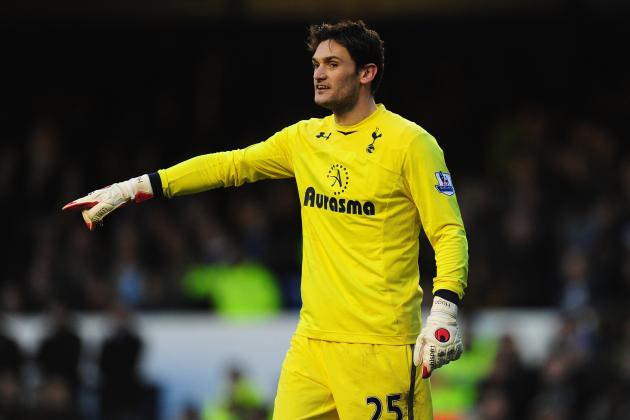 Stu Forster/Getty Images

Continuing his development as a Premier League stopper, Hugo Lloris showed just how he's making the Tottenham No.1 shirt his own with a confident display against West Ham.
Although there was little the Frenchman could do to prevent Andy Carroll's penalty equaliser, Lloris pulled off several good saves in the first half, including efforts from Mohamed Diame and a very testing effort courtesy of Matt Jarvis.
Quick to come off of his own line, the former Lyon 'keeper was constantly secure when claiming aerial balls and proved just as equal to West Ham's forays forward in the second period.
More a fault of his defence, there was again little Lloris could do to prevent Joe Cole's finish that initially put the hosts 2-1 ahead.
Rating: 7.5/10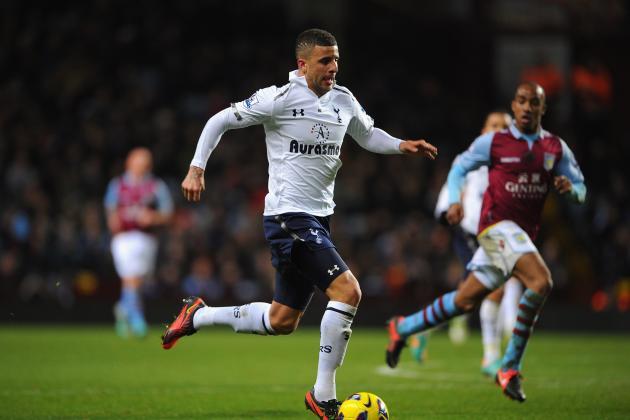 Michael Regan/Getty Images

With an in-form Matt Jarvis testing his flank, Kyle Walker was certainly kept busy in his trip to Upton Park and was, at times, left looking several steps off the pace in truth.
While he might give ample support to the likes of Aaron Lennon and Gareth Bale ahead of him, the young Englishman still leaves a little to be desired at the back, a recurring shortcoming for some modern full-backs.
At times, Walker did magnificently in covering for his absent centre-backs, getting in several last-ditch blocks to take the pressure off Lloris.
However, Joey O'Brien had a relatively easy time in restricting Walker from his usual service going forward, resulting in a pretty quiet game for the latter.
Rating: 7/10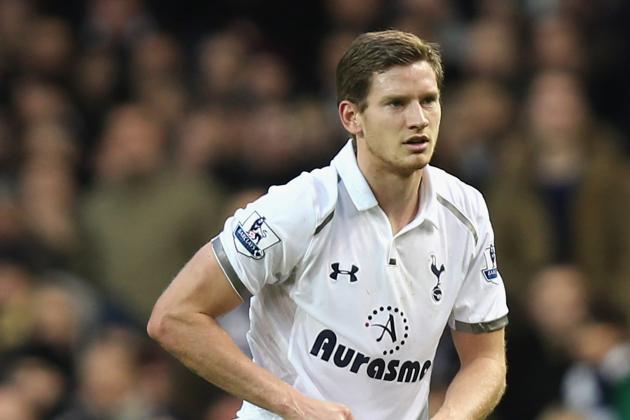 Bryn Lennon/Getty Images

Once again playing from left-back, Jan Vertonghen showed just how versatile he has the potential to be with another safe performance out wide.
That being said, Tottenham will require more than safety if they're to maintain their course for a top-four finish, and Vertonghen didn't really do much to go above and beyond in his duties.
The Belgian international was faced with challenges from Joe Cole and Guy Demel, letting the duo have a little too much input as far as Andre Villas-Boas will be concerned and falling short of the pace at times.
The most evident of these mishaps will assuredly be the mistimed offside trap Vertonghen attempted to play against Cole, resulting in the goal that put West Ham into the lead for the first time.
In addition, Vertonghen did little in attack and just didn't provide Bale and Lennon with the same ammunition they might have received had it been Benoit Assou-Ekotto featuring in defence.
Rating: 6/10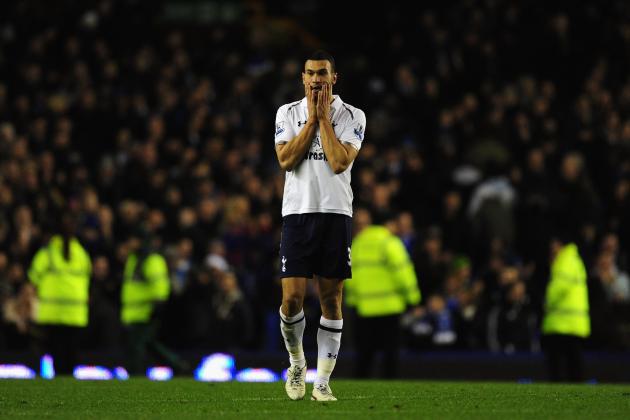 Stu Forster/Getty Images

The more Steven Caulker features in the Tottenham first team, the more confident he seems to appear after first proving himself during a loan spell with Swansea City last season.
The Englishman was unfortunate not to score on the night, using his huge frame to find space within the West Ham area only for Jussi Jaaskelainen to reject him on three separate occasions.
Functioning well alongside Michael Dawson, Caulker appears to be giving AVB somewhat of a conundrum in central defence, as he continues his development as one of the division's aspiring centre-backs.
However, Caulker must accept some of the blame for letting his man go unmarked at times and welcoming West Ham pressure as a result.
Rating: 7/10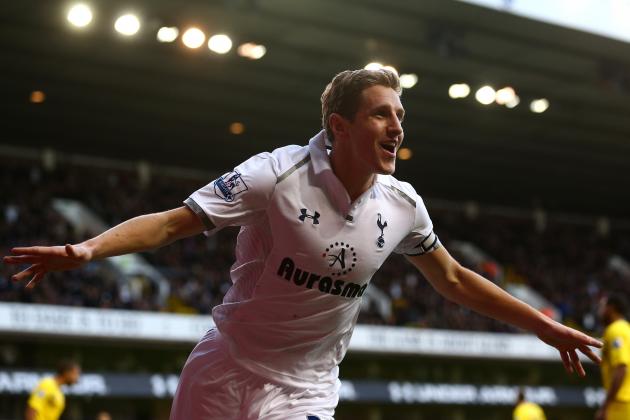 Clive Rose/Getty Images

Having found himself struggling to find game time at the start of the season, the result against West Ham was just another example of the value that Michael Dawson still holds as a stalwart of the North London club.
While Steven Caulker might have the legs to get around the park a little more, Dawson's positioning and experience at centre-back allowed him to track the movement of Andy Carroll and provide the Hammers striker with a tough test both aerially and otherwise.
The 29-year-old was calm, assured and did well to slow play down well from the back when needed, setting the tone for any counterattacking or more gradual buildup play.
Rating: 7.5/10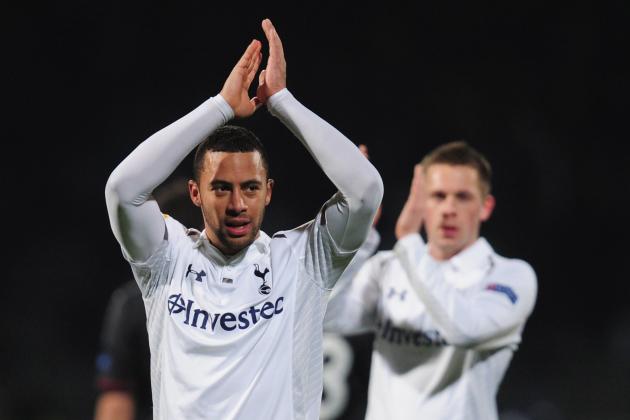 Jamie McDonald/Getty Images

With Scott Parker anchoring the midfield, Moussa Dembele was permitted to roam slightly more free in East London, feeding the likes of Lennon, Bale and Adebayor with some exquisite supply at times.
Dembele's ability to adapt in terms of position is a huge asset for Villas-Boas to utilise, and the player's vision when going forward was, at times, in full flow once more against West Ham.
The Belgian midfielder has really established himself as one of the most rounded and consistent playmakers in the English top flight and was unfortunate not have more of a say against Sam Allardyce's men, coming off for Tommy Carroll 15 minutes from time.
Rating: 7/10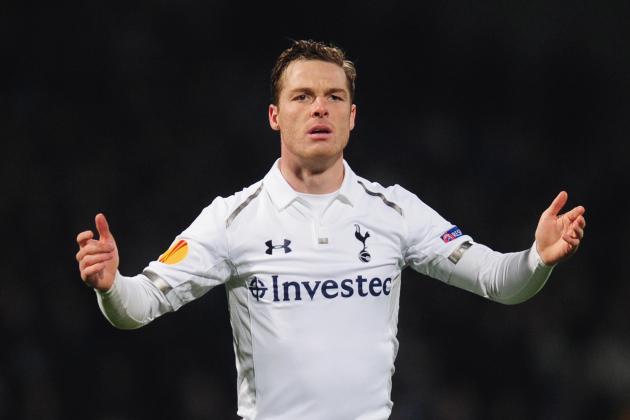 Jamie McDonald/Getty Images

The man handed the brunt of the responsibility in containing the West Ham midfield, Scott Parker was largely reliable at Upton Park save for several slips.
One might argue that the defensive midfielder connected with the ball, but Parker's lunge on Andy Carroll was far too aggressive a challenge to be made inside his own area, and the Englishman was correctly punished by referee Howard Webb.
Despite his mistake, Parker remained a constant option in the Spurs midfield and was regularly on hand to clear up matters when it got a little scrappy for the visitors.
However, Parker's lack of flair is something that holds him back and perhaps puts an unnecessary burden on Moussa Dembele to provide that extra bit of ammunition going forward.
Rating: 6/10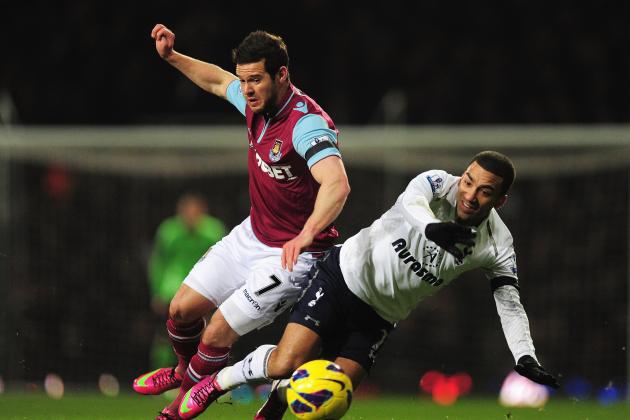 Jamie McDonald/Getty Images

Switching between left and right flanks, Aaron Lennon actually had one of his quieter evenings as the West Ham full-backs found some fortune against one of the Premier League's most threatening wing partnerships.
The Spurs speedster struggled to string together much in terms of attacking opportunities, either for himself or for his teammates.
Of course, that isn't to say that the 25-year-old wasn't his usually giddy self when in possession, but he failed to do a great deal with the ball and was unnoticeable for decent chunks.
Rating: 6/10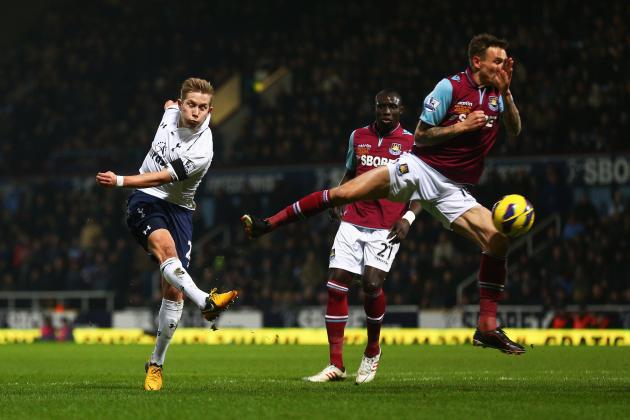 Clive Rose/Getty Images

Having only moved to the English top flight, Lewis Holtby showed that he is indeed still settling into life in the Premier League with a sometimes shaky showing at Upton Park.
The former Schalke midfielder played primarily behind frontman Emmanuel Adebayor but was outclassed in his own position at times, as Gareth Bale stepped in to do what was needed.
While a lot might be said for effort, Holtby was almost too eager to make something happen against the Hammers at times and the pressure seemed to tell, as the German international could only finish with a pass completion rate of 79 percent.
Rating: 6/10
Clive Rose/Getty Images

Undoubtedly the brightest light for Tottenham on the night, Gareth Bale unsurprisingly pitched in with another Man of the Match display, single-handedly proving the difference between victory and collapse.
The Welshman's first substantial contribution came in the 13th minute where, faced with a wall of claret and blue on the edge of the West Ham box, Bale managed to find a glimmer of space before firing hard and low past Jussi Jaaskelainen.
Anytime the attacker got near the ball, Upton Park seemed to hold its breath in anticipation, and that sense of expectation was rewarded once more in the final minute of normal time when Jussi Jaaskelainen could only watch as Bale fired into his top corner from 35 yards out.
A recurring quality to create something out of nothing is something Bale seems to possess like many other world-class athletes, shown in spades against West Ham.
Rating: 9.5/10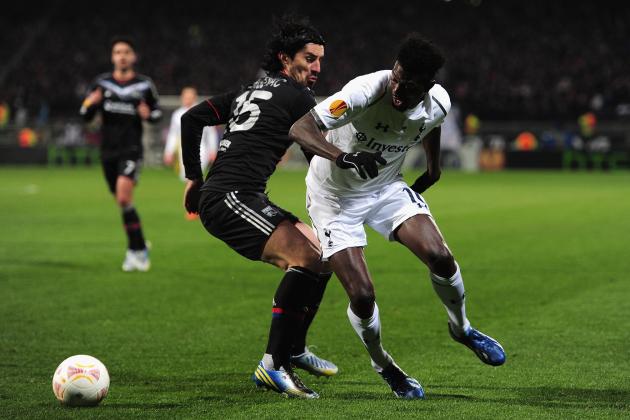 Jamie McDonald/Getty Images

Adebayor led the Tottenham line well at times, but the Spurs focus on midfield strength sometimes left the Togolese international left in the shadows somewhat, forced to play a support role more than anything else.
For large periods of the encounter, Adebayor found himself simply jostling with James Collins and Winston Reid for aerial possession, doing well to finish with 67 percent of all aerial duels won on the evening.
However, scoring goals is ultimately what a striker is there to do, and not only did the 28-year-old pose little as an attacking threat, Adebayor wasted what good chances were presented to him.
Rating: 6.5/10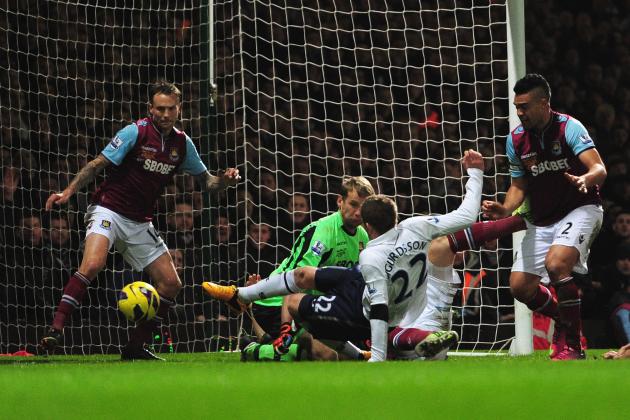 Jamie McDonald/Getty Images

Gylfi Sigurdsson
Super-sub of the night, Gylfi Sigurdsson came on early in the second half only to equalise for his side 20 minutes later, setting the ball in motion for an encouraging comeback win.
The Icelandic international scored what was his first Premier League goal as a Tottenham player, and while it may have been scrappy to look at, you can bet he'll appreciate it to break what was becoming a disappointing drought.
Rating: 7.5/10
Tommy Carroll
Despite being just 20 years old, Tommy Carroll didn't look far out of place in his 15-minute cameo against the Hammers, finishing with a 100 percent pass completion rate to his name.
The youngster may not have offered the same creative presence as Moussa Dembele, the man he was replacing, but Carroll was assured in his duties, doing the easy thing when needed.
Rating: 6.5/10
Jake Livermore
Having come on for Scott Parker with just two minute left in normal time, Livermore offered a fresh pair of legs helping out the defence but didn't really have the time to exert a huge influence on the game.
Rating: 6/10