5 Ways the New York Giants Can Rebuild Their Secondary This Offseason
Rob Carr/Getty Images
The Giants struggled to stop opposing wide receivers in 2012
Porous secondary play was the Achilles' heel for the New York Giants in 2012. An exposed and undermanned defensive backs unit caused New York to miss the playoffs, one year removed from a championship campaign.
The Giants' 27th-ranked pass defense is a glaring blemish on an otherwise solid team.
Whether it was injury, play-calling or an overall decline in ability, several players failed to consistently make an impact for Perry Fewell's defense.
There's often nowhere to hide when you are victimized as a defensive back. A player's shortcomings in the secondary are readily viewable and criticized by spectators.
Substandard production will initiate changes in personnel this offseason.
Free agency and the draft offer up an opportunity for the Giants to vastly improve a defense which yielded 4,068 yards through the air last year. Here are five ways New York can work toward shoring up a maligned secondary.
Begin Slideshow

»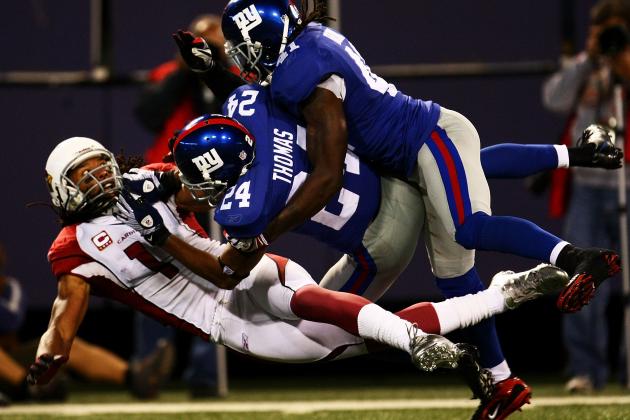 Chris McGrath/Getty Images
Terrell Thomas could be moved to safety next year.
Terrell Thomas is admirably in the midst of a third comeback from ACL injury. Although he once was a fine cornerback in the NFL, the time has come for Thomas to explore other options on the field.
Without the ability to explode out of cuts and stick to a receiver, a cornerback cannot thrive. Terrell Thomas may suffer this fate if he attempts to play his natural position once again.
Thomas may not possess the same tools he once had, but some of his strengths could be an impetus for a positional change.
In his last two seasons on the field, Terrell Thomas recorded a total of 186 tackles as a cornerback. During that span in 2009 and 2010, the former USC star was superb in run support and a sound open-field tackler.
The ability to make an impact in the box and prevent big plays through the air is often the recipe for success for a safety.
Deploying a three safety look with Antrel Rolle, Kenny Phillips and Thomas provides a solid blend of aggressiveness and fundamentals for the back end of a defense. The Giants experienced success with this package in years past (most notably Deon Grant paired with Rolle and Phillips) and could look to do so once again in 2013.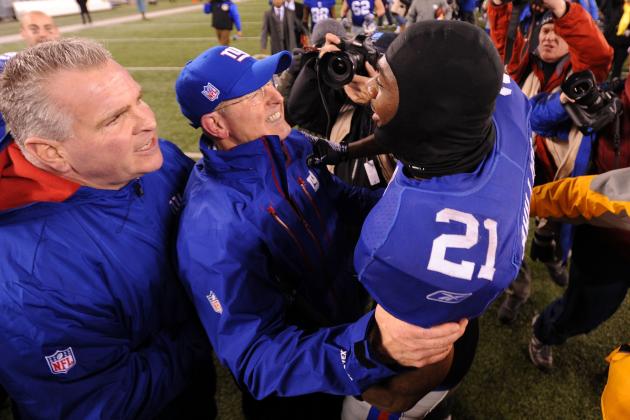 Michael Heiman/Getty Images
Kenny Phillips is an integral part of New York's defense.
Contrary to what you may have heard, numbers do lie on occasion. For instance, the eight interceptions and two fumble recoveries by Stevie Brown in 2012 could signify he is a strong replacement for free agent Kenny Phillips.
The impressive numbers Brown recorded at safety do not tell the whole story, however.
When Kenny Phillips went down with an MCL injury last year, the Giants essentially lost their defensive anchor. Phillips has long afforded the defense a litany of luxuries since he was drafted in the first round of the 2008 NFL draft.
Rolle has benefited tremendously from playing alongside his fellow Miami Hurricane.
While Phillips plays the role of the one-man safety net for the secondary, Rolle is able to aggressively make tackles in the box. In fact, each player is talented enough to reverse roles seamlessly.
Phillips' absence in 2012 gave way to an overly aggressive and undisciplined style of play. Credit Stevie Brown for being in the right place at the right time en route to forcing 10 turnovers, but ultimately New York struggled due to inadequate safety help on a consistent basis.
The Giants could be in for another historically inept season on defense if they are unable to retain Phillips' services.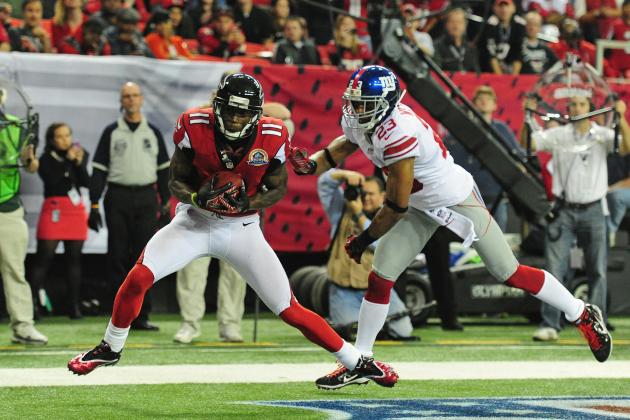 Scott Cunningham/Getty Images
Corey Webster was abused by Atlanta and Baltimore late in 2012.
In an era when most athletes endure a fall from grace due to alleged PED use or off-field misconduct, it seems as though the struggles faced by Corey Webster in 2012 are an ancient phenomenon.
Webster's drastic on-field decline in 2012 is not strikingly alarming. The Giants' lack of depth behind him is, however.
As the focal point of the secondary shifts to Prince Amukamara and Jayron Hosley, a prudent maneuver would be to bring Corey Webster back.
The $7 million base salary owed to Webster in 2013 will likely not be honored. The Giants cannot allow a contract of this nature to preclude them from signing other players, especially when you factor in their salary-cap issues.
Despite his ineptitude in coverage and toxic contract, Webster will be an asset to New York next season.
Within the confines of a new deal, there is very little downfall to retaining this mercurial cornerback. Webster could conceivably prove that 2012 was an aberration. Utilizing him as a No. 2 corner augments the chances of this happening.
The overall lack of depth and experience at the cornerback position makes it difficult to imagine the Giants will release a starter this offseason. If Jerry Reese can mitigate his salary-cap hit, expect Webster to return with a renewed focus and motivation in 2013.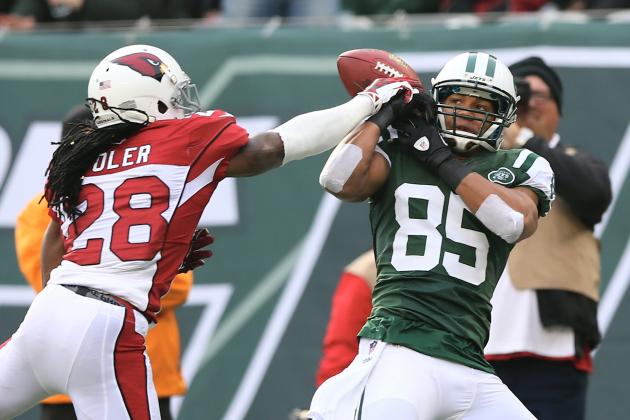 Elsa/Getty Images
Greg Toler should be a free-agent target for several teams this offseason.
A shortage of top-tier cornerbacks in this year's free-agent class is somewhat surprising. Fortunately for the Giants, there are a bevy of No. 2 cornerbacks available this spring.
Questions linger over Hosley's long-term outlook as a starting corner, along with Webster's ability to rebound in 2013.
Any concerns will be quelled if the Giants are able to sign a veteran cornerback during free agency.
If the Giants are serious about shoring up their secondary, they should consider signing Greg Toler of the Arizona Cardinals. Toler's abilities as a cornerback and special teams player make him extremely desirable.
A physical cornerback with above-average coverage skills is something the Giants lack. Toler fills a need for New York and should come with a modest price tag.
While several teams will be courting and overpaying Aqib Talib, Brent Grimes and Dominique Rodgers-Cromartie this offseason, the Giants should focus their attention on affordable veterans with underrated skill sets.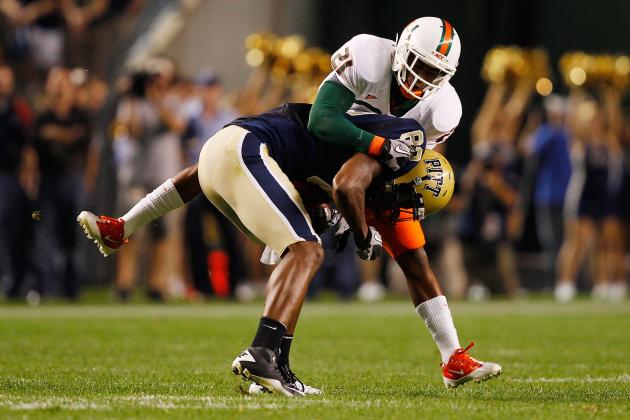 Jared Wickerham/Getty Images
Brandon McGee has the tools to be successful in the NFL.
The NFL draft could ultimately round out the Giants' depth chart at cornerback. The past two seasons have seen Hosley and Amukamara get selected in the third and first round, respectively.
This year, Jerry Reese should wait until late in the draft to select a corner.
Using a late-round pick on Miami's Brandon McGee will help New York on multiple fronts.
For the past few years, players such as Michael Coe and Justin Tryon have been solid on special teams, yet incompetent as cornerbacks. Brandon McGee will immediately fix this problem.
While McGee contributes on special teams as a rookie, he will also continue to hone his skills as a defensive back. That essentially gives the Giants tremendous depth in their secondary.
McGee was a highly touted prospect out of high school but failed to live up to expectations during his time in Coral Gables.
Combining McGee's untapped talent with sound coaching will lead to a huge payoff for New York following April's draft.