Michigan State Basketball: 10 Lessons Learned in Loss to Ohio State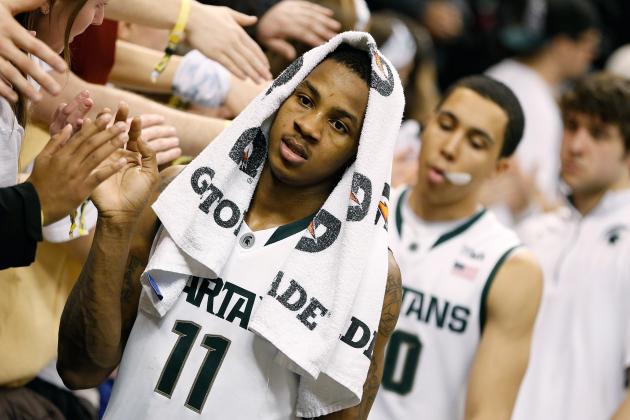 Gregory Shamus/Getty Images
Keith Appling hasn't been Keith Appling as of late.
Just two weeks ago, the Michigan State Spartans were being looked at as a legitimate national title contender.
However, after a 68-60 road loss Sunday to Ohio State and a 72-68 home setback this past Tuesday to Indiana, the now-No. 9-ranked Spartans (22-6, 11-4) are being viewed as a team that may be on a descending slope rather than an ascending incline.
Losing on the road in the Big Ten is inevitable—it goes with the territory in a league that has five programs ranked in the AP Top 25. But the Spartans lacked zeal and desire—their once-fiery spirit was apparently extinguished by a much hungrier Ohio State team, led by Aaron Craft's career-high 21 points.
What did we learn about the Spartans in their loss to the Buckeyes? Glad you asked, because here we go.
Begin Slideshow

»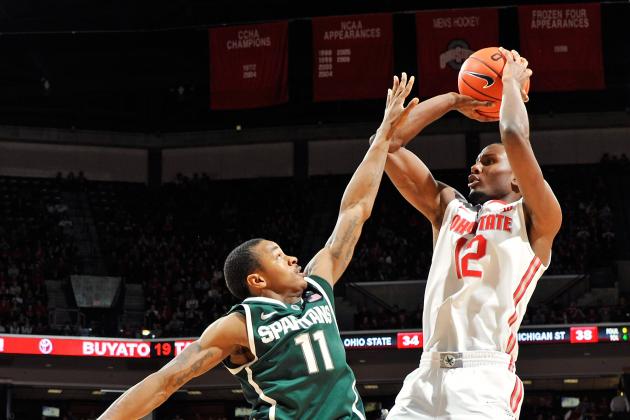 Jamie Sabau/Getty Images
Keith Appling had just three points Sunday in MSU's 68-60 loss to Ohio State.
Let's start by saying the talks of Keith Appling being overrated are completely absurd.
However, the Spartans' junior point guard hasn't been reliable when his team has needed him most. Appling's three-point showing Sunday against the Buckeyes was further proof of how he's sliding into dangerous territory.
At one point this season, Appling averaged 14 points per game. He's done well against ranked teams for the most part this year, but he's been a no-show when the Spartans need him to take control.
Foul trouble and turnovers have been part of the problem for Appling, but Michigan State can't fully rely on a player who's averaged four points per game in three important games, which also happened to be losses (nine total in two losses to Indiana, three Sunday in the loss to Ohio State).
If the Spartans are truly a legitimate title contender, Appling has to lead the way. Gary Harris and Adreian Payne can only do so much—they're complementing contributors for a team that absolutely needs Appling to take charge each and every time he's on the floor.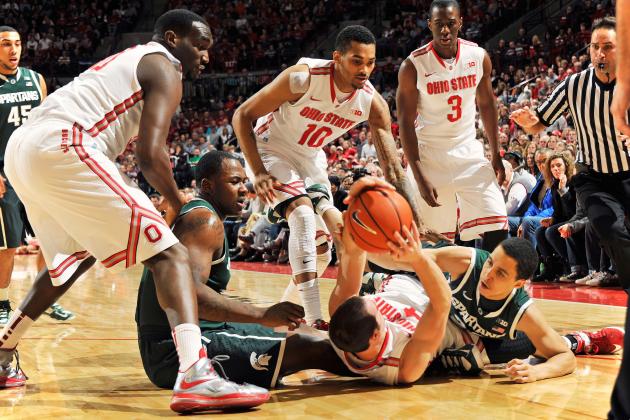 Jamie Sabau/Getty Images
Does this look familiar? Aaron Craft is always hitting the deck for the good of his team.
If there were a stat for hustle, Aaron Craft would lead the nation in it every season.
On his back, skidding on his knees across the hardwood, Craft is always in pursuit of the basketball.
On top of scoring a career-high 21 points Sunday against Michigan State, Craft shut down Spartans star Keith Appling with relentless defense and energy.
By game's end, Craft's face matched the scarlet ribbons on his Buckeyes jersey—if that's not a sign of 100 percent hustle, nothing is.
Ohio State won because Craft refused to give in, willing his teammates to a much-needed victory in front of the Buckeyes faithful at Value City Arena.
Name a player who hustles harder than Craft...the clock is ticking.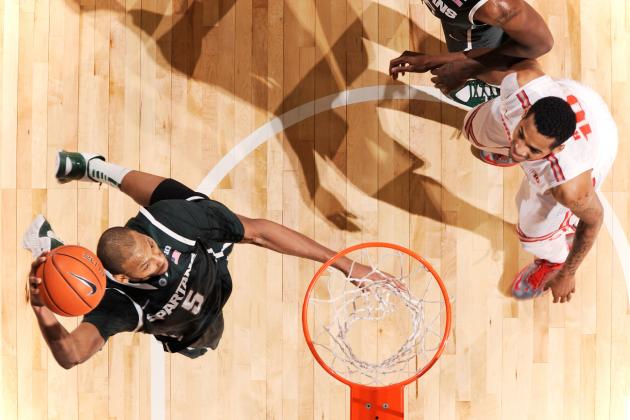 Jamie Sabau/Getty Images
Adreian is bringing...wait for it...the pain.
Adreian Payne had six rebounds in the first six minutes of Sunday's loss to Ohio State.
He finished with a career-high 15 rebounds and scored 12 points.
The junior averages 9.9 points per game, but he's scored at least 11 in five of his past six games (17 being the six-game-stretch high against Indiana).
Most Spartans followers feel that Payne should stick around for his senior year. However, his NBA stock keeps rising with every deer-like leap for a rebound and Stretch Armstrong-like block.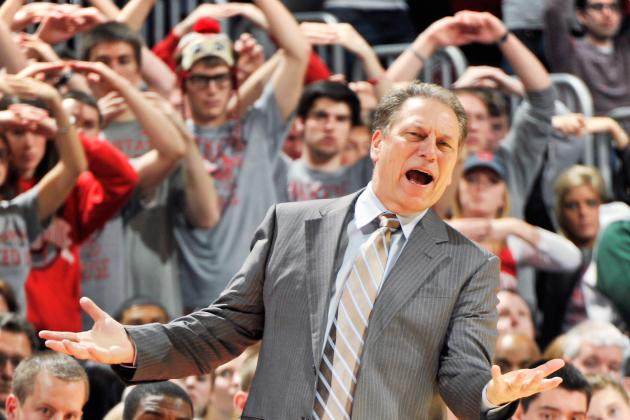 Jamie Sabau/Getty Images
It's difficult to tell if Tom Izzo is pleased or angry, but let's say he's angry in this photo.
Michigan State has to be much more focused come March 3—the date of its rematch with Michigan. An effort like Sunday's offering won't get it done at the Crisler Center. Three losses in a row would cast serious doubt on the Spartans come time to dance.
It's not time to abandon ship—the loyal Spartans fans would never do that—but it is time to reevaluate Michigan State. Were the past two games a hiccup that needed to happen before entering March Madness, or were they a sign of a discombobulated Spartans team that's on the verge of self destruction?
At this point, either assessment wouldn't be out of question. Always dangerous in the tournament, Michigan State needs to channel the Michigan State from two weeks ago to really cast fear into opponents.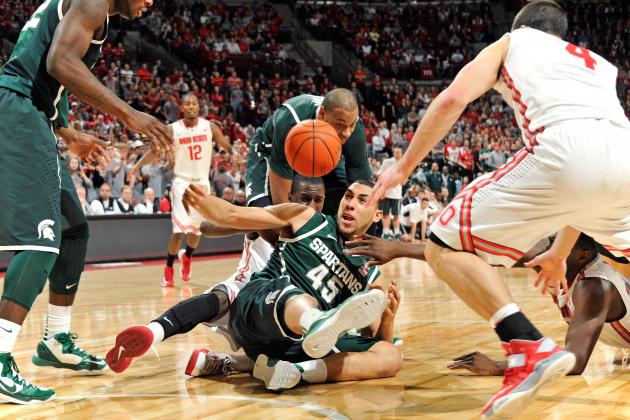 Jamie Sabau/Getty Images
Denzel Valentine has set the bar high. That's why it's not out of line to be critical of him at this point.
Travis Trice is the closest thing Michigan State has to an Aaron Craft-like player; he's the Spartans' top hustle man, and he'll be needed come the Big Dance.
However, he wasn't sharp Sunday. Trice looked lost. He forced shots. He wasn't swift in transition. He wasn't Travis Trice—but that's to be expected for a player coming off a stretch of concussion-like symptoms.
Denzel Valentine is the Spartans' top bench contributor. He gave Tom Izzo a solid 23 minutes Sunday and scored seven points on 3-of-6 shooting. But the frosh played more like a first-year player after showing immense promise and veteran-like tendencies over the past few contests.
A reluctant approach is Valentine's Achilles' heel. He'll develop into something great for the Spartans, but he has to adopt a one-game-at-a-time philosophy from this point forward. Valentine can make the difficult seem routine, but he can also make the routine much more difficult than it needs to be.
In the first half of Sunday's loss, the Spartans owned the paint—their first eight points came from the painted area, and one of those baskets was assisted.
Derrick Nix and Adreian Payne were energized. Michigan State looked like it was going to take the Buckeyes by the shoestrings and drag them through the lane the entire evening.
And then it all stopped.
Michigan State started shooting from the outside—which produced a bit of success—and almost entirely gave up on attacking the paint. The Spartans returned to the inside game later in the second half but by then it was too late—Ohio State had a nine-point lead and the Spartans were gassed.
The Spartans' success has been predicated on physical play underneath the rim. Don't be mistaken, Gary Harris can deliver and lead an effective long-range game, but Michigan State is driven by attacking the basket.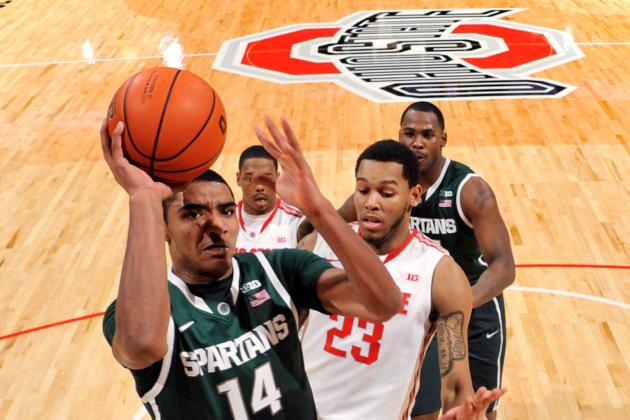 Jamie Sabau/Getty Images
Gary Harris is a man-child. But he needs help from his teammates.
It's not a bad thing to have a superstar freshman setting the tone, but Gary Harris needs a break.
Great players thrive under pressure, and Harris will have plenty more time to shine in the face of adversity during his time in East Lansing. But a true national title contender typically has a veteran guard (cough, Keith Appling) leading the way—a seasoned presence at guard is a trademark of teams that go deep into March.
Now, that's not to say that Harris isn't up for the challenge or incapable of playing beyond his years, because he's clearly shown that he's no ordinary frosh.
But Michigan State's upperclassmen need to assist the youngster. The last thing Tom Izzo needs is for Harris to get burned out as a first-year player. That probably won't happen, but that doesn't negate the fact that Harris needs others to create offense.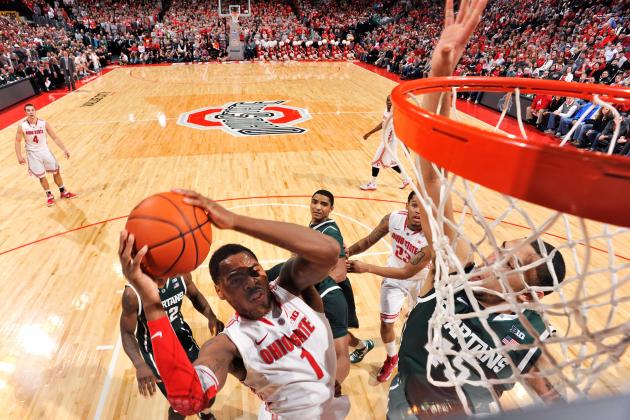 Jamie Sabau/Getty Images
Deshaun Thomas can be a quiet monster. He was loud and clear in the second half vs. MSU.
Deshaun Thomas scored a game-high 28 points in Ohio State's 59-56 loss earlier this season to Michigan State.
He finished with 14 on Sunday, about six less than his game average, but that didn't matter much. Thomas' tenacity on the boards and momentum-shifting scoring in the second half were exactly what the Buckeyes needed to defeat the then-No. 4 Spartans.
Come tournament time, Thomas should be looked at as a player who can take matters into his own hands whenever he chooses to do so.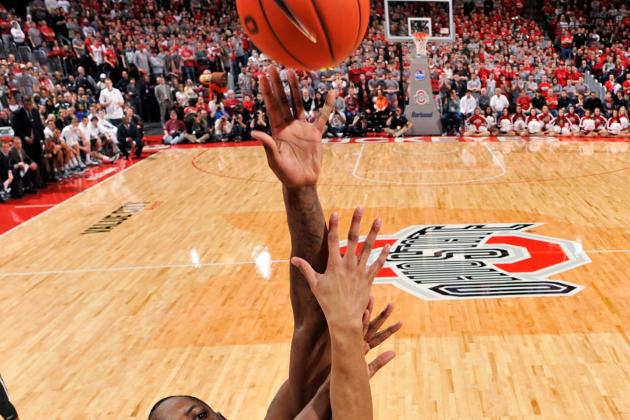 Jamie Sabau/Getty Images
Derrick Nix's left hand is Michigan State's right-hand man.
As mentioned in a previous slide, veterans are vital to a team's success in March.
Michigan State may not have the luxury of a savvy, seasoned guard leading the offense, but it can likely count on center Derrick Nix to provide fireworks the rest of the way.
If Michigan State is to reach the Final Four, it'll be because Nix picked up the slack left by lackluster play from Keith Appling.
Nix, a 6'9", 270-pound menace, averages 9.5 points per game. However, he's scored at least 12 in five of his past six games, highlighted by 14 against Michigan and 17 against Purdue.
Although he put up just eight in a 72-68 loss to Indiana this past Tuesday, Nix looks primed to make his final season of college ball something special. Through all the ups and downs, Nix appears to want "it" more than anyone on the Spartans roster.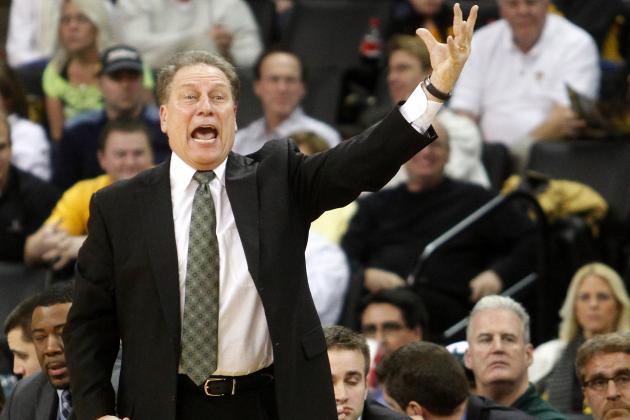 Matthew Holst/Getty Images
This guy coaches Michigan State. Tom..something or another...
The following is the standard argument Spartans fans can use when their team's resolve is questioned: Tom Izzo is the coach, so relax.
Six Final Fours, a national championship...yeah, we get it. Izzo is one of the top coaches in the land and he—simply put—gets the job done best when he's expected to do less.
If that's not enough of a security blanket for Spartans fans to curl under, maybe a green and white Snuggie would do the trick.
Follow Bleacher Report's Michigan State Spartans basketball writer Adam Biggers on Twitter @AdamBiggers81