2013 Combine: 5 Tight Ends for the Packers to Replace Finley With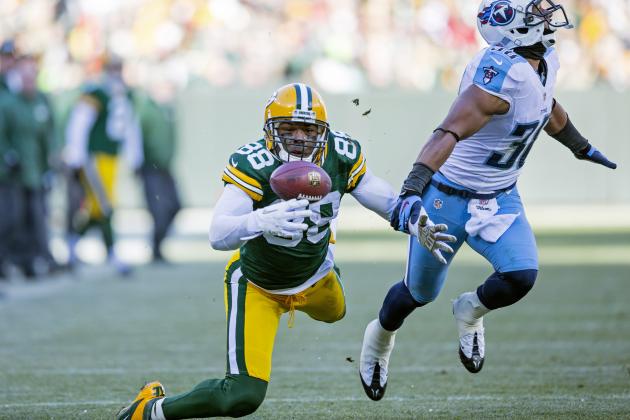 Tom Lynn/Getty Images

As the combine grinds on, the Packers have some internal things to figure out, along with all the new prospects they're watching.
In an article about potential players for the Packers to use their franchise tag on, Bob McGinn of the Journal-Sentinel says the team is pretty split on what to do.
To me though, it seems like the writing is on the wall and Jermichael Finley will eventually—either this year or next—be leaving the team.
At 26, they might find themselves in perfect position for one of the top tight ends and if not, there are some interesting athletes a little later in the draft.
Let's take a look at a few of both.
**All observations are from watching combine feed unless otherwise specified**
Begin Slideshow

»
There are probably two things you've heard about Ertz after this past weekend.
First, he has a connection to San Francisco 49ers coach Jim Harbaugh from the coach's tenure there.
Second, he has the shortest arms among tight ends.
The way you hear it told, you'd think he had tiny Tyrannosaurus Rex arms and couldn't reach high things in pantries.
Yet he was able to overcome this horrible malady to have an incredibly productive senior year. Seriously, it's a miracle with arms this short. They should have a telethon.
His freakishly short arms also didn't prevent him from doing a great job with the catch and drop gauntlet drill, where he did a good job catching on the run.
In fact his hands looked exceptional in all the receiving drills he did.
This is a strong, versatile tight end who can catch the ball in traffic, go out on a more traditional long route and—hang onto your hats, Packers fans—is a willing and effective blocker (though he does need to improve a bit in this area).
Don't let anyone sell you that his arm length is a huge detriment. It didn't stop him at Stanford, it didn't stop him on Saturday and it won't stop him at the NFL level.
Everyone expected Eifert to have a great day when he hit Lucas Oil Field and he didn't disappoint.
He was among the top performers in all the measured drills—such as the 40, broad jump and vertical leap—and he showed great explosion, burst, speed and strength at every station.
Eifert also shone in positional drills and clearly placed himself as the top tight end in the draft, as of the Combine.
Of course, the tape will do the ultimate deciding, but Eifert certainly put on a show in Indianapolis.
So much so that he might not be there when the Packers pick at 26.
McDonald showed off his vertical skills with a solid 40 time (4.69) and some good overall positional work.
Even with a solid combine, McDonald is probably still a late third-round prospect. He's mostly got the skills as a slot receiver but is a tad limited beyond that. He's a very willing blocker who will take on more than would-be tackler on the same play and shows a very high motor.
On the other hand, he may be willing as a blocker, but he's not quite strong enough to hold his blocks against some bigger and stronger players. That's something which can be improved upon, but it will take time.
McDonald has also had some issues with ball security which need to be addressed.
Still, he has the athleticism to be a useful addition to the Packers' offense.
Escobar didn't hit the measurable drills out of the park (he really struggled in the 40, running a pretty ugly 4.84), but really did a great job in the receiving drills.
The San Diego State tight end showed off great hands, snatching the ball out of the air and not always allowing it to come to his body. He also ran crisp routes, showed solid body control and run smoothly once he has the ball in his hands.
Concerns about his blocking ability and occasionally stopping his feet on first contact are concerns, and the slow 40 time will add to them.
However, while speed can't be taught, blocking can and Escobar brings plenty of receiving talent to the table—enough for the Packers to look for him in the third round.
Legitimate prospect or workout warrior?
After scoring the best 40 time (4.50 seconds), highest vertical leap (37.5 inches), furthest broad jump (125 inches) and placing in the top five for the 3 Cone (7.08 seconds), it's safe to wonder which is the truth.
Gragg was widely ranked as a mid-round prospect by analysts based on game film, and more than likely his scores at the combine will send scouts back for another look.
We knew he had good straight-line speed (though his 40 was still surprising) and ran very smoothly, but needs to work on his routes and the ones he can run are a bit limited.
Durability and mental consistency are both things we can't see at the combine, so teams will have to grill him in interviews and more than likely no matter how well he did in shorts and a T-shirt, it will limit how high he can go.
Still he has a lot to work with and is definitely worth a look on the third day of the draft, somewhere in the fourth or fifth rounds.
**All observations are from watching combine feed unless otherwise specified**
Check out the B/R NFC North Facebook page. Like us and keep up with everything NFC North on Bleacher Report! Follow me on Twitter at @andrew_garda.