Grading Every 2014 Recruiting Class Position vs. 2013's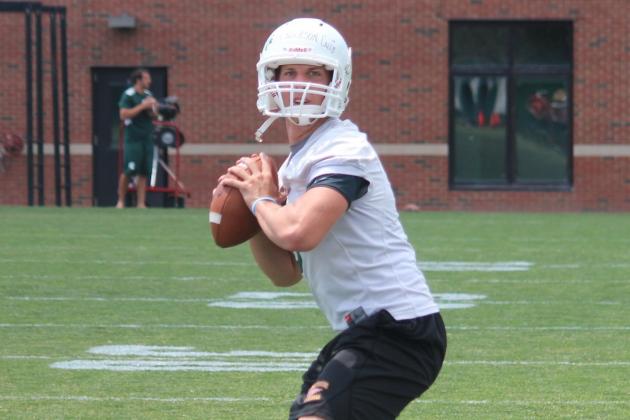 247Sports
Comparing players, teams, classes, coaches and other things to one another is something that we tend to do quite frequently in sports. Arguments are always being made as to who is better and how things compare to one another.
Of course comparisons of this 2014 class vs. the 2013 class will be made all year long. So I'm here to continue to compare how this year's crop of recruits stack up against last year's. However, I'm going to take this chance to compare how each position of both year's compare vs. one another.
To make things more interesting, I'm going to give the 2014 class a grade when compared to the 2013 class at each respective position. How does this year's QB class compare and grade out vs. the 2013 signal-caller prospects? Is the 2013 DT class better than this year's interior defensive lineman group?
How about we figure all of that out and more, right now!
Begin Slideshow

»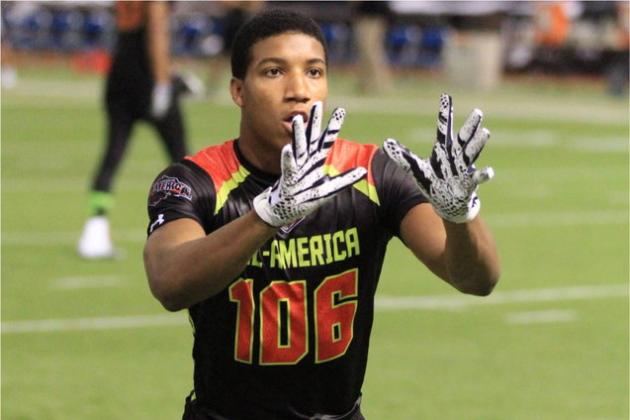 247Sports
2013 Top Prospects: Vernon Hargreaves III, Eli Apple, Jalen Ramsey and Mackensie Alexander
2014 Top Prospects: Marlon Humphrey, Tony Brown, Jalen Tabor and Adoree' Jackson
It's early, but I feel that this 2014 class is a notch below the 2013 class in regards to the CB prospects. Humphrey and Brown are both elite CBs, but Hargreaves and Apple were special.
Time could change my thoughts on this, but I just feel that Hargreaves and Apple are two of the better cornerbacks to come out in quite some time.
2014 Comparison Grade: B-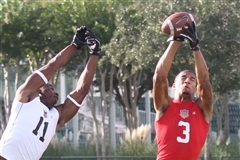 247Sports
2013 Top Prospects: Su'a Cravens, Antonio Conner, Vonn Bell, Max Redfield and Leon McQuay III
2014 Top Prospects: Quin Blanding, Edward Paris, Laurence Jones
The 2013 class of safeties was an excellent group, but the 2014 group isn't in of the same caliber. Right now, I believe Blanding is the only 2014 safety prospect who could be in the 2013 crop and still be highly ranked.
2014 Comparison Grade: D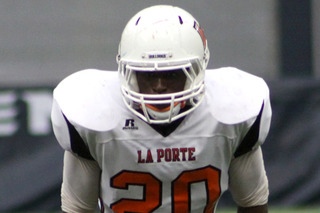 247Sports
2013 Top Prospects: Reuben Foster, Matthew Thomas and Jaylon Smith
2014 Top Prospects: Raekwon McMillan, Hoza Scott, Clifton Garrett and Dante Booker
I like the depth of the 2014 class a bit better than the 2013 class at the LB position. Sure, Foster, Thomas and Smith are all headliner-type prospects and they are probably better than all of the 2014 prospects. Yet, this 2014 class has a tad bit more "good" LB recruits than what 2013 brought.
2014 Comparison Grade: A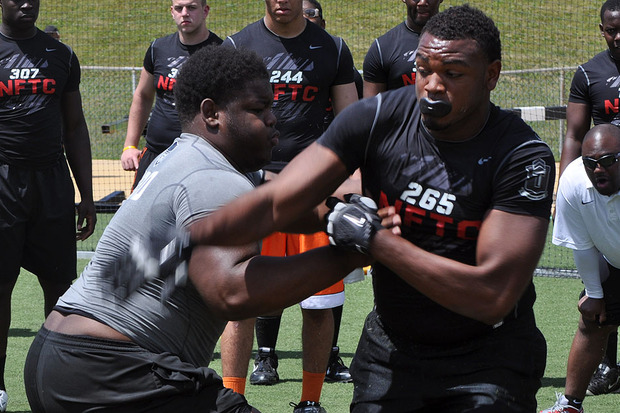 247Sports
2013 Top Prospects: Montravius Adams, Kenny Bigelow, Eddie Vanderdoes and Joey Bosa
2014 Top Prospects: Andrew Brown, Travonte Valentine, Khairi Clark and Elisha Shaw
This one may be a push because I like both classes. I tend to lean to the 2013 DT class a bit more, mainly due to being more familiar with them at this stage. Brown, from the 2014 class, could have been among the top guys in the 2013 class.
2014 Comparison Grade: B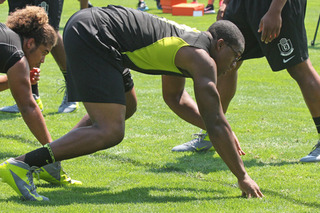 247Sports
2013 Top Prospects: Robert Nkemdiche, Carl Lawson, Jonathan Allen, Tim Williams & Chris Jones
2014 Top Prospects: Da'Shawn Hand, Lorenzo Carter, Gerald Willis, Malik McDowell
Hand and Carter would be able to hang with the 2013 class well. Some even grade Hand out higher as a prospect than Nkemdiche. At the end of the day, I think there's more dynamic prospects in the 2013 class right now. I'm going to watch the 2014 DE group closely.
2014 Comparison Grade: B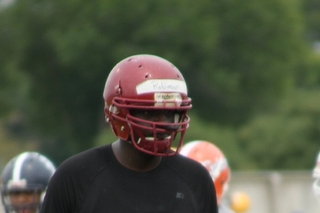 247Sports
2013 Top Prospects: Laremy Tunsil, Darius James and Dorian Johnson
2014 Top Prospects: Cameron Robinson, Damian Prince, KC McDermott and Braden Smith
Maybe I was spoiled by the outstanding OL class in 2012, because I didn't find the OL class as a whole 2013 all too overly impressive. I give the nod to the 2014 class, as all four listed top prospects appear to be among the top 40 players in the nation this year.
2014 Comparison Grade: A-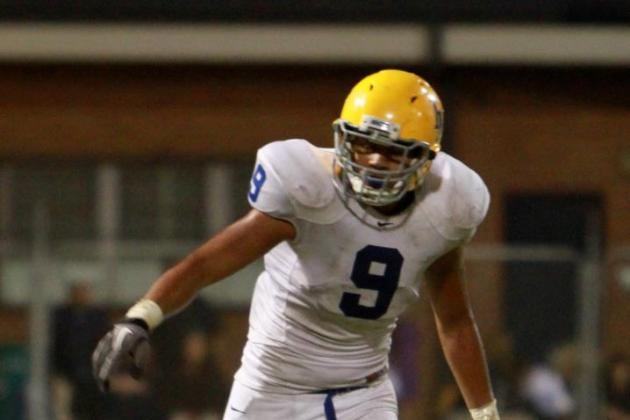 247Sports
2013 Top Prospects: Adam Breneman, O.J. Howard, Josh McNeil and Hunter Henry
2014 Top Prospect: Tyler Luatua
The 2013 class wins this matchup in a breeze. Luatua is a good prospect and I could see him being ranked high in 2013, but the 2014 prospect is the best of a subpar TE class right now. More prospects could emerge in 2014 at the TE prospect, but as of now, the 2013 class is far superior.
2014 Comparison Grade: D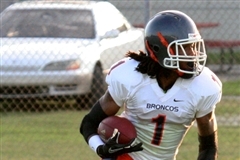 247Sports
2013 Top Prospects: Laquon Treadwell, Ricky Seals-Jones, Robert Foster and Robbie Rhodes
2014 Top Prospects: Ermon Lane, KD Cannon, Trevion Thompson, Michiah Quick and Drake Harris
The WR class of the 2014 group probably lacks an elite prospect but may rival the 2013 class in depth. Lane is the best of the bunch in 2014, but he's not Treadwell, Seals-Jones or Foster. Yet the 2014 may have the same, if not more, good prospects overall.
2014 Comparison Grade: B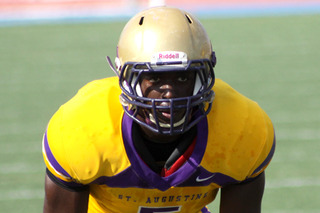 247Sports
2013 Top Prospects: Kelvin Taylor, Derrick Henry, Greg Bryant, Derrick Green, Ty Isaac & Alvin Kamara
2014 Top Prospects: Leonard Fournette, Sony Michel, Nathan Starks, Dalvin Cook, Joseph Yearby and Jalen Hurd
Fournette is probably the only 2014 RB who could argue that he'd be the best RB in the 2013 class. Michel is right there too. I think the 2013 RB class is a bit better, but there are some very good RB prospects in the 2014 class.
2014 Comparison Grade: B+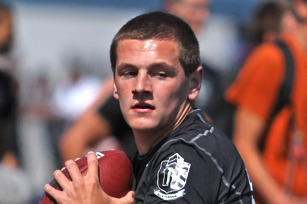 247Sports
2013 Top Prospects: Max Browne, Christian Hackenberg, Shane Morris, Ryan Burns & Cooper Bateman
2014 Top Prospects: Keller Chryst, Will Grier, Caleb Henderson and DeShaun Watson
I'll take the 2013 class in regards to the QB position. All of the guys listed as top prospects for 2013 are guys I feel could be top caliber starters. Chryst seems to be the best QB for 2014 and I don't think he's better than any of the 2013 guys.
2014 Comparison Grade: C
Edwin Weathersby is the College Football Recruiting Analyst for Bleacher Report. He has worked in scouting/player personnel departments for three professional football teams, including the New York Giants, Cleveland Browns and the Las Vegas Gladiators of the Arena League. He spent a year evaluating prep prospects and writing specific recruiting and scouting content articles for Student Sports Football (formerly ESPN Rise-HS). A syndicated scout and writer, he's also contributed to WeAreSC.com, GatorBait.net and Diamonds in the Rough Inc., a College Football and NFL Draft magazine.