5 Things to Watch for on Feb. 25 Edition of WWE Monday Night Raw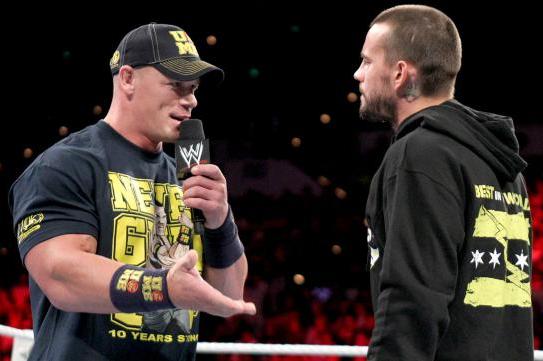 Photo courtesy of WWE.com
WrestleMania XXIX draws closer with each passing week, and that makes every episode of Raw even more important than the previous one. Despite the fact that there are only six weeks of build left, there is still a lot of uncertainty when it comes to the 'Mania card. Some of those questions figure to be answered Monday night, however.
As was announced last week, John Cena will put his WrestleMania title shot on the line against CM Punk on Monday. Punk lost his WWE Championship rematch to The Rock at Elimination Chamber, but he goaded Cena into a match.
There is still some uncertainty with regards to whether The Rock and Cena will have a singles match or if Punk might insert himself into the match somehow, but we're likely to find out sooner rather than later.
The Rock is not advertised to appear, but there are plenty of other factors that should hold the fans' interest.
The Undertaker returning seems like a definite possibility after he showed up at a house show on Saturday night. Also, Vince McMahon and Paul Heyman are supposed to engage in a fight, Jack Swagger will probably make his first live appearance since his arrest and Brad Maddox will assume the position of assistant to the managing supervisor.
Here are the top five things that you should be on the lookout for while watching Monday night's vital edition of Raw from Dallas.
Begin Slideshow

»
When John Cena won the Royal Rumble, he announced that he would challenge the WWE Champion at WrestleMania. The Rock retained the title against CM Punk at Elimination Chamber, so it seemed as though The Rock vs. Cena II was in place.
Punk wasn't willing to let his pursuit of the WWE Championship go by the wayside, though, as he succeeded in getting one last chance to win back the title that he held for 434 days.
Cena announced last week that he would willingly defend his title match against Punk on this week's show, so the company's top two stars are likely to close Raw on Monday.
At this point, there are really only two options, and I'm sure that most fans realize that. Cena will either win the match, which would make the WrestleMania main event Cena vs. The Rock for the second consecutive year, or an indecisive finish will occur, which would then throw Punk into the mix and make the WWE Championship bout a triple threat.
Based on the fact that The Undertaker returned at a house show in Waco, Texas, on Saturday night, I have to believe that Cena will win the match and set up yet another huge main event with The Rock.
The only option for Punk, aside from making the WWE Championship match a triple threat, is a match with The Undertaker. I firmly believe that will come to fruition. There is no doubt that adding Punk to the main event would make things a bit more interesting, but in terms of having the most depth possible on the card, he is better off facing Taker.
We won't know for sure how the WrestleMania picture will play out until Monday night's show has come and gone. But most signs are pointing away from the triple threat at this point. Whatever the case, Cena and Punk almost always deliver in the ring, so their match Monday night promises to be a can't-miss affair for every WWE fan.
Fans have eagerly anticipated the return of The Undertaker for months. While there are obviously no guarantees in the WWE, it looks like he may very well appear Monday night.
There has been a lot of speculation about The Undertaker's WrestleMania status, with several dirt sheets reporting that a mixture of injuries and contract issues could lead to him sitting this year out. I never bought into the hype from supposed unnamed sources, and it looks like there was never any credibility to support them.
The Undertaker shocked the wrestling world when he made an unannounced return at a house show in Waco, Texas, on Saturday night. Taker teamed with Sheamus to take on Damien Sandow and Wade Barrett, and nobody is quite sure why. My best guess is that Taker wanted to get some work in prior to 'Mania, especially since he was close to home.
Also, the WWE wanted the fans to be aware of The Undertaker's return ahead of time so that this week's Raw would get strong ratings despite the absence of WWE Champion The Rock.
With Raw taking place in Dallas Monday night, I have to believe that The Undertaker will be there. It would make little sense for Taker to compete at a house show and then not follow it up with a televised appearance, so the odds are absolutely in favor of Taker coming back.
The most logical time for him to do so would be near the end of Raw, either during the John Cena vs. CM Punk match or after it. Punk is the only obvious WrestleMania opponent for The Undertaker at the moment, and the best way to start their feud would be for Taker to confront him.
Perhaps The Undertaker is no longer in elite shape, and there is no doubt that he is getting up there in age, but he proves on a yearly basis that he is perfectly capable of stealing the show on the grandest stage of them all. Punk is a guy who has great matches with nearly everyone he faces as well, so it's clear to me that the allure of facing a top star like Punk was simply too much to keep The Undertaker away from the WWE.
Despite the fact that Vince McMahon is still on crutches following hip surgery, last week, he challenged Paul Heyman to a fight on this week's edition of Raw. McMahon attempted to fire Heyman several weeks ago, but he was interrupted by Brock Lesnar and endured an F-5.
Even though Heyman was obviously somewhat responsible for McMahon's injury, Vince accepted Heyman's proposed stipulation for the CM Punk vs. The Rock match at Elimination Chamber. Vince accepted under the condition that Heyman would do anything in return, however.
It appears as though that "anything" will be a tussle with Mr. McMahon. Even though Vince was clearly not in condition to fight when he made the announcement, Heyman looked petrified. That is a major clue that we won't be seeing a straight-up fight.
In my estimation, things will start off with Vince beating down Heyman with his crutches, but Lesnar will come out to make the save. Before he can F-5 McMahon a second time, however, Triple H will make his first on-screen appearance since the Slammy Awards to save his father-in-law.
When Lesnar beat Triple H at SummerSlam, it was made to look like Triple H had retired. The fact of the matter is that he never said that he was retiring, and most fans realized that it was simply a ploy for him to take an extended break.
Lesnar also "retired" from the WWE the next night, as he claimed that he had already accomplished everything possible. There were obviously some unresolved issues between Triple H and Lesnar, and the door was left open for them to resume their rivalry down the line.
Neither man has anything else on the table for WrestleMania, and the fact that both of their closest allies are feuding makes it blatantly obvious that they will do battle at the show of shows. Monday's episode of Raw figures to set things in motion, with the match being announced at some point in the coming weeks.
While not every fan is excited to see a rematch, the WWE could certainly make things interesting by adding a stipulation such as Hell in a Cell.
Arguably the biggest news in wrestling last week involved Jack Swagger, as he was arrested for DUI and possession of marijuana, according to TMZ.com. Swagger was released from jail and there haven't really been any updates with regards to his WWE status.
Such a huge mistake would normally result in an immediate suspension, but that hasn't happened with Swagger. In fact, Swagger has been quite visible since the incident, and it is beginning to look like his discipline will be postponed until after WrestleMania—or perhaps there won't be any punishment at all.
The biggest reason for the indecision is likely the buzz that Swagger's character has created outside WWE circles. Along with manager Zeb Colter, Swagger has made quite an impression on political pundits. His xenophobic gimmick has been compared to conservatives and the Tea Party specifically.
Swagger and Colter have spoken out against immigration, which makes sense, as a feud and match with World Heavyweight Champion Alberto Del Rio is forthcoming. The WWE tailor-made Swagger's new character for Del Rio to feud with, and it has worked to perfection thus far.
Swagger and Colter even prompted conservative talk show host Glenn Beck to complain about what he perceives to be the WWE's depiction of the Tea Party. Despite that fact that neither Swagger nor Colter have bee branded by the WWE as Tea Partiers, many outside sources have made the connection due to paranoia, narcissism or both.
Whatever the case, Swagger and Colter have garnered the WWE mainstream attention, and I can't imagine that Vince McMahon wants to ruin it.
It can be argued that waiting to punish Swagger is hypocritical on the WWE's part, as it usually acts swiftly. But I can't blame the company in this instance. I'm admittedly a huge Swagger fan, but any impartial viewer can see that Swagger is one of the hottest things going in the WWE right now.
Perhaps Swagger needs to be taught a lesson by having his push taken away, but the real losers in that situation would be the fans. I truly believe that most fans want to see Swagger's heel character develop, so hopefully he will be on Raw Monday night and his storyline will proceed normally.
Brad Maddox has been out of the picture since being attacked by The Shield a few weeks back, but he made his triumphant return on Raw last week. Managing supervisor Vickie Guerrero revealed that Maddox had been named assistant to the managing supervisor by Vince McMahon.
This led to an entertaining exchange that saw Maddox refer to himself as assistant managing supervisor rather than assistant to the managing supervisor as Dwight Schrute and Michael Scott so often used to do on The Office.
Maddox also referred to himself and Vickie as "Brickie," which elicited laughs from some and groans from others.
There are definitely differing opinions when it comes to Maddox, but I really enjoy him and believe that he can be a star. His promos seem authentic, as he talks normally rather than trying to remember his lines. He is simply different than everyone else on the mic, and I view that as a positive whereas others may look at it negatively.
I'm just happy to see Maddox in a position where he'll be receiving more television time.
I respect Vickie for her ability to draw heat, and I do believe that she has done some good things for the WWE, but she's over-matched in her current role. She struggles to cut promos and messes up far too often.
I'm interested to see if Maddox is going to take some of the burden off of her shoulders. If he does, then I have no doubt that the overall quality of Raw will increase noticeably.
My guess is that he'll try to usurp control from Vickie over the coming weeks, which will likely lead to some entertaining segments. I'm still interested to see what Maddox can do as a superstar, as it was tough to judge him based off a bunch of squash matches. But his current role is good for now.
Maddox has a ton of charisma and a unique style that allows him to stand out. I'm hopeful that being assistant to the managing supervisors will afford him more opportunities to speak.
Follow @MikeChiari on Twitter and listen to him on Ring Rust Radio.