Reviewing the Bengals Biggest Scouting Combine Takeaways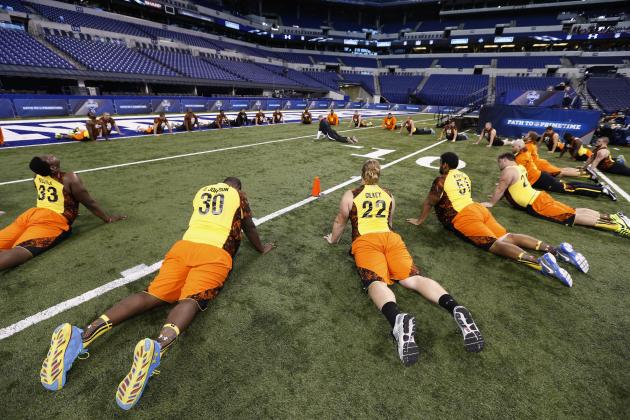 Joe Robbins/Getty Images

When the NFL Combine began Saturday morning in Indianapolis, every team had an idea of who to keep their eye on. As the measurements, sprints, jumps and throws have progressed, everyone's watch list has changed.
The Bengals' serious needs are at linebacker, safety and running back. They will almost certainly choose one of each of these positions with their first four picks; they could even double up on one position via the draft.
Saturday of the NFL Combine showcased the offensive linemen and tight ends. Sunday was for the offensive skills guys: quarterbacks, running backs and wide outs. Yesterday highlighted the defensive linemen and linebackers. And today we'll see the defensive backs.
Heading into the final day of the combine, here are five things the Bengals can take away from the workouts.
Begin Slideshow

»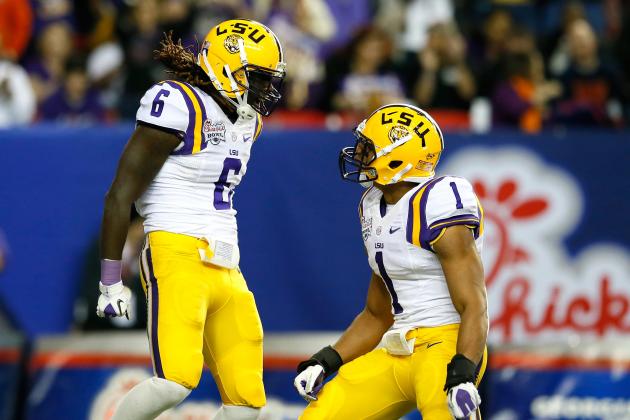 Kevin C. Cox/Getty Images

The last day of the Combine is for the safeties and corner backs and this year's class of safeties is one of the strongest classes in years. Highlighted by Kenny Vaccaro of Texas, several other names could contribute immediately at the safety position.
Many critics agree that the Bengals need to focus on drafting a safety however, Bengals defensive coordinator Mike Zimmer feels otherwise according to Bengals.com's Geoff Hobson. Zimmer likes his young talent in George Iloka and Robert Sands. He also has faith that Taylor Mays will find his way once better worked into defensive schemes.
Nate Clements and Chris Crocker both helped at the safety position in 2012, albeit, in less conventional ways. Clements converted from corner back while Crocker was signed after a few games from free agency. Both players will be free agents in 2013 and both players are likely to be replaced by younger talent if for no other reason than finances.
With Zimmer's apparent support of the Bengals' young, unproven safeties plus the depth of this year's safety class, the Bengals will leave the Combine comfortable with holding off on drafting a safety until the second or third round.
Some players worth watching today at safety are Eric Reid of LSU, John Cyprien of Florida International, Matt Elam of Florida and Bacarri Rambo of Georgia.
Having so many skilled safeties brings security to the many NFL teams seeking a deep protector. This security allows them to move that position lower on the priority list and comfortably focus on a running back or linebacker with the first pick.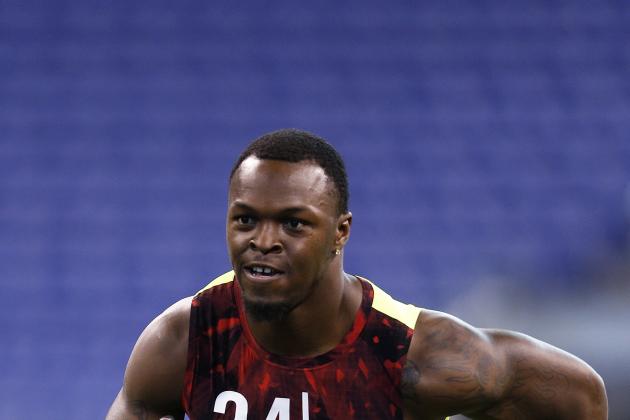 Joe Robbins/Getty Images

Earlier this week I weighed the pros and cons of what would happen if the Bengals took a safety, running back or linebacker with the first pick.
Since this year's running back class is weaker than years past and the safety class is so deep that teams can find talent in later rounds, it's understood now that the Bengals will take a linebacker with their first pick.
The conversation comes down to whether or not they should take a safety or a linebacker with the first pick. Given the depth of this year's linebacker class and the Bengals' need for linebackers (despite Marvin's declaration that Rey is a key cog to the team), it wouldn't surprise me if the Bengals drafted two linebackers in the first three rounds.
The discussion now transitions from determining which position to draft first, to deciding which linebacker to pick. A few linebackers with strong performances in Indianapolis are Khaseem Greene from Rutgers, Kevin Riddick from North Carolina, Sean Porter from Texas A&M and Etienne Sabino from Ohio State.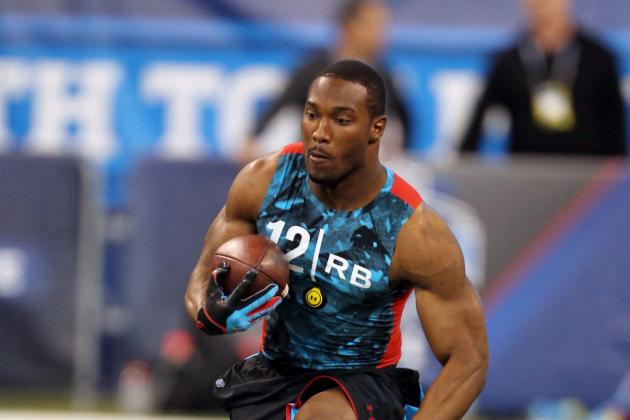 Brian Spurlock-USA TODAY Sports

Many analysts don't have a running back being drafted in the first round. A handful of them do. Regardless, most agree that Alabama's Eddie Lacy will probably be the first running back taken.
In the conversation with Lacy is North Carolina's Giovanni Bernard. The ACC Offensive Player of the Year has been mentioned in some conversations as a candidate to be the first running back to cross the stage.
The Bengals will spend their first pick on a linebacker however with their second pick, at 37, there's an outside chance that they'll have the opportunity to take the first running back.
After Bernard and Lacy, there's a slew of running backs with a very similar skill set, similar body types and similar Combine performance numbers.
In that group are Wisconsin's Montee Ball, Clemson's Andre Ellington, South Carolina's Marcus Lattimore, Auburn's Onterio McCalebb, Stanford's Stepfan Taylor, Oregon's Kenjon Barner and UCLA's Johnathan Franklin to name a few.
NFL.com's Mike Mayock listed his top five running backs before the Combine as Lacy, Ball, Ellington, Bernard, Lattimore. Neither Lacy nor Lattimore ran due to injuries however Ball, Ellington and Bernard did participate.
The Bengals could realistically take one of the aforementioned running backs with anywhere between their second and fourth picks.
Of all the running backs mentioned, McCalebb ran the fastest 40 with a 4.34, Barner had the most reps on the bench with twenty as well as the highest vertical with 35.5.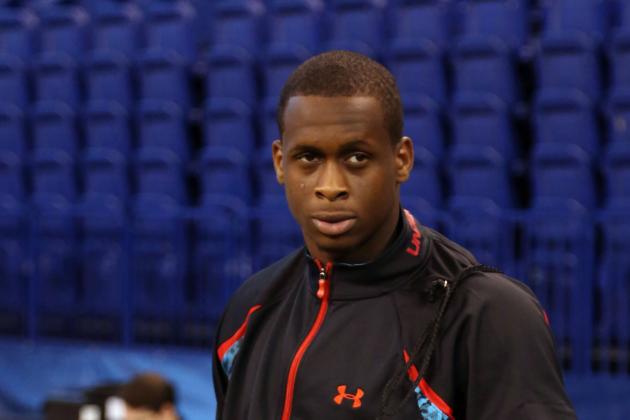 Brian Spurlock-USA TODAY Sports

According to Bengals.com, Marvin Lewis indicated that the only position out of question for this year's NFL Draft is starting quarterback. Andy Dalton's job is safe (even though Bengals officials met with West Virginia QB Geno Smith in Indianapolis). His insurance policy, more commonly known as a backup quarterback, is much more uncertain, however.
With QB Bruce Gradkowski approaching free agency, the Bengals are weighing their options on how to replace him. They could look for an experienced veteran to come in and mentor Dalton, or they could draft a quarterback in one of the late rounds.
QB performances in the Senior Bowl as well as the Combine were sub-par. There was a stretch on Sunday when four straight quarterbacks missed their receivers long during post-corner drills. That's not necessarily indicative of poor passing, often times it's timing that comes with familiarity. However, in this case, the quarterbacks just weren't that good.
The lack of depth in this year's quarterback class makes it much harder for the Bengals to wait until the later rounds to find a backup signal caller. This dilemma may force them to find one sooner. This obviously has ramifications throughout the draft.
Or they could take the safe route, sign someone like free agent quarterback Rex Grossman to a one-year deal and put this off for another season.
The backup quarterback position has gained importance for Bengals scouts this weekend in lieu of the combine performances. Follow this story line closely as it promises to be interesting.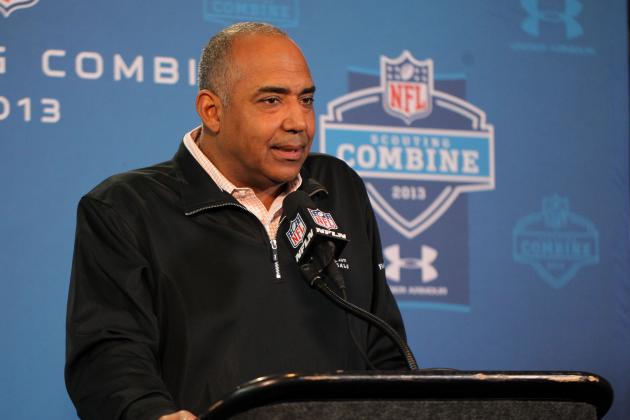 Brian Spurlock-USA TODAY Sports

Today is the last day of the Combine with the defensive backs finally taking the field. We've already established that the Bengals will, in all likelihood, draft a linebacker first. However, with which pick they choose to get a safety remains to be seen.
Who and when they make that selection depends partially on today's events. As of now the Bengals can draft a safety with their second pick, fifth pick of the second round, or they could wait until as late as the fourth round.
Many players have the opportunity to improve their draft stock but a select few, instead, have the pressure to maintain it. Bengals LB Vontaze Burfict knows all too well about dropping in draft stock.
Going into the final day of the Combine, many questions still remain unanswered and many rocks remain unturned. However, after today we'll know much more.