NBA's Top Plays and Sickest Dunks from Week of Feb. 18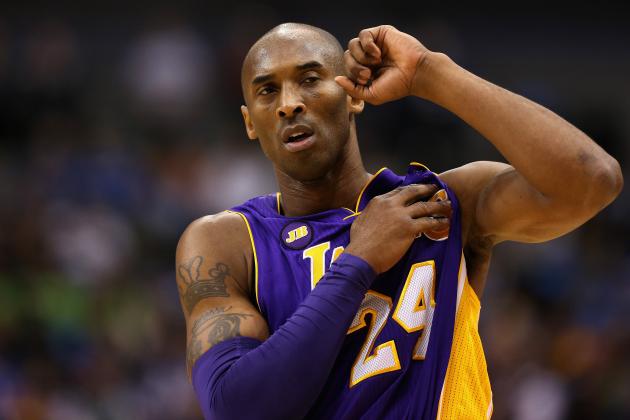 Ronald Martinez/Getty Images

With the 2013 NBA All-Star weekend in the rear-view and the trading deadline also behind us, it wouldn't be surprising to see the league suffer from a hangover following all that action.
Fortunately, there is still plenty of great stuff happening around the Association, and it seems that practically every night there's at least one mind-blowing highlight in each game.
Let's take a look at these incredible dunks, amazing passes, insane shots and more in this edition of our weekly NBA highlights.
Begin Slideshow

»
Play Info: Wednesday, Feb. 20. New York Knicks vs. Indiana Pacers
While the Knickerbockers were in the midst of being blown out by the Pacers, Iman Shumpert decided to make a memorable play happen.
The second-year star took a page out of "The Beautiful Game's" playbook and dished a soccer-style pass with his feet (after losing control of the ball) right to Steve Novak, culminating with a made three-point shot.
We doubt this was intentional, but it was certainly awesome.
Play Info: Saturday, Feb. 23. Utah Jazz vs. Los Angeles Clippers
Al Jefferson made a critical mistake in thinking that Blake Griffin could only dunk—perhaps he's been watching too many Kia commercials—and was punished for crowding the Clips superstar.
Griffin didn't even wind up throwing it down; instead, he blew by the Jazz big man and took it strong to the cup before getting whacked by Paul Millsap. He regained his composure—mid-flight—for an athletic layup and a foul shot.
Not too shabby.
Play Info: Thursday, Feb. 21. Miami Heat vs. Chicago Bulls
It feels like LeBron James gets all the credit in South Beach these days, but Dwyane Wade put himself back on the map against the Bulls.
The star guard took it right into the teeth of coach Tom Thibodeau's elite defense, blowing by Joakim Noah and Luol Deng with the help of a Chris Andersen (what a great signing) pick and an incredible spin.
Thibs called a timeout right after, likely to address the defensive breakdown (or straight-up embarrassment).
Play Info: Friday, Feb. 22. Dallas Mavericks vs. New Orleans Hornets
Vince Carter leapfrogged Gary Payton to claim the No. 28 spot on the NBA's all-time points scored list and then punctuated the performance with a game-winning three-point shot in the final seconds.
Considering Vinsanity has largely fallen off the map over the past few years and hasn't been much of a presence in the highlight reels, it's good to see him back on this list.
Play Info: Sunday, Feb. 24. Chicago Bulls vs. Oklahoma City Thunder
If you doubted that Russell Westbrook was one of the most athletic players in the league, just press the play button on the video above.
First, he gashed Chicago's defense (that seems to be a theme this week) for a huge slam in the second quarter, racing end to end for an easy score.
Then, in the third, the freakish athlete cut into the lane with a insane burst of speed and nearly leaped over Nate Robinson to finish the flush.
Play Info: Sunday, Feb. 24. Memphis Grizzlies vs. Brooklyn Nets
MarShon Brooks was subjected to numerous trade rumors around the deadline, and it's clear he didn't take kindly to them.
The young guard tried to prove himself with Joe Johnson out but wound up largely failing against the Griz in a loss (shooting 4-of-13 on his way to eight points). However, he impressed us with this move.
The self-oop is an unconventional way to get a bucket, and we're not mad at Brooks for having the guts to try it in traffic instead of on the break.
Play Info: Wednesday, Feb. 20. Oklahoma City Thunder vs. Houston Rockets
James Harden direly wanted to beat his former team at least once this year, and he finally managed to do it with a career high in points against the Thunder this past Wednesday.
Perhaps the most impressive three of those 46 points came at the tail end of the third quarter, when the bearded star lifted up and fired, somewhat contested, from the half-court line.
As you can probably guess, it went in and the crowd went wild, building momentum for a huge fourth quarter comeback.
Play Info: Sunday, Feb. 24. Cleveland Cavaliers vs. Miami Heat
Does a week go by without LeBron James and Dwyane Wade hooking up for a highlight play? Are these even that impressive anymore?
The answers are, respectively, no and yes.
This time, Wade took off running after a steal and spotted an unguarded King James racing through the paint. The guard flicked the rock from the elbow with a one-handed toss toward the basket and, of course, LBJ guided it through the basket and nearly hit his head on the backboard in the process.
It never gets old watching these guys team up for an oop.
Play Info: Wednesday, Feb. 20. Milwaukee Bucks vs. Brooklyn Nets
We may soon have to start calling Joe Johnson "Joe Cool" for the ice-in-his-veins performances in close games during the 2012-13 campaign.
The Brooklyn star knows how to finish strong, recently notching a huge three-pointer to send a game against Milwaukee to overtime, then finishing off the Bucks with a game-winning jumper in the extra period.
He's now 9-for-10 with a margin of three points or less in the final minute of games this year. That's just ridiculous and possibly more clutch than this next guy…
Play Info: Sunday, Feb. 24. Los Angeles Lakers vs. Dallas Mavericks
Mark Cuban has joined the list of people that Kobe Bryant has embarrassed for simply talking trash prior to a game.
The Black Mamba takes any perceived slight extremely personally, and it's no surprise that he came out not only looking to win but dominate after the Mavs owner suggested the Lakers should amnesty the elite shooting guard.
As expected, Bryant went off for 38 points, grabbed 12 rebounds and dished seven assists in 103-99 victory over Dallas.
To add insult to injury, Kobe fired off a tweet that said nothing but "Amnesty THAT" after the game.
Amnesty THAT

— Kobe Bryant (@kobebryant) February 24, 2013
When will people realize that provoking the Black Mamba isn't the wisest idea?