Miami Football: Position-by-Position Spring Practice Preview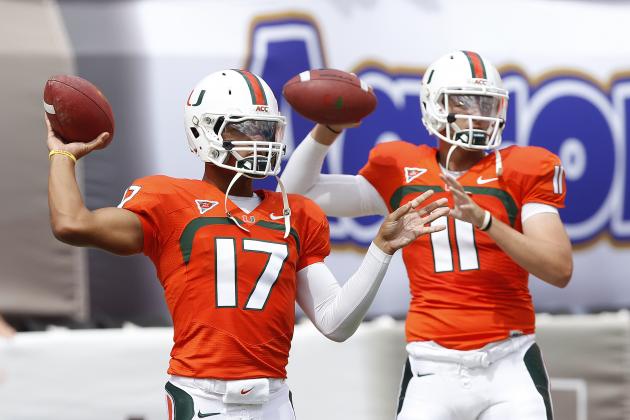 Joel Auerbach/Getty Images

The Miami Hurricanes will start spring practice on March 2 and finish with the spring game on April 13 at Sun Life Stadium.
The Hurricanes are looking to improve on last year's 7-5 record. There will be a lot of good competition this spring, especially on the defensive side of the ball.
Miami's defense was flat-out rotten last season and if they want any chance at all to win the ACC, they must get things straightened out this spring.
Here is the 2013 spring practice review.
Begin Slideshow

»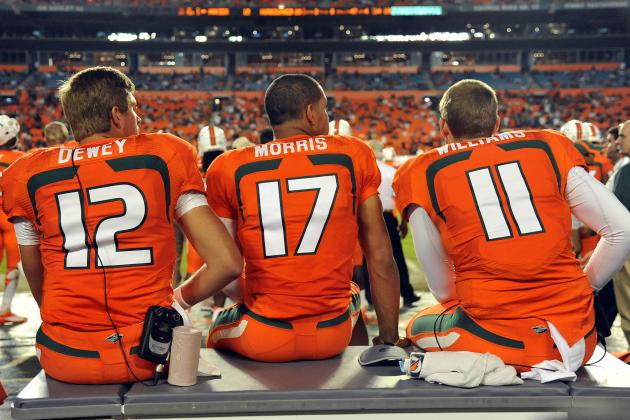 Steve Mitchell-USA TODAY Sports

In regards to the starter, it really is a no-brainer as Stephen Morris will lead this Hurricane team this season.
The most interesting competition this spring will be for the backup position.
There are a handful of quarterbacks on the Hurricanes roster that could take the backup role lead heading into fall practice in August.
The obvious leader will be last year's backup, Ryan Williams. Williams is still the only player on the Canes' roster that has any real game experience, having started multiple games at Memphis in 2010.
That doesn't mean for one second that he will be a lock for the position though, as both Gray Crow and Preston Dewey now have a full year of experience with Hurricanes. Both Crow and Dewey redshirted last year.
Out of the three, I really like Dewey's chances of snagging the backup role to Morris. He has a good arm and got great experience in high school under the mentoring of college football legend and head coach, Ty Detmer.
*The last to compete for the backup role will be true freshman Kevin Olsen but he is not enrolled at Miami yet and will not participate this spring.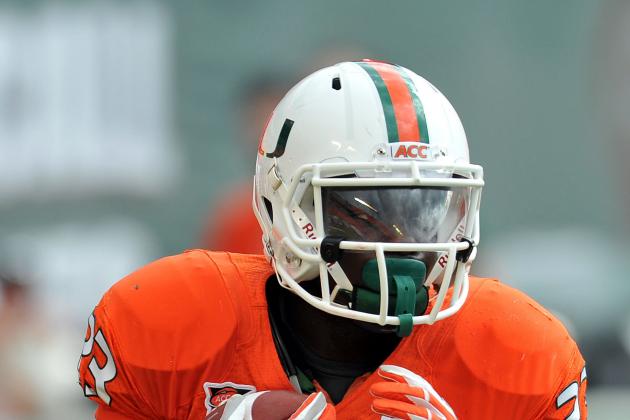 Steve Mitchell-USA TODAY Sports

Much like the quarterback position, the starting running back position will be locked up before practice even begins. Duke Johnson will undoubtedly start for the Hurricanes this upcoming season.
Again, the real interesting competition will be for the backup role with Eduardo Clements, Danny Dillard and Dallas Crawford all vying for that spot.
I personally will say that Clements will be the backup to Duke this spring, just based on the fact that he has more experience than Crawford and Dillard. The senior has 39 carries in his career compared to a combined six carries (all by Crawford) by Dillard and Crawford.
That doesn't mean that Clements has it locked up. Crawford is an extremely talented athlete and could be a surprise this spring.
The fullback position will be held down by Maurice Hagens, as he is still the only listed fullback on the roster.
*The Hurricanes also nabbed three running backs this recruiting season (Cornelius Elder, Ray Lewis III and Gus Edwards) but none of them will participate this spring.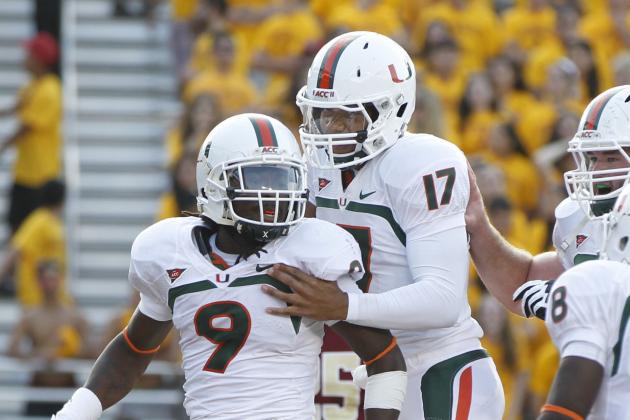 Greg M. Cooper-USA TODAY Sports

I honestly believe the wide receiver and tight end positions have the deepest depth on the entire Hurricanes roster, but there isn't necessarily a lock on who is going to be the front-runner this spring.
Phillip Dorsett should be the starter on one side. But the other side could be a great battle between Allen Hurns and Rashawn Scott.
Hurns is the bigger (6'3") and more experienced player, but Scott is such a tremendous athlete that he could certainly snag the other spot this spring.
Players playing for a third and fourth spot on the depth chart should be Scott/Hurns, Malcolm Lewis, Robert Lockhart Jr. and Herb Waters. I think those four will be all competing for the first/second player off the bench. Every single one of them are unique in different situations and should give new offensive coordinator James Coley many targets to use throughout this spring session.
The tight end position is another spot where the Hurricanes are loaded with talent. Last season, Clive Walford was the clear-cut choice for a starter. But he will now have to compete with several other players this upcoming season, including JUCO transfer Beau Sandland.
Sandland is already enrolled at Miami, and I believe he will compete with Walford all spring long. Sandland is faster and quicker than Walford and has the athletic ability to take over the starting role sometime this spring.
True freshman Standish Dobard will also compete for some playing time this spring. But he isn't as advanced as Sandland and Walford in terms of being game ready. He should get plenty of reps this spring, but I believe it will be just for the third spot on the depth chart.
*The Hurricanes recruited wide receivers Stacy Coley and Derrick Griffin (possible tight end) this year, but neither of them are expected to enroll early, making them ineligible for spring practice.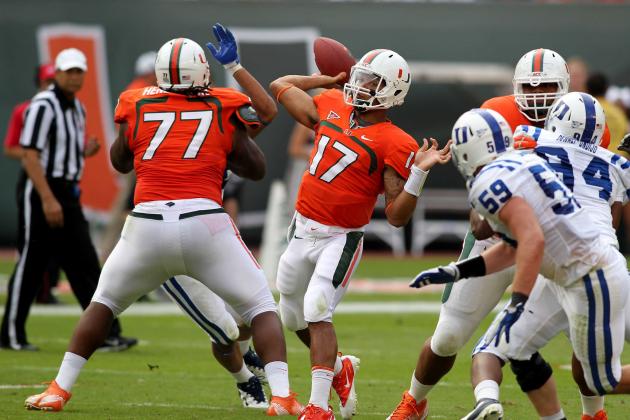 Robert Mayer-USA TODAY Sports

Barring injury, the offensive line will be pretty much the same as it was last season. From left tackle to right tackle should be as follows—Malcolm Bunche, Jon Feliciano, Shane McDermott, Brandon Linder and Seantrel Henderson.
The only real competition throughout the spring will most likely come from sophomore Ereck Flowers. Flowers was impressive last year and was even listed as a possible starting left tackle on several depth charts throughout the season.
True freshman Sunny Odogwu enrolled early at Miami and will be at spring practice. He is a monster, standing 6'8" and weighing 308 pounds. With as sketchy as Henderson has been at Miami, Odogwu could certainly be a vital part of the depth chart at right tackle.
*Offensive tackle Alex Gall is not enrolled yet and will not participate this spring.
Peter Casey-USA TODAY Sports

Now we move on from offense to defense, and it doesn't get any more wide open then at the defensive line position. To me, there isn't one returning lineman that has a starting position locked up.
Many people think Anthony Chickillo should, but not me. After a great true freshman season, Chickillo ran into the vaunted sophomore slump and really wasn't a factor the entire season. I am hoping he comes to play this spring and drastically improves over a sub-par season.
Defensive tackle Curtis Porter could very well be the best defensive lineman but has to prove he can stay healthy before I give him that honor. This spring should be a deciding factor. If he is healthy, he should be the starter and a very good one at that.
The other defensive tackle should be open, although Olsen Pierre started all 11 games he was in last season. But overall the tackles didn't perform very well last season, so I expect a lot of pressure from Corey King, Earl Moore and Luther Robinson for either Pierre's or Porter's spot.
The other starting defensive end position could be kept by Shayon Green—the Hurricanes' leading tackler last season—but I really like the play of sophomore Tyriq McCord. McCord is a much better pass-rusher than Green but was a little small (236 pounds) to be an every-down end.
This spring I would not be surprised at all if McCord beats out Green or Chickillo for a starting position heading into the fall session.
Besides the above-mentioned players, there are several others that could steal a starting role—Jacoby Briscoe, Jalen Grimble, Jelani Hamilton, Dwayne Hoilett, Dequan Ivery, Jake O'Donnell and Ricardo Williams.
The positon played so poorly last year that the spring session should show the coaches who can actually help turn the defense around come fall.
True freshmen Hunter Knighton (DT) and Alex Figueroa (DE) have enrolled at Miami already and should be participating this spring.
*Alquadin Muhammad and Ufomba Kamalu are not enrolled and will not be participating this spring.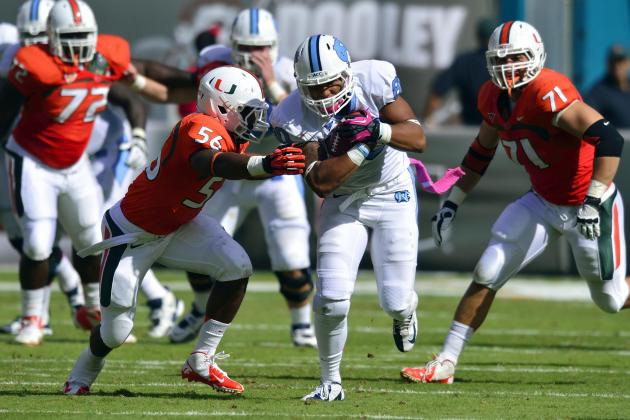 Steve Mitchell-USA TODAY Sports

Last year I had the linebackers dubbed the deepest position on the field. Now they have some of the biggest question marks this spring.
First and foremost is the character and maturity level of Eddie Johnson. When Johnson was on the field he played amazing football. Then just like that he was gone. Literally.
Johnson was suspended in games against Virginia and Duke last season for violating team rules and was recently suspended indefinably by head coach Al Golden.
Johnson wasn't the only blow the unit took, as Gionni Paul decided it would be best for him to leave Miami in January. Paul was the third-leading tackler last year, posting 61 stops.
Even if Johnson doesn't come back this spring, the Hurricanes aren't in real danger, as they still will have Jimmy Gaines, Denzel Perryman and Raphael Kirby. Perryman and Gaines will undoubtedly start this fall, so the question would just be the other outside spot. Kirby is more than able to take it this spring.
Kirby is a spitting image of Perryman, as he can hit like a truck and run all over the field. When Kirby got on the field last year he was an absolute terror.
Outside of the above players, Nantambu-Akil Fentress, Thurston Armbrister and Tyrone Cornileus are all good enough to add depth to this unit.
*The Hurricanes recruited Devante Bond and Jermaine Grace this year, but neither are expected to participate this spring.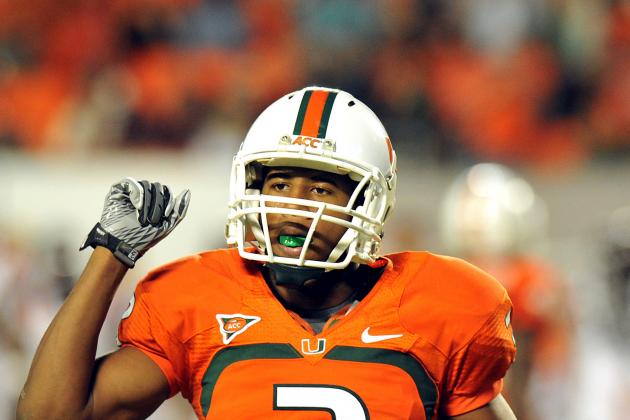 Steve Mitchell-USA TODAY Sports

Just like the defensive line, the cornerbacks struggled last season. The only consistent corner was Brandon McGee, who is now trying to play on Sundays. The Hurricanes also lost veteran Thomas Finnie this offseason when Finnie decided it would be best to leave Miami.
What that leaves Miami with is six corners with a total of eight career starts between them—five of those starts coming from Ladarius Gunter.
I am almost certain Gunter will be starting on one side while the other side should be wrapped up by last year's 5-star phenom Tracy Howard. Howard was just a true freshman last season and should be used to the speed of college football by now.
Other than Howard and Gunter, it really is a toss-up at who else will compete for a starting/backup position. Look for sophomore Antonio Crawford to compete for a possible starting position after backing up McGee last season.
Nate Dortch and Larry Hope will also be in the mix for backup after coming off their redshirt freshman seasons.
*The Hurricanes recruited safety/cornerback Artie Burns, but he will not be participating this spring.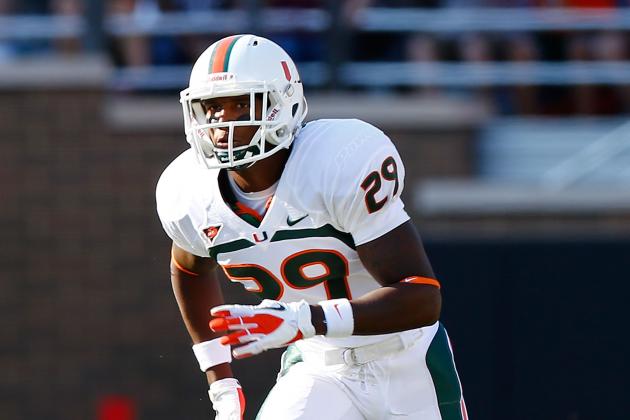 Jared Wickerham/Getty Images

The safety position this spring should be the best overall unit on the defensive side of the ball. The Hurricanes return four players (Rayshawn Jenkins, AJ Highsmith, Deon Bush and Kacy Rodgers) who played in a combined 44 games—starting 22 of them.
Bush will undoubtedly be the most talented safety on the field come springtime, but keep an eye out for Jenkins. Jenkins is a terrific athlete that came on strong towards the end of last season, even getting a start against Duke.
Rodgers received most of the starts last year (seven) but will be pushed hard by Jenkins. Overall the Hurricanes have a plethora of talent and shouldn't be hard-pressed this spring to find starters.
*Jamal Carter was recruited by Miami but is not expected to play this spring. Ryheem Lockley, according to 247sports.com, is also heading to Miami, most likely as a safety, and will not compete this spring.