NFL Combine 2013: Offensive Playmakers Who Improved Draft Stock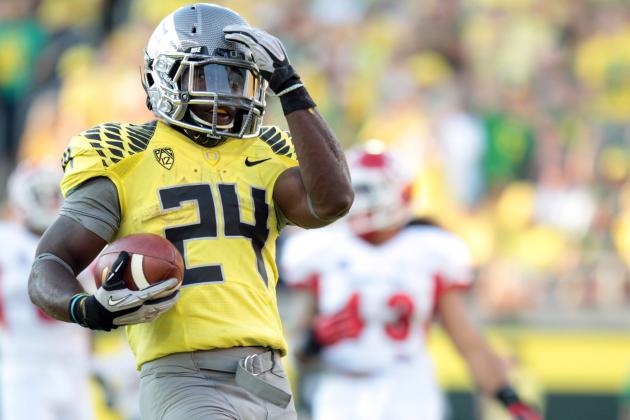 Scott Olmos-USA TODAY Sports
Oregon's Kenjon Barner made a nice impression at the NFL combine.
Offensive prospects that stand out at the 2013 NFL Scouting Combine significantly bolster their draft stock, primarily because pro football is an offensively oriented league.
So, gathering the best and most electric talent during the process only enhances a college star's marketability. Oregon's Kenjon Barner is just one we'll check out ahead.
Given that the running back position isn't overloaded with top-heavy talent, those who impress will garner additional interest. Well, Barner did just that this past weekend, along with some other underrated prospects.
Note: All combine numbers courtesy of NFL.com.
Begin Slideshow

»
Doug Pensinger/Getty Images

Kenjon Barner wasn't the top 40-yard runner at his position, but the guy hit 4.52 seconds at the combine and fared well in other aspects.
He reached 35.5 inches on the vertical leap and 122 on the broad jump.
Considering that he was measured at 5'9", Barner displayed incredible explosiveness. He was also among the best on the 3-cone drill and 60-yard shuttle. Possessing the quick athleticism to change directions and accelerate, Barner is worthy of a third or fourth-round selection.
After all, he compiled over 2,000 total yards last season and scored 23 touchdowns. Earlier in his college career, Barner also contributed as a return specialist. So his appeal has only inflated, because dynamic playmakers will see solid time as rookies.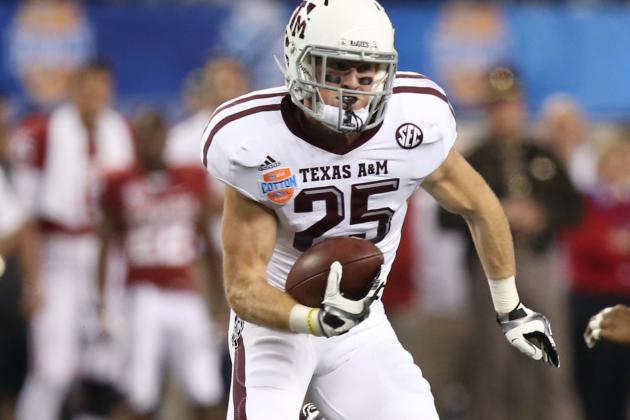 USA TODAY Sports

Texas A&M's Ryan Swope is quickly becoming a potential gem pick in the middle rounds.
After impressive campaigns for the Aggies the past three seasons—233 receptions for 2,945 yards and 23 touchdowns—Swope hit another level at the combine.
He bolted to 4.34 seconds in the 40-yard dash, reached 37 inches on the vertical and 125 inches on the broad jump. And Swope shifted his way to 6.76 seconds in the 3-cone drill, which reveals his ability to make cuts and maintain explosiveness.
Although he comes in at only 6'0", Swope has proven he possesses the speed and acceleration to stretch defenses and accumulate yards after the catch. He'll be dependable over the middle and is capable of making plays downfield off play-action.
Plus, that top speed will sell routes better and keep defensive backs from jamming Swope at the line. In turn, he impacts even more as a run-blocker, as well.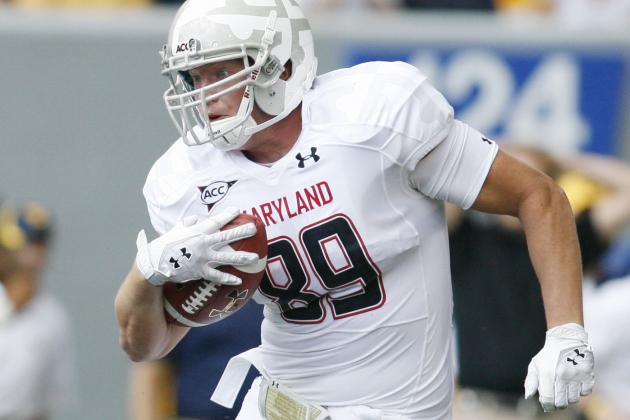 Charles LeClaire-USA TODAY Sports

Matt Furstenburg didn't put up any insane number for the Maryland Terrapins.
But he was still consistently reliable.
From 2010 through 2012, he caught 59 passes for 760 yards and scored five times—again, not overly dominant. However, the Terrapins weren't the most high-powered of offenses either.
That said, Furstenburg shined nicely at the combine by running 4.62 seconds in the 40-yard dash, hitting 35.5 inches on the vertical and 115 on the broad jump. Furstenburg also performed among the best for tight ends in the 20- and 60-yard shuttles.
Given his size, Furstenburg brings the athleticism to impact from the slot or wing. Without question does he need to improve his strength and power, but his top gear—his ability to redirect quickly and leap—will pay dividends in the passing game.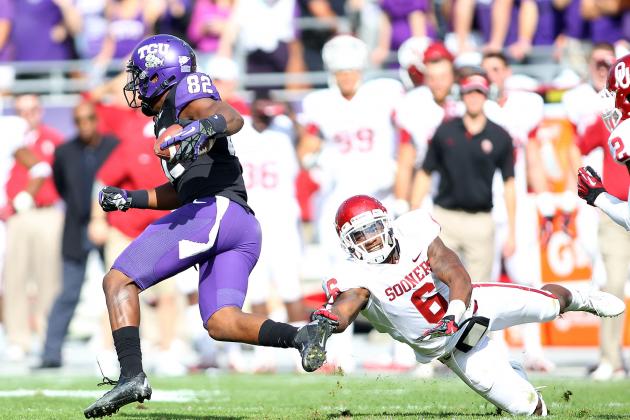 R. Yeatts/Getty Images

Josh Boyce was a technically sound receiver for TCU from 2010 through 2012.
During that span, he caught 161 passes for over 2,500 yards and scored 22 times.
Each season was filled with consistency, which will transition smoothly to pro football. At the combine, he sprinted to 4.38 seconds in the 40-yard dash and put up 22 reps on the bench press—the second-highest for receivers.
In addition, Boyce launched to 131 inches on the broad jump and blazed much of the competition with 6.68 seconds on the 3-cone drill. He also bolted to 11.26 seconds on the 60-yard shuttle.
By presenting strength and explosiveness at the combine, Boyce proved he can line up out wide or in the slot. His athleticism is an advantage in route-running because he'll be racking up nice yards after the catch, as well as forcing a secondary on its heels to keep secondary defenders out of the box.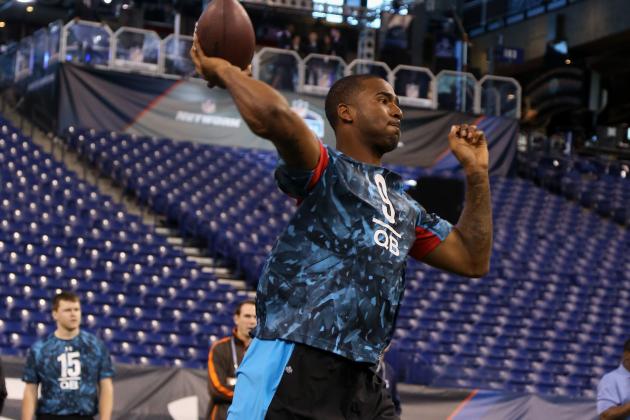 Brian Spurlock-USA TODAY Sports

Florida State's E.J. Manuel came in at 6'5", 237 pounds.
That's great size for a pro quarterback, but he needed to prove mobility as well.
Impressively enough, Manuel clocked 4.65 seconds in the 40-yard dash and 4.21 seconds in the 20-yard shuttle. Factor in Manuel leaping to 34 inches on the vertical and 118 on the broad jump, and he possesses the most power of any quarterback.
Along with running for 827 yards for the Seminoles, Manuel finished his career with a 66.9 completion percentage and had 41 touchdowns to just 18 picks between 2011 and 2012. With his strong arm, excellent mobility and reliable decision-making, Manuel possesses early Round 2 potential.
Certainly he must enhance his pocket awareness and overall mechanics, but the tangible tools exist for Manuel to quickly adjust to the NFL.