Ohio State Basketball: 10 Lessons Learned in Win over Michigan State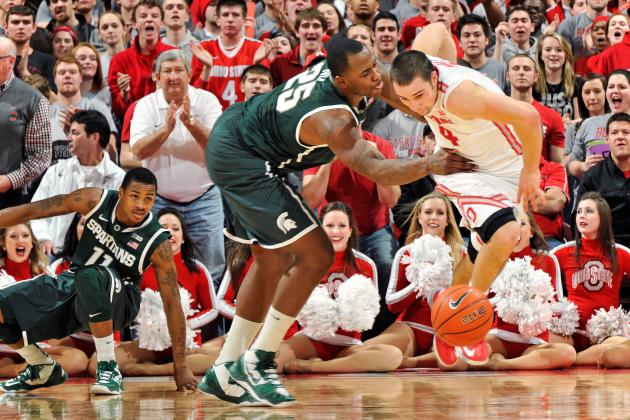 Jamie Sabau/Getty Images

With less than 18 minutes remaining in Sunday's game against Michigan State, it looked like the "Ohio State struggles against ranked teams" narrative was about to pick up more corroborating evidence.
The Spartans led by nine, Deshaun Thomas was ice cold and the home crowd had been silenced. And that's when Aaron Craft decided to kick it into fifth gear.
The Buckeyes point guard willed his team to a 68-60 victory with what may have been the best half of basketball he has played in his career. It was something of poetic justice because Craft, much like the entire Ohio State squad, had fallen short of lofty expectations (offensively) and was looking for a measure of redemption on a big stage.
Here are 10 lessons to take away from the win over Michigan State.
Begin Slideshow

»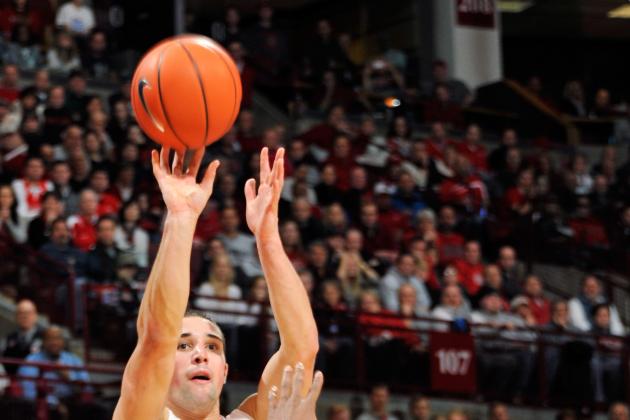 Jamie Sabau/Getty Images

Deshaun Thomas may be the most prolific scorer in the Big Ten, but there is little doubt who the heart and soul of this Ohio State basketball team is after Sunday's win over Michigan State.
The Buckeyes had their backs planted firmly against the wall and were staring straight at a 1-8 record against ranked opponents (at the time of the game) early in the second half when Aaron Craft tapped into his offensive potential that Ohio State fans have been waiting to see.
In addition to his typical tenacious defense, Craft was a force to be reckoned with the ball in his hands, especially driving the lane. He scored or assisted on almost every one of the Buckeyes' key second-half baskets down the stretch.
What's more, being the leader that he, is Craft recognized that Thomas' shot was not falling and knew the game would ultimately fall on his shoulders. He provided clutch free-throw shooting and timely baskets on his way to a career-high 21 points to go along with six assists, three rebounds and a steal.
Considering how desperately his team needed a marquee victory, it was arguably Craft's best regular-season performance as a Buckeye.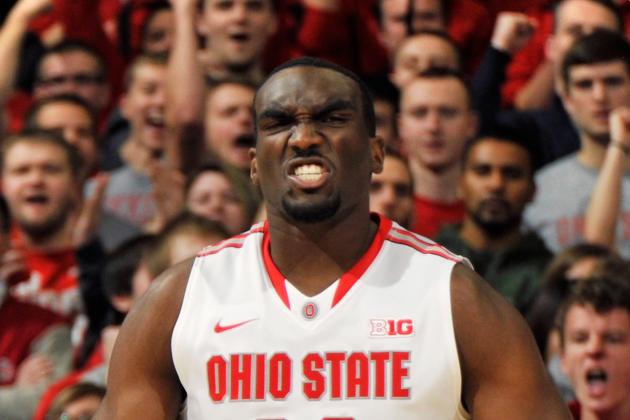 Jamie Sabau/Getty Images

Amir Williams showed some rare emotion with a crucial and-one dunk in the second half, but it is becoming clearer and clearer that Evan Ravenel is Ohio State's best option when it comes to big guys.
The Boston College transfer scored a critical 10 points off the bench and grabbed five timely rebounds, including two important ones on the offensive end in the final minutes. Had he not kept a possession alive when the Buckeyes held a two-point lead with about one minute left, Michigan State could have easily walked out with a win.
Ravenel also delivered a knockout blow with a block along the baseline in the Spartans' last meaningful possession and played passable defense against the load that is Derrick Nix. The headlines today will be about Aaron Craft's performance, and rightly so, but the Buckeyes would not have won without Ravenel's efforts.
Perhaps most importantly, Ravenel was 6-of-7 on the line and hit a pair of free throws that stretched the lead from two to four with about one minute remaining.
USA TODAY Sports

You know the old basketball saying: If at first you don't succeed, try 16 more times.
Deshaun Thomas kept chucking up shots throughout Sunday's contest, even though it was painfully clear that he just wasn't feeling it. He ended up shooting a measly 4-of-16 from the field and 2-of-7 from downtown.
That being said, he did find a way to impact the game in other ways. He was 4-of-4 from the free-throw line, including three big ones after being slapped on a three-point attempt, and tallied seven rebounds. He also wasn't a train wreck on defense.
Despite the struggles from the field, Thomas ended up with 14 points, most of which came in the second half. Thad Matta would probably like some better shot selection from his leading scorer, but it just seems less pressing after a victory than it would after a loss. Besides, Ohio State needs Thomas to be a scoring machine—something he will only accomplish with plenty of attempts.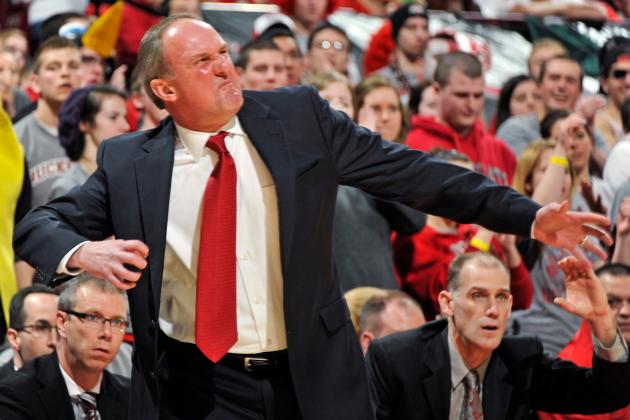 Jamie Sabau/Getty Images

Much attention has been paid to Ohio State's struggles against ranked teams this season. The Buckeyes are now 2-7 when playing a squad ranked in the AP Top 25 at the time of the tipoff, which isn't exactly a pretty total considering they started the year in the Top Five.
However, any resume that includes wins over Michigan, Michigan State and Wisconsin—three of the best teams in the nation—and zero losses to "bad" opponents isn't half bad.
It is entirely possible that Ohio State is being judged somewhat unfairly because it was overrated to start the season.
This is not a Top Five team, although much of the criticism has stemmed from the fact that commentators expect it to be. If the college basketball world looked at the Buckeyes for what they are—one of the best 15 squads in America that is capable of beating anyone if its shots are falling to accompany its tenacious defense—perhaps only three marquee wins wouldn't look so bad.
There are hundreds of teams that would love to trade resumes with Ohio State right now.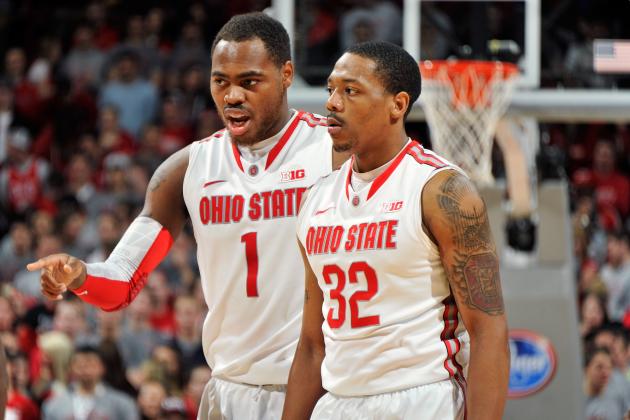 Jamie Sabau/Getty Images

Of the various topics causing handwringing among Buckeye Nation this year, finding a second scorer behind Deshaun Thomas has caused the most angst.
Ohio State proved that it can win without Thomas necessarily carrying the load Sunday, and it did so against the No. 4 team in the country. The fact that Thomas missed as many shots as he did just means that the rest of the supporting cast had to be that much more efficient.
Aaron Craft poured in 21 points, Evan Ravenel tallied a critical 10 and Sam Thompson even chipped in eight on an effective 3-of-4 shooting (that included a three-pointer). That type of production from players other than Thomas is encouraging for Thad Matta on a number of levels.
For one, Thomas has been a one-man wrecking crew for most of the season, but the Big Ten's elite defenses are starting to recognize this and neutralize his effectiveness. His percentages have gradually decreased as a result as conference play continues. Perhaps some of that pressure will ease with other capable scorers.
Furthermore, Craft provided some of that offense that Buckeyes fans have been hoping and waiting for all year, which could foreshadow a productive March. If it does, the Buckeyes' ceiling is much higher than before.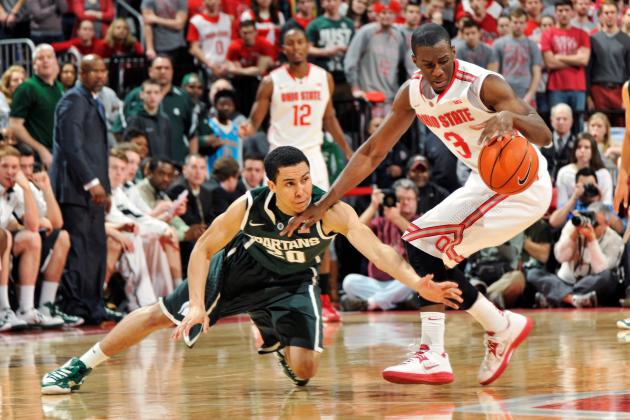 Jamie Sabau/Getty Images

There have been times this season when Ohio State actively slowed the ball down even though it struggles in the half court for reasons unknown to fans. It's almost as if it is a Big Ten bylaw that the pace of play can't be too fast.
The Buckeyes showed off some of their speed and athleticism Sunday, especially when the Shannon Scott and Aaron Craft combination was disrupting the Spartans' backcourt. That led to turnovers and transition opportunities that were critical in Ohio State's second-half comeback.
The pace of play was noticeably faster when the Scarlet and Gray went on their commanding second-half run. But when they extended the lead to double digits, they took their collective foot off the gas pedal. It deflated the momentum and took the life out of the offensive attack. And if Craft and Evan Ravenel didn't come to the rescue it could have cost them the game.
The Buckeyes would be well-served to utilize their athleticism down the stretch and into tournament play.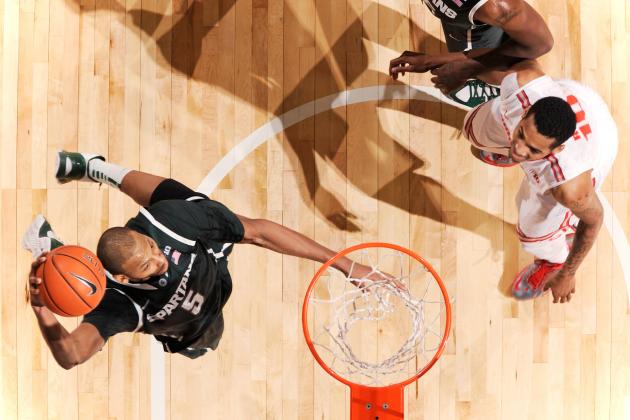 Jamie Sabau/Getty Images

It was not lost on those who follow basketball recruiting religiously that Adreian Payne—he of 6'10" dominance in the middle who was cloaked in Michigan State green—is an Ohio native.
Payne is the type of governing force from the center or power forward position that this season's Ohio State team has been so desperately missing on numerous occasions. He can even hit the three-pointer on a consistent basis, which is another aspect of the game that the Buckeyes have struggled with.
Alas, there is really no point in living in hypothetical worlds when it comes to sports. However, it was somewhat ironic that Michigan native Amir Williams has struggled for the state school of Ohio while an Ohio native has dominated for the state school of Michigan.
The good news is that Williams is only a sophomore and still has time to develop. But that doesn't change the fact that Payne, who scored 12 points and grabbed an astounding 15 rebounds, would look great in Scarlet and Gray.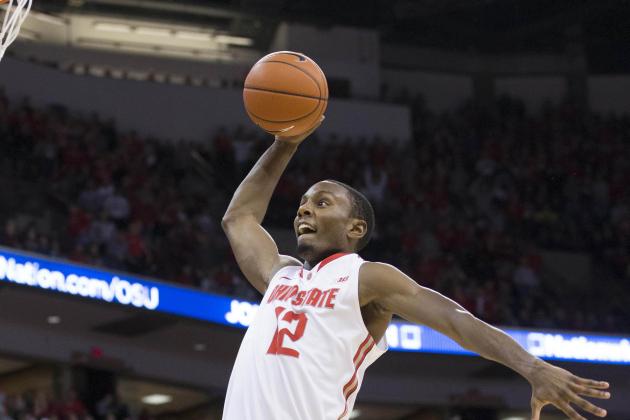 USA TODAY Sports

Perhaps the most disappointing thing about this year's lackluster NBA All-Star weekend was that fans were treated to a front-row view of the erosion of the dunk contest.
While ESPN reminded fans of what used to be by playing Michael Jordan clips for approximately three years straight to celebrate his 50th birthday, current NBA fans were busy watching missed dunks and awkward pauses during the actual contest.
Frankly speaking, the Big Ten could have put on a better dunking performance than the NBA did last weekend, and Sam Thompson, Branden Dawson and Adreian Payne showed why they would be three formidable participants on Sunday.
Thompson and Dawson wowed the crowd with spectacular alley-oop finishes, while Payne let the Buckeye defense know what it would be like to stand in front of a locomotive that could actually fly when he went up with it in the paint.
Throw in Rodney Williams of Minnesota and Victor Oladipo of Indiana, and the Big Ten could put on a heck of a show. Just something to think about for next year, David Stern.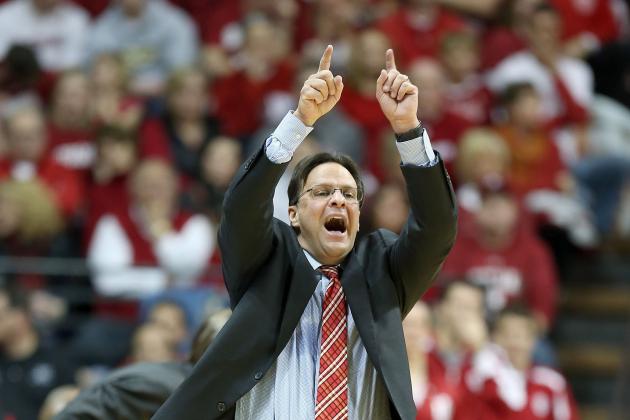 Andy Lyons/Getty Images

While Columbus was in a celebratory mood after Ohio State's key victory on Sunday, the ramifications of the outcome were met by a happy audience in Bloomington as well.
The Buckeyes' win may not have clinched the Big Ten title for the Indiana Hoosiers, but it did for all intents and purposes. Tom Crean's team now holds a commanding two-game lead in the loss column over the Spartans, and Michigan State still has to travel to Michigan and host Wisconsin in the coming games.
There is no way Indiana, who plays against the sinking ship that is Minnesota next, is going to lose control of the conference now.
What's more, because the Big Ten is so strong this year, a regular-season championship will put the Hoosiers on the inside track for the No. 1 overall seed on Selection Sunday. It will be interesting to see if one of the Michigan teams can seize a second No. 1 seed for the conference.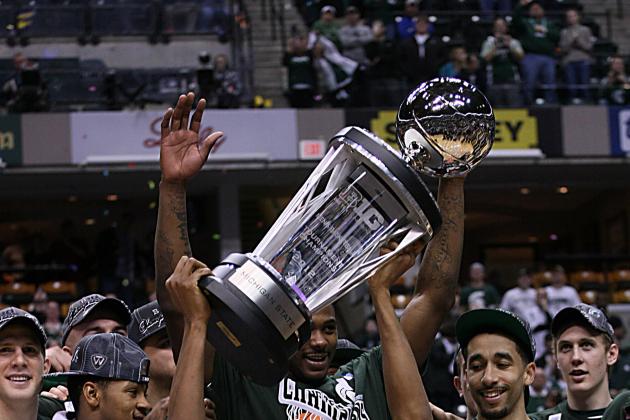 Brian Spurlock-USA TODAY Sports

While Indiana may have the regular-season conference crown all but locked up, the Big Ten tournament will be appointment viewing in Chicago.
As fans saw Sunday, there is just something different about watching a Big Ten game this season as opposed to almost any other conference. The intensity is palpable, the defense is bruising and even something as simple as obtaining a rebound requires a workman-like effort.
Take that type of play and throw in the pressure of a tournament setting in March, and college basketball fans will be treated to higher-quality hoops than they will see in the first few rounds of the NCAA tournament.
If it sounds blasphemous to say the Big Ten tournament will be better viewing than March Madness, just make sure to tune in and see for yourself.