The Latest Buzz from the NFL Scouting Combine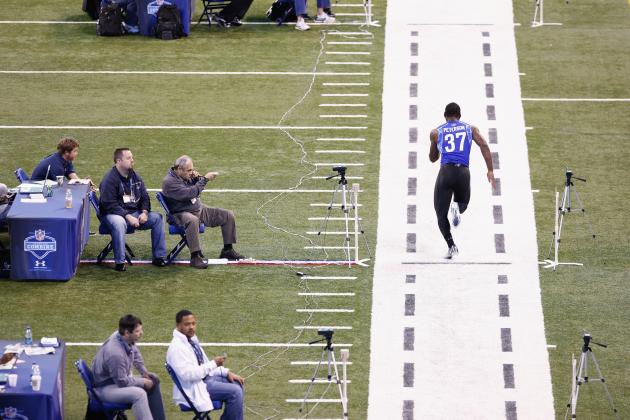 Joe Robbins/Getty Images

The NFL Scouting Combine perennially guarantees three things—awe-inspiring performances from a plethora of participants, a few medical red flags and an abundance of rumors.
This year, the athletic exhibition certainly has delivered on all of its promises, and then some.
Here's a collection of all the latest buzz from Indianapolis as the combine heads into its final two days.
(All information has been obtained via NFL.com's Combine Tracker.)
Begin Slideshow

»
Jonathan Daniel/Getty Images

Update: USA Today reported the following about Lotulelei's condition:
The person said it's hoped that it's not a heart condition but rather dehydration, too much sodium in his diet or rapid weight loss in a short timeframe that prompted tests to reveal his heart wasn't pumping at full capacity. Lotulelei dropped almost 10 pounds in three days recently, in part because of the hectic schedule of traveling to the combine and the long days in Indianapolis.
If true, certainly a great development for Lotulelei's draft stock and general health.
Star Lotulelei is one of the best overall players in 2013, a guy many have slated as a top-five pick.
The 6'3'', 311-pound stud defender has a special blend of athleticism and motor that allowed him to be a disruptive marvel along the entire defensive line during his Utah career.
However, Lotulelei won't participate at the scouting combine "after an echocardiogram revealed that the former Utah defensive tackle has a heart condition that requires more testing," according to ESPN.
Chris Mortensen reports that "Lotulelei was discovered to have an abnormally low Ejection Fraction, detecting that the left ventricle of his heart was pumping at only 44 percent efficiency, sources said. The normal range is between 55-70 percent efficiency."
This is a major red flag that could have a significant ripple effect on the beginning of Round 1.
Teams will likely test Lotulelei as closely to the draft as possible to check on his heart condition.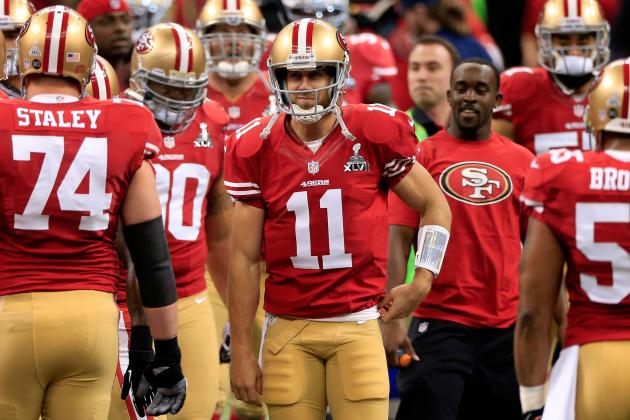 Jamie Squire/Getty Images

The San Francisco 49ers may be on the verge of trading quarterback Alex Smith. According to CBS Sports' Jason La Canfora,
The 49ers have expressed to others that a deal for QB Alex Smith is effectively complete. Can't be finalized til league year begins 3/12

— Jason La Canfora (@JasonLaCanfora), February 24, 2013
Piggy-backing off that report, Gregg Rosenthal of NFL.com wrote the following in a scouting combine report: "Everywhere I go in Indianapolis, I hear someone say that the Alex Smith-to-Kansas City Chiefs deal is all but done."
Or maybe the 49ers aren't on the verge of trading Smith. This from Matt Barrows of the Sacramento Bee:
With the caveat that everyone fibs at this time of the year: I'm told the #49ers do not have a trade deal in place for Alex Smith.

— Matt Barrows (@mattbarrows), February 25, 2013
Remember, this time of the year is loaded with posturing and smoke-screening.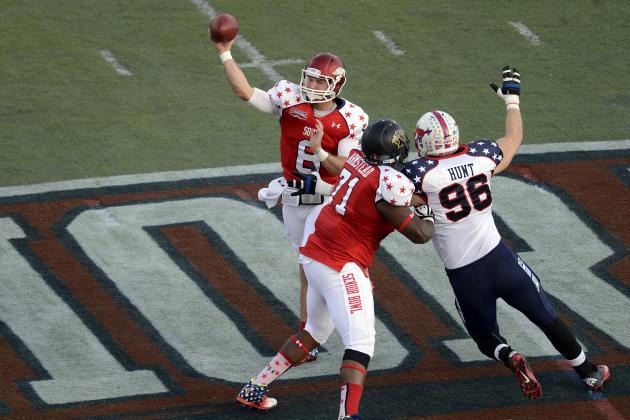 John David Mercer-USA TODAY Sports

At 6'8'' and 277 pounds, SMU's Margus Hunt is about as imposing as it gets. To put his size-weight combination into perspective, Jason Pierre-Paul measured in at 6'5'' and 270 pounds in 2010.
Not only did Hunt look the part of menacing defender in Indianapolis, but he also showed his unbelievable athleticism in the defensive linemen drills.
He ran an official 4.60 in the 40-yard dash, did 38 reps on the bench press and had a vertical jump of 34.5 inches.
It'll be interesting to see what this performance does for Hunt's draft stock.
He had 11.5 tackles for loss and eight sacks in 2012 for the Mustangs.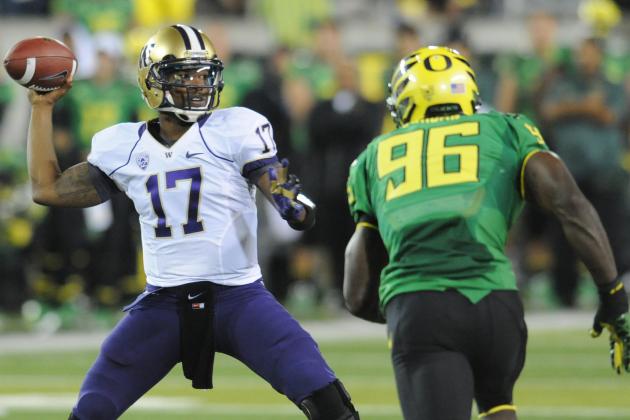 Steve Dykes/Getty Images

Dion Jordan started his career with the Oregon Ducks as a wide receiver before moving to the defensive side of the ball.
He certainly looked like a wide receiver at the combine.
At 6'6" and 248 pounds—up about 20 pounds from his listed playing weight—Jordan ran an unofficial 4.53 in the 40-yard dash, was extremely fluid in all the agility drills and was a top performer in the broad jump.
Jordan simply looked to be a different breed than all the other defensive line participants, save Ezekiel Ansah.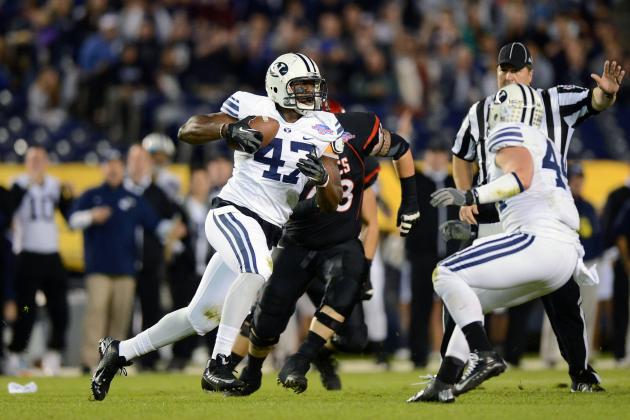 Jake Roth-USA TODAY Sports

Margus Hunt and Dion Jordan were special in the Monday morning workouts, but BYU's Ezekiel Ansah was far from disappointing, as well.
At slightly over 6'5'' and 271 pounds, and with 35 1/8-inch arms, the versatile defender ran an official 4.63 in the 40-yard dash, put up a respectable 21 reps on the bench press and had a 34.5-inch vertical jump.
For a guy just scratching the surface as a football player, Ansah undoubtedly has the physical tools to be molded into an elite defender at the next level.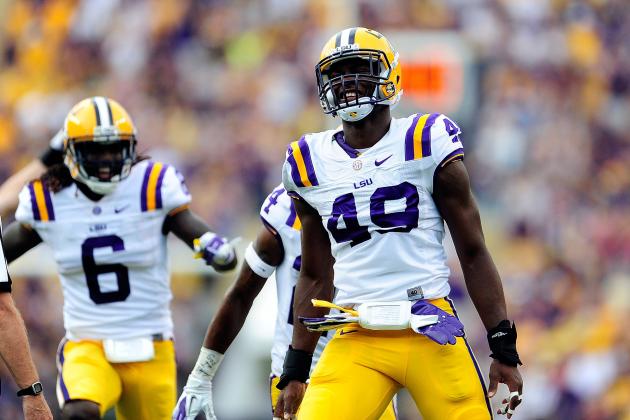 Stacy Revere/Getty Images

Barkevious Mingo was an explosive player on tape, and he showed that athletic ability during his Combine workout.
The 6'4'', 241-pound edge defender ran an official 4.58 in the 40-yard dash, had a 37-inch vertical leap—the second-highest among defensive linemen, and the best broad jump at his position.
Although many won't be surprised Mingo tested so well, he certainly didn't disappoint.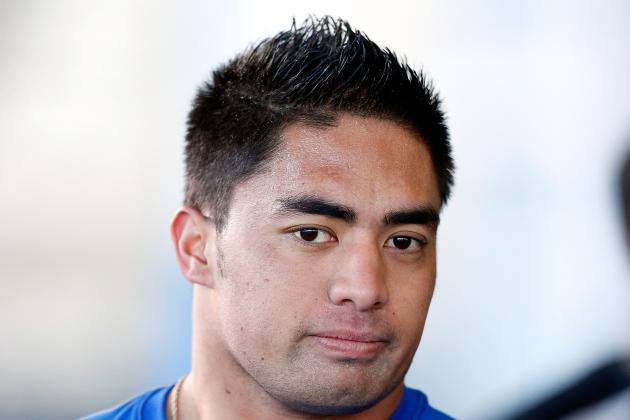 J. Meric/Getty Images

Manti Te'o ran an official 4.82 in his 40-yard dash.
To some, that was a little slower than expected.
Missouri's Zaviar Gooden ran an official 4.47.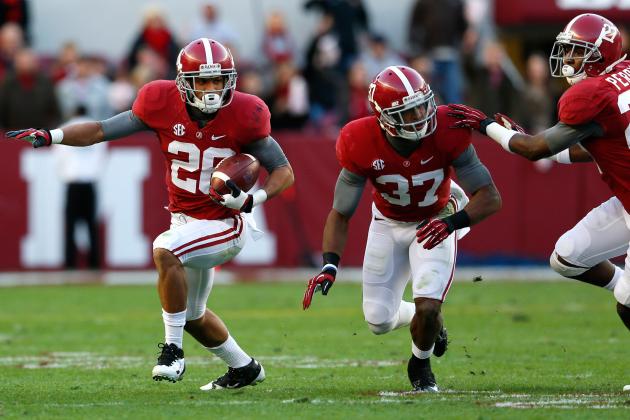 Kevin C. Cox/Getty Images

Alabama's Dee Milliner, the consensus top cornerback in 2013 class, potentially elevated his stock with a sizzling 40-yard dash time in Indianapolis.
He officially clocked in at 4.37.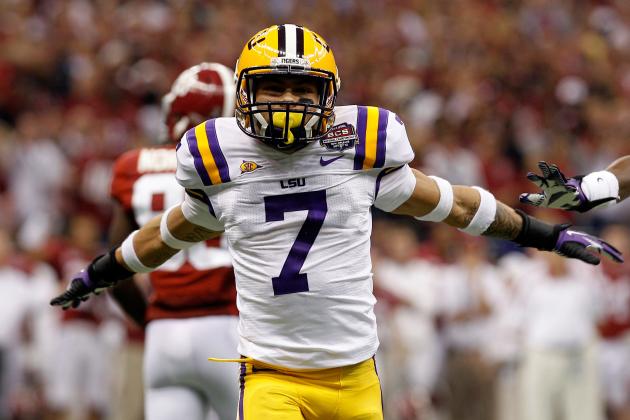 Chris Graythen/Getty Images

The controversial Tyrann Mathieu ran an an official 4.5 in the 40-yard dash—a good time for him.
Unfortunately, he only did four reps of 225 on the bench press.