UFC 157: Power Ranking the Stoppage Victories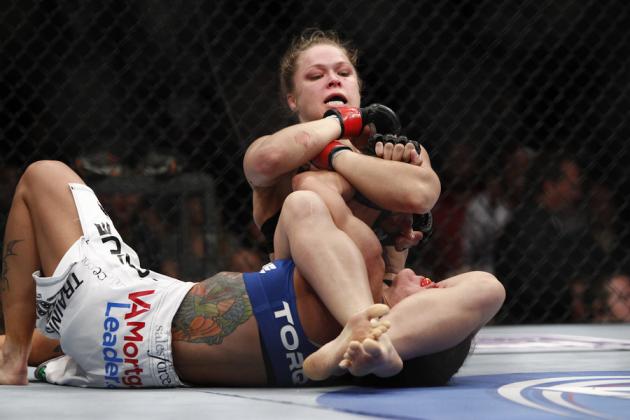 Ronda Rousey and Liz Carmouche - Esther Lin/MMAFighting
Despite a rather forgettable overall fight card, UFC 157 was held afloat by a few shocking and devastating finishes.
One of those finishes included UFC bantamweight champ Ronda Rousey's first-round submission victory over Liz Carmouche.
To think, people complained for months about the absolute injustice the UFC was doing the sport for featuring Rousey and Carmouche in the main-event spot over Dan Henderson and Lyoto Machida.
After watching Machida's solo interpretation of America's Best Dance Crew, it's hard not to thank the heavens for UFC president Dana White's unwavering trust in Rousey, who put on one of the more exciting performances of the night.
Urijah Faber and Robbie Lawler also earned first-round finishes.
While the main card teetered in the finishing department, the undercard mustered a grand total of two stoppages out of seven preliminary bouts.
Here are the power rankings for the stoppage victories at UFC 157.
Begin Slideshow

»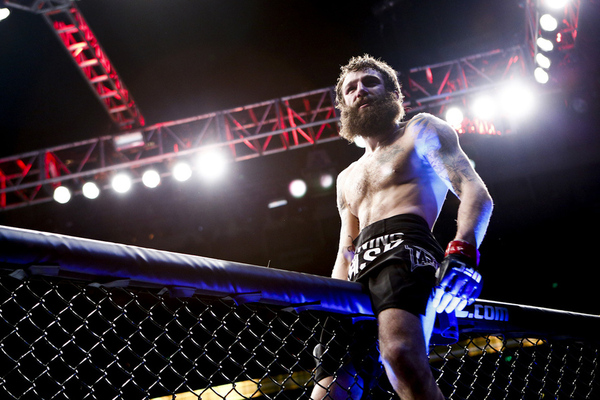 Michael Chiesa - Esther Lin/MMAFighting
Michael Chiesa remained unbeaten with a second-round submission win over Anton Kuivanen on Saturday night.
At only 25 years of age, Chiesa's stock is steadily climbing.
A rear-naked choke being applied by a man sporting a thick, pillow-like beard is always a recipe for some serious snoozing.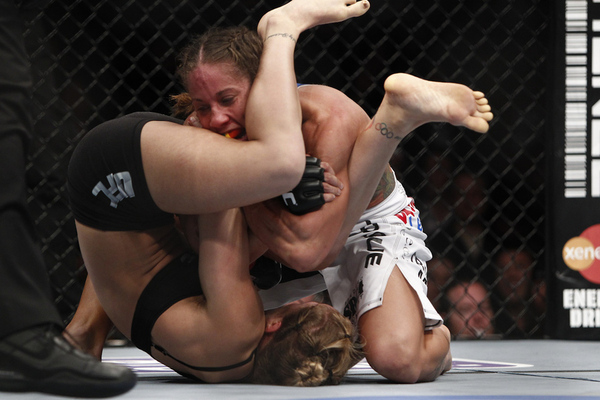 Ronda Rousey and Liz Carmouche - Esther Lin/MMAFighting
The actual bout between Ronda Rousey and Liz Carmouche was exciting, but the outcome didn't turn any heads.
Rousey defeated a significant underdog with the same submission in exactly the same round of all six of her other fights.
Opponents know exactly what Rousey wants to do, and they still can't stop it.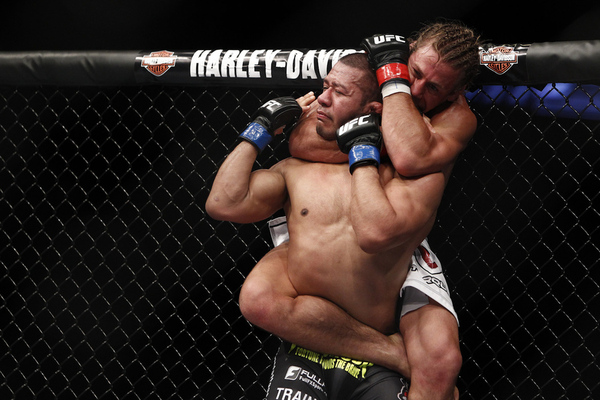 Urijah Faber and Ivan Menjivar - Esther Lin/MMAFighting
Urijah Faber defeating Ivan Menjivar isn't nearly as impressive as him finishing.
Menjivar is a legitimate top-10 talent in the UFC's bantamweight division. His well-rounded skill set and wealth of experience promised to give Faber a tough out.
Instead, Faber proved to be craftier in the grappling transitions, sneaking around to Menjivar's back and sinking in a standing rear-naked choke.
Brock Jardine - Esther Lin/MMAFighting
Kenny Robertson's "Submission of the Night" win over Brock Jardine was stomach-churning.
There are certain ways the human body isn't meant to contort. Unfortunately, Jardine found that out the hard way after giving up his back and having his knee pulled under him like a pretzel.
After the fight, Robertson informed MMA Fighting's Ariel Helwani that the unique submission is an actual move he has utilized in the past.
Did the MMA world just witness the welterweight division's Rousimar Palhares?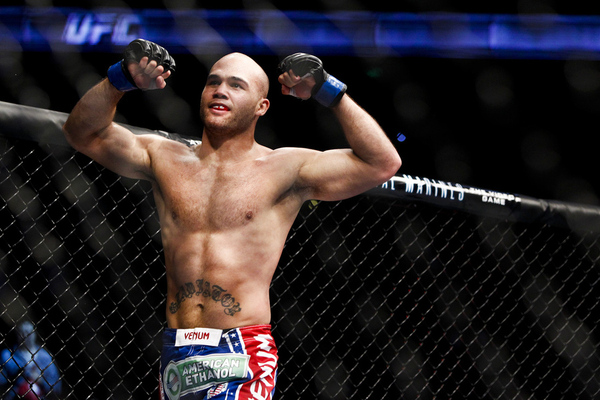 Robbie Lawler - Esther Lin/MMAFighting
So far, this has been the year of the upset.
Rashad Evans fell to Antonio Rogerio Nogueira at UFC 156. On that same night, Alistair Overeem was knocked out by Antonio "Bigfoot" Silva. Muhammed "King Mo" Lawal lost to Emanuel Newton at Bellator 90.
At UFC 157, perennial welterweight contender Josh Koscheck was next on the growing list of 2013 upset victims after a first-round TKO loss to Robbie Lawler.
Some questioned the timing of the stoppage, but it's obvious from the replay that Koscheck wasn't intelligently defending himself. Lawler not only earned an impressive stoppage, but he shocked the world in doing so.