The Least Pro-Ready Prospects in the NFL Draft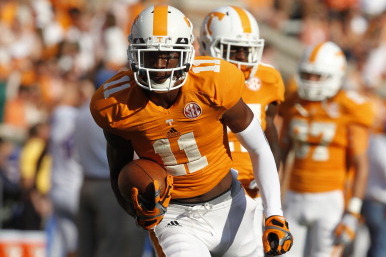 John Sommers II/Getty Images

There's at least 100 prospects who fit in the category of not being NFL ready. This is why I focused this article on the more known prospects. Plenty of high-profile prospects enter the draft nowhere near ready to make an impact.
Identifying these players helps keep expectations in check. However, it doesn't mean they aren't worthy of an early pick. The NFL draft has just as much to do with potential as it does NFL readiness.
Most of the players on this list need to address specific areas in order to make a quicker impact.
All references about the combine came from information obtained at NFL.com.
Begin Slideshow

»
Projected Draft Position: Round 2
SMU's Margus Hunt boasts a ton of natural athleticism, but his football skills have yet to catch up. He'll struggle early in his career because he fails to use proper technique. As a defensive lineman, Hunt needs to get inside hand placement and keep his pads low.
These are both areas where Hunt needs to make significant strides. He shows the ability to utilize proper technique, but he just isn't consistent or a natural. There's too many occasions where he appears to be overthinking rather than just playing.
Overthinking on the football field reduces a player's ability to play at full speed. Hunt's NFL team will need to work with him to be a more natural and instinctive football player.
Hunt won't be able to survive on his athleticism in the NFL as he did in college.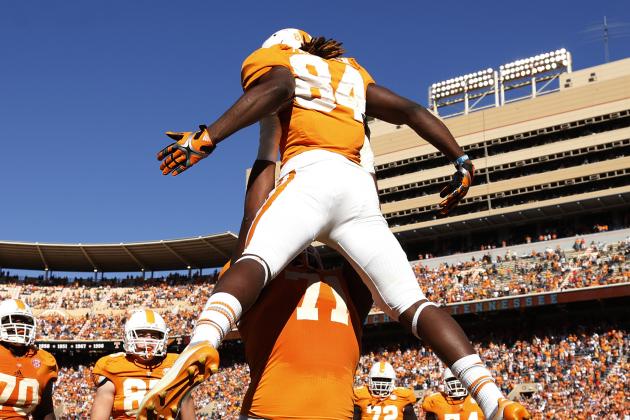 Joe Robbins/Getty Images

Projected Draft Position: Top 16
NFL teams are always looking for explosive playmakers on the offensive side of the ball. This is why Tennessee's Cordarrelle Patterson is getting so much attention in the early part of the first round. However, he'll need some time before he can develop into a complete player.
Patterson has only one year of big-time college experience under his belt. His lack of experience plays a major role in his raw route-running ability. Patterson excelled this past season because of his superior athleticism and a tailored offensive game plan.
He'll need to tighten up his route-running skills in order to consistently gain separation at the next level.
Another area Patterson needs to improve is his focus and effort. There were more than a few occasions when he took his eye off the ball and it resulted in a drop. He also had a tendency to take off plays in which he wasn't the No. 1 target.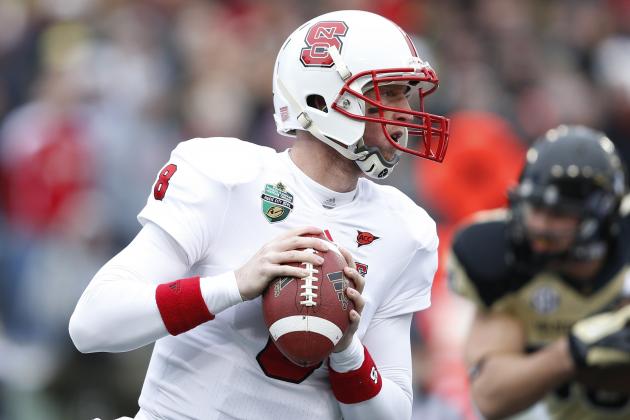 Joe Robbins/Getty Images

Projected Draft Position: Round 3
It takes more than a big arm to succeed as an NFL quarterback. NC State's Mike Glennon might have a great arm, but he has a lot of holes in his game. His feel for the quarterback position is way behind his physical talent.
Glennon's most apparent flaw is his inability to deal with pressure. When faced with a strong pass rush, he has a tendency to panic and abandon even the most basic fundamentals. Poise in the pocket plays a major role in a quarterback's success in the NFL.
It's important to realize that just because rookie quarterbacks like Andrew Luck and Russell Wilson found success, that doesn't mean Glennon will.
The team that drafts Glennon must be patient and avoid throwing him into the mix too early.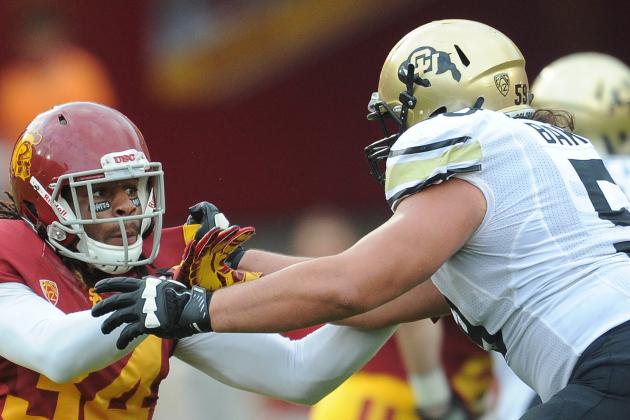 Jayne Kamin-Oncea-USA TODAY Sports

Projected Draft Position: Round 3
It's commonplace for NFL teams to take a drafted offensive lineman and have him switch positions. This isn't always an easy transition for the player. Colorado's David Bakhtiari faces the possibility of having to make a position switch.
Bakhtiari finished his college career at the left tackle spot, but there's talk that some teams see him as a center.
Bakhtiari said some teams see him at LT while others view him at center. Said he's never snapped before. Will interview with NE tonight

— Dane Brugler (@dpbrugler) February 21, 2013

Offensive tackle is a much different position than center. A tackle must focus on protecting the edge and working in space, while the center is surrounded by the guards and must deal with bigger defensive linemen.
Even if Bakhtiari sticks at tackle he must improve his overall technique. However, he is an athletic player with tons of upside.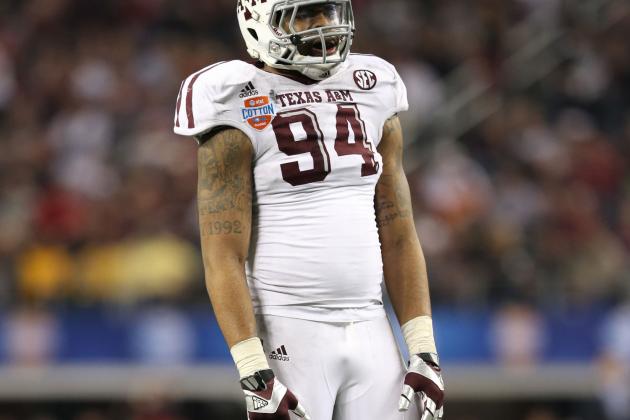 USA TODAY Sports

Projected Draft Position: Top 15
The underwhelming combine performance by Texas A&M's Damontre Moore raised a lot of questions about his NFL readiness. A defensive line prospect who only gets 12 reps on the bench press will have a hard time succeeding at the next level.
NFL offensive linemen are bigger and stronger than the ones Moore faced in college. His lack of strength will allow those linemen to control him at the point of attack. This is an issue for his ability to both rush the passer and stop the run.
Moore's limited strength is exacerbated by his poor showing in the 40-yard dash. He didn't show the type of explosiveness that would help overcome his strength issues.
There's still hope for Moore, but he'll need to spend time in the weight room working to get better.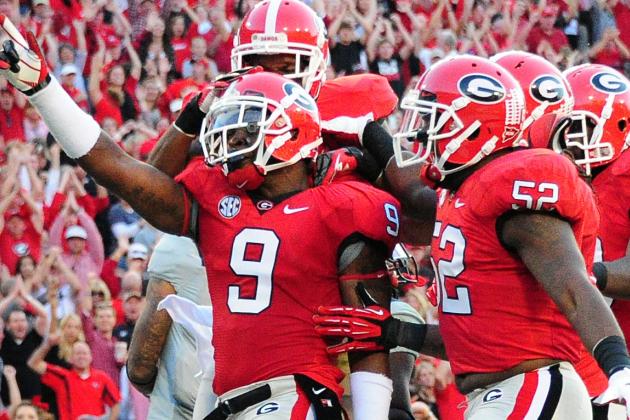 Scott Cunningham/Getty Images

Projected Draft Position: Round 2
Georgia's Alec Ogletree has made a handful of off-field mistakes that bring questions about his maturity. While most prospects were training and working to impress at the combine, Ogletree was getting arrested for a DUI. It didn't help his cause that he ran an unimpressive 4.70 40 time.
There's a long list of ex-NFL players who failed to reach their potential because of off-field issues. Ogletree will need to get focused if he hopes to avoid joining this group.
Outside of his maturity concerns, Ogletree has plenty of holes in his on-field game. He's not an instinctive linebacker and is too hesitant at times. This is why you see him making most of his tackles several yards down the field.
The NFL is full of excellent athletes, so it's important for a player to use his football IQ to get ahead.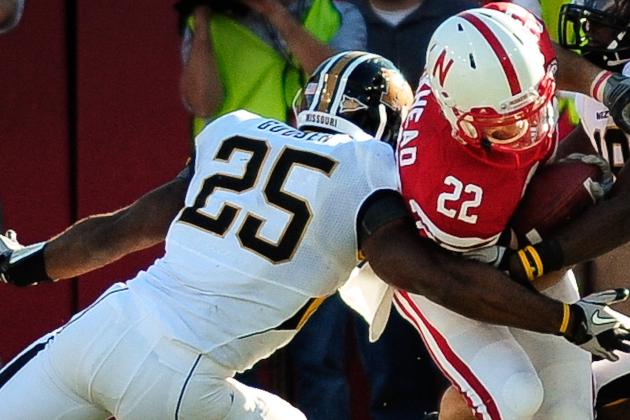 Eric Francis/Getty Images

Projected Draft Position: Late Round 3
Missouri's Zaviar Gooden showed throughout his college career and at the combine that he's an exceptional athlete. His quickness and explosive first step allows him to make plays from sideline to sideline. However, certain things need to be addressed in order for him to make an immediate impact.
The biggest concern is his lack of bulk and thin frame. Linebackers often have head-to-head collisions with offensive linemen, and they need to have the ability to hold at the point of attack. Gooden showed some issues with this at the college level.
He found a way to make plays because of his athleticism, but that won't fly at the next level.
Gooden might be relegated to a special teams role until he develops into a more complete player.
Projected Draft Position: Round 3
The NFL continues to grow into a more pass-heavy league, and this has increased the importance of having a difference maker at the wide receiver position. Tennessee's Justin Hunter boasts the size, quickness and leaping ability needed to cause problems for an NFL defense.
However, Hunter doesn't maximize his physical talents. His height becomes less of a weapon because he doesn't consistently attack the ball at its highest point. He has a tendency to wait for the ball to come to him and then catches it against his body.
Hunter also doesn't show the focus needed to be a consistent playmaker. He'll run sloppy routes, misread the defense and take his eye off the ball.
It's going to take a good coaching staff to ensure Hunter reaches his potential—let alone make an early impact.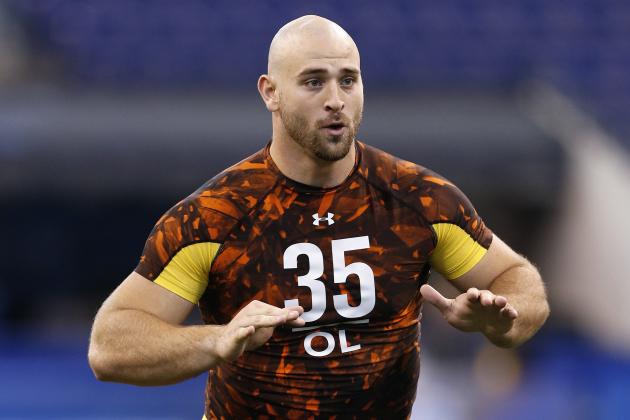 Joe Robbins/Getty Images

Projected Draft Position: Round 2
Oregon's Kyle Long doesn't have a ton of experience playing on the offensive line. He started his college career committing to Florida State to play baseball. Then he transferred to Saddleback Community College where he mostly played defensive end.
The limited experience at the position is combined with a lack of experience playing against top-level competition.
Long has the natural ability to exceed at the next level. He just needs time to adjust to the position and having to face a higher level of athlete. It wouldn't do him a service to immediately throw him into the mix. His lack of experience is something NFL veterans will exploit.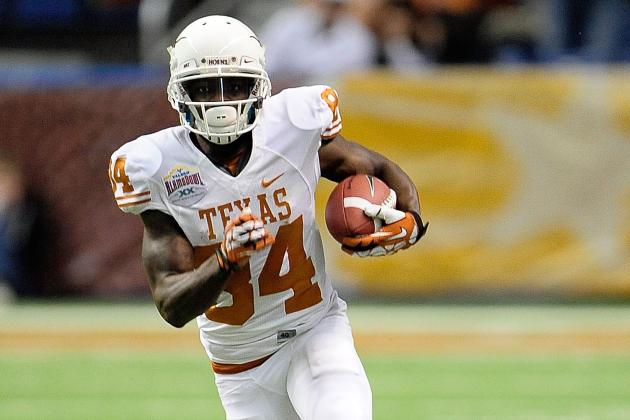 Stacy Revere/Getty Images

Projected Draft Position: Late Round 4
Plenty of NFL teams fall in love with players who possess world-class speed. This is the main reason why Texas' Marquise Goodwin has gotten a ton of attention throughout the draft process.
The concern is that his college production doesn't match up with his physical talents.
Goodwin needs time to get a better feel for the position and how to properly use his speed. The sophisticated defensive systems in the NFL make it difficult for a wide receiver to find openings based purely on athleticism.
On a positive note, Goodwin showed flashes of a player capable of developing into a consistent player. He has good hands and isn't afraid to attack the football at its highest point.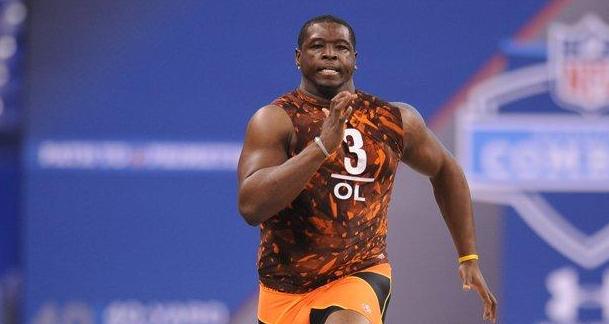 kcchiefs.com
Projected Draft Position: Round 4
Arkansas-Pine Bluff's Terron Armstead was one of the most impressive athletes at the combine. He posted excellent numbers in a wide range of workouts including the 40-yard dash and bench press. His athleticism isn't something that's normally seen at the offensive tackle position.
Make no mistake about it, Armstead is a project and will need time to develop into a starting-caliber player. His offensive line coach will need to focus on everything from keeping a balanced kick slide and using proper angles.
I also have concerns about his lack of bulk in the lower part of his body. He'll need to spend time in the weight room working to strengthen his lower half.
Armstead's stock is on the rise after his combine performance. First Round Exchange has good data that shows how the draft community sees a player's stock. Armstead has seen a 16.8 percent increase in his projected draft position since Feb 19.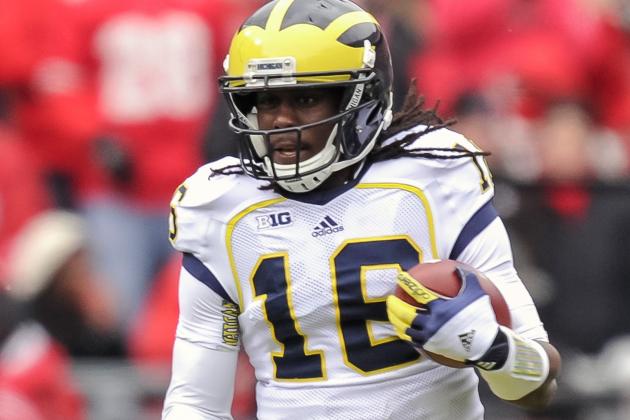 Jamie Sabau/Getty Images

Projected Draft Position: Round 6
It seems like every year we have a quarterback or two looking to make a switch to a different position. However, these experiments rarely show positive results. We've seen major failures like Matt Jones and Ronald Curry. This history doesn't bode well for Michigan's Denard Robinson.
Like most potential conversions, Robinson is an excellent athlete who has the potential to make game-changing plays. However, he lacks the experience and fundamentals to quickly make a transition to a different position.
Switching from a college quarterback to an NFL wide receiver is a daunting task. He needs to learn how to properly run routes, read the defense, gain a feel to locate openings, and become comfortable catching the football.
Kelley L Cox-USA TODAY Sports

Projected Draft Position: Round 6
The later part of the draft is a great place to find a developmental quarterback. Southern Utah's Brad Sorensen is a perfect candidate to fill this role.
He boasts a strong throwing arm, good size and decent athleticism. Sorensen could eventually develop into a starter if he lands in a situation with a strong coaching staff.
The quarterback coach must focus on improving Sorensen's ability to make quick decisions and help him become comfortable moving off his No. 1 target. His tendency to lock on to his first read will cause a lot of issues at the next level.
With time and the proper coaching we could see Sorensen helping a team win games on Sunday.