Picking a Boston Red Sox All-Time Starting Rotation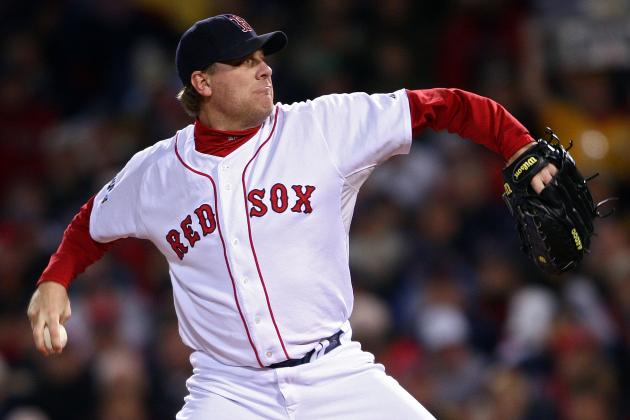 Elsa/Getty Images
Is Curt Schilling among the Red Sox all-time rotation?
Since the Boston Red Sox's incipience in 1901 (then as the Boston Americans), the team has seen some great pitchers come through the organization, so it was no easy task in choosing the top five.
Over the past couple seasons, the once great Boston Red Sox rotation has spiraled into mediocrity (to be kind). That is certainly not a testament to the quality of pitching the franchise has owned in its storied history.
From Cy Young to Curt Schilling, the team has been home to some of the best pitchers over a number of generations. So what names made the rotation, and which ones were snubbed?
Begin Slideshow

»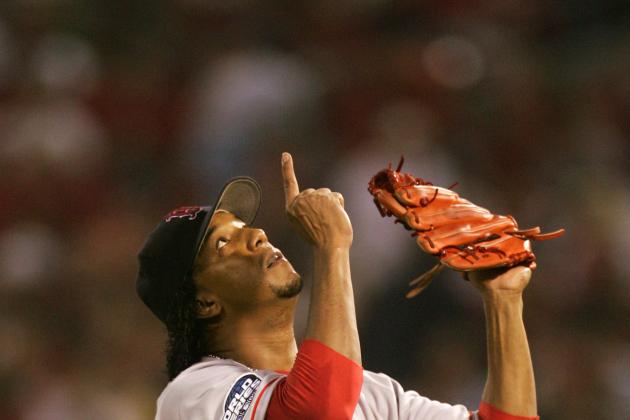 Al Bello/Getty Images
Martinez during game three of the 2004 World Series
When planning a Mount Rushmore of Red Sox pitchers, Pedro Martinez should be the first face sculpted.
Martinez put together one of the best pitching careers of all time—219-100 record, 2.93 ERA, 10.0 strikeouts per nine innings—and the heart of it all came in Boston.
After being traded to Boston from the Montreal Expos before the 1998 season, his presence was immediately felt.
In his Boston debut season, he went 19-7 with a 2.89 ERA, finishing second in the AL Cy Young voting.
Martinez was just getting warmed up. He went on to capture the next two AL Cy Young awards in two of the best seasons ever posted by a pitcher.
In 1999, he led the league with a minuscule 2.07 ERA, and posted an unbelievable 23-4 record in that season. Additionally, he struck out 313 batters, a number which only Curt Schilling and Randy Johnson have been able to surpass since.
He showcased his spectacular control that season, walking batters at a rate of just 1.6 per nine innings, or just 37 total.
The defining game of Martinez's career came in the decisive game of the 1999 ALDS against the Cleveland Indians.
Red Sox pitching was having a difficult time containing the dangerous Cleveland offense; Brett Saberhagen and Derek Lowe had combined for three innings pitched and given up eight runs.
With the game tied in the fourth inning, the Red Sox brought Martinez into the game. He went on to hold the Indians to zero hits over the next six innings, which allowed the Red Sox to win 12-8.
Martinez is one of few pitchers in MLB history to be able to not just match that season's output, but top it.
In 2000, Martinez dropped his already microscopic ERA to 1.74, and his walks per nine dropped to 1.3. He also posted the lowest WHIP of all time, registering at a trim 0.737. He also saw his record decline to a more mortal 18-6, but given his numbers, it's quite evident that this was through fault of the Red Sox's offensive flaws.
The rest of his Boston career was fantastic as well, including another should-be Cy Young season in 2002 (the voters robbed him of it in favor of Barry Zito), and, of course, the World Series ring in 2004.
Martinez had his worst season wearing a Red Sox uniform in 2004, going 16-9 with a 3.90 ERA, but with co-ace Curt Schilling, and a great offense—that was enough to lead the Sox to the promise land.
Even if this list were "Best All-Time Baseball Rotations", Martinez would be my pick for the ace. In his prime, no pitcher in the history of the game could match the excellence Martinez consistently brought to the mound.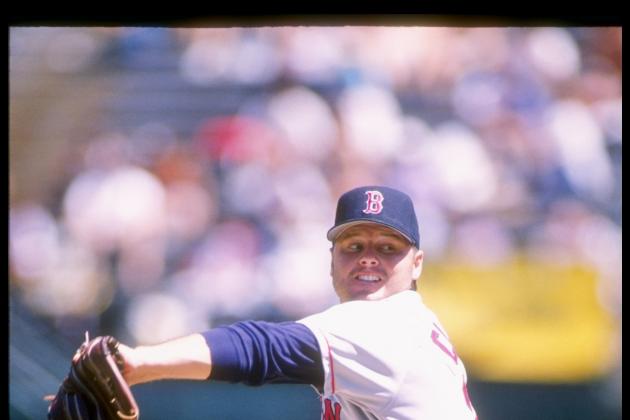 Otto Greule Jr/Getty Images

Roger Clemens may not be a Fenway favorite now—but in the 80s and 90s, no one did it better.
Clemens pitched for the Red Sox from 1984-1996, and during that time, he tied Cy Young for the franchise lead in lifetime wins with 192. Giving him a phenomenal .634 winning percentage with the team.
He put together some of the best seasons of his career in Boston; he won three of his record seven Cy Young Awards there.
During his first Cy Young season in 1986, he led the Red Sox to their first American League pennant since 1975. On the way, he led the league in wins, winning percentage, WHIP and ERA (24, .857, 2.48 and 0.969, respectively). So great was his performance, in fact, that he also took home the MVP award that season.
In 1987, he took home the AL Cy Young again, and then led the league in ERA in 1990, 1991 and 1992.
Three times with the Sox he recorded the most strikeouts in the league, twice the most complete games and five times the most shutouts.
Even with the contentious ending to his career, Clemens is as good as anyone who has played in Boston. With him taking the mound behind Martinez, the all-time Red Sox have arguably two of the top five starters to anchor their staff.
I don't see many two game losing streaks happening if this pairing ever played together.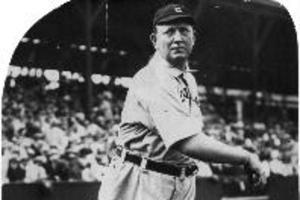 Cy Young's legacy still lives today. After every World Series, fans anticipate which great pitcher put together a regular season worthy of a trophy bearing Young's name.
The man who will likely always hold the Major League records for both career wins and career losses spent some of his best seasons in Boston.
192 of his 511 wins, and 112 of his 316 losses came in a Red Sox uniform.
Before the American League's inaugural season in 1901, the then Boston Americans coerced Young away from the St. Louis Browns with a $3,500 contract. The move would be a very fruitful one, as the 34-year-old Young would go on to win 20 or more games in six of his eight seasons in Boston, including two 30 win seasons.
His best season with the Americans was his first, when he led the league in the pitching triple crown stats, with a 33-10 record, 1.62 ERA and 158 strikeouts.
Boston took home the first ever World Series in 1903, and Young was the staff ace.
He put together another fine regular season, going 28-9 with a 2.08 ERA. He would help the Americans triumph over the Pittsburgh Pirates in the World Series, going 2-1 with a 1.85 ERA in three starts.
Undoubtedly, Young is the kind of guy that any team would want to have on their staff.
The Red Sox are just one of those fortunate organizations that can slot him in as the third best pitcher to ever wear their uniform. With him as the number three starter, this rotation is rounding out nicely.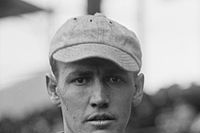 Photo courtesy of http://en.wikipedia.org/wiki/Smoky_Joe_Wood
Smoky Joe Wood had a relatively short, very sweet career with the Boston Red Sox.
The 1.99 ERA he posted in his Red Sox years of 1908-15 is the best in the history of the franchise. Wood posted a 117-56 record, as well as a 1.08 overall WHIP.
In 1912, he became immortalized in baseball history with his 34-5 season (he is one of just 13 pitchers to win 30 or more games in a single season).
During that season, his 35 complete games included a remarkable 10 shutouts. His excellence was a vital part of the Red Sox's World Series run during the 1912 season.
During the 1913 season, Wood broke his thumb in a game against the Detroit Tigers, and he was never the same after. He eventually fizzled out after his Boston career, which would end following the 1915 season.
It is worth noting that he made a remarkable transition to the outfield, where he was effective for six years in Cleveland.
He came back to Boston for a couple more effective seasons. In the team's 1915 World Series season, he set the league standard with a 1.49 ERA, even though he only pitched in 25 games. He didn't appear in the World Series, but his 15-5 record went a long way toward the Boston's one-game pennant win over Detroit.
Smoky Joe may have only had a short time to shine in Boston, but he was so effective in that time frame that it is impossible to snub him from this rotation. He and fellow old timer Cy Young go nicely with modern aces Pedro Martinez and Roger Clemens.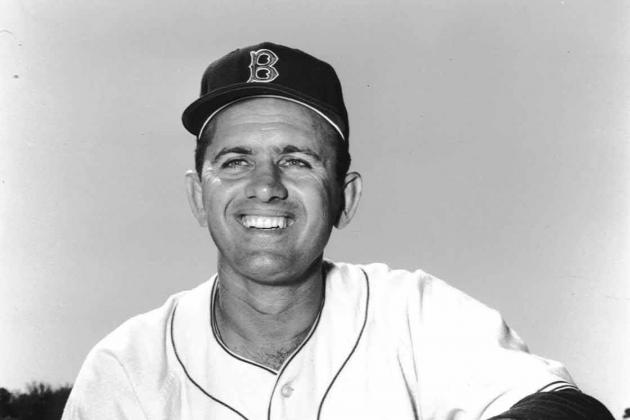 Photo courtesy of http://www.baseballtoddsdugout.com/parnell.html
The fifth and final spot in the rotation was difficult to pick.
The Red Sox have had many players who could vie for this spot—Dutch Leonard, Carl Mays, Lefty Grove, Luis Tiant...even the Great Bambino, Babe Ruth himself, has a strong candidacy.
What the decision came down to was the overly-dexterousness of the front of the rotation.
This team needs a southpaw in order to save itself from a gaping weakness against left-handed heavy rosters.
Lefty Grove might seem the intuitive pick for the obligatory lefty spot in the rotation (one reason is too obvious to point out), but Mel Parnell is my choice here.
Parnell had more wins with the team than Grove (123 to 105), and finished with nearly the same winning percentage as he did (.621 to .628).
Grove is probably just as good a pick for this spot as Parnell, but the fact that Parnell spent the entirety of his 10-year career with the Red Sox, while Grove spent just eight of his 17 seasons with them.
Parnell had his best season in 1949, when he led the league in wins, innings pitched and ERA, with 25, 295.1 and 2.77, respectively.
He was an all-star that season, and finished fourth in the MVP balloting. He would once more win 20 games, and twice more win 18.
In 1956, Parnell pitched a no-hitter against the Chicago White Sox, which was the most recent no-hitter by a Red Sox lefty until Jon Lester threw one in 2008. Due to an unfortunate injury, 1956 would be Parnell's last season in the Major Leagues.
With Parnell, the Boston Red Sox's all-time rotation is settled. If only they could be paired with my all-time Red Sox lineup for a season—now that would be a fun team to see.