Why Jamie Carragher Should Go into Management When He Retires at Liverpool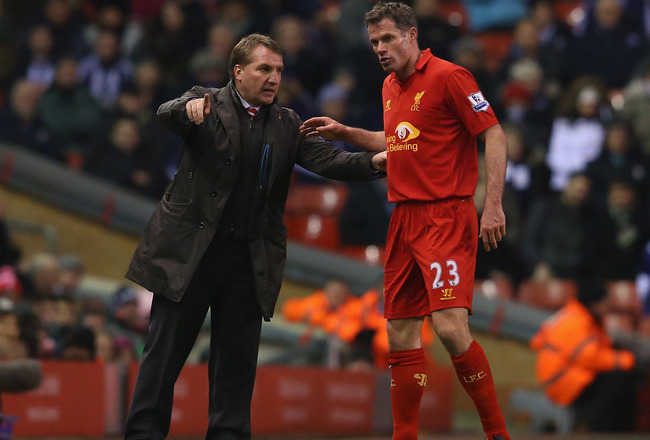 Alex Livesey/Getty Images
One of Liverpool's most endearing and enduring players of recent times, Jamie Carragher, is set for retirement at the end of the current season, hanging up his boots as the man with the second-most appearances for the club.
Much talk has centred already around who Liverpool will sign to replace the No. 23, who in recent weeks has won his place back in the starting lineup on a regular basis after more than a year of playing as backup to Martin Skrtel and Daniel Agger.
Of equal importance, at least to the player himself, is what he might do after his playing days come to an end.
Taking time off to be with his family might be first on the agenda, but there is little doubt that Carragher should return shortly to a role within football.
Media punditry and coaching have both been mentioned as possible avenues for the defender to explore, but it is in first-team management that his new career path should take him. Here's a look at Carragher's attributes which make him an ideal candidate to be top boss at a club in England before long.
Tactical Awareness and Clear Ideas of Playing the Game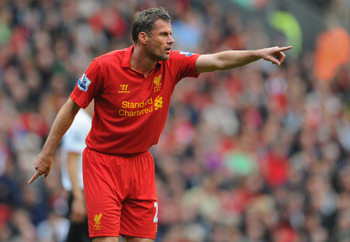 Michael Regan/Getty Images
Jamie Carragher has amassed huge experience during his playing career, which amounts to nearly 800 senior appearances for club and country. Few can argue against the knowledge of the game he has, a devoted fanatic of the sport for much of his career.
Carragher has also been taking his coaching badges for some time, doing some developmental work with the Liverpool youngsters and building towards a career in coaching or management.
His tactical acumen is one of his strong points on the field, with the defender able to organise and structure the team from the back with his characteristic vocal approach.
In his autobiography, Carra, he also alludes to his preferred methods of playing. He cites Rafa Benitez as one of the coaches who he would follow in terms of the set-up of the team, though with perhaps more flair players than the former Liverpool manager allowed in his sides.
His preferences will develop and become apparent when he first takes over a team, but at least to begin with, Carragher has already got a blueprint in mind to work towards, which is the starting point for anybody considering a career in management.
He's a Born Winner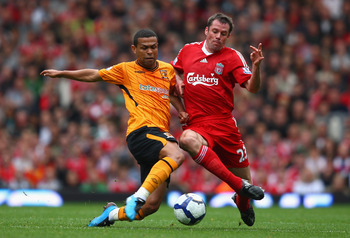 Clive Brunskill/Getty Images
Along with organisation and a will to dictate the shape of the team, Carragher has one other key trait to his game: The non-stop need to win.
Everything.
Every loose ball, every challenge or header and, of course above all, every game.
His determination manifests itself during games in his performance and commitment. In the tactics room as a coach, it will be shown in good planning, never allowing his players to rest or give up and in making sure he equips the team in the best way possible to win each game.
While defeats can be learnt from, they should never be accepted as inevitable. Carragher is a winner, and he will shape his team with that mentality too.
He'll Command the Respect of His Players Because of His Achievements
Alex Livesey/Getty Images
A new manager taking over a club can face the daunting challenge of, even before the first match arrives, winning the respect and attention of the players.
Carragher might go into his first management job completely cold, with no coaching experience at the highest level to fall back on, but his achievements as a player will ensure that he is listened to.
What happens after some time in the job will shape how he is viewed as a manager rather than a player, but initially at least, two European medals, five major domestic trophies and four other trophies mark him out as someone who has "been there and done that".
Any younger player with ambitions to do well in the game would do well to heed his advice of what is needed to succeed.
Experience of Playing Under Successful Coaches
Alex Livesey/Getty Images
It's not always necessary that great managers have to have learnt from the best themselves, but it certainly can't hurt to have been able to take notes from other successful managers.
Since breaking into the Liverpool team, Carragher has been under the tutelage of very successful managers such as Gerard Houllier and Rafael Benitez, as well as Kenny Dalglish.
At international level he has played under Sven Goran Eriksen and Fabio Capello, all of whom are men who have been successful in their field, won important trophies and have worked their way, at different times, to the top of their sport.
If Carragher is able to take anything from his experiences under those coaches in particular, they will no doubt stand him in good stead for the challenges that lie ahead.
Carragher Will Be Prepared to Work His Way Up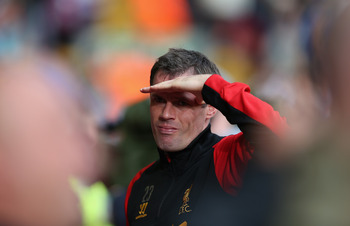 Clive Brunskill/Getty Images
Carragher has spoken previously about his commitment to the local area and how he would prefer, should he opt for a management career, to remain in the northwest of the country so that he can continue living close to Liverpool.
While he can hardly expect to walk into the Reds job, or the likes of the two Manchester clubs, there are plenty of other clubs lower down the league ladder who may offer him a route into professional management.
Tranmere Rovers and Wigan Athletic are so far enjoying satisfactory-to-good seasons for their respective aims, while Blackpool, Oldham Athletic and Blackburn Rovers have only recently employed new managers.
Even so, Macclesfield, Bolton Wanderers, Crewe Alexandra, Preston North End and even Accrington Stanley offer other routes into the game at various levels of the football pyramid.
Part-time footballers, from the Blue Square Premier Division and lower down, open up a further world of possibilities.
Carragher might not want to start his coaching life outside of the football league, but even so there are likely to be plenty of opportunities for him to begin his time as a manager, giving him the chance to work his way up the league ladder.
It might take time, but some years from now he could walk out at Anfield once more, this time as a manager, leading his own team into battle against Liverpool, the club he has served so well for almost two decades.
Keep Reading

Liverpool: Like this team?